TORONTO (Feb. 3) — Without bothering to check, I can tell you that only once have the Toronto Maple Leafs been more than 28 points ahead of the Montreal Canadiens at any juncture of a season in the 105–year history of the National Hockey League. And, never at the middle portion of the schedule. In 2017–18, the Leafs out–distanced the Canadiens by 34 points (105–71), representing the biggest–ever margin in favor of Toronto.
What we are witnessing today — the Maple Leafs (seventh in the overall standings) ahead of the Habs (32nd and dead–last), 61–23 — is a truly remarkable development, not only because of Montreal's comeback from a 3–1 opening playoff round deficit last May and improbable advancement to the Stanley Cup final. But, more from an historical perspective. The Canadiens, as most hockey fans in this city are aware, haven't won the NHL championship since 1993, but still own a 10–0 Stanley Cup edge over the Leafs since 1967. And, a 12–0 lead in Cup final appearances (Montreal losing to Calgary in 1989 and Tampa Bay last year). During the expansion era (starting in 1967–68), the Canadiens have finished, on numerous occasions, more than 28 points ahead of the Maple Leafs.
Here are the seasons (*Habs won the Stanley Cup):
1972–73: Montreal* 120, Toronto 64 (margin: 56 points).
1974–75: Montreal 113, Toronto 78 (margin: 35 points).
1975–76: Montreal* 127, Toronto 83 (margin: 44 points).
1976–77: Montreal* 132, Toronto 81 (margin: 51 points).
1978–79: Montreal* 115, Toronto 81 (margin: 34 points).
1979–80: Montreal 107, Toronto 75 (margin: 32 points).
1980–81: Montreal 103, Toronto 71 (margin: 32 points).
1981–82: Montreal 109, Toronto 56 (margin: 53 points).
1982–83: Montreal 98, Toronto 68 (margin: 30 points).
1984–85: Montreal 94, Toronto 48 (margin: 46 points).
1985–86: Montreal* 87, Toronto 57 (margin: 30 points).
1987–88: Montreal 103, Toronto 52 (margin: 51 points).
1988–89: Montreal 115, Toronto 62 (margin: 53 points).
1990–91: Montreal 89, Toronto 57 (margin: 32 points).
2014–15: Montreal 110, Toronto 68 (margin: 42 points).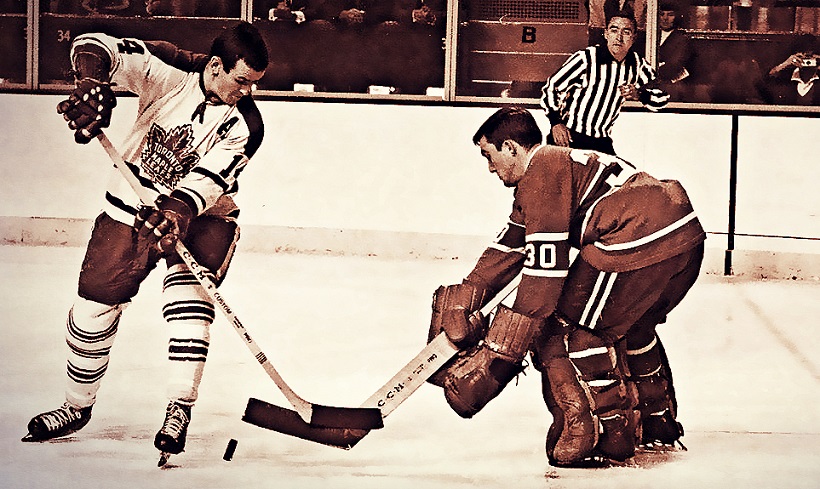 As you'll notice, there's a quarter–century gap between 1990–91 and 2014–15. During that time, the Leafs out–pointed the Canadiens in 10 seasons, including six consecutively beginning with the Pat Quinn era in 1998–99. Then, during the past four seasons… and, most–astonishingly, this year. Though extrapolating at mid–season is often fool's gold, arithmetic suggests Toronto will finish with 118 points; Montreal, 44 — a 74–point gap, 18 points greater than the Canadiens' biggest–ever margin over the Leafs (in 1972–73). Again, by viewing the chart of the post–expansion years that Montreal placed ahead of Toronto, you'll see there were nine seasons when the Leafs never attained 74 points, let alone such an enormous edge over the Habs. That's because Toronto appears to be en route to its best regular season of all time; Montreal, its absolute worst. How the competitive and emotional tide has changed just more than eight months after the Habs turned around that 3–1 disadvantage in the playoffs.
THURSDAY THOUGHTS: Full credit to the Maple Leafs for a mostly remarkable first half of the schedule. To have won 28 of their first 41 games is a splendid accomplishment. But, Part 1 of the "real season" begins on Monday night, at Scotiabank Arena, against former teammate Frederik Andersen and the Carolina Hurricanes. Part 2, of course, begins in May and is the lone juncture that matters. For all of their success, the Leafs have enjoyed the easiest schedule in the NHL since the onset of Omicron — playing only 13 games in a 49–night span between Dec. 14 and Feb. 1. With a minimum three nights' rest prior to nine of the 12 matches. Eight of them against teams (Ottawa, New Jersey, Arizona, Montreal, Detroit, New York Islanders) that will surely miss the playoffs. This has led to a 10–2–1 record during the latest wave of COVID–19. The schedule and its inherent challenge increases after the All–Star break. Instead of 13 games in 49 nights, the Leafs will play that amount over 26 nights. Again, the line–up is mostly favorable, with clashes against such weaker opponents as Vancouver (Feb. 12/Mar. 5), Seattle (Feb. 14/Mar. 8), Montreal (Feb. 21), Columbus (Feb. 22/Mar. 7), Detroit (Feb. 26), Buffalo (Mar. 2/Mar. 13) and Arizona (Mar. 10). April is a different story: 15 games in 26 nights with two each against Florida, Tampa Bay and Washington. Toronto and Florida play three more times (also on Mar. 27). The Leafs trail the first–place Panthers by seven points in the Atlantic Division but have five games in hand. The Lightning is five ahead of third–place Toronto; the Leafs having played four fewer games. So, the Division title is hardly out of reach. But, Toronto must sweep the six head–to–head points against Florida. No easy task. Tampa Bay has learned, through disappointment and elation, to pace itself during the regular schedule. The Lightning won 62 games in 2018–19 and did not play a meaningful match after the new year. When T–Bay suddenly had to win, it forgot how and was stunned by Columbus in a first–round playoff sweep. The Lightning, with the best goalie (Andrei Vasilevskiy) and defenseman (Victor Hedman) on the planet, have smartened up. The Leafs may have to get past both Florida teams to appear in the Stanley Cup semifinals this spring… If the Cincinnati Bengals can make it to the Super Bowl after seasons of four wins (last year) and two wins (in 2020), the Leafs can finally play for the Stanley Cup. Don't you agree? But, only if Jack Campbell is Toronto's answer to Joe Burrow… That said, I'll repeat that the Leafs cannot win the Eastern Conference title with Morgan Rielly and Jake Muzzin as their two best defensemen. A significant upgrade is needed before the Mar. 21 NHL trade deadline. And, not readily available. It's the reason, again, that I'd try and spike Lou Lamoriello's morning coffee with Happy pills; then go hard after Zdeno Chara… All the power to Brian Flores in his legal attempt at unveiling the prejudice that still governs the hiring of coaches in the National Football League. Remember, this was a league, until the 1980's, that felt black players were too stupid to play quarterback and required repositioning to the defensive secondary. The Neanderthal approach changed when Doug Williams of Washington destroyed white superstar John Elway of Denver, 42–10, in Super Bowl XXII after the 1987 season. And, when Warren Moon went south to the Houston Oilers (in 1984) after guiding the Edmonton Eskimos to four of their record five consecutive Grey Cups (1978–82) here in Canada; later played for Minnesota, Seattle and Kansas City, and became the first African–American passer to be inducted into the Canadian and American football Halls of Fame… If the Toronto Argonauts have re–signed journeyman McLeod Bethel–Thompson as anything but a No. 2 quarterback, they don't deserve one more fan than attended games at BMO Field last season. Bethel–Thompson has never — and will never — win a big playoff game in the CFL. It was a terrible move that sent a brutal message to ticket buyers… The Los Angeles Rams will make it three consecutive home teams playing in North American football championships, following the Hamilton Tiger–Cats (2021 Grey Cup) and Tampa Bay Buccaneers (Super Bowl LV, last February)… There's still way too much euphoria among those in the mainstream media that cover the Leafs. Celebratory puff–pieces can be found all over the Internet, with meaningless graphs and statistics that prove nothing about a team with the longest–ever Stanley Cup drought. Amid the cheerleading is a virtual absence of critical analysis. Maybe that's what fans today want. But, I doubt it… Hockey Night In Canada legend Brian McFarlane keeps motoring along at 90 years of age. His latest book, The Maple Leaf Forever, is in the works with a publishing house in Winnipeg. Brian is a national treasure. He and the late Bill Hewitt called Leafs Saturday and Wednesday night games on TV from 1965 to 1981… Thanks to all media friends that sent kind messages Thursday on my 63rd birthday. They were much–appreciated.
LEAFS MEMORIES AND MOMENTS — Part 1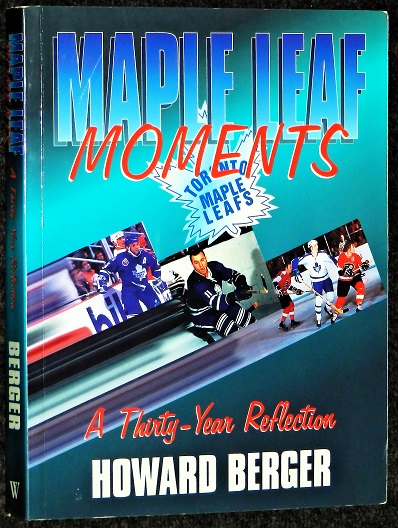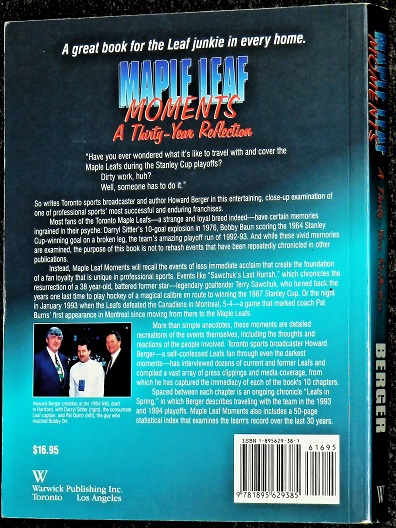 It's the most fun I ever had writing a book… throughout much of 1994, one year before I started covering the Maple Leafs, full time, for The FAN–590. In the course of this 328–page volume, while working for Warwick Publishing Inc. of Toronto and Los Angeles, I spoke to a plethora of hockey heroes, so many of them since deceased. MAPLE LEAF MOMENTS: A Thirty Year Reflection comprised 10 chapters of Leaf stories that dated from 1964 to 1994. Included was Chapter 6, which I entitled QUINN vs. ORR… Crunch!! It detailed the rancorous, remarkably lop–sided playoff encounter of Apr. 2, 1969 at Boston Garden in which the Maple Leafs were annihilated, 10–0, by Phil Esposito, Bobby Orr and the Bruins. Game 1 of the Stanley Cup quarterfinal is best–remembered, all these years later, for a monstrous bodycheck delivered to Orr by Leafs defenseman (and future coach) Pat Quinn. And, for a riotous melee in the waning moments of the third period during which veteran Forbes Kennedy eternally etched his name in Leafs lore. The Bruins swept the Leafs in four games, moments after which owner Stafford Smythe fired GM and coach Punch Imlach, who had guided the club to four Stanley Cup titles in the 1960's. I will continue to share these stories with you in future blogs. Please enjoy this first installment: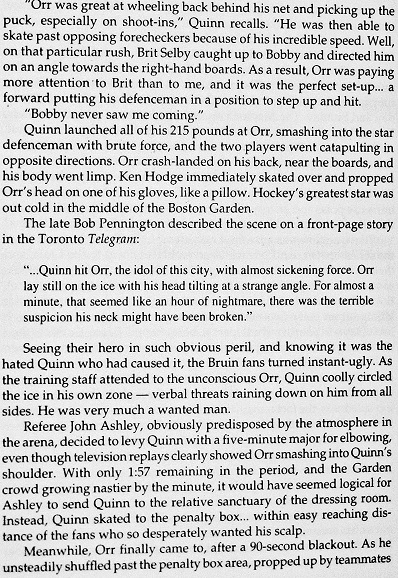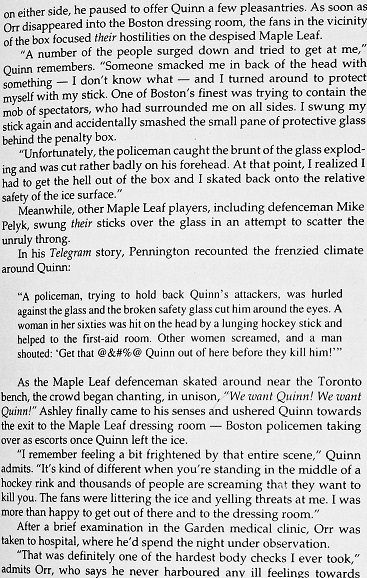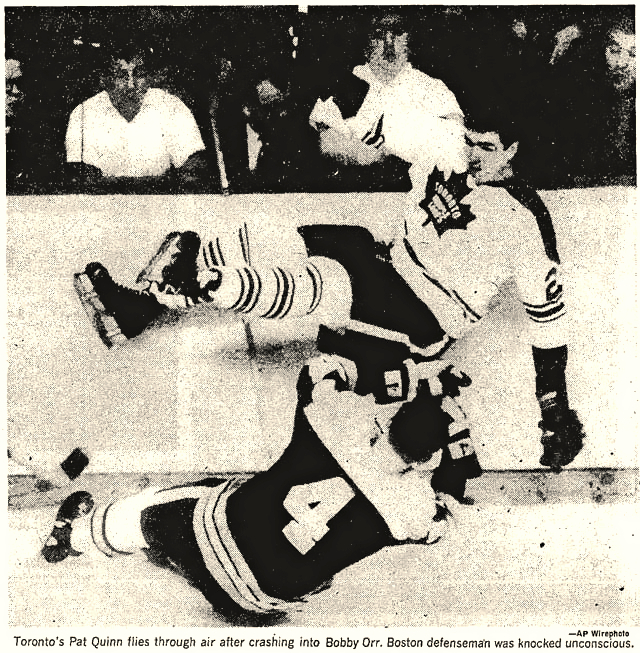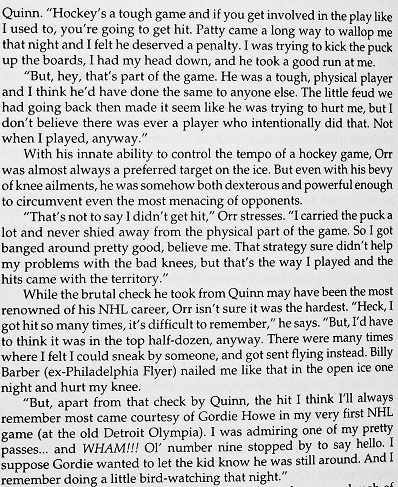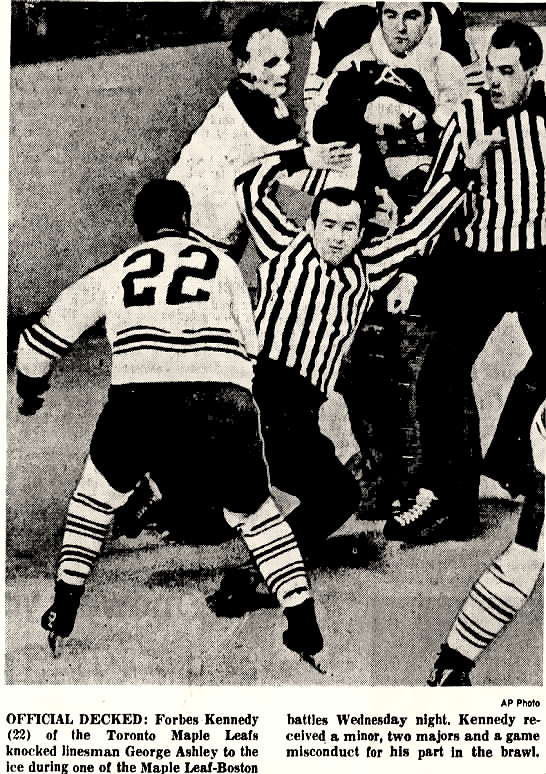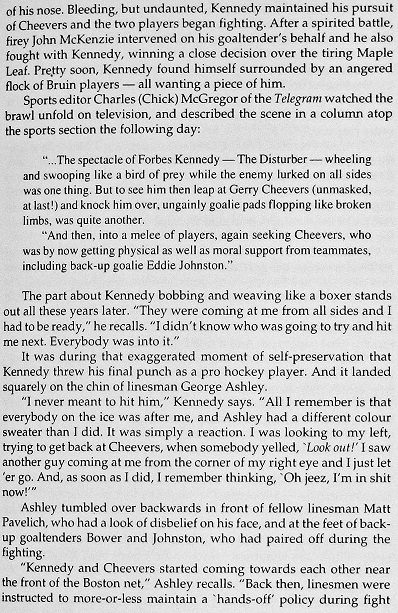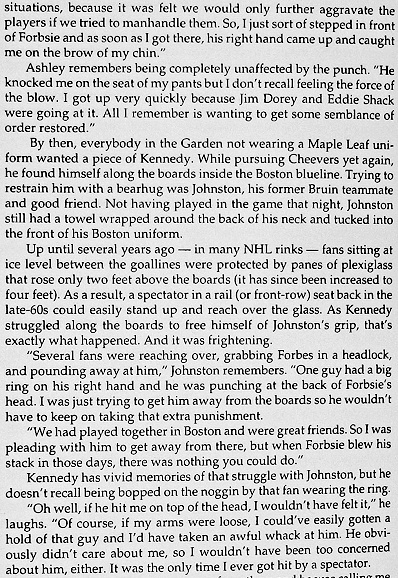 EMAIL: HOWARDLBERGER@GMAIL.COM