TORONTO (Feb. 25) — If it's true, as suggested by Elliotte Friedman of Sportsnet, that Kyle Dubas turned down a trade with Dallas for defenseman John Klingberg, the Maple Leafs general manager will fall on that sword.
How many more playoff years can Dubas waste before understanding his blue line is not close to Stanley Cup caliber? With or without the fading Jake Muzzin, whom the Leafs have placed on Long Term Injured Reserve with another concussion. Except for Auston Matthews and Morgan Rielly, what player, prospect or draft pick is too valuable to be sacrificed for an established, offensively gifted defenseman? And, please don't say Rasmus Sandin, the obvious return in a deal involving Klingberg. By the time Sandin is ready to perform at Klingberg's level — if that ever happens — the "Core 4" up front will no longer be intact. As I've repeatedly written, one of Mitch Marner or William Nylander will be unloaded before next season to accommodate Rielly's salary increase (to $7.5 million) and a hefty raise for goalie Jack Campbell. Within two years, Matthews will be able to walk. Nylander will be up for renewal. Marner will have one season left on his $11 million/year pact. So, I ask again: What is Dubas waiting for? Is he afraid to relinquish a first–round draft pick in another non–lottery season? There are no justifiable answers.
After Thursday's National Hockey League games — the Maple Leafs defeated Minnesota and Columbus upset Florida — Toronto is only five points in back of the first–place Panthers in the Atlantic Division, with a game in hand. This could be the Leafs best chance to finally make some noise in the playoffs. But, it will not happen if Dubas stubbornly hangs onto his prospects and draft picks; if he continues to be frightful of the future at the cost of a Stanley Cup challenge (as it appears). Last year, at the trade deadline, Dubas climbed down from his safety pedestal and coughed up a first–round pick for veteran Nick Foligno, who wasn't healthy enough to contribute.
If that has spooked him into paralysis, the Leafs are doomed to an early exit. Again.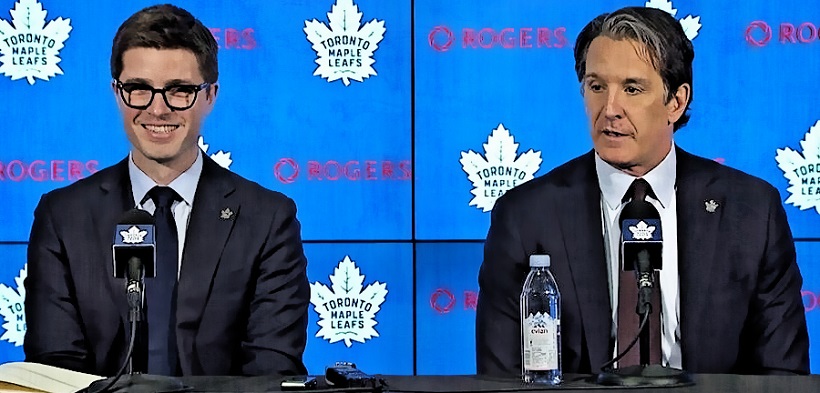 Another defense target is Jakob Chychrun of Arizona; still just 23 and under contract through 2024–25 at a modest $4.6 million. There is interest in Vancouver forward J.T. Miller, still on the books at $5.25 million for next season. But, Toronto doesn't need another talented player up front. It's the blue line that is crying for an upgrade.
Skittish Leaf followers will recoil at the notion of sacrificing part of the future for immediate help. Especially given that Klingberg, a pending free agent, wouldn't likely remain in Toronto beyond this season. At some point, however, the Leafs have to go for it. Until the Stanley Cup is raised for the first time since 1967, there will always be questions; always be reasons to not take a chance. What if the club isn't one front–line player removed from challenging for the NHL title? What if Campbell isn't a Stanley Cup–caliber goalie? What if Sandin morphs into another Borje Salming? The Maple Leafs have been convinced, one way or another, to dawdle for 5½ decades. With absolutely nothing to show for it. How much longer can the franchise wait to fully avail itself of the consecutive draft gems (Nylander, Marner, Matthews) and the $77 million commitment for John Tavares? As mentioned, it won't be long — just two more years — before the Maple Leafs start to re–tool from top to bottom. By the 2024–25 season, it's conceivable that only Rielly and Tavares will still be under contract to the team. Then what?
How bitterly disappointing will it be for Leafs fans, a full decade into the so–called Shanaplan, to watch the club spinning its wheels? Continually insisting that the future — which never arrives — cannot be spared? By 2025, the longest–ever Stanley Cup drought will have grown to 58 years. Yet another GM and coach will be promising to end the interminable famine. A Maple Leafs supporter will need to be in his or her mid–30's to recall the club winning a single playoff round. Isn't it imperative — with Nylander, Marner and Matthews entering their prime NHL years; with Rielly in his prime and Tavares declining with age — for Dubas to put all his chips on the table?
There is no guarantee, of course, that adding Klingberg will push the Leafs over the top… or even propel the club beyond one of the Florida teams into the second playoff round. But, there is a sure–fire guarantee that the current team, with its pedestrian blue line, will not pose a Stanley Cup threat. Adding another "body" at the trade deadline (Ben Chariot, Justin Braun, Josh Manson) isn't the answer. The Maple Leafs have been going piecemeal for as long as anybody can remember. It's time for a bold move; for showing the Core 4 that management truly believes it will "get this done", in the famous words of Shanahan after last year's first–round folderoo against Montreal.
If the overriding concern is that the Maple Leafs aren't tough enough to withstand four rounds of playoff toil — which seems entirely accurate — there's no purpose in making any move before the trade deadline. The Leafs cannot be pugnacious. Not without a top–to–bottom restructuring and change in philosophy. The Shanaplan Leafs are built to win with skill. The only reasonable course is to add more skill where it's needed… on defense.
WHAT ABOUT JACK? Yes, Jack Campbell is making everyone nervous right now. Is he another Jocelyn Thibault, Jim Carey or Andrew Raycroft — trophy winners between the pipes that fizzled after one brilliant year?
Or, is he the goalie that put up historic numbers for the Blue and White in the first half of this season?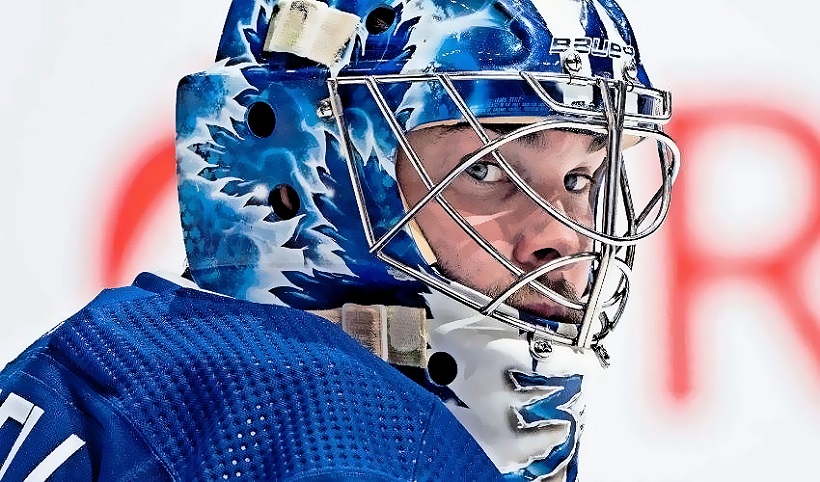 For my money, and without question, it's the latter. As such, the Leafs should make an addition that offers Campbell the best chance of succeeding in the Stanley Cup tournament this spring; that proves the undeniable confidence of management in the player brilliantly acquired from Los Angeles two years ago. Brendan Shanahan and Dubas have unabashedly thrown support behind the $40 million men up front, even after repeated playoff underachievement. Why not do the same for Campbell by providing him another layer of elite, puck–handling skill?
The sort that John Klingberg could supply the Maple Leafs while skating alongside Rielly.
Running scared for the future isn't the answer. It never will be with this group.
MELYSA'S HOCKEY CARD PORTRAITS

My friend, Melysa Gorlicky, is a kindred spirit. I collect hockey cards and she turns them into exquisite art.
From her bio on liveartist.ca: Melysa Gorlicky is a Toronto based fine artist and live performance painter. She is an Ontario College of Art & Design (OCAD) graduate and a well–known force to be reckoned with in the Toronto art scene. Her recent collection of sport card paintings celebrates some of the most valuable and sought after cards in the industry. Her other interests as an artist include painted tributes of well–known icons, hosting workshops, live performances, working with local charities, and custom portraits.
Melyssa is pictured, above, with Leafs legend Darryl Sittler and a painting of Sittler's rookie card from the 1970–71 O–Pee–Chee set. Below are paintings of Doug Gilmour's rookie item from the 1984–85 O–Pee–Chee issue and that of Raymond Bourque from 1980–81. All of her work is available for sale. She can be reached via her website: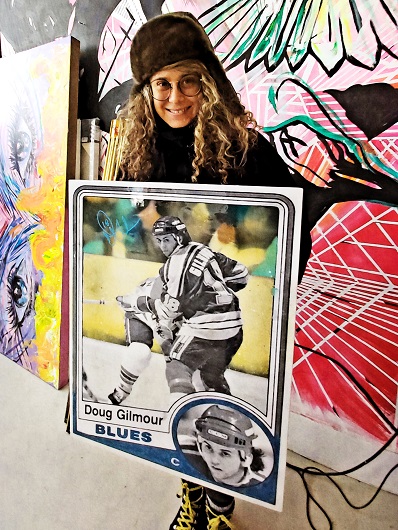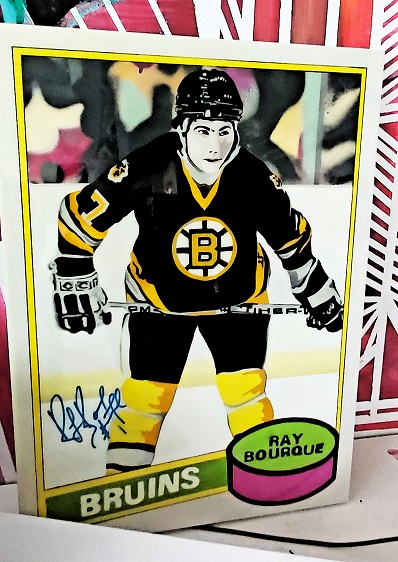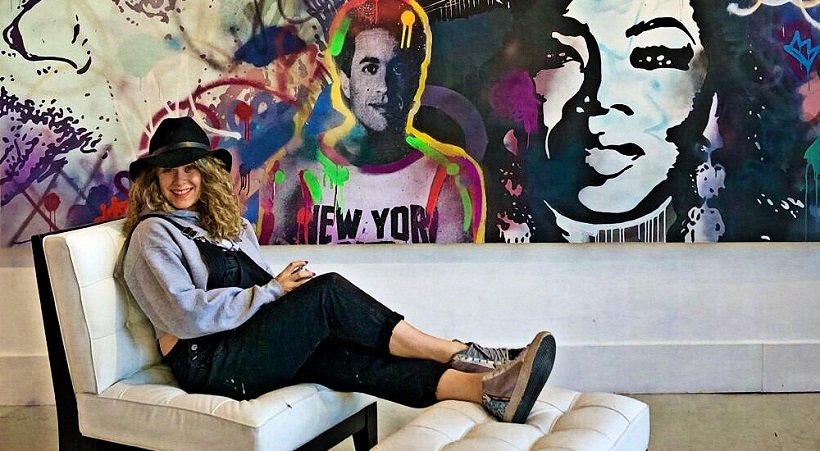 EMAIL: HOWARDLBERGER@GMAIL.COM