TORONTO (Feb. 21) — As it happens virtually every time the Toronto Maple Leafs pull off a minor trade, the player acquired becomes an instant trophy candidate. In this case, lanky Ilya Lyubushkin, fetched by general manager Kyle Dubas from Arizona to compensate for the misstep of signing Nick Ritchie; then variably described by the club and mainstream media as "the big, defensive stalwart and right–shooting defenseman" the Leafs have lacked since Tim Horton was in his prime. In the "millennium of overkill", everything the Maple Leafs accomplish (or neglect) is exaggerated. Making Lyubushkin sound like an undiscovered Victor Hedman is the latest example.
Now, to be fair, a caveat: Nobody figured Jack Campbell would become an elite goaltender when Dubas pilfered him from Los Angeles (for spare parts) in February 2020. Campbell, though performing unevenly at mid–season, has provided the Maple Leafs sustained excellence better than any stopper since Hall–of–Famer Ed Belfour nearly two decades ago. So, to imply that Lyubushkin is being instantly overhyped may not be accurate. Neither can a team, under the salary cap, have "too many" defensemen. But, Lyubushkin's numbers tell the story of a blue–liner with no offensive flair (one goal in 180 NHL games); limited pugnacity (67 career penalty minutes) and a plus–minus figure this season (minus–6) that is rather impressive on a terrible hockey club. Yes, he did play "big, important minutes" (according to Dubas) for the Coyotes (average ice time: 18:06)… but somebody had to in the absence of Oliver Ekman–Larsson, traded last July to the Vancouver Canucks. So, it's important for fans of the Leafs to not get carried away with a defenseman that probably fits somewhere between Martin Marincin and Justin Holl. Even if lightly prodded by Luke Fox of Sportsnet, an exceptional writer with solid understanding of the game that too often becomes a mouthpiece for the club part–owned by his company (Rogers Communications).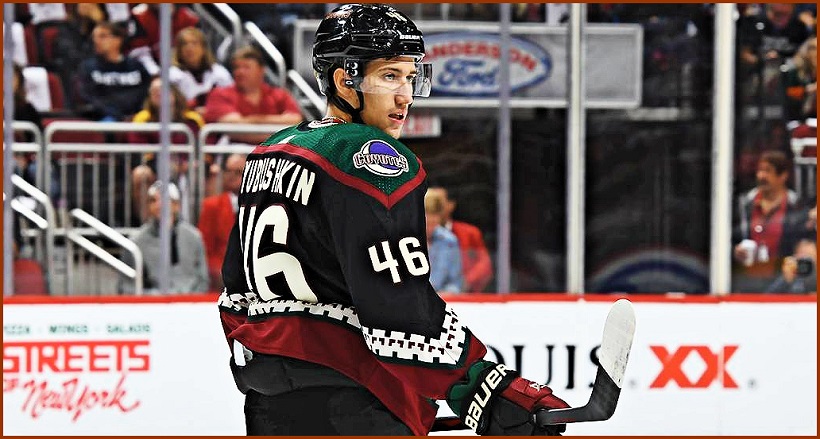 THE NEW KID IN TOWN: 27–YEAR–OLD MOSCOW NATIVE ILYA LYUBUSHKIN. GETTY IMAGES/NHL.COM
In a column entitled WHY MAPLE LEAFS' KYLE DUBAS EARNED A CLEAR WIN IN THE NICK RITCHIE TRADE and opened with "We all make mistakes", the ever–forgiving Fox wrote this about the Leafs trading no–show free agent Ritchie to Arizona for center Ryan Dzingel (claimed today off waivers by San Jose) and Lyubushkin:
That Dubas received two useful pieces with a combined cap hit ($2.45 million) lower than Ritchie's, plus cleared all of Ritchie's money off the books for next season, is a heist. Seldom does a hockey trade go down as an outright victory, but with the Maple Leafs locked in win–now mode, this is a fantastic bit of business… [Lyubushkin is] hardly a household name, but a desirable second–tier rental target that fits the club's needs. The 27–year–old is a boring, stay–at–home right shot having a solid campaign in relative obscurity. The 6–foot–2 Russian carries a modest $1.35-million cap hit. He kills penalties and throws hits. He skates more than 18 minutes nightly and starts the vast majority (61 per cent) of his shifts in the D-zone yet drives play forward.
Largely accurate, but with enough embellishment to send Leafs Nation into a delusional tizzy.
How can a trade can be deemed a "heist" before the parties skate for their new teams? Neither can we yet determine that Lyubushkin "fits the Leafs' needs"… and if he "throws hits", he does so with a remarkable ability to avoid infraction. Driving the play is an example of hollow Analytics, given that Lyubushkin has 18 career assists.
Also in Fox's column was this quote from Coyotes' head coach André Tourigny: "Boosh is a heart–and–soul player who played hard and laid it on the line for us. He doesn't have a bad day. He showed up every day to work. He's a great guy and I think Leafs Nation will like his work ethic and his commitment." Does that sound like the caliber of defenseman a bad team would be anxious to give away? Not in my world. Of course, considering the usual build–up, as soon as Lyubushkin has a good shift for the Maple Leafs, expectation will soar farther beyond reason. That's what happens when a trusted media source (Fox) uses such phrases as "outright victory" and "heist" before a trade can be assessed. What if Ritchie scores 15 goals for Arizona in the remaining 32 games? Would it still be a "heist"… or another example of a good NHLer that cannot prevail under the Toronto hockey microscope?
Long–time reporter Jonas Siegel may have one–upped Fox in The Athletic, by deeming Lyubushkin "the answer" on defense for the Blue and White (the only thing softer than the Maple Leafs are those that cover the team).
Given that Toronto could be one impact player removed from a legitimate Stanley Cup challenge, Fox and Siegel should save their superlatives for Dubas acquiring such a defenseman as John Klingberg, who isn't likely to re–sign with Dallas prior to testing the open market. Klingberg, with seasons of 67 and 58 points on his NHL ledger, would combine with Morgan Rielly to form an elite blue line tandem. The Leafs would need to relinquish Rasmus Sandin for a trade–deadline rental, because there is no chance Dubas could afford Klingberg beyond this season. Not without unloading two mega–contracts. As it stands, under the flat cap, one of Mitch Marner or William Nylander will need to be sacrificed for Dubas to accommodate Rielly's new pact ($7.5 million a year) and a hefty raise for Campbell. If Klingberg comes aboard, Marner and Nylander would have to be sent elsewhere. Not a likely prospect. But, Klingberg would provide the Maple Leafs an element that 100 Lyubushkins could not.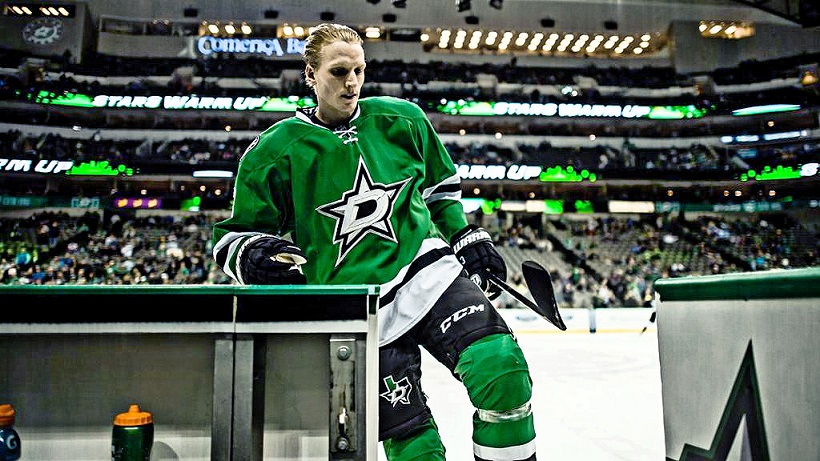 ACQUIRING JOHN KLINGBERG FROM DALLAS WOULD COST THE MAPLE LEAFS RASMUS SANDIN. IT WOULD ALSO KEEP KLINGBERG AWAY FROM SUCH OTHER EASTERN CUP CONTENDERS AS FLORIDA, TAMPA BAY, THE RANGERS AND CAROLINA. GETTY IMAGES/NHL.COM
Making a "win now" trade would also preclude Klingberg from landing with another Eastern Conference contender. Can you imagine if Florida or Tampa Bay pulled off a creative swap to obtain the 29–year–old Swede? Or, one of the Metropolitan Division hopefuls (the Rangers have Norris Trophy contender Adam Fox and nearly $19 million in cap space)? The Leafs need to strike smartly in order to offset advantages other teams hold on them… and to ensure those margins do not increase. Right now, and even after the Lyubushkin "heist", the Toronto blue line is not good enough to win the Stanley Cup. Or, perhaps even a single playoff round against one of the Florida teams.
SOAKING WET AT THE COLISEUM: I told a story this week that dates to the summer of 1978 and my first visit to California… with lifelong pal, Jeff Spiegelman. After spending a few days in Los Angeles, Jeff and I flew up to San Francisco. One afternoon, we took the BART train to neighboring Oakland, having watched on TV — many times — as the baseball Athletics and football Raiders played big games at the Coliseum. Next to the stadium stood the arena which the old California Seals called home in the NHL from 1967 to 1976. Wandering across a bridge from the COLISEUM train exit that spanned a lumber yard, Jeff and I spotted an open gate in the first level of the stadium, behind home plate. We walked down the stairs, unimpeded, and climbed a short fence. Seconds later, we were standing on the grass field in the midst of the 53,000–seat edifice, which opened Sep. 18, 1966.
Reggie Jackson… Catfish Hunter… Ken Stabler… Fred Biletnikoff. We remembered all the Oakland greats.
Security in the late–70's wasn't quite at the level of the post–9/11 universe. As such, two Toronto–born teenagers wandered about the famous ball yard, in awe, for roughly 15 minutes before a man standing in the upper deck down the third base line yelled out to us. "Get off the field!" he commanded, loudly. Jeff and I looked at each other and laughed. This person, whoever he was, stood 300 feet above and beyond our perch in the baseball outfield. What kind of threat could he possibly be. "Get off the FIELD!!" he bellowed again. At which point, me and Jeff flipped him off with cries of "ahh, fungoo!" (or something similar). "I'm warning you guys, get off the field… or else!" the man screamed, a third time. When we didn't move, he waved us off and disappeared under the stands.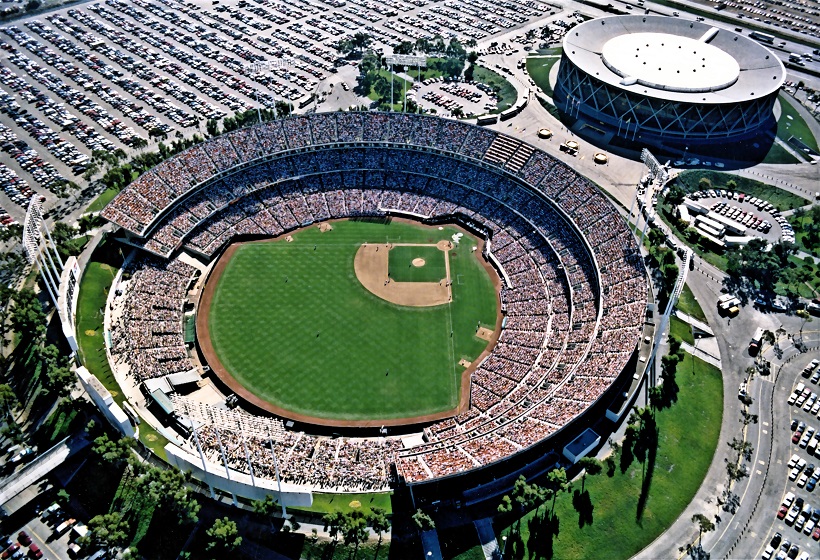 AERIAL VIEW OF THE OAKLAND COLISEUM (AND ADJACENT ARENA) AS IT APPEARED IN THE 1970's.
"Ha! That'll show him," one of us said to the other as we continued to walk about the empty stadium.
But, seconds later, the skies opened. Or, so it seemed (on a perfectly sunny afternoon).
The man had turned on the field sprinkler system. Jeff and I were surrounded by cascading gushes of water as we scrambled to find an exit… then tromped, absolutely drenched, back to the BART train station for a rather uncomfortable ride across the Bay to our hotel in San Francisco. The same audacity, today — if even possible — would have us arrested, fingerprinted and locked in a jail cell for a few hours. Back in 1978, we got wet. Deservedly so.
EMAIL: HOWARDLBERGER@GMAIL.COM