I'll tip my hat to the new constitution
Take a bow for the new revolution
Smile and grin at the change all around…
The Who, May 1971
TORONTO (Feb. 19) — Yes, there will be change all around in the National Hockey League on Mar. 21.
But, we won't get fooled again.
Not those around here with perspective and knowledge of the Toronto Maple Leafs, for it can be argued — almost conclusively — that the Leafs have never made a deal at the NHL trade deadline that immediately enhanced the club. I'll say it again: Never. Not even in the five seasons since 1967 that the club advanced to the Stanley Cup semifinals. And, certainly, in no other season. We can stretch the limits of credulity to suggest that acquiring rugged winger Dan Maloney just prior to the trade cutoff in 1978 helped nudge the Leafs into the final four, whereupon they were obliterated by the Montreal Canadiens. As did the September 2009 remittance to Boston of two first–round draft picks (Tyler Seguin, Dougie Hamilton) for Phil Kessel, the identical outlay to Detroit for Maloney could have been disastrous. It so happened that the Red Wings botched the deal by choosing mediocre forwards Brent Peterson in 1978 (Al Secord, 273 NHL goals, was still available) and Mike Blaisdell in 1980 (Jari Kurri, Bernie Nicholls and Steve Larner, a combined 1,517 NHL goals, were still up for grabs). With Maloney, however, the Leafs were aggressive enough to win their first best–of–seven playoff round since 1967: upsetting the New York Islanders in the '78 quarterfinals on Lanny McDonald's overtime goal in Game 7 at the Nassau Coliseum.
Maloney played left–wing on the No. 1 unit with McDonald and Darryl Sittler. He threw around his weight and dropped his gloves. For the two weeks of that Islander series, the Leafs had pulled off a good deadline deal.
But, folks, THAT IS IT.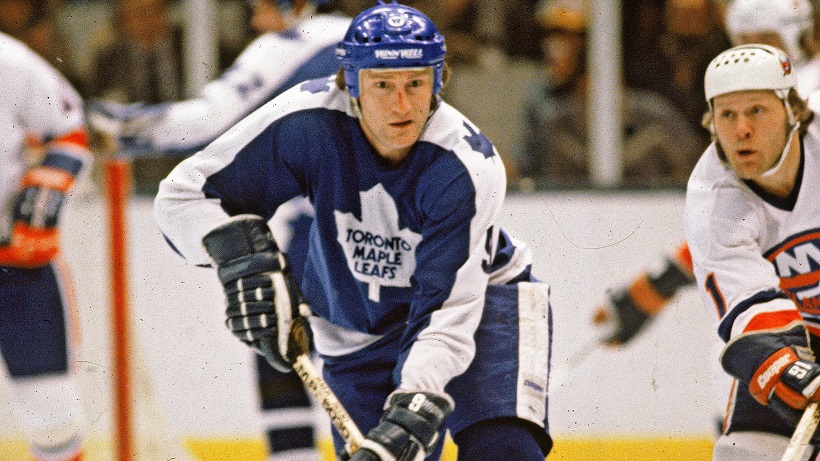 RUGGED WINGER DAN MALONEY HELPED THE LEAFS UPSET THE NEW YORK ISLANDERS IN 1978.
Given the angst and excitement that precedes Trade Deadline Day — provoked, immeasurably, by TSN and Sportsnet here in Canada — it's incredible how many wasted words have been written and spoken about the Maple Leafs through the years. Let's review the significant deadline transactions made by Toronto general managers since Jim Gregory acquired Dan Maloney on Mar. 13, 1978. And the resulting impact on the team:
1979 — PAUL GARDNER FROM COLORADO FOR DON ASHBY AND TREVOR JOHANSEN… The son of former Leaf Cal Gardner erupted for 30 goals in 46 games with the Rockies in 1977–78. He had 22 more when traded to Toronto, where he added seven goals in 11 games. But, Gardner, a poor skater, contributed a lone assist during the playoffs as the Leafs knocked off Atlanta in a best–of–three preliminary round then were swept, again, by Montreal. He later went to Pittsburgh and had seasons of 36, 34 and 28 goals.
1982 — WALT PODDUBNY FROM EDMONTON FOR PHIL DROUILLARD; MIROSLAV FRYCER FROM QUEBEC FOR WILF PAIEMENT… Poddubny and Frycer combined to score 174 goals for the Leafs while mostly flanking center Peter Ihnacak. But, the club never made it beyond the Stanley Cup quarterfinals with either player, coming closest in 1987, when Toronto blew a 3–1 series lead to Detroit and lost in Game 7 at Joe Louis Arena.
1992 — MARK OSBORNE FROM WINNIPEG FOR LUCIEN DeBLOIS… Though the Leafs missed the playoffs in 1992, this trade bore results the following year. Osborne, acquired for the second time, skated on a grinding unit with Peter Zezel and Bill Berg during Toronto's nearest approach to the Stanley Cup final since 1967. It was the Jan. 2, 1992 acquisition of Doug Gilmour from Calgary that sparked the '93 playoff drive, as the Leafs were famously eliminated in Game 7 of the Conference final by Wayne Gretzky and the Los Angeles Kings. But, the Zezel–Berg–Osborne line made a significant contribution. Zezel was arguably the best face–off center in the NHL. The line killed penalties and annoyed opponents for coach Pat Burns. It was a memorable spring here in town.
1994 — MIKE GARTNER FROM THE NEW YORK RANGERS FOR GLENN ANDERSON… Gartner, who stands eighth in NHL history with 708 career goals, scored five times in 18 playoff games as the Leafs advanced to the Conference final on Gilmour's back for the second consecutive spring. Among his goals was an overtime winner in Game 6 of the quarterfinals against San Jose that kept the Leafs alive to win the series in Game 7. But, the Leafs were rudely bounced by Vancouver in five games during the Stanley Cup semifinals, falling two games shy of their playoff roll from the previous spring. Anderson, the Hall–of–Famer from the Edmonton dynasty of the 1980's, came back to haunt the Leafs in the opening round of the 1996 Cup tournament. Playing with Gretzky in St. Louis, he scored an overtime goal for the Blues at the Kiel Center that helped eliminate Toronto in six games.
1995 — TIE DOMI FROM WINNIPEG FOR MIKE EASTWOOD AND A THIRD–ROUND PICK… This deal paid dividends during the Pat Quinn era (beginning in 1998–99) when Domi emerged as a fearless fighter and protector of his Leaf teammates. As in the Gilmour example, however, the Quinn–Domi Leafs would not have twice advanced to the Stanley Cup semifinals (1999, 2002) without having signed free agent goalie Curtis Joseph from Edmonton in July 1998. And, Domi may have cost the Leafs another trip to the final four in 2001 when he took a foolish elbowing penalty in Game 6 of the Conference semifinal against New Jersey, knocking cold Devils star defenseman Scott Niedermayer. Playing the best all–round hockey of his career, Domi was suspended prior to Game 7 and the Leafs were routed, 5–1, at the Meadowlands, amassing a record–low six shots on goal.
1996 — WENDEL CLARK, MATHIEU SCHNEIDER AND D.J. SMITH FROM THE NEW YORK ISLANDERS FOR KENNY JONSSON, DARBY HENDRICKSON, SEAN HAGGARTY AND A FIRST–ROUND PICK IN 1997 (ROBERTO LUONGO)… The last name on this multi–player trade list is the only one you need to know. Ouch!
1999 — YANIC PERREAULT FROM LOS ANGELES FOR JASON PODOLLAN AND A THIRD–ROUND PICK… Hardly an impact move, but Perreault, a Leafs draft pick in 1991, scored 49 goals for the club over parts of three seasons and contributed to playoff victories over Philadelphia and Pittsburgh (1999) and Ottawa (2000, 2001) with his excellence in the faceoff circle. His overtime goal against Philadelphia in Game 5 of the '99 opening round at Air Canada Centre enabled the Leafs to eliminate the Flyers on the road two nights later.
2002 — TOM BARRASSO FROM CAROLINA FOR A FOURTH–ROUND PICK… A full decade after winning consecutive Stanley Cups with Mario Lemieux, Jaromir Jagr and Ron Francis in Pittsburgh, Barrasso came aboard as goaltending insurance. He appeared in four regular–season games with the Leafs (winning twice) and did not dress during the playoffs, as Curtis Joseph backstopped Toronto to Game 6 of the Conference final.
2003 — OWEN NOLAN FROM SAN JOSE FOR ALYN McCAULEY, BRAD BOYES AND A FIRST–ROUND PICK… A good try by Pat Quinn to embellish his 98–point team before the playoffs. But, Nolan did not score in seven first–round matches against the Flyers, who breezed to a 6–1 triumph on home ice in Game 7.
2004 — BRIAN LEETCH FROM THE NEW YORK RANGERS FOR MAXIM KONDRATIEV, JARKKO IMMONEN AND A FIRST–ROUND PICK; RON FRANCIS FROM CAROLINA FOR A FOURTH–ROUND PICK… I will never forget walking into the Leafs dressing room in absolute awe with all–timers Leetch and Francis wearing blue and white. But, the acquisitions by John Ferguson Jr. turned out to be mostly noise for his 103–point club (a franchise record at the time). Leetch did perform well with eight assists in 13 playoff games, but the 2004 Leafs were bounced in the second round by Philly. Francis had no legs and retired after contributing four playoff assists.
2018 — TOMAS PLEKANEC FROM MONTREAL FOR A SECOND–ROUND DRAFT PICK… Once a reliable 20–25–goal scorer for the Canadiens, Plekanec was on his last legs, at 35. Against Boston in the opening playoff round, the Czech native skated on a forward line with Patrick Marleau and Mitch Marner. He scored twice and added two assists as the Leafs rebounded from a 3–1 deficit only to get routed by the Bruins, 7–4, in the decisive match at TD Garden. Plekanec then re–signed with Montreal as a free agent.
2021 — NICK FOLIGNO FROM COLUMBUS FOR FIRST AND FOURTH–ROUND DRAFT PICKS… Imaginative Leaf rooters claim a healthy Foligno would have prevented the playoff collapse last spring against Montreal. As it were, the hard–nosed, aging forward appeared in only four of the seven games, recording one assist. Neither was Nick the productive scorer of his prime NHL years (31 and 26 goals for the Blue Jackets). Prior to the trade, he had registered just seven goals and 16 points in 42 games. This season, after signing as a free agent with Boston, Foligno has one goal in 31 matches. Even if Foligno had been healthy, the Leafs would not have advanced beyond the opening round with Auston Matthews and Mitch Marner misfiring once again.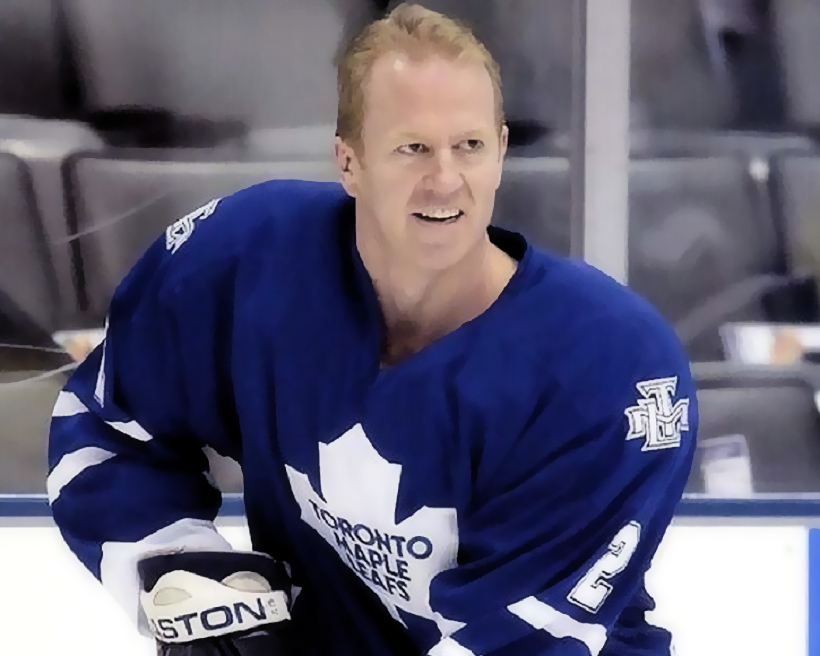 HALL–OF–FAME DEFENSEMAN BRIAN LEETCH WAS ACQUIRED BY TORONTO FROM THE NEW YORK RANGERS AT THE TRADE DEADLINE IN MARCH 2004. TO NO AVAIL.
So, there you have it. In black and white.
Decades of breathless trade deadline anticipation amounting to virtually nothing for the Maple Leafs, who made noise in the post–season only after trading for Gilmour in January 1992 and signing Joseph in July 1998. The deadline acquisition of Maloney had some immediate impact, considering the Leafs upset the Islanders in 1978.
Now, a potential caveat exists with the current Leafs team, given it appears en route to the best regular season in franchise history. If — and this is a MASSIVE if — the big–money boys do not go silent again when it matters, the Leafs possess enough quality up front and in goal to challenge any opponent in the 2022 playoffs. Matthews and Marner are scorching hot right now. William Nylander needs to pick it up, big time, having not scored in the past eight games and with one goal in the past 13. As does the up–and–down John Tavares, scoreless in the past seven. It's on defense, as virtually every year, that the Leafs fall short. Though Morgan Rielly is playing superbly and on the periphery of Norris Trophy contention, there's a steep decline after the 27–year–old veteran. T.J. Brodie, a slowing Jake Muzzin, plodding Justin Holl, talented but placid Travis Dermott and unproven freshmen Rasmus Sandin and Tim Liljegren won't get it done for the Blue and White. It is hardly the worst defense unit in the NHL, yet not Stanley Cup caliber. To last four grueling playoff rounds, the Leafs need a significant upgrade.
Given the indisputable evidence in this blog, immediate help isn't likely to materialize prior to the Mar. 21 embargo. It's on trade deadline day that such low–impact, non–difference–making players as Ben Chariot become wildly overrated… simply because they're available. If a Leafs fan, you'd best hope Kyle Dubas doesn't waste another asset on a body that fills a uniform. And, overpaying for good additions such as Jacob Chychrun and John Klingberg will be worthwhile only if Dubas believes his club is one player removed from challenging for the Stanley Cup. For, the Leafs can afford neither potential free agent as more than a rental beyond the current season.
Might it be prudent, however, to keep Klingberg away from an Atlantic Division rival?
EMAIL: HOWARDLBERGER@GMAIL.COM