TSN Hockey Insider Chris Johnston reports that… with the Maple Leafs up against the salary cap already, any [trade] deadline deal will require a contract to move off their books in order to bring one in.
TORONTO (Mar. 9) — Thank you, Chris Johnson.
Finally, someone in the mainstream hockey media has acknowledged what I've been asserting in this corner for much of the past year; most definitely since Oct. 29 when Morgan Rielly signed a contract extension that will increase his salary cap figure, beginning next season, from $5.5 to $7.5 million: that the Maple Leafs absolutely cannot return in 2022–23 with all of Rielly, John Tavares, William Nylander, Mitch Marner and Auston Matthews.
That no team in the COVID–19, flat–cap universe of $81.5 million can carry five players consuming $48,005,616.
Leaving a paltry $33,494,384 for the remaining 18 roster positions, or roughly $1.87 million per man.
If, as Toronto Star columnist Johnson notes, the Maple Leafs are economically paralyzed for the trade deadline (assuming defenseman Jake Muzzin returns from his latest concussion), it cannot be any different to start next season. Not with a No. 1 goalie to sign (be it Jack Campbell or someone else); not with Alex Kerfoot, David Kampf, Michael Bunting, Wayne Simmonds, Nick Robertson, T.J. Brodie, Justin Holl, Travis Dermott, Muzzin, Kyle Clifford (re–signed today for two years at a cap hit of $762,500) and Petr Mrazek still on the books at a combined $25,434,167; not with Rasmus Sandin and Tim Liljegren coming off entry level restriction; not with decisions to be made on pending free agents Ilya Mikheyev, Ilya Lyubushkim, Pierre Engvall and Ondrej Case.
Retaining the Core–5 is mathematically inconceivable.
Tavares, of course, is entrenched for three more years; unmovable at $11 million a pop. Neither Matthews nor Rielly are going anywhere. So, it will come down to a choice between unloading Marner ($10,903,000)… or Nylander ($6,962,366) and a second contract. And, when I say "unloading", that's precisely what I mean — a trade that fetches prospects and/or draft picks, not a commensurate salary. There is no other way for the Leafs.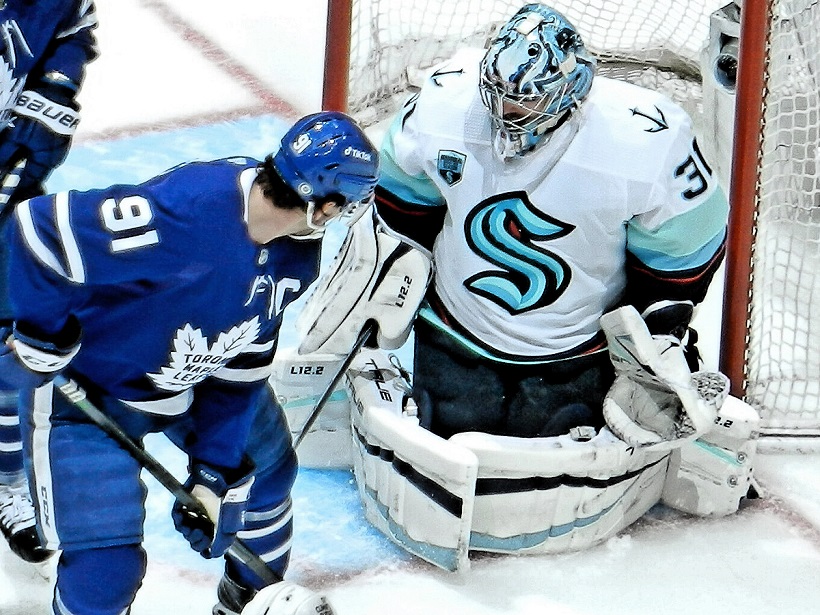 MY PHOTO OF LEAFS CAPTAIN JOHN TAVARES LOOKING TOWARD SEATTLE GOALIE PHILIPP GRUBAUER ON TUESDAY NIGHT AS WILLIAM NYLANDER'S SCORES TO GIVE THE HOME TEAM A 3–1 LEAD AT SCOTIABANK ARENA. THE GOAL, AT 5:14 OF THE SECOND PERIOD, WAS NYLANDER'S 22nd OF THE SEASON. THE MAPLE LEAFS BEAT THE KRAKEN, 6–4.
That general manager Kyle Dubas continued to add to the cap figure today — even if modestly with Clifford — is a clear indication he knows what lays ahead. The Leafs will get back $1.2 million of cap space when Phil Kessel's "dead" figure is removed, but that is pocket change in the big picture. After the Clifford signing, the Leafs have $4,469,166 of trade deadline cap space, less than the figure being saved with Muzzin on Long Term Injury Reserve. Which means they'll have to lop off another small contract in order to reinstate Muzzin… or shut him down for the remainder of the regular schedule, thereby freeing up the current amount for a trade acquisition.
Given that Muzzin, while clearly useful, will not prove the difference in a lengthy Toronto playoff run, I'd suspect Dubas is looking hard to make a significant addition. Even as a rental, which he normally tries to avoid.
EVERY LEAFS GAME IS A REPLAY
Here's a sure–fire bet: If the recent and remarkable pattern of Leaf results extends through four rounds of the playoffs, the club will win its first Stanley Cup since 1967. That unmistakable sequence? Grab a quick, early lead of two or three goals. Sag during long, apathetic minutes and relinquish the lead while allowing a couple of softies. Throw Matthews, Marner and Bunting over the boards for a late rescue. It's impossible to remember when the Leafs so brilliantly deployed such a formula. It worked again on Tuesday night with the expansion Seattle Kraken in town for the first time. As per the script, a 3–1 advantage morphed into a 4–3 deficit and then a 6–4 victory; Matthews counting three times, including an empty netter. It's uncanny how often this has occurred with the Leafs.
Is it a formula to succeed during the Stanley Cup tournament? Certainly not by tradition, but who knows what can happen if the big–money boys up front are firing darts at playoff time? Tradition would imply that the Leafs have no chance in May and June by continuing the pattern; that mediocre goaltending; soft physical uniformity and long stretches of indifference will doom the club once more in the opening round. But, again, who can say for sure?
I attended the Leafs–Kraken game at Scotiabank Arena. Perhaps five reasonable bodychecks were dished out by both teams during the entire match. In a playoff series, such a number could occur on the opening shift. So, it certainly wasn't indicative of what the Maple Leafs will encounter at Stanley Cup time. Still, it was enough to subdue the first–year team from the American northwest and improve to 37–16–4 after 57 games. Matthews is again showing that he's the most–gifted scorer in franchise history, on pace for a team–record 65 goals. He brings fans out of their seats and is worth the price of admission. But, he'll never build an appropriate legacy until he maintains such a posture through four playoff rounds — four more than he's accomplished thus far in his career.
I had my trusty NIKON with me for Seattle's first visit to Toronto: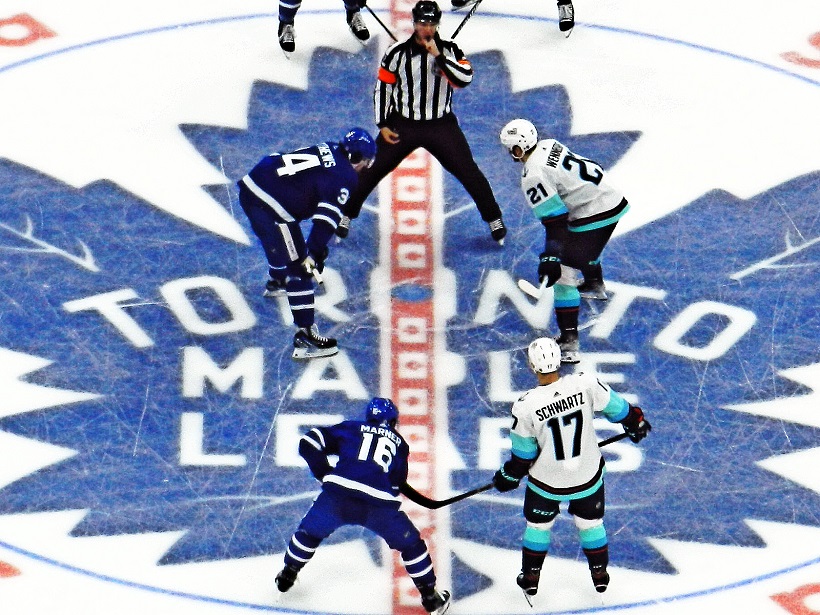 OPENING FACE OFF: AUSTON MATTHEWS AND ALEX WENNBERG LINE–UP AT CENTER ICE TO BEGIN THE FIRST–EVER GAME IN TORONTO BETWEEN THE MAPLE LEAFS AND THE EXPANSION SEATTLE KRAKEN. MITCH MARNER AND JADEN SCHWARTZ ARE AT BOTTOM OF THE PHOTO.

HOCKEY IN MINIATURE: OUR SEATS IN SEC. 309, ROW 17 WERE NEAR THE TOP OF THE SOUTH STANDS, BUT AFFORDED A PERFECT VIEW OF THE ACTION, BI–SECTING THE CENTER RED LINE.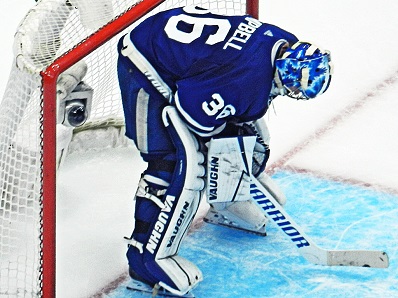 IT WAS A NERVE–RACKING NIGHT FOR THE LEAFS AND GOALIE JACK CAMPBELL, WHO ALLOWED ANOTHER FOUR GOALS WHILE TRYING TO BREAK THE PERSONAL SKID THAT BEGAN AFTER THE NHL ALL–STAR GAME. SEATTLE'S ALEX WENNBERG LURKED BEHIND CAMPBELL (BELOW).

THE GREATS, AND THE GREATEST: SUSPENDED FROM THE RAFTERS (ABOVE AND BELOW) AT SBA.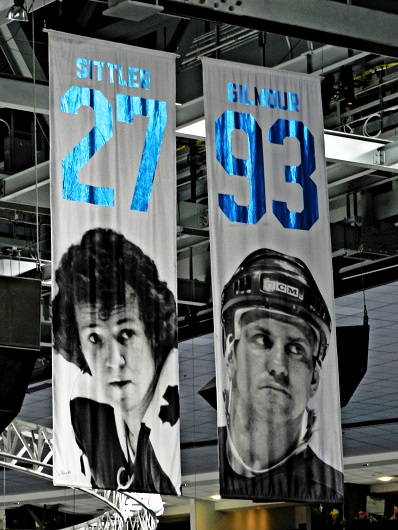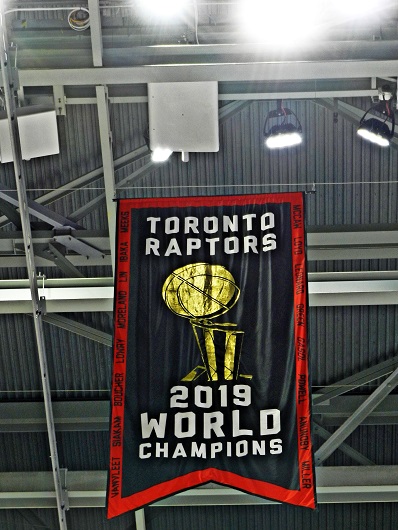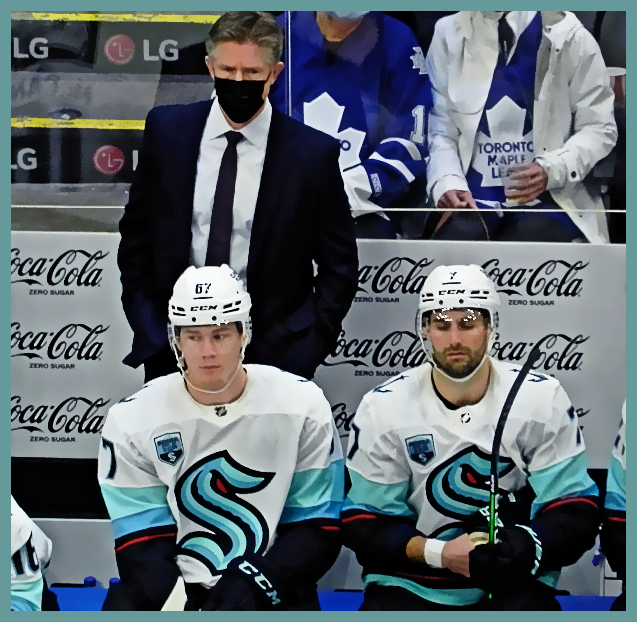 SEATTLE COACH AND FORMER MAPLE LEAFS ASSISTANT DAVE HAKSTOL.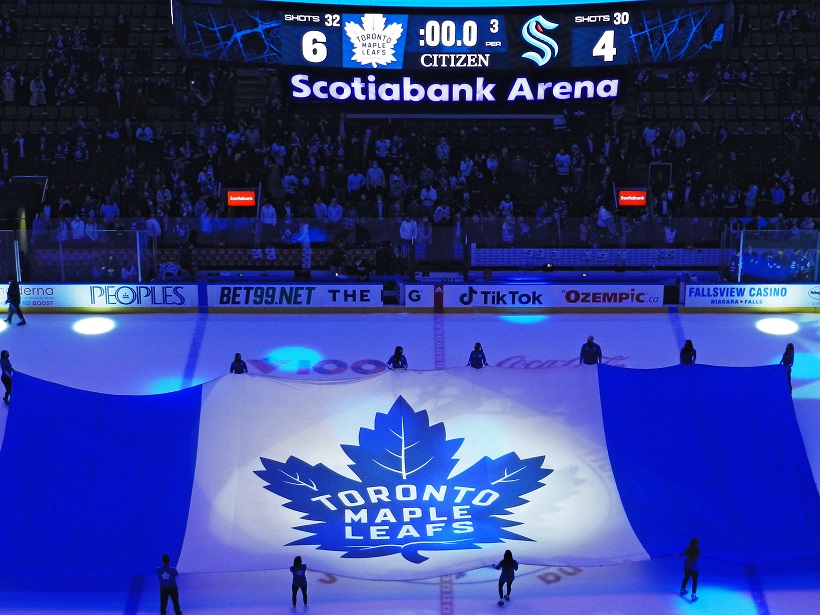 A GIANT LEAFS FLAG WAS DRAPED AT CENTER ICE BENEATH THE SCOREBOARD AT GAME'S END.
Final thought: If NHL defenseman Cody Ceci and long–time baseball pitcher C.C. Sabathia switched names, we'd have Cody Sabathia and C.C. Ceci. Hope your week is going well. 😆 
EMAIL: HOWARDLBERGER@GMAIL.COM