TORONTO (Mar. 26) — There's a chance that Auston Matthews and Mitch Marner could combine, this season, for the most points by any pair of forwards in the history of the Toronto Maple Leafs. The record of 210 belongs to Doug Gilmour (111) and Dave Andreychuk (99) in the 84–game schedule of 1993–94. Matthews (80) and Marner (69) have 149 points with 19 games left in the 2021–22 season, an average of 2.4 points per match. The M & M boys will need to pick up the pace, as 3.2 points per game are required over the last month of the schedule.
Barring injury, Matthews is all–but certain to break the Maple Leafs team record of 54 goals in a season, set by Rick Vaive in 1981–82. Matthews has 46 goals and is on pace for more than 60. He and Marner have combined for 73 goals so far, or 1.16 per game. Andreychuk (53) and Wendel Clark (46) hold the franchise mark of 99, also established in 1993–94. To equal the team standard, Matthews and Marner need 26 goals in the remaining 19 matches, or roughly 1.4 per game. Again, attainable… but needing to increase the pace. The line of Matthews, Marner and Michael Bunting has put up 198 points this season (3.14 per game). It will not likely equal the Maple Leafs franchise mark of 273 (3.41 per game) set by Darryl Sittler (100), Lanny McDonald (93) and Errol Thompson (80) in 1975–76. Matthews, Marner and Bunting need 75 points in the last 19 games, or 3.9 per outing.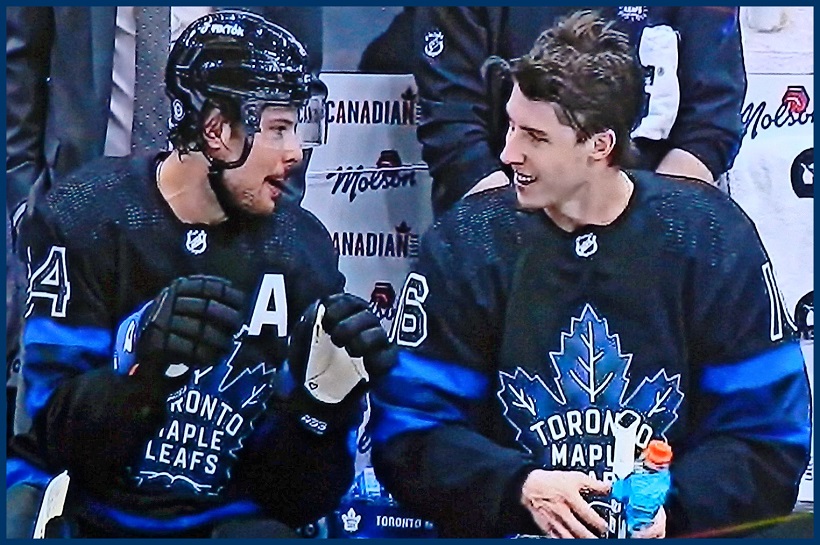 AUSTON MATTHEWS (LEFT) AND MITCH MARNER ENJOY A LIGHT MOMENT ON THE BENCH DURING WEDNESDAY NIGHT'S 3–2 VICTORY OVER NEW JERSEY AT SCOTIABANK ARENA. SPORTSNET IMAGE
These numbers are impressive. They make for wonderful talking points and newspaper columns during the excessively long National Hockey League schedule. In the big picture, however, they are irrelevant. Far more significant are goals, assists and clutch performances in the Stanley Cup playoffs. In that realm, Matthews and Marner, over more than half–a–decade, haven't approached the others aforementioned. This is hardly news and it will become irrelevant, itself, once the M & M boys carry their regular–season accomplishments into May and June. Perhaps it will happen this spring. Again, the Leafs top two players are flashing their incredible gifts. But, Matthews and Marner can never be mentioned in the same breath as Sittler, McDonald, Gilmour, Andreychuk, Clark or all–time Leafs scoring leader Mats Sundin until they, minimally, help lift the club beyond the opening round of the playoffs.
In this blog, I am comparing Leaf greats of the post–expansion era, when the NHL enlarged exponentially and scoring numbers increased with the dilution of talent. In the context, therefore, of the playoffs, none of Sittler, McDonald, Gilmour, Andreychuk, Clark, Matthews and Marner can reasonably compare with Charlie Conacher, Syl Apps, Ted Kennedy, Dave Keon, Frank Mahovlich and Red Kelly, who won multiple Stanley Cup championships (McDonald and Gilmour lifted the 1989 Cup with Calgary; Andreychuk, in 2004 as captain of Tampa Bay).
The post–1967 standard of clutch playoff performance is held by Gilmour, who amassed a remarkable 35 points in 21 games of the 1993 Cup tournament; then 28 more in 18 matches the following year for the two highest totals in franchise history. On each occasion, the Leafs played in the Stanley Cup semifinals. The memorable Toronto–Los Angeles series of May 17–29, 1993 brought the club to within one victory of competing for the NHL title, the closest–such advancement since the 1967 championship. The Sittler–McDonald teams of the mid–to–late–1970's had no chance of winning the Stanley Cup as part of the parity poor NHL in which Scotty Bowman's Montreal Canadiens were head–and–shoulders above the fray. But, Sittler came up large with a record–tying five–goal effort against the two–time–champion Philadelphia Flyers on Apr. 22, 1976, extending a quarterfinal series to the seven–game limit. He also put up 21 points in only nine matches the next spring (McDonald, 17 points) as the Leafs knocked off Pittsburgh in a best–of–three preliminary round, then were beaten by the Flyers in six games.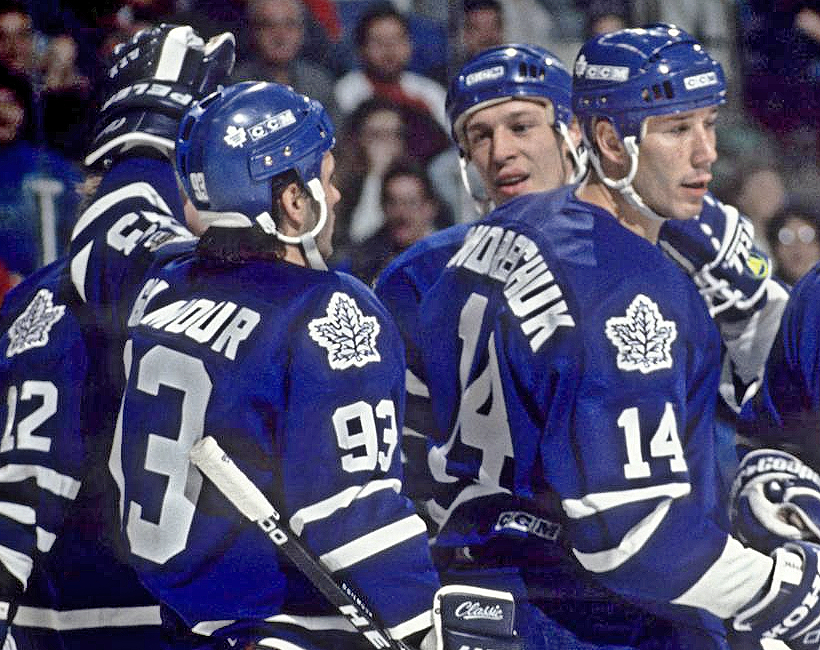 DOUG GILMOUR (93) AND DAVE ANDREYCHUK (14) HOLD THE LEAFS FRANCHISE RECORD OF 210 POINTS BETWEEN LINEMATES, SET IN 1993–94. MATTHEWS AND MARNER HAVE 149 POINTS WITH 19 GAMES LEFT. THE EXPLOSIVE FORWARD UNIT (BELOW, LEFT–TO–RIGHT) OF LANNY McDONALD, DARRYL SITTLER AND ERROL THOMPSON COMBINED FOR A TEAM–RECORD 273 POINTS IN 1975–76.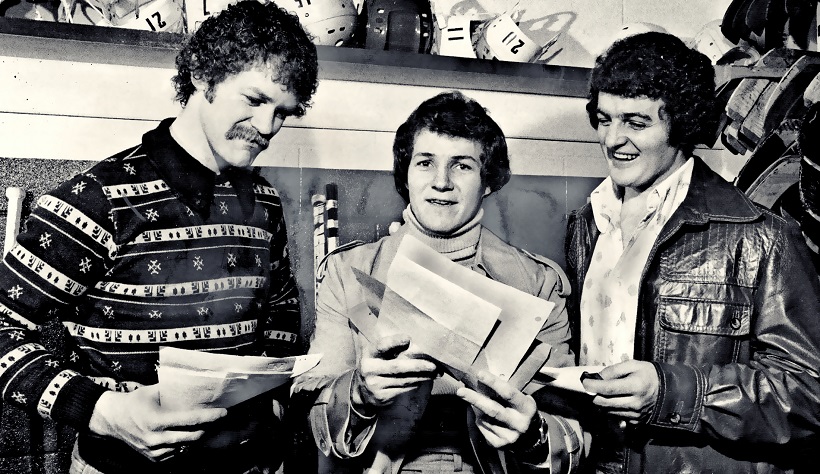 As Leafs fans are eminently aware, Matthews and Marner have yet to appear beyond the first round of Stanley Cup toil. The word "clutch" doesn't apply to the Toronto teams of the past half–decade, which lost four decisive playoff matches in as many attempts (Games 7 against Boston in 2018 and 2019; Game 5 of the qualifying round against Columbus in 2020 and last year's gut–churning Game 7 against Montreal that finished the collapse from a 3–1 series lead). Most neutral observers would agree that the nucleus of Matthews, Marner, William Nylander, John Tavares and Morgan Rielly — being lionized in the local media yet again for regular–season accomplishment — has one remaining opportunity to perform similarly in the playoffs before it is dismembered. In that realm, and for whatever a regular–season match is worth, it will be interesting to watch how the M and M boys function tonight in Montreal against the first of the 32 NHL clubs to be officially eliminated from Stanley Cup competition.
Last time in, on Feb. 21, the Canadiens amped up the physical work at the Bell Centre for a decisive 5–2 victory in which Matthews and Marner were invisible. Hardly a promising note as it relates to the two–month playoff slog.
The Habs are a vastly inferior team, so it shouldn't happen for a second time. But, who knows?
With Matthews being glorified for his pursuit of Vaive's single–season goals record and a second consecutive Rocket Richard Trophy, we again wonder if the M & M boys can finally take the next, and most–necessary, step.
SOMEONE ELSE'S HANDIWORK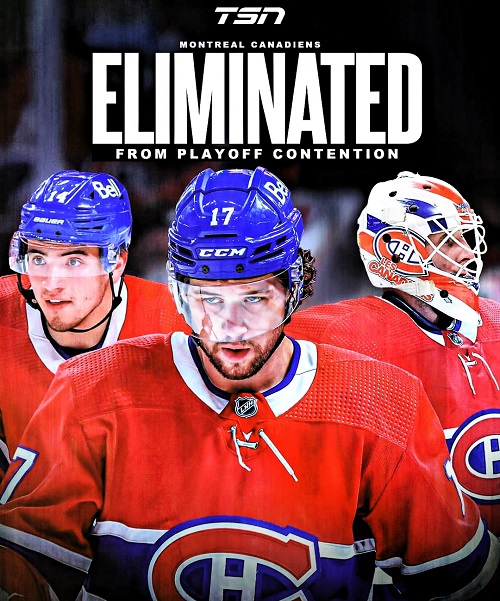 You may notice the above graphic on social media today. From what I can see, it should not be attributed to TSN, which carries midweek Canadiens games and wouldn't likely celebrate the dubious achievement of being the first club eliminated from playoff contention. There are individuals all over the place with way too much time on their hands. This is merely another example.
EMAIL: HOWARDLBERGER@GMAIL.COM