TORONTO (Mar. 21) — A bromide in professional sport decries that "the best trade is often the one not made." Is it possible that Kyle Dubas, general manager of the Toronto Maple Leafs, could regret a best trade he "should have" made? There's lots of rhyme in that sentence… and perhaps as much reason.
With bartering players no longer permitted in the 2021–22 National Hockey League schedule, Dubas and the Leafs are back to square one: Discounting an entirely unforeseen circumstance, only the re–emergence of Jack Campbell as an elite goaltender can allow the club to break its 18–year lapse of winning a playoff series and, possibly, challenge for the Stanley Cup. The notion that any of Petr Mrazek (waived by Toronto on Sunday; cleared today), Erik Källgren, Joseph Woll or Michael Hutchinson can offer similar hope is pure fantasy. Not entirely inconceivable, but the longest of shots (Finnish goalie Harri Säteri, signed by Toronto on Sunday, did not clear waivers; he was claimed by Arizona). Dubas chose, once more, to roll the dice with the game's most–critical position by turning down the chance to acquire future Hall–of–Fame goalie Marc–Andre Fleury from Chicago.
According to trusted Insider Darren Dreger of TSN, the Maple Leafs could have obtained Fleury and winger Brandon Hagel from the Blackhawks for Mrazek; University of Minnesota prospect Matthew Knies and at least one first–round draft choice (Dubas all–but confirmed the report today when saying he was "disappointed" that the Fleury trade talk became public; blaming the Chicago administration for the apparent breech).
Perhaps an unreasonable price if you consider a first–round pick in the late–20's beyond salvation for the Maple Leafs. Otherwise, a potentially lethal non–call by a fourth–year GM that surely will not see a fifth year without his team — holding the dubious record for longest Stanley Cup famine — advancing past the opening playoff series.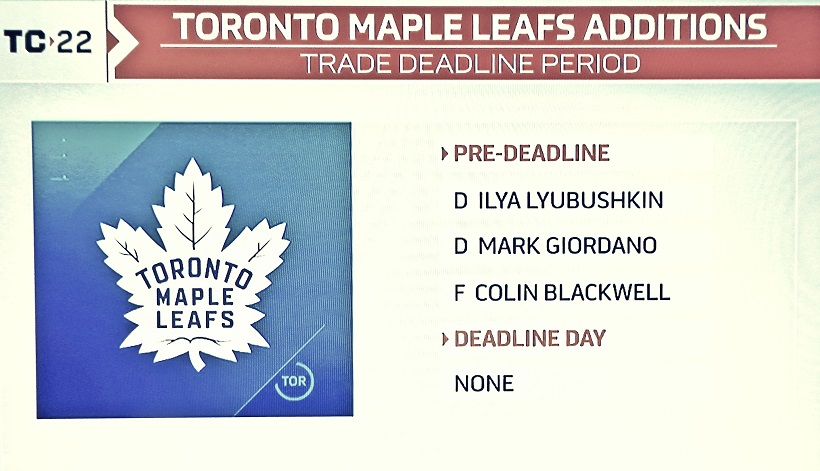 This rejection came with a double–whammy when Atlantic Division rival Tampa Bay acquired Hagel. The Lightning, in possession of the league's top goalie (Andrei Vasilevskiy), will attempt to become the first team since the 1981–82 New York Islanders to win three consecutive NHL championships. A likely, though not certain, first round obstacle is Toronto — out of contention for Fleury once Minnesota obtained the 37–year–old stopper just prior to noon today. There was no guarantee, of course, that making the proposed trade for Fleury would nudge the Leafs into Cup contention. The club is still too docile to endure an eight–week playoff grind. Neither is anything in life guaranteed. At some point, however, and probably after it's too late, the Leafs will recognize that continuing to defer was a calamitous blunder. The future is forever persuasive here in Toronto with an undying legion of zealous advocates (amid fans and media). There is no apparent limit to the adversity and chagrin of Leafs Nation.
As such, we always have next year. And, the one after that, etc.
Accordingly, it took no time for the Leaf apologists in the media to strike. Even before the 3 p.m. Eastern deadline came this offering from TSN: Gino Reda, Martin Biron, and Jamie McLennan discuss the Leafs' goaltending troubles and what could be Kyle Dubas' outlook on the team's goaltending going forward. McLennan says that the only options [for] Dubas were lateral moves that might not pay off in the end. Love all the guys mentioned here: Gino, Marty and Noodles. But, "might not pay off in the end?" With a team for which nothing has "paid off" since 2004 in the Stanley Cup tournament? What could the Leafs possibly risk by stepping outside their comfort zone?
We await, of course, the daily "all is terrific" submission from Luke Fox of Sportsnet. (Follow up: My bad. At least Luke asked the pertinent question… https://sprtsnt.ca/36cehGa).
As for Dubas, I'll give him credit for honesty. He told reporters after 3 p.m. that he chose to preserve the club's prospects over a "costly" rental… even after "renting" Mark Giordano. If he dies on that sword, so be it. Clearly, the results of yielding a first–round pick for Nick Foligno last year engendered caution. And, Kyle made a good point when forlornly suggesting that Rodion Amirov, the club's first–round choice in 2020, may no longer be in the picture while battling a brain tumor. For the most part, Dubas has been consistent in his trade–deadline strategy.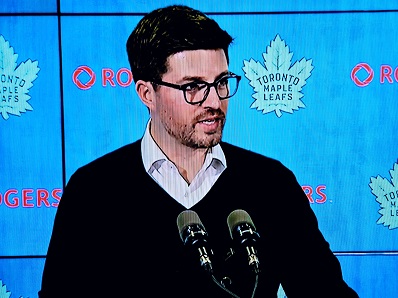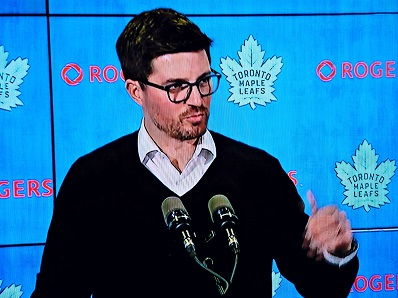 But, will he rue not pulling the trigger on Fleury, last year's Vezina Trophy winner and with a solid Stanley Cup resume? Until Campbell's recovery is complete and he either does or does not regain his form, it's a rhetorical question. Only the most dyed–in–the–wool Leafs supporter would honestly favor the club, right now, in a playoff match up against any of Florida, Tampa Bay, Carolina, the Rangers or Pittsburgh. Boston and Washington also have goaltending questions, but not as severe as Toronto's. Then there's Colorado and Calgary out west, still three playoff–round victories in the distance. None of the aforementioned would be an underdog against the Leafs.
Which brings us back to the infamous vow from Brendan Shanahan in the wake of last spring's embarrassment against Montreal. "We will get this done," asserted the Leafs president in reference, primarily, to his core players and their perennial playoff underachievement. As a Hall–of–Fame power forward that won the 2002 Stanley Cup in front of Detroit teammate Dominik Hasek, we wonder how Brendan truly feels today.
EMAIL: HOWARDLBERGER@GMAIL.COM