TORONTO (Mar. 24) — Between 1986 and 2006, Hockey Night In Canada presented nationwide viewers the best play caller and color analyst in the business. Bob Cole and Harry Neale could not be matched north of the border.
Given that the Toronto Maple Leafs have forever driven viewership numbers, Cole and Neale called the majority of Saturday night games involving the Blue and White; all Toronto playoff games and, of course, the Stanley Cup final. To his chagrin, Cole was replaced by No. 2 voice Jim Hughson (who also called regional games for the Vancouver Canucks) in 2008–09. Neale had left Hockey Night after 2006–07 to work closer to home in East Amherst, N.Y. with the Buffalo Sabres. Former Edmonton Oilers star Craig Simpson moved in beside Hughson.
For the first time in the history of hockey on television, Canadian viewers did not have the best in the business.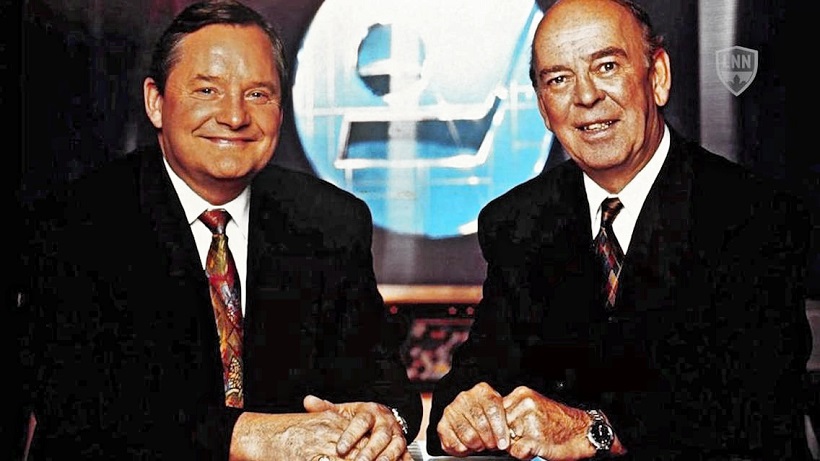 BOB COLE (RIGHT) AND HARRY NEALE: THE PREMIER DUO IN HOCKEY BROADCASTING HISTORY.
Hughson and Simpson were very competent but had an impossible act to follow. Neither were they entertainers, ala Neale, in any sense of the word. As such, former National Hockey League goalie Glenn Healy — the best analyst to ever work at ice level, between the benches — spiced up the telecast with his jocularity, humor and lightning–fast observations. Ultimately, Glenn became too outspoken for Hockey Night executives, who favored a bland, colorless presentation in which no viewer could possibly feel offended. The transition became complete when Rogers Communications found its long–sought excuse to fire Don Cherry in November 2019. Axing Healy and Cherry also preserved a load of cash for the company that forked over $5.2 billion in 2013 for 12 years of national hockey rights — arguably the most absurd and irresponsible decision in Canadian broadcasting history.
Today, national viewers on Rogers and CBC are gifted with half the best in the business. Rogers made an exceptional move in June 2020 by hiring Chris Cuthbert away from his long association with TSN. Cuthbert and Cole are the best hockey voices our country has ever produced. Chris, already well known, burst into the national conscience with his unforgettable call of the "golden goal" at the 2010 Winter Olympics in Vancouver, when Sidney Crosby scored in overtime against the United States to give the host nation the men's hockey title. For years, Cuthbert had been the premier football voice in Canada, ranking alongside such legendary figures as Don Chevrier, Pat Marsden and Don Wittman. By spirting C.C., as he is known in the business, away from TSN, Rogers assured that Hockey Night would again provide viewers the No. 1 play calling voice in the land.
Simpson has never been at the level of Cole, Neale and Cuthbert. He does everything well, but nothing spectacularly. I give Craig abundant credit for his willingness to travel between cities during the teeth of the COVID–19 pandemic. No one can ever question his dedication and work ethic. But, he is not the best that Rogers and Hockey Night currently employ. That label belongs to former NHL defenseman (1984–2001) Garry Galley, who has appeared on secondary Hockey Night In Canada telecasts since 2008. Galley works for all–sports radio Team–1200 in Ottawa and has long been a Senators' analyst. Recently paired with Cuthbert for regional Leaf games (including Wednesday night's match against New Jersey at Scotiabank Arena), he quickly and considerably enhanced the product. Garry brings more energy and voice inflection to the role than Simpson; it sounded, to my ears, as if Cuthbert and Galley had been working together for eons, such was their instant chemistry.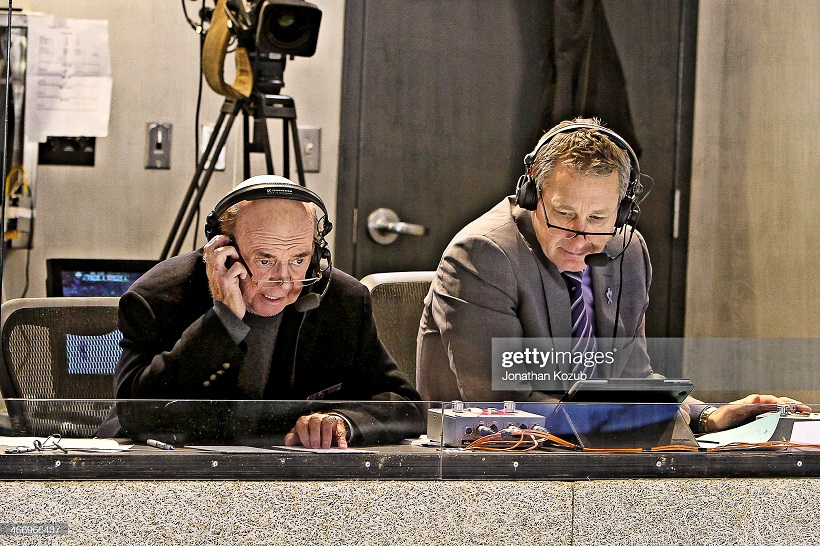 GARRY GALLEY (RIGHT) SPENT TIME ALONGSIDE COLE IN THE HOCKEY NIGHT TELECAST BOOTH.
Were it my decision, Galley would stay with Cuthbert as the No. 1 tandem throughout the playoffs and Stanley Cup final, thereby taking the coast–to–coast audience back to the halcyon 20–plus years in which Cole and Neale had no rivals. In so doing, Rogers and Hockey Night would again — without argument — provide viewers the best at each discipline: play by play and color commentary. The sport's oldest TV presentation deserves nothing less.
BIG LEAFS ANNIVERSARY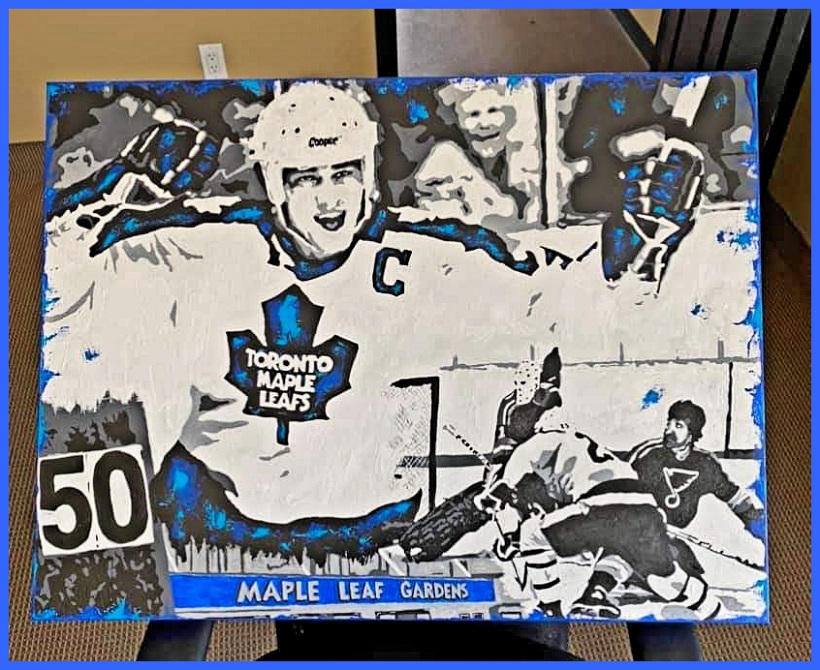 With Auston Matthews threatening to become the most–prolific Leafs goal scorer in a single season, we take you back 40 years ago tonight (Mar. 24, 1982) to when Toronto captain Rick Vaive became the first 50–goal shooter in franchise history. Vaive beat goalie Mike Liut of the St. Louis Blues at Maple Leaf Gardens in a 4–3 Leafs victory. He would finish the season with a club–record 54 goals. Matthews has 46 goals with 24 games remaining on the schedule. The terrific painting, above, commemorating Vaive's 50th goal, was done by Brian Chudy.
EMAIL: HOWARDLBERGER@GMAIL.COM