TORONTO (Mar. 2) — Call me stupid. Call me stubborn. Heck, I'm calling myself stupid and stubborn.
But, I maintain there is much about the goaltending swagger of Jack Campbell that will enable him to emerge from this horrendous, second–half slump and lead the Maple Leafs into the playoffs. I'm not thumping my chest, but I steadfastly maintained — after his first appearance for Toronto in the Stanley Cup tournament — that the Leafs wouldn't win anything with Frederik Andersen between the pipes; that his penchant for allowing soft, untimely goals would demolish any chance of the club prevailing beyond the opening round. After four attempts (talk about stubborn), the Maple Leafs finally concurred. Given the noise surrounding Campbell's fall from grace in the past month, there likely isn't another person willing to approve of my assessment. Neither will the Leafs if they make the foolish decision to put their stock in the forever–average Petr Mrazek (I'll admit to being surprised that my friend, Terry Koshan, called for such a move in the Toronto Sun; I consider Kosh among the more astute Leaf observers in the media). The only chance the Maple Leafs have in a first–round playoff series against any Eastern opponent, inter–division or wild card, is for Campbell to play his way out of this funk. Smilin' Jack's game is all about confidence. When he's victimized by a "mental block" — as he admitted to on Monday — it can be overcome only by getting back on the horse; not by sitting at the end of the bench and "thinking" about his plight.
Deploying Mrazek in consecutive games, as Monday and tonight, is like putting a band–aid on a gunshot wound.
Just not in the mind of coach Sheldon Keefe. "He has earned it," Keefe told reporters today about Mrazek. "It's no secret that Jack has stumbled here a bit of late and we have been talking about getting Petr more time in the net. We think the timing makes sense." This corner vehemently disagrees. Sounds here as if the coach is doing the general manager's dirty work after Kyle Dubas committed $11.4 million to Mrazek over three years.
If Leafs management has suddenly concluded that Campbell is not the answer for a deep playoff run, Dubas needs to rent a goalie before the Mar. 21 National Hockey League trade deadline. He cannot waste yet another year of the Core–4. Marc–Andre Fleury could be available from Chicago and he'd arrive with a Stanley Cup resume. But, Fleury can submit the Blackhawks a ten–team, no–trade list. Might the list include Toronto? Such a call would largely distemper the immediate future of the club's goaltending. Until recently, the only argument was how much the Maple Leafs would pay Campbell in a contract raise (he's making a paltry $1.6 million this season and can become an unrestricted free agent). Should Campbell be allowed to defect on the open market, then what? If Smilin' Jack is determined by management to be a one–and–done, Dubas, quite frankly, cannot be accorded another chance to get it right between the pipes. His Maple Leaf goaltending trilogy will have been nightmarish.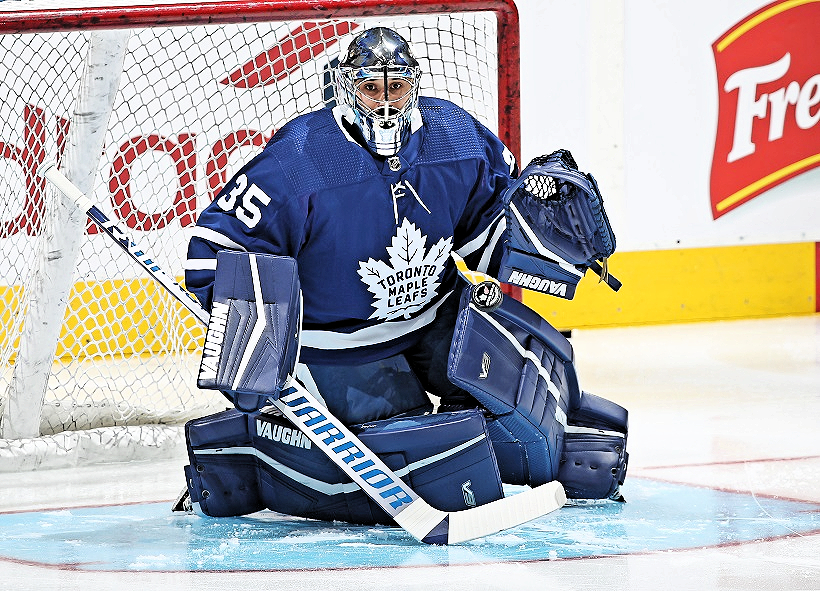 THOUGH A DECENT BACK–UP, WHEN HEALTHY, VETERAN PETR MRAZEK IS NOT THE PLAYOFF ANSWER IN GOAL FOR THE TORONTO MAPLE LEAFS. CLAUS ANDERSEN GETTY IMAGES
It began, you'll recall, with the unjust ascension of Garret Sparks to the No. 2 role (behind Andersen) for the 2018–19 season. Sparks had appeared in 17 games with the Leafs in 2015–16, then led the American League Toronto Marlies, managed by Dubas, to the Calder Cup in 2017–18. In a selfish move, Dubas exposed solid back–up Curtis McElhinney to NHL waivers, whereupon he was claimed by Carolina (later signing as a free agent with Stanley Cup–bound Tampa Bay). Sparks performed abysmally in 20 matches with the Leafs (3.15 average, .902 save%) and Dubas traded with Florida for the omnipresent Michael Hutchinson. The Andersen playoff experiment was doomed from the outset and the Leafs confessed as much about "Soft Goal Freddie" when they acquired Campbell from Los Angeles in February 2020. That summer, after a season abbreviated by the onset of COVID–19, the Leafs sat out the free agent goaltending roulette in which Jacob Markstrom (Vancouver to Calgary), Cam Talbot (Calgary to Minnesota), Braden Holtby (Washington to Vancouver), Thomas Greiss (New York Islanders to Detroit), Corey Crawford (Chicago to New Jersey) and Henrik Lundqvist (New York Rangers to Washington) changed teams. Other than not pursuing Markstrom, who is starring for the Flames, history shows that Dubas made a splendid move by trading for Campbell. But, he obstinately stuck with Andersen as No. 1 (after four playoff duds) until injury elevated Campbell to the starter's role during last year's 56–game, all–Canadian exercise.
If the Maple Leafs now determine that Campbell is a flash–in–the–pan, should Dubas remain as general manager? How many more mistakes can be permitted with regard to the game's most–important position?
It's the reason that I contend the Leafs have no choice but to get Smilin' Jack up on the saddle once again. There is no evidence that Mrazek can lead any team through four Stanley Cup rounds, let alone one frequently wracked by defensive mayhem. Yes, we occasionally witness an Annti Niemi or Anton Khudobin emerge from obscurity and backstop a team to the Stanley Cup final. But, the Leafs are not in a position to cross their fingers with Mrazek.
Getting back to my original point, I maintain a gut feel that Campbell is fully capable of playing solid goal for the Maple Leafs in the playoffs. As I did that Andersen was not. Staying with Mrazek and allowing Campbell to wallow in apprehension might become the biggest goaltending mistake of the Dubas era.
SADLY, WAR AND ATLETICS ARE INTERTWINED: For my money, the only difference between Vladimir Putin and Adolf Hitler is 82½ years. The sooner the Russians string up that bastard for crimes against their own — let alone the people of Ukraine — the better. Like Hitler, he is a ruthless dictator and murderer of the innocent.
That said, I ache for those involved in the collateral damage of Putin's unconscionable attack on neighboring Ukraine. That Russian–born athletes, amateur and professional, are enduring the fallout is rather immoral, yet consistent with the world view that all aspects of Putin's society be chastened. Given that the Russian president was democratically elected, even if by means of coercion, his country's citizens are bearing the full brunt of sanctions. Sadly, the same applies when governments use amateur sport as a pawn for boycotting Olympic Games; then, later, as retribution. This occurred, most famously, when the United States pulled out of the 1980 Summer Olympics in Moscow to protest the Soviet Union's southward invasion (Dec. 24, 1979) of Afghanistan. The Soviets retaliated by keeping their athletes home for the 1984 Summer Games in Los Angeles. Neither decision remotely impacted world politics and was dreadfully unfair to sports figures of each society that worked exhaustively toward a lifetime goal — representing their country on the international stage. Nonetheless, it happened. Unavoidably.
Just as Russian–born athletes are being penalized across the globe today. And, in the foreseeable future.
Truthfully, I'm not partial toward other athletes of worldwide fame, such as Wayne Gretzky, supporting the censure of Russian sports participants, even if the comments he made this week on Sportsnet–590 here in Toronto were principled. "It's not about punishing Russian kids; what about Ukrainian kids that are being killed?" Gretzky asked. "We shouldn't compete against [Russia] right now while they're at war against an innocent country." The Great One won't receive pushback on his remarks that are consistent with the world view. Yet, it feels like piling on for a gifted athlete that wouldn't likely have been so compliant during his prime hockey years. Politics did not preclude Gretzky from taking part in eight major international tournaments (1978 World Juniors; 1981–84–87–91 Canada Cups; Rendez-vous '87; 1996 World Cup of Hockey; 1998 Winter Olympics in Nagano, Japan). Therefore, I'm not sure Wayne is appropriately experienced to be rebuking today's Russian athletes. Even with freedom of speech.
In a perfect world, politics and sport would stand apart. But, we live in a terribly imperfect world.
EMAIL: HOWARDLBERGER@GMAIL.COM