TORONTO (Mar. 12) — It all began the night before, when word surfaced that the National Basketball Association had suspended play after Utah Jazz center Rudy Gobert tested positive for the new virus, COVID–19, that was beginning to frighten the western world. The next afternoon, two years ago today, the National Hockey League predictably followed suit, which began a domino effect that included the immediate suspension of baseball spring training and postponement of two major sports events: the National Collegiate Athletic Association (NCAA) basketball tournament (commonly known as "March Madness") and the Masters Golf Tournament in Augusta, Ga.
These were the initial press releases from the NBA and NHL: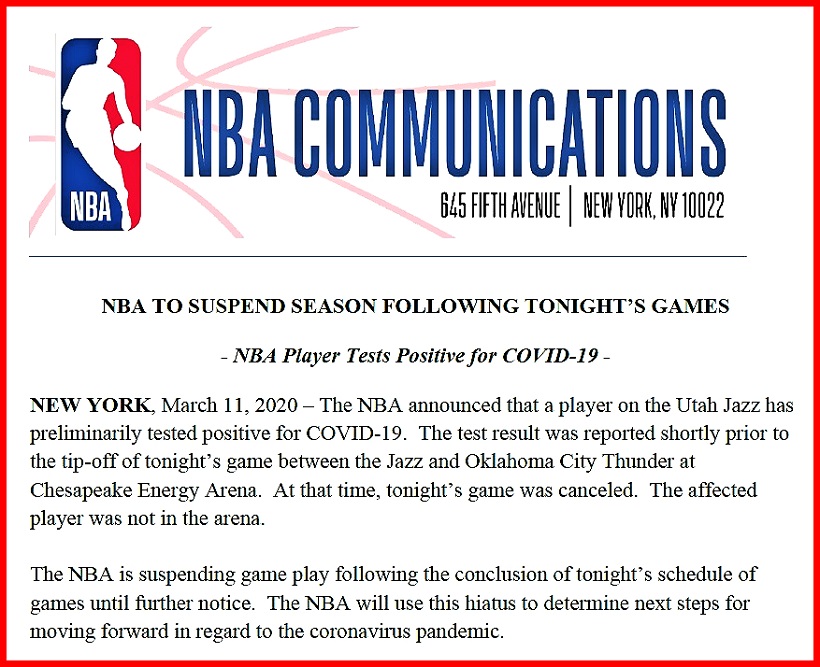 NHL statement on coronavirus
League pauses season, hopes to resume play 'as soon as it is appropriate'
National Hockey League Commissioner Gary Bettman on Thursday released the following statement regarding the 2019-20 NHL season:
"In light of ongoing developments resulting from the coronavirus, and after consulting with medical experts and convening a conference call of the Board of Governors, the National Hockey League is announcing today that it will pause the 2019-20 season beginning with tonight's games.
"The NHL has been attempting to follow the mandates of health experts and local authorities, while preparing for any possible developments without taking premature or unnecessary measures. However, following last night's news that an NBA player has tested positive for coronavirus — and given that our leagues share so many facilities and locker rooms and it now seems likely that some member of the NHL community would test positive at some point — it is no longer appropriate to try to continue to play games at this time.
"We will continue to monitor all the appropriate medical advice, and we will encourage our players and other members of the NHL community to take all reasonable precautions — including by self-quarantine, where appropriate. Our goal is to resume play as soon as it is appropriate and prudent, so that we will be able to complete the season and award the Stanley Cup. Until then, we thank NHL fans for your patience and hope you stay healthy."
The NHL Players' Association also released a statement Thursday.
"The decision to temporarily suspend play due to the COVID-19 pandemic is an appropriate course of action at this time. The NHLPA will continue to closely monitor this very dynamic situation and remain in daily discussions with the League, our medical consultants, and our players regarding all aspects of this matter. The players are looking forward to the opportunity to resume play in front of hockey fans everywhere."
Hockey would not resume for 4½ months, until qualifying (or play in) rounds were conducted amid "bubble" environments in Toronto and Edmonton. In one of the best–of–five preliminary series, the Columbus Blue Jackets eliminated the Toronto Maple Leafs from the main playoff draw. Ultimately, the Tampa Bay Lightning defeated the Dallas Stars in the Stanley Cup final — all six games being conducted at an empty Rogers Place in Edmonton.
The 2020 Stanley Cup playoffs (Aug. 1–Sep. 28) turned into one of the shining moments of the Gary Bettman administration. In the Toronto and Edmonton hubs, all participants (players, coaches, team staffs) were placed under strict health protocols and quarantined from the general public. Remarkably, and to the NHL's everlasting credit, not a single person became infected with COVID–19. All five rounds (including qualifying) went off without a hitch.
It was the first of consecutive NHL titles for the Lightning. Victor Hedman won the Conn Smythe Trophy.
KEEFE HAD NO CHOICE OF GOALIES: Do not believe for a moment that the decision to start Petr Mrazek for tomorrow's Heritage Classic outdoor game in Hamilton was the purview of Leafs head coach Sheldon Keefe.
Even with starter Jack Campbell sidelined two weeks, it would border on embarrassing for general manager Kyle Dubas had Keefe chosen Erik Kallgren to play in the cross–border showpiece against the Buffalo Sabres.
Kallgren, an emergency call–up from the Toronto Marlies, replaced Mrazek at 11:57 of the second period on Thursday night after the veteran goalie had allowed four Arizona goals on 12 shots at Scotiabank Arena. Keefe later admitted he wanted to pull Mrazek after the second Coyotes marker (by Jacob Chychrun at 4:12 of the first period) but felt it would be unfair to Kallgren. After the fourth goal, he had no other choice. Kallgren was beaten only once: by Chychrun, at 2:17 of overtime, allowing the visitors to salvage a game they had once led, 4–1.
Given the respective performances, Kallgren should be the starter for the match at Tim Hortons Field, scheduled for 4 p.m. Sunday; to be televised nationally by Sportsnet in Canada and TNT in the United States. But, Dubas coughed up $11.4 million dollars last summer to sign Mrazek as a free agent for three years. It's more–than–likely the Toronto GM didn't want the American announcers, in particular, explaining to a nationwide audience why the Maple Leafs were starting an unheralded prospect with half–a–game's worth of NHL experience. So, Keefe had to trot out the old "we need to give Mrazek another opportunity" line; one he could not have possibly sanctioned.
Neither would Dubas be the first GM to pressure a coach into making such a call.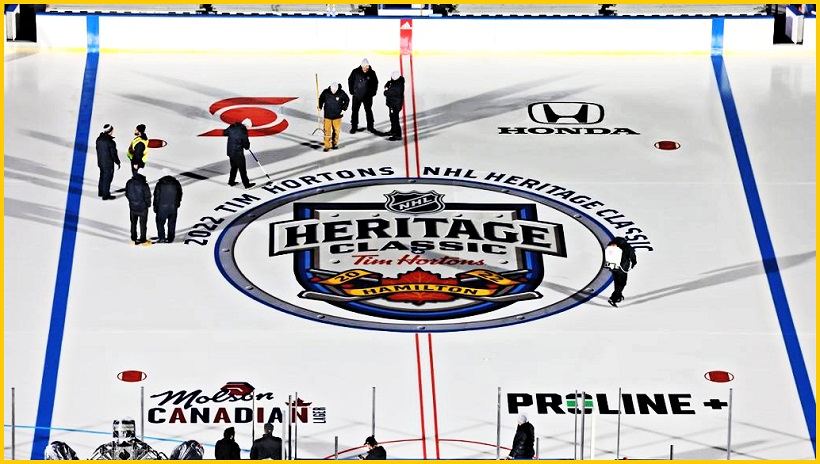 Perhaps Mrazek will play decently for a change, allowing both Keefe and Dubas to exhale. The doomsday scenario is a repeat of Thursday's match, in which Keefe has to yank Mrazek for the untested rookie.
There will be no hiding from TV cameras on both sides of the Canada/U.S. border.
ONLY ONE OPTION FOR MATTHEWS: There hasn't been a lot of pushback on my stance concerning Leafs star Auston Matthews. Probably because there cannot be. Though Auston is likely the most–gifted shooter in franchise history, he is nothing more, right now, than a glorified Phil Kessel. And, he'll remain as such until he asserts himself in the Stanley Cup playoffs. Nowhere have I written that he's incapable of augmenting his performance when it matters. But, neither do we have evidence it can happen. When (if?) it does, there will be no more denunciation from this corner. Same applied to Mats Sundin during my years covering the Leafs for The FAN–590. I was hardly the lone Toronto reporter mentioning that Sundin struggled early in the 1999 playoffs against Philadelphia before picking it up and contributing 16 points in 18 games as the Leafs advanced to the Stanley Cup semifinals, losing to Buffalo. When Sundin signed a lucrative, long–term contract before the 2000–01 season, then put up 13 points in 11 playoff matches, the criticism stopped. The difference, at the moment, between Sundin and Matthews is that the all–time leading scorer in franchise history did not fail for five consecutive playoff years. Neither did the team.
So, it's high time for No. 34 to carry his regular–season swagger into May and June.
FROM THE VAULT
In my collection, a program from Maple Leaf Gardens, 82 years ago this week.
New York Americans at Toronto — Mar. 16, 1940: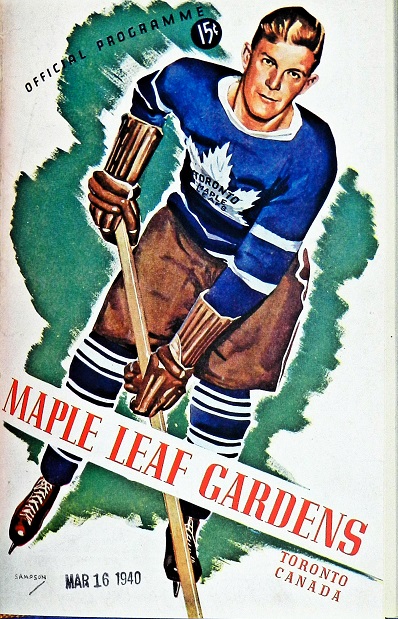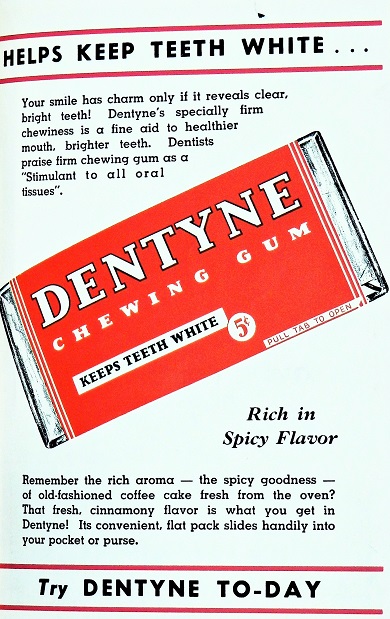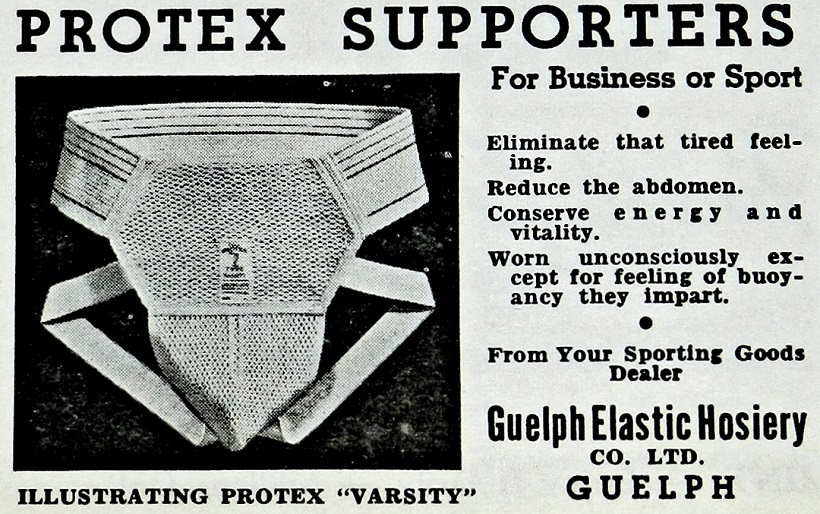 Nothing worse, guys, than that "tired feeling." 😆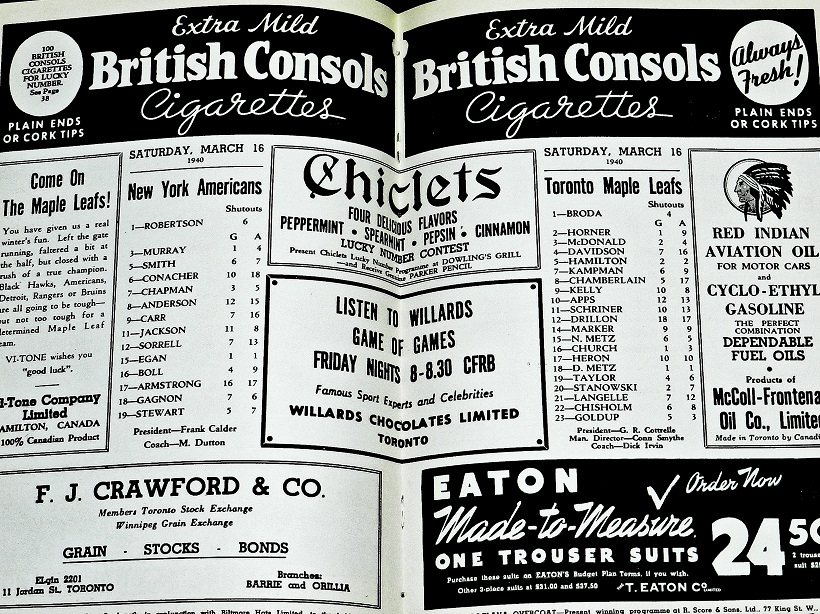 In 1939–40, the NHL was a seven–team league that included the New York Americans, part of the circuit from 1925–26 until 1941–42. Playing out of Madison Square Garden with the New York Rangers, the Americans had a losing record in all but three of their 17 seasons. They made the playoffs five times, twice advancing to the Stanley Cup semifinals, losing to the Maple Leafs in 1936 and the Chicago Black Hawks in 1938. On this night at Maple Leaf Gardens, the visitors were defeated, 8–6. The game was tied, 3–3, after two periods, but the Leafs pulled away in the third on goals by Bob Davidson (No. 4 in the line–ups, above and below), Pep Kelly (No. 9), Sweeney Schriner (No. 11), Gus Marker (No. 14) and Syl Apps (No. 10). Earlier Leaf goals were scored by Hank Goldup (No. 25), Red Heron (No. 17) and Gordie Drillon (No. 12, the last Leafs player to win the Art Ross Trophy, in 1937–38). Former Leafs star Harvey (Busher) Jackson (No. 11) opened the scoring for the Americans. Turk Broda was the winning goalie for Toronto; Earl Robertson took the loss for New York. The referee was Norm Lamport.
From 1942–43 (after the Americans folded) through 1966–67, the NHL was a six–team league (Boston, Chicago, Detroit, Montreal, the Rangers, Toronto). It doubled in size to 12 teams for 1967–68, adding the California Seals, Los Angeles Kings, Minnesota North Stars, Philadelphia Flyers, Pittsburgh Penguins and St. Louis Blues.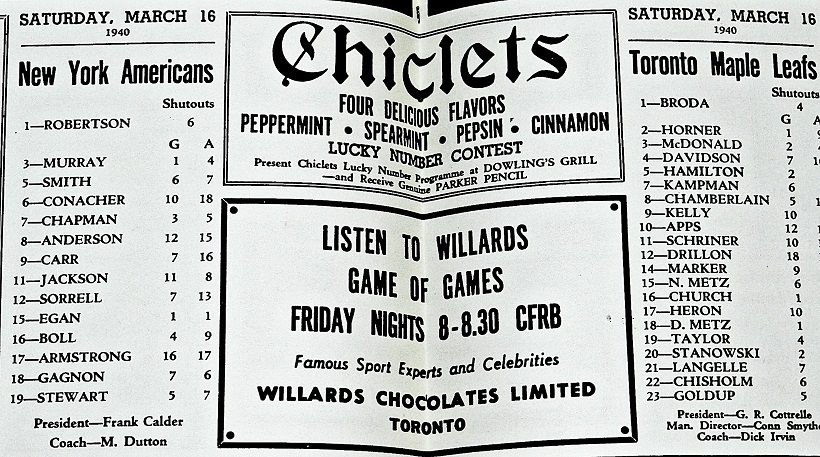 EMAIL: HOWARDLBERGER@GMAIL.COM