TORONTO (Mar. 10) — The email arrived early this morning in response to my blog posted here yesterday (https://bit.ly/3sW52lK), reiterating that the flat, $81.5 million salary cap will preclude all of John Tavares, Auston Matthews, Mitch Marner, Morgan Rielly and William Nylander from returning to the Maple Leafs after this season.
I so wish I could identify the sender, because I believe much of Leafs Nation would trust his opinion. But, I cannot. Let's just say he's a current National Hockey League employee that knows Kyle Dubas very well. And, thinks I'm plum–loco for asserting my salary cap position. "From the perspective of logic, you are correct," said the email. "From the perspective of understanding how Kyle Dubas operates, Howard, you are 100 percent wrong. If he is still general manager of the Leafs to begin next season, all five players will be with the team. Kyle is a good hockey man who understands the game. But, he might be the most–stubborn individual in a sport full of stubborn people. I can guarantee that he will sink or swim the five stars that were signed, or re–signed, on his watch."
End of email.
The inference here was unmistakable: The general manager of the Leafs will continue to spend $48,005,616 on the aforementioned quintet, even with $73,439,783 committed to 16 players for the 2022–23 season. Leaving $8,060,212 for seven more contracts to complete the 23–man roster. With the club needing, most–essentially, to sign a No. 1 goaltender; incumbent Jack Campbell or someone else. Either of which will cost substantially more than the $1.6 million Campbell earns this season. With the "future" on defence — Rasmus Sandin and Tim Liljegren — emerging from entry level restriction; the former likely expecting a minimum $2.5 million per season. And, with pending free agents Pierre Engvall, Ilya Mikheyev, Ondrej Kase and Ilya Lyubushkin to either re–sign or replace (given how Lyubushkin was received by the adoring Toronto hockey media, he, too, is part of the "future").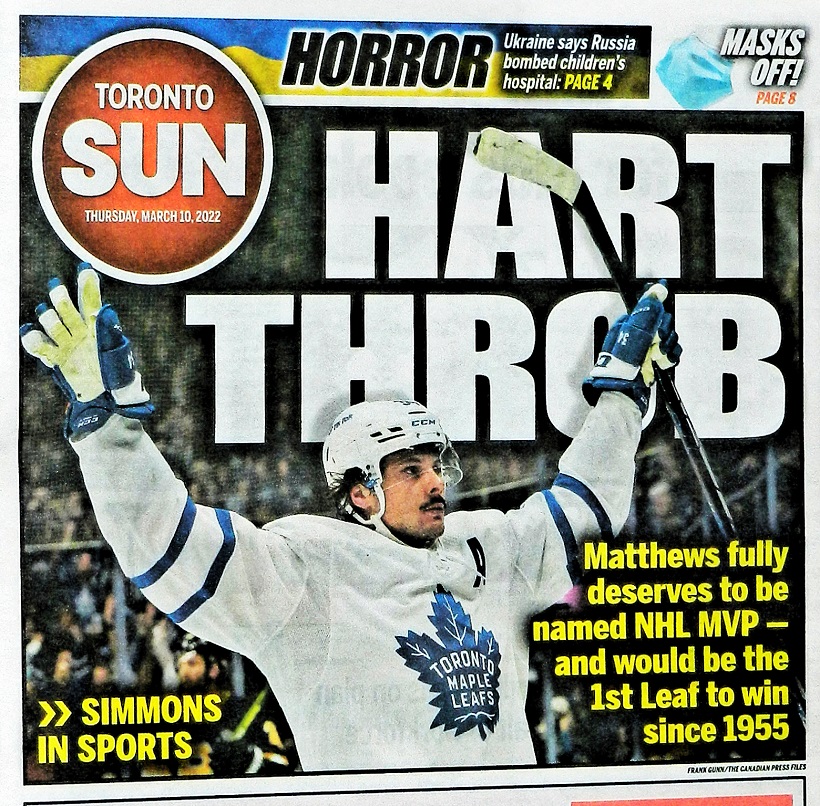 TODAY'S TORONTO SUN: POSSIBLE REGULAR–SEASON ACCOMPLISHMENT FOR A MAPLE LEAFS PLAYER THAS IS DESPERATE TO MAKE HIS MARK IN THE PLAYOFFS, WHEN NEXT YEAR'S ROSTER WILL BE DETERMINED. CAN AUSTON MATTHEWS CONTEND FOR THE CONN SMYTHE TROPHY?
Now, moves are going to be made beneath the Core–5 prior to next season. Leaf fans are quick to suggest the club "get rid of" such skaters as Engvall, Alex Kerfoot, Justin Holl, Wayne Simmonds and Travis Dermott, yet much slower to recognize the Leafs must replace them competently. And, that none of the new players will come for free. So, it may not be impossible for Dubas to retain the Core–5. Far–more difficult will be achieving a hint of roster balance, which Dubas has accomplished better this season than in his first three years as GM, chiefly by signing Michael Bunting as a free agent (from Arizona) at a ridiculous salary of $950,000 for this year and next.
Hindsight is proving that it was Kyle's best decision as manager of the Maple Leafs.
Though it doesn't always govern the Leafs, logic would suggest that the top end of next season's roster will be solely determined by the Stanley Cup playoffs this spring. There are no more mulligans, in particular, for Matthews and Marner. If they come up flat once more and the Leafs are eliminated in the opening round, it's highly possible that Dubas will not be in charge of next year's team. Conversely, should the Leafs advance deep into the post–season and challenge for the Stanley Cup — as their regular–season posture again implies — Dubas may indeed move heaven and earth to retain his Core–5. Especially if he's as stubborn as my email friend indicates.
At the moment, heading into tonight's match against lowly Arizona at Scotiabank Arena, I see the biggest Leaf deficits as goaltending (which I still believe can be solved by Campbell, once he returns from a two–week absence with a "rib injury") and a roster–wide lack of playoff toughness. Whichever coach opposes the Maple Leafs to start the playoffs will urge his skaters to "go hard" against Matthews and Marner on every shift; to pound them, physically, and hope the duo will lose much of its determination, as in prior Stanley Cup rounds.
It will be up to the M & M boys — all $22,543,250 worth — to ensure that doesn't happen yet again.
FINAL THOUGHT — From Fred Armstrong, son of the late Leafs captain, George Armstrong: "If Bill Root and Fedor Tyutin were defense partners, they'd be Root 'n Tootin'."
EMAIL: HOWARDLBERGER@GMAIL.COM