THIS BLOG IS DEDICATED TO SPORTSNET BLUE JAYS HOST JAMIE CAMPBELL. MAY HE FIGHT AND PREVAIL.
TORONTO (Mar. 17) — Once upon a time, there was a scorching Maple Leafs prospect named Justin Pogge.
Born in Fort McMurray, Alta. on Apr. 22, 1986, he slipped to 90th overall in the 2004 National Hockey League draft when selected by Toronto general manager John Ferguson Jr. Dealt from the Prince George Cougars of the Western Hockey League to the Calgary Hitmen at the 2005 trade deadline, he blossomed into the top netminder in the Junior ranks during the 2005–06 season, winning the Canadian Hockey League goaltender–of–the–year Award; the Four Broncos Trophy as WHL most–valuable player and, naturally, the Del Wilson Trophy as best goalie in the Western circuit. His record that season with Calgary was 38–10–6 with 11 shutouts, a 1.72 goals–against average and marvelous .926 save percentage. Not since Felix Potvin, 13 years earlier, had the Leafs awaited such a can't–miss stopper. Ferguson and coach Paul Maurice were licking their chops in anticipation.
As it happened, that 2005–06 performance with the Hitmen was the apex of Pogge's hockey career. Never again in eight different leagues and six countries did the now–retired, 35–year–old equal his lone season of brilliance between the pipes. When Pogge made his debut with the Maple Leafs — in Atlanta on Dec. 22, 2008 — he was coming off two good years with the Toronto Marlies. The Leafs still considered him their goalie of the future, a sentiment enhanced by his triumphant first NHL game, which I covered as a reporter for The FAN–590 and freelance writer (below) for the National Post. In the end, Pogge struggled to perform at the NHL level and quietly vanished after just seven appearances for Brian Burke and Ron Wilson in the 2008–09 schedule; his mediocre NHL line: a 1–4–1 record, 4.36 GAA and .844 Save-%. Perhaps now we can understand why current Maple Leafs coach Sheldon Keefe warned salivating reporters to "let the paint dry on this one here a little bit," after Erik Källgren — not nearly as heralded a prospect as Pogge — blanked the Dallas Stars Tuesday night in his first full NHL game.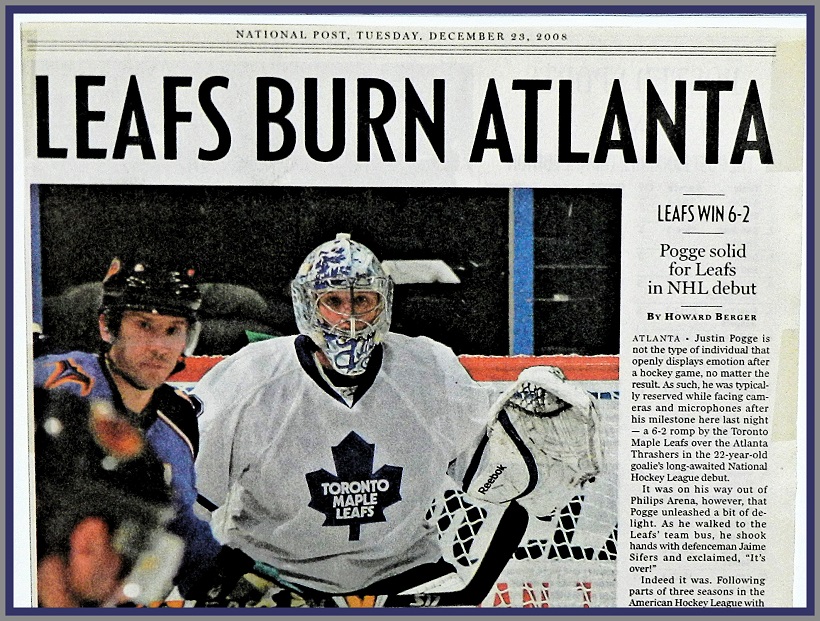 Now, it's obvious why Källgren's performance sent a jolt of electricity through Leafs Nation.
This year's Toronto club has more elaborate designs than the team Burke and Wilson inherited (Wilson had been hired as coach in June 2008 by interim general manager Cliff Fletcher, whom Burke replaced at the end of November). The Leafs missed the playoffs in '08–09 for the fourth time in a record seven consecutive seasons, winning 35 of 82 games. The current Leafs have 38 wins after 60 games while bidding for the best regular–season mark in franchise history. A number of those victories, since the new year, have come in spite of abysmal goaltending from Jack Campbell and Petr Mrazek. Källgren, drafted 183rd by Arizona in 2015, arrived when Campbell went down with a "rib injury". He replaced the doddering Mrazek for the second half of last Thursday's home game against Arizona and was beaten only once, in overtime, by Jacob Chychrun. Approaching Sunday's outdoor Classic in Hamilton against Buffalo, televised nationally in Canada and the United States, there was no way GM Kyle Dubas would permit a raw, untested rookie to supplant his free agent signing of last summer.
Mrazek, therefore, played the match and looked awful yet again in a humiliating, 5–2 defeat. The Leafs had no reasonable choice but to give Källgren the start against Dallas… and he came through perfectly. Neither could there be any excuse to return to Mrazek for tonight's match against Carolina at Scotiabank Arena. So, Källgren starts again — likely opposing former Leafs stopper Frederik Andersen. It's a nice story for Toronto… to this point.
Amid the euphoria, however, it's also critical to note that not once in the post–expansion history of the Leafs (since 1967–68) has a goalie come out of nowhere to save the team. Mike Palmateer (in 1976) and Potvin (in 1993) arrived as rookies to supplant Wayne Thomas and Grant Fuhr, but both were highly touted by the club. Perhaps the closest to an unheralded savior was James Reimer, drafted 99th by the Leafs in 2006, and called to the big team from the Marlies just prior to Christmas 2010 as a result of injury to Jean–Sebastien Giguere and poor play by Jonas Gustavsson. Reimer went on quite a tear, compiling a 12–4–3 record between Jan. 1 and Mar. 3, 2011 for another non–playoff Leafs club. And though he's crafted a decent NHL career, Optimus Reim (as he was called) is best–remembered, in these parts, for the "Causeway Street Calamity" of May 13, 2013, when the Maple Leafs blew a 4–1, third–period lead at Boston in Game 7 of the opening playoff round, losing 5–4 in overtime.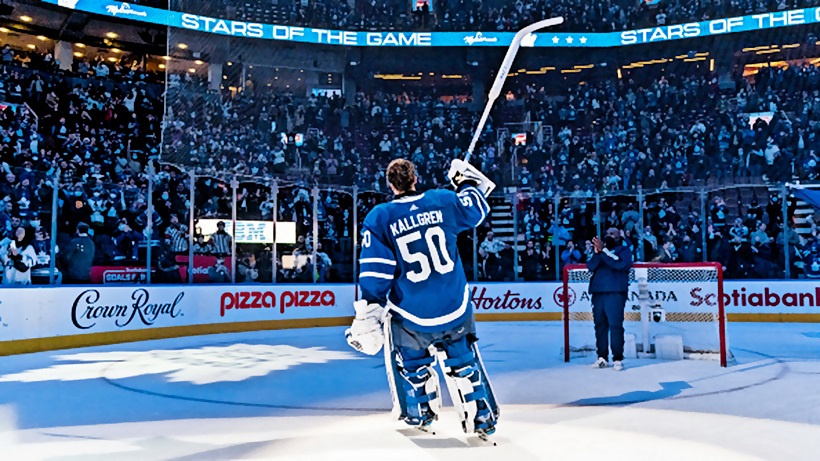 So, perhaps we should fairly temper anticipation for Källgren, even with his superb 1½ games of experience. Leafs fans, and some in the adoring media, are so desperate for a playoff turnaround this spring that any sign of progress is goofily extrapolated… such as Friday's predictable Sportsnet headline that "Källgren's shutout hints that he may be Maple Leafs' solution." The only reasonable "solution" the Leafs have right now — barring a sheepish reversal by Dubas and trade for a veteran stopper before Monday — is for Campbell to recover from his "rib" ailment and regain the form that put him among the top three NHL goalies in the first half of the schedule.
Full credit to Källgren for being a nice, 48–hour story. But, again, no one of his uncelebrated ilk has stepped up and guided the Maple Leafs to the Promise Land. It's unlikely that he'll become the first.
PRAYERS FOR JAMIE: Heartfelt best wishes to my friend Jamie Campbell, the Sportsnet baseball host (pictured, below, with Evanka Osmak), who announced on Wednesday he is being treated for Chronic Lymphocytic Leukemia. This is a very good man who deserves a long, rewarding life. May he fully recover from the setback.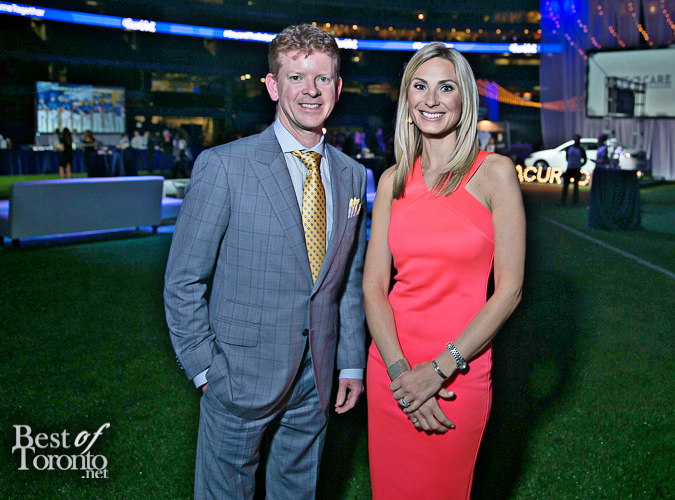 EMAIL: HOWARDLBERGER@GMAIL.COM