TORONTO (Mar. 11) — During many of my years covering the Toronto Maple Leafs as a reporter for The FAN–590, Kevin McGran held the same role with the Toronto Star. Today, McGran still covers the Leafs for the Star.
On the hockey club's official directory, there are four names listed under MAPLE LEAFS MEDIA RELATIONS: Steve Keough, Scott McNaughton, Colin McBride and Jennifer Redenbach. Nowhere, can I find McGran's name. Yet, he has increasingly stepped beyond his obligation to readers as an objective journalist to perform advocacy on behalf of the team. Such as today, when McGran started his Breakaway blog by lamenting — with statistics — that Auston Matthews doesn't receive sufficient benefit from the National Hockey League's officiating staff. When I covered the Maple Leafs, such a grievance would have been submitted by the team's publicity department.
So, I ask again: Is Kevin McGran a journalist working for an independent publication… or an unpaid P.R. flak for the hockey team he covers? In particular, the man being widely touted by local media for the Hart Trophy as "the player adjudged to be the most valuable to his team?" Before I go any farther, let me pause to ask a question: If the Leafs and New York Rangers began a playoff series tonight, which club would be favored to win, and why: Toronto because of Auston Matthews or New York because of Igor Shesterkin? Not that it really matters, but it's a fair question, nonetheless. To my original point, McGran was clearly annoyed that defenseman Jacob Chychrun of the Arizona Coyotes did not receive a holding–the–stick penalty on Matthews in the overtime session of last night's game at Scotiabank Arena. Chychrun broke away and scored the decisive goal in a 5–4 Arizona victory.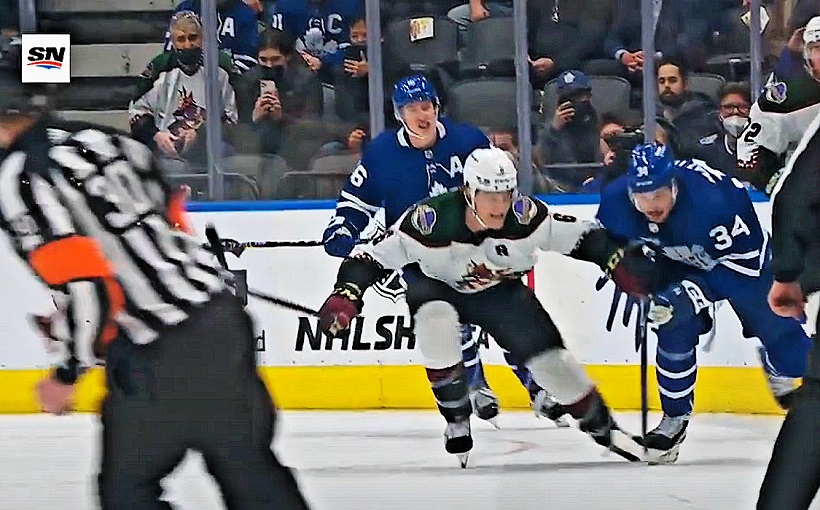 VIDEO FRAME FROM SPORTSNET THAT CLEARLY SHOWS JACOB CHYCHRUN (6) OF ARIZONA GRABBING THE STICK OF AUSTON MATTHEWS (34) IN OVERTIME AT SCOTIABANK ARENA.
Now, there were clearly two parts to the goal sequence: a) Chychrun interfering with Matthews in a fashion that would normally draw a two–minute minor under today's NHL officiating standard. And, b) the Leafs player quitting on his backcheck responsibility to turn and question the referee, thereby enabling Chychrun to break free on a 2–on–1 rush that decided the game. In every local media dispatch today, only the former point is covered. Not until the Comments section from readers is the play accorded appropriate balance, as noted in part B. For example, here's what Luke Fox of Sportsnet, another Leafs advocate, submitted: "Chychrun scored a controversial OT winner after missed penalty calls on John Tavares and Matthews." End of observation. At least Fox has grounds for bias: he gets paid by the same company (Rogers Communications) that covers 37.5% of Leafs' player salaries and, therefore, has no alternative but to present news or opinion through the prism of team ownership. It is, as pointed out here many times, the most–egregious and harmful conflict–of–interest in Canadian media history.
Kevin McGran is under no–such obligation.
Kevin McGran
@kevin_mcgran
It's probably worth noting that Auston Matthews has drawn six penalties this season, tied for 352nd. Seems about right for the NHL's leading scorer, doesn't it? I mean, he's just 34 penalties-drawn behind Connor McDavid.
McGran is accurate in his statistical appraisal of Matthews and McDavid, as sardonically noted (above) on his Twitter feed. But, he does so without attempting to analyze the reason(s) for such a profound imbalance. Again, as you might expect from the publicity department of the Leafs, which would not be under any burden to elaborate. Not so with a professional sports journalist. For example, might McGran have noted that McDavid, the fastest skater in the NHL, isn't often corralled by opposing checkers and, when caught, always keeps his feet moving? Matthews, on the other hand, rarely fights through a check unless he's in the immediate vicinity of the opposition goal. Neither did he attempt to struggle past Chychrun's uncalled foul last night. Matthews became aggressive only after the game–winning marker when accosting referees Brandon Blandina and Kendrick Nicholson. Then chose to not explain his tantrum when questioned by reporters. It doesn't take long for a star player to establish a reputation with officials. Matthews complains a lot, but is disproportionately passive while on the ice. Consider this Tweet I posted in the first period of last night's game after Matthews deliberately avoided physical contact with Anton Stralman, allowing the former Leafs defenseman to easily advance the puck into neutral territory:
Another example of why everyone's Hart Trophy darling disappears in the playoffs. Watch him stop to avoid the dreaded Anton Stralman. #Leafs pic.twitter.com/hBLq8p4Ut2

— Howard Berger (@Berger_BYTES) March 11, 2022
Such docile comportment may suffice during the regular season but has prevented Matthews, in the first half–decade of his career, from becoming a factor in the playoffs. A staggering deficit that is so routinely overlooked by cheerleaders in the media who marvel at his numbers between October and April. As is happening again. Haven't we seen enough evidence that Matthews can excel as a natural goalscorer before the chips are on the table? Yet cannot, to this point, duplicate such a feat when physical activity is ramped up? Perhaps referees across the NHL have noticed that Auston is a bit more about Auston than the team for which he plays. Exemplified on Tuesday night when he embellished his delight over completing a hattrick against lowly Seattle with an empty net goal.
When I look at Matthews, I see a bit of a prima donna that just happens to be the most–gifted scorer in modern Leafs history. Very much unlike such others of his ilk as Darryl Sittler, Lanny McDonald, Rick Vaive, Dave Andreychuk, Mats Sundin and Gary Roberts, who encountered far–more abuse and physical punishment in the years prior to the crackdown on restraining fouls. And, who excelled in the Stanley Cup tournament. How would Auston have fared in the era of Wayne Gretzky, Mark Messier, Mike Bossy and Mario Lemieux, when opponents could latch onto star players with near–immunity? He wouldn't be threatening to score 60 goals, I guarantee you.
Today, sports reporters in mainstream media too often choose the path of least resistance. By becoming mouthpieces for such a team as the Leafs, ensuring there is no discord with players and management; nor any team representatives annoying their bosses (sports editors and directors) with complaints. Many allow their affection for (and emotional attachment to) the team to cloud and — in some cases — vanquish objectivity. With no apparent pushback; perhaps even encouragement, from their superiors. There is a near–cosmic lack of balance and critical analysis. Mostly puffery and aggrandizement which, again, was once the purview of a media relations department.
The whole thing is rather sad. And, preventable.
GOALIE ROLL CALL EXTENDED: When Erik Kallgren replaced Peter Mrazek against Arizona last night, he became the 74th man to tend goal for the Maple Leafs since their last Stanley Cup triumph, in 1967.
Here's the entire, nearly 55–year list: JOHNNY BOWER, BRUCE GAMBLE, AL SMITH, MARV EDWARDS, GERRY McNAMARA, JACQUES PLANTE, BERNIE PARENT, MURRAY McLACHLAN, GORD McRAE, RON LOW, DOUG FAVELL, DUNC WILSON, EDDIE JOHNSTON, PIERRE HAMEL, WAYNE THOMAS,  MIKE PALMATEER, PAUL HARRISON, JIRI CRHA, CURT RIDLEY, VINCENT TREMBLAY, JIM RUTHERFORD, MICHEL (BUNNY) LAROCQUE, BOB PARENT, RICK ST. CROIX, ALLAN BESTER, KEN WREGGET, BRUCE DOWIE, TIM BERNHARDT, DON EDWARDS, JEFF REESE, MARK LaFOREST, PETER ING, DAMIAN RHODES, GRANT FUHR, FELIX POTVIN, RICK WAMSLEY, DARREN PUPPA, DON BEAUPRE, MARCEL COUSINEAU, GLENN HEALY, CURTIS JOSEPH, COREY SCHWAB, TOM BARRASSO, SEBASTIEN CENTOMO, ED BELFOUR, MIKAEL TELLQVIST, TREVOR KIDD, JEAN-SEBASTIAN AUBIN, ANDREW RAYCROFT, SCOTT CLEMMENSEN, VESA TOSKALA, MARTIN GERBER, JUSTIN POGGE, JEAN-SEBASTIEN GIGUERE, JONAS GUSTAVSSON, JOEY MacDONALD, JAMES REIMER, BEN SCRIVENS, JUSSI RYNNAS, JONATHAN BERNIER, DREW MacINTYRE, GARRET SPARKS, FREDERIK ANDERSEN, JHONAS ENROTH, ANTOINE BIBEAU, CURTIS McELHINNEY,  CALVIN PICKARD, MICHAEL HUTCHINSON, KASIMIR KASKISUO, JACK CAMPBELL, DAVID RITTICH, PETER MRAZEK, JOSEPH WOLL, ERIK KALLGREN.
EMAIL: HOWARDLBERGER@GMAIL.COM