TORONTO (Mar. 22) — I am pondering again today the "window of opportunity" for the Toronto Maple Leafs to capture their first National Hockey League title since 1967. It's a valid, if highly subjective, argument in these parts and it endures somewhat blithely for a team that hasn't won a single playoff round in nearly 18 years; one with demonstrated vulnerability at the game's most–important position: goaltender. Yet, time has a way of sneaking up on us. And, it must be rather alarming for a fan of the Maple Leafs to recognize that a maximum two years remains for the nucleus of this largely abortive club. By the summer of 2024, Auston Matthews and William Nylander will be able to exercise their contractual freedom. Two years ago was the start of the COVID–19 pandemic.
Doesn't that seem like yesterday?
Now, I can guarantee that a lot more is going to happen with the Maple Leafs in the next two years than in the previous two. Another playoff flop this spring will almost–surely result in a change of management, perhaps reaching as high as the presidency. Current general manager Kyle Dubas offers no indication that he'll manipulate the core of players signed on his watch: Matthews, Nylander, John Tavares (whose contract precludes movement), Mitch Marner and Morgan Rielly. It will be a feat of enormous magnitude to retain all five for next season under the NHL's flat $81.5 million salary cap. If so permitted, however, we know that Dubas will move heaven and earth to construct yet another team around his beloved quintet. Should the club be entrusted to someone else after this season, many more options will likely evolve — again, the forthcoming playoffs to determine any such fate.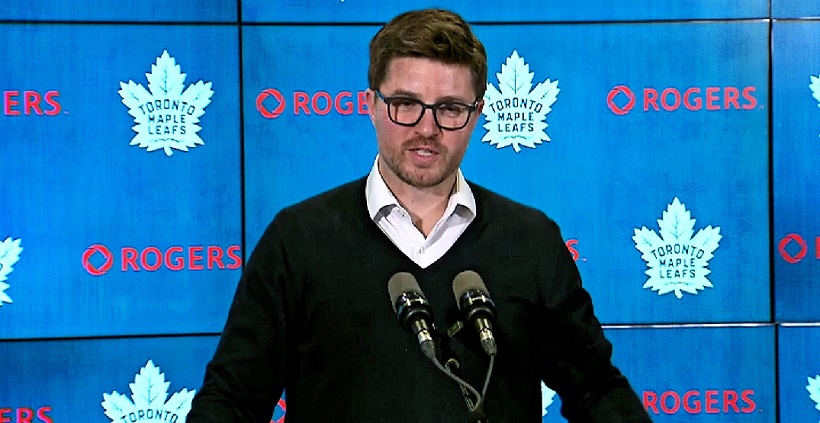 Any part of the next two years will clarify, unequivocally, whether the Leafs have been composed to prevail when it matters… or, as it appears, merely to entertain between October and April. There is, of course, no option for the first scenario until the current goaltending mayhem is resolved. And though I'm likely in the overwhelming minority among Toronto hockey observers, I maintain that Jack Campbell showed enough in a calendar year of brilliance to rebound from whatever has ailed him in the past two months. If, as speculated, the disorder is largely emotional, that, too, is soluble. Two of the NHL's greatest all–time stoppers were mental wrecks. Glenn Hall routinely barfed prior to the record 502 consecutive games he played with Detroit and Chicago. Terry Sawchuk drank himself into a blathering stupor on most nights he did not play for Detroit, Boston, Toronto, Los Angeles and the Rangers.
Surely, all these years later, there are more compelling antidotes to anxiety and emotional volatility — pharmaceutical and otherwise. Neither is it likely that Campbell undertook his current vocation without recognizing the inherent hazards. If Smilin' Jack can play himself back to even 80 percent of what we saw between October and January, the Leafs will hold a reasonable chance against most playoff rivals, lack of belligerence notwithstanding.
Otherwise, it's another quick exit. Followed by dynamite.
THE MUDDLED LEAFS MEDIA
As someone who had the rare privilege of covering the Maple Leafs as a reporter, home and away, I find it so disappointing that those with the privilege today either cannot, or will not, avail themselves of the opportunity.
I've written many times about the outrageous conflict–of–interest in which broadcasters/reporters on TSN and Sportsnet draw salary from companies (Bell and Rogers) that own nearly 40 percent of the Maple Leafs. As such, when TSN sends Mark Masters with the hockey club and Sportsnet assigns Luke Fox, there is no chance for any form of objective analysis. Each is bound, at least implicitly, by his connection to the club. It is a partnership.
Masters does a good job in keeping fans abreast of daily news — which forwards are aligned; the defense pairings, etc. — but has never uttered an untoward syllable about the Leafs. This year, with the defection of Kristen Shilton to ESPN, Masters has taken on the dual role of TV reporter and website blogger. Again, he is entirely competent at providing all the basic information. As with Fox, however, his articles are engorged with quotes that readers can find in a half–dozen other forums. If either man possessed the leeway, editorial license and/or gumption to cover the team with a critical eye, perhaps the travel expenses would be worthwhile. Masters normally keeps it straight. Fox goes way overboard with gratuitous praise and embellishment for which readers incredulously call him out in the comments section of his stories. The team, however, must be thrilled. As it stands, what TSN and Sportsnet provide is identical to that of Leafs Nation Network (formerly Leafs–TV) and the club's official website.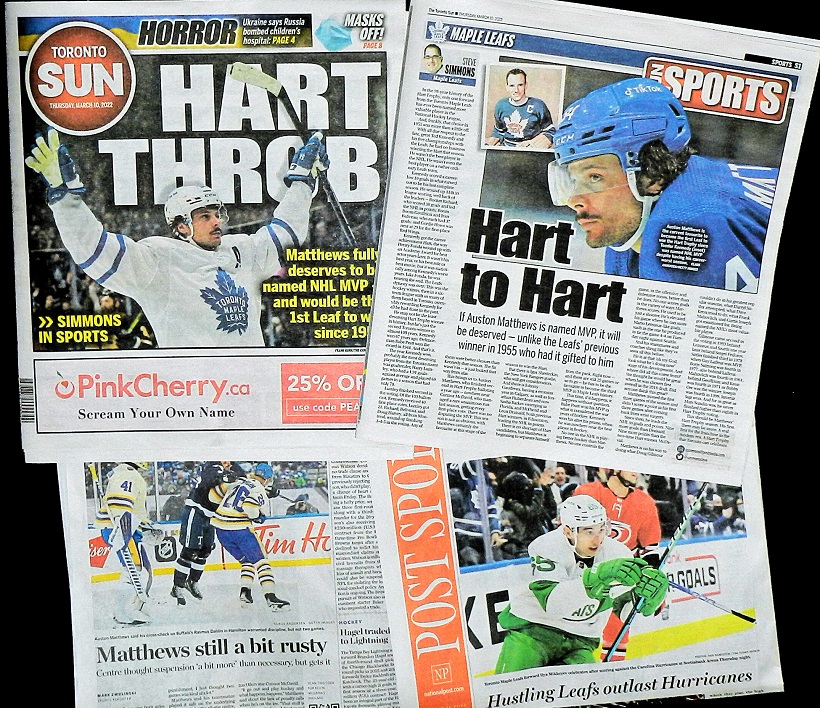 Unbound by such obligation are those that cover the team independently.
Jonas Siegel of The Athletic has been following the Leafs for as long as I did — more than 1½ decades (first with Talk–640 Radio). He's a nice kid with a solid understanding of the game… and the demonstrated ability to rock the boat, when warranted. Today, however, Jonas has evolved into yet another Leafs proponent, either by personal design; under orders from his enigmatic boss, James Mirtle, or his arrangement with TSN as an occasional co–host on the afternoon Overdrive show. So much more could be done with the enviable pulpit that Siegel enjoys.
The Toronto daily newspapers, the Star and Sun, routinely staffed every Maple Leafs road game until the pandemic struck. Today, the veteran reporters — Kevin McGran and Mark Zwolinski at the Star; Lance Hornby and Terry Koshan at the Sun — travel sporadically. Hornby and Koshan keep the pedal close to the floor with the Leafs, stopping just shy of overt appraisal. Conversely, McGran and Zwolinski have gone mostly lightweight at the Star, which is puzzling given that each man has long earned the right to candor and objective evaluation.
I have no knowledge of the editorial policy of the Star Sports department, but it certainly has changed from the years when such–acclaimed reporters as Frank Orr, Paul Hunter and Damien Cox covered the Leafs, full time (Cox still provides a freelance column once or twice a week as a refreshing antidote). Leafs coverage was more balanced with columnist Dave Feschuk on the beat. He became a general columnist when the Star hired Chris Johnston away from Sportsnet. Johnston, however, is way too cordial and benign toward the Maple Leafs; witness today's headline: Kyle Dubas showed restraint while making the Leafs better at the trade deadline. Time will tell if he did enough. If Dubas "made the Leafs better" by refusing to address the club's most–glaring need — turning down a trade for a Vezina–winning, future Hall–of–Fame goalie — it's a mystery to everyone but Johnston.
Chris, not coincidentally, also appears on the Insiders panel at team–owned TSN.
An example of strong Leafs opinion, by Mike Traikos of the Toronto Sun… https://t.co/Td6CfET1b7.
EMAIL: HOWARDLBERGER@GMAIL.COM