TORONTO (Apr. 4) — I have read that the "biggest test" of the season for the Toronto Maple Leafs arises in the next couple of nights with road games against Atlantic Division rivals Tampa Bay and Florida. This isn't accurate.
The most–legitimate barometer of the season — to this point — is on the line in the consecutive–night matches. But, let's be honest: The Maple Leafs have passed just about every "test" so far; a number of them with flying colors. And, none more splendidly than a 200–foot trouncing of the Boston Bruins last Tuesday at TD Garden.
Also grading at close to A+ were victories over the Lightning (Nov. 4), the Bruins (Nov. 6), Calgary (Nov. 12), New York Rangers (Nov. 18), Colorado (Dec. 1), St. Louis (Jan. 15), Carolina (Feb. 7), Pittsburgh (Feb. 17), Minnesota (Feb. 24), Washington (Feb. 28), Carolina (Mar. 17) and Florida (Mar. 27). As you can see, the Leafs have defeated the other Stanley Cup contenders at least once; the Hurricanes, twice. All that remains for the Blue and White is a scramble for final positioning in the Atlantic and the Eastern Conference. Though mathematically in contention for first place in the Division, no team is going to catch Florida. Even without stud defenseman Aaron Ekblad, sidelined with a leg fracture since Mar. 18, the Panthers are a nearly perfect 7–1–0, nine points clear of the Maple Leafs and Lightning. Still to be determined is second and third in the Atlantic… and which two clubs qualify as playoff wild cards. Perhaps of some significance, yet just marginally when factoring the quality of the group headed to the Stanley Cup tournament: eight clubs separated by a mere 18 points. Would it be considered, for example, a "major upset" if the No. 2 wild card (Washington) knocked off the top–ranked Panthers in a best–of–seven opening–round series? A surprise, perhaps, but hardly a bombshell. Neither is home ice a particular advantage; the authentic Cup contenders have long and repeatedly proven they can win anywhere, in any situation.
So, the next true "test" for the Maple Leafs begins when the puck is dropped to begin the playoffs (as an aside, that could be on Monday night, May 2, the 55th anniversary of Toronto's latest Stanley Cup conquest, in 1967).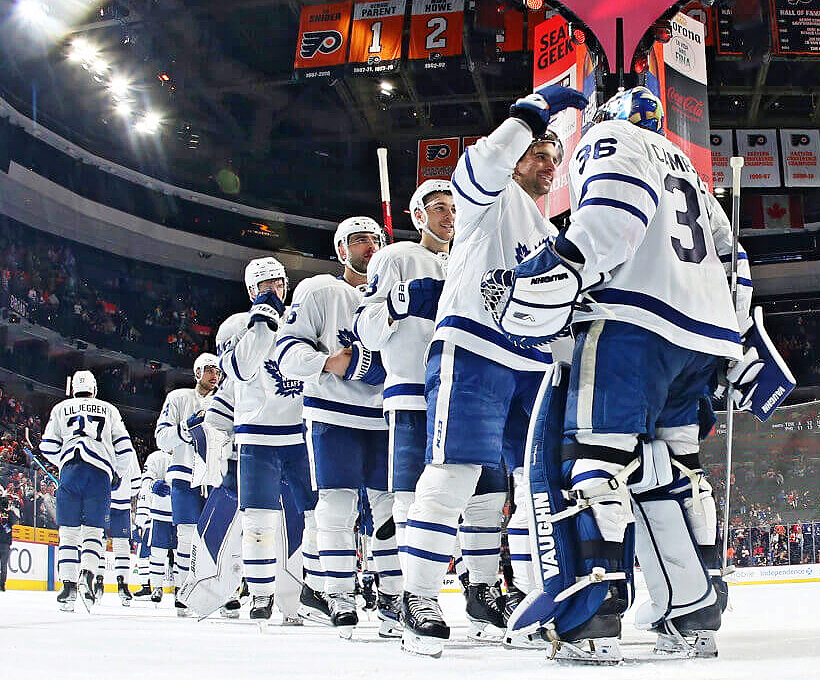 TEAMMATES CONGRATULATE JACK CAMPBELL ON HIS SUCCESSFUL RETURN TO THE LINE–UP, SATURDAY NIGHT, IN PHILADELPHIA. THE MAPLE LEAFS DOUBLED THE FLYERS, 6–3. GETTY IMAGES
Clearly, we'll watch with heightened intrigue in the next couple of nights, when the Leafs tackle the Lightning and Panthers. Especially as it pertains to goalie Jack Campbell, who looked rather comfortable on Saturday, in Philadelphia, returning from a 25–night absence… and on whose shoulders rest, for the Maple Leafs, any legitimate chance to present a Stanley Cup challenge. Campbell (25–9–4) will likely oppose Andrei Vasilevskiy (34–14–4) and Sergei Bobrovsky (33–6–3) in a true barometer of the goaltending benchmark in the Atlantic Division.
As per usual, Lance Hornby, the dean of local hockey writers, posed a poignant question in his Toronto Sun preview of the back–to–backs in the Sunshine state. The headline: CAN MAPLE LEAFS DEFENCE HANDLE BOLTS AND PANTHERS IN PLAYOFFS? In some ways, it was a rhetorical question, though the Leafs should be more stable on the back end with a healthy allotment of their top six: Morgan Rielly, T.J. Brodie, Jake Muzzin, Mark Giordano, Igor Lyubushkin and either Justin Holl or Tim Liljegren. Though Rielly is enjoying a productive season (9–49–58, sixth among National Hockey League blue–liners), he is not the "horse" that teams traditionally require through four Stanley Cup rounds. Tampa Bay has the top–such figure in Victor Hedman (19–47–66). Ekblad (57 points in 61 games), if recovered from his leg fracture, provides Florida a similar commodity. Both are larger and more robust than Rielly: Hedman at 6–foot–6, 240 pounds; Ekblad, 6–foot-4, 216 pounds. "There are two sides of a rink and Toronto teams in the past have been done in by leaks on defence that dampen scoring success," wrote Hornby. "Given the next two road games… it had better be the stingy version of the Leafs that shows up."
Conclusions will likely be drawn from these consecutive–night matches in Florida. But, they shouldn't.
On a lighter note, the Leafs can use the final month of the regular schedule to vie for team and individual records. The club is 44–19–5 for 93 points with 14 games to play. The franchise mark for victories (49) and points (105) in one season is held by the 2017–18 team under Mike Babcock. A mediocre 5–7–2 record in the remaining matches will equal the '17–18 ledger. Another figure to watch for is the fewest regulation–time losses in a full, 82–game season. That number, 24, belongs to the 2003–04 club under Pat Quinn. To equal, the current Leafs cannot lose more than five of their remaining games in regulation. Auston Matthews scored his 51st goal of the season on Saturday night in Philadelphia. He needs three more to equal Rick Vaive's franchise mark of 54, set in 1981–82.
MORE SORROW: It has been a terribly unpleasant year for members of the New York Islanders' alumni. Hall–of–Fame winger Clark Gillies, 67, died of cancer on Jan. 21. Then, ex–defenseman Jean Potvin, older brother of Hall–of–Famer Denis, died on Mar. 15. He was only 72. Another Hall–of–Fame member, Mike Bossy, revealed, last Oct. 19, that he'd been diagnosed with lung cancer. Now comes sad word that Bossy, 65 and a long–time smoker, has entered palliative care at home. Gillies and Bossy flanked Bryan Trottier on the greatest forward unit in Islanders history during the club's dynasty of four Stanley Cup titles (1980–81–82–83). Bossy scored 573 goals in only 752 NHL games, with a spectacular, nine–season run of 51 or more, beginning as a rookie in 1977–78. He also had season goal totals of 69, 68, 64, 61 and 60. Our deepest prayers are with Bossy and his family.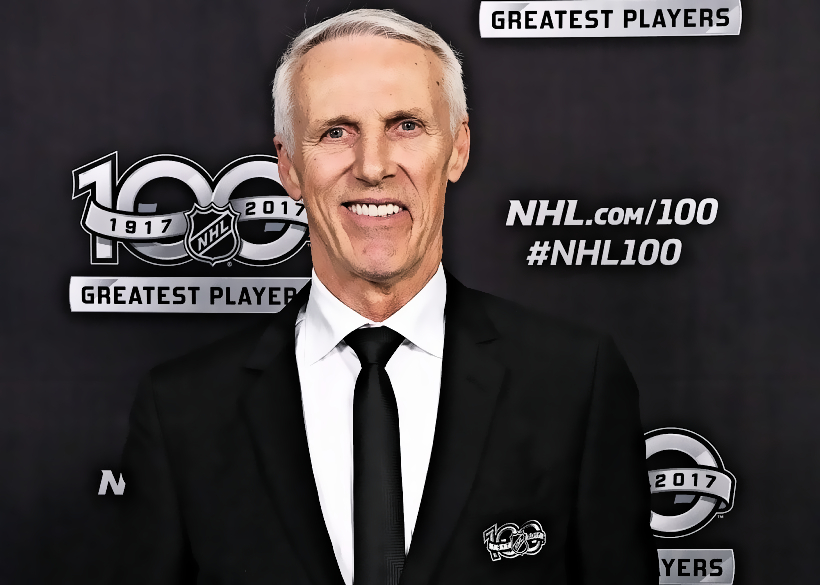 MIKE BOSSY WAS VOTED AMONG THE TOP 100 PLAYERS IN THE FIRST CENTURY OF THE NHL.
THE HELSINKI / NOLAN CAPER
Good Lord, was this a couple of days.
I covered the Maple Leafs training camp journey to Sweden and Finland in Septemer 2003. After an exhibition game between Toronto and Jokerit, at Hartwell Arena in Helsinki, Leafs forward Owen Nolan walked past on his way to the team bus. I wondered if Nolan would do a quick one–on–one interview, to which he graciously consented. During the tape, I casually asked Nolan about his notoriously bad back. I got far more than a casual answer. At one point, Owen said, "my back will eventually explode" and that corrective surgery was the lone reasonable option. I considered this a large story and put together several reports for The FAN–590 from my hotel room in Helsinki. I also sent the entire interview to the radio station. In this regard, coverage of the Leafs has clearly (and sadly) changed, with media giants Rogers Communications and Bell Canada owning 75 percent of the team.
The following bay, back in Stockholm, Nolan was surrounded by an enormous pack of media at Globen Arena. Asked about his comments in my interview, he astoundingly suggested he never made such remarks concerning his back. I listened to his words, incredulously, wondering if he might backtrack on his claim. When he emphasized the assertion, I quickly called the radio station and asked a producer to tee up Nolan's comment from the previous day. I then went on live with FAN–590 colleague, Mike Hogan. We played the Helsinki remark followed by the claim Nolan had made a few minutes earlier. Naturally, one totally contradicted the other. With Nolan's denial, I looked like a fool among fellow reporters on the trip. But, I knew I had done absolutely nothing wrong.
I flew back to Toronto via Paris.
After being upgraded to Executive Class on an Air Canada Airbus–330, I came across this column by Cam Cole of the National Post; the newspaper resting on my seat. Needless to say, reading it provided some enjoyment.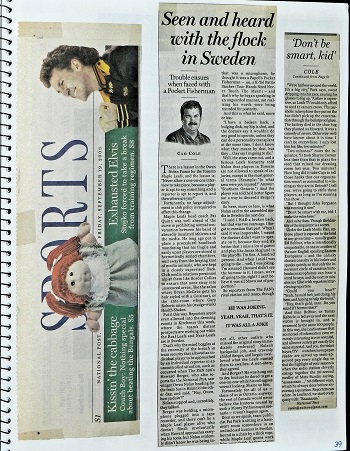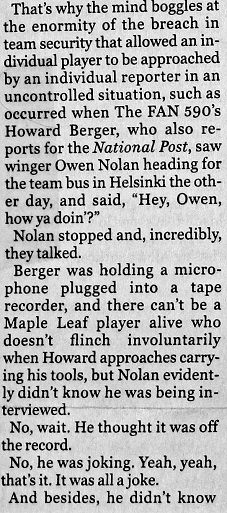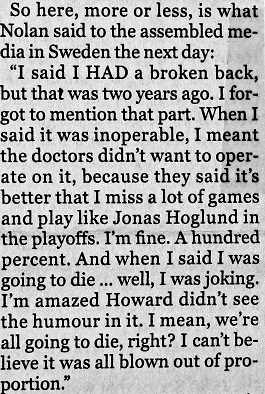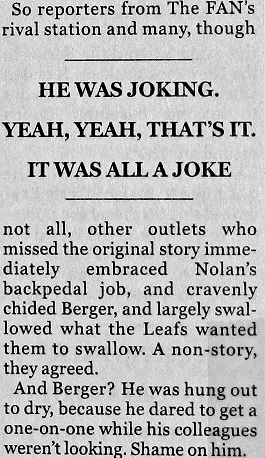 Nolan was upset for awhile and we did not speak.
One day, after practice, I corralled him in the lobby of old Lakeshore Arena.
"Why are you angry with me, Owen?" I asked. "I ran your unedited comments from Helsinki."
"Yeah, Howard, you did your job," he acknowledged. "But, I guess I was hoping you'd protect me a bit. [Leafs coach] Pat Quinn read me the riot act after I gave you that interview. You know how secretive he is about injuries.
"But, heck, it's water under the bridge today."
We shook hands and never had another issue.
EMAIL: HOWARDLBERGER@GMAIL.COM