"I will be at the Capitals/Leafs game Thursday hoping to welcome Mr. Matthews into our 60–goal club."
— Former NHLer Dennis Maruk, who scored 60 for Washington in 1981–82.
TORONTO (Apr. 10) — Without question, the 2021–22 National Hockey League season is one to remember for fans of the Toronto Maple Leafs. It will soon feature the first 60–goal scorer in franchise history as well as team records for most wins, most points and fewest regulation–time losses. Auston Matthews now has 58 goals, which, for two years (1969–71), was the NHL single–season record held by Bobby Hull of Chicago; then annihilated by Hull's former line–mate, Phil Esposito, who pored in 76 for the Bruins. Under Mike Babcock, the 2017–18 Maple Leafs were 49–26–7 for 105 points. The current Leafs are 47–19–6 for 100 points with ten games left. Two more wins and five more points equal the franchise marks. And, the Leafs are a very good bet to record fewer than 24 regulation defeats — the franchise low in an 82–game schedule — set by Pat Quinn's team of 2003–04.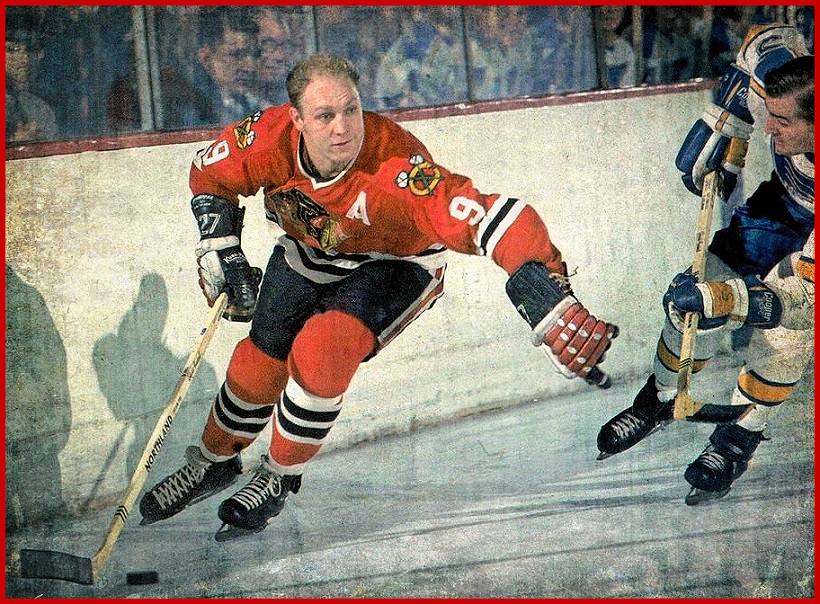 BOBBY HULL SCORED A RECORD 58 GOALS FOR CHICAGO IN THE 1968–69 SEASON.
A timely surge of 12–3–2 in the past 17 games, dating to Mar. 7, has all–but assured the Maple Leafs of starting the playoffs on home ice. Toronto is a solid second in the Atlantic Division, with no chance to catch Florida, eight points ahead, but an excellent chance to finish north of Tampa Bay (four points back) and Boston (five back).
In the Brendan Shanahan era, the club has only twice held home–ice "advantage" — losing decisive encounters at Scotiabank Arena to Columbus in the 2020 best–of–five qualifying round; then to Montreal, last spring, after holding a 3–1 series edge over the Canadiens. Would the Bruins or Lightning be an underdog in Game 7 this year at SBA? Not substantially, if at all, but it's long been said that the true advantage in a best–of–seven round is being able to host the two pivotal matches (Games 5 and 7). Which looks good for the Maple Leafs with less than three weeks remaining in the '21–22 regular schedule. Meanwhile, coach Sheldon Keefe motors right along with a 109–48–18 record in 175 games behind the Toronto bench. That's 61 games over .500. Quite an indelible mark.
All of the aforementioned forms a backdrop to arguably the most–significant playoff year in team annals. Jobs, on and off the ice, clearly hang in the balance after five consecutive flops in the post season. It raises the subjective notion of a favorable outcome. Given the Leafs have not won a single round since 2004, this city would go bananas with a mere advancement to the Division semifinal. But, is that sufficient for the most–prolific club in franchise history, with a record–smashing goal scorer? Or, is this the year the Leafs should legitimately challenge for their first Stanley Cup since 1967? A neutral observer would likely choose Door No. 2 — even with the latent concerns in goal and, as always, on defense. A more–discerning individual might wonder if Matthews and Mitch Marner can prevail in the tougher playoff slog. Only because it hasn't yet occurred… and there still emanates an odor from the seven–game Montreal debacle last May in which Matthews scored the lone goal among the two.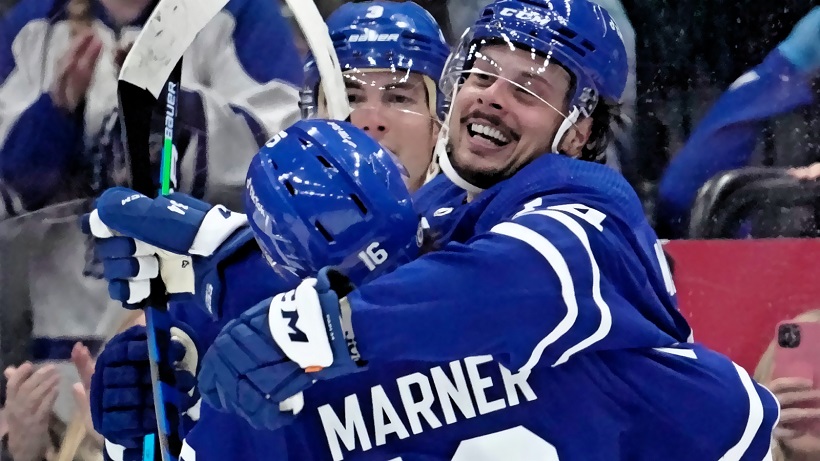 AUSTON MATTHEWS CELEBRATES HIS 58th GOAL WITH MITCH MARNER ON SATURDAY NIGHT. THE LEAFS DEFEATED MONTREAL, 4–3, AT SCOTIABANK ARENA. FRANK GUNN THE CANADIAN PRESS
Can either Jack Campbell or rookie Erik Källgren help steal a series between the pipes? Campbell is vying to rebound from a second–half nightmare while Källgren has been an important (if unspectacular) discovery for the club with a 5–2–1 record in eight appearances. Of most intrigue, again, is whether the Leafs are sufficiently "team tough" to survive four grueling rounds. Whatever the case, this club absolutely must prove that the Shanahan/Kyle Dubas prototype of passive, top–end skill can prevail in May and June. Rarely, in the post–1967 era, have the Leafs appeared quite so threatening. Matthews and Marner are cementing their place among the prolific duos in modern franchise history: Ted Kennedy/Max Bentley; Red Kelly/Frank Mahovlich; Darryl Sittler/Lanny McDonald; Bill Derlago/Rick Vaive; Ed Olczyk/Gary Leeman; Doug Gilmour/Dave Andreychuk. Matthews and Marner have combined for 89 goals (the club record for top two is 99, held by Andreychuk and Wendel Clark in 1993–94) and 189 points (Gilmour and Andreychuk had 210 in 1993–94). Both marks are surmountable in the final ten games.
SINGH–ING A WONDERFUL TUNE: Though he becomes a senior citizen in September, Chris Cuthbert is still humming along as the undisputed top TV play caller in Canadian sports. He is the lead voice on Sportsnet/Hockey Night In Canada after long serving in an identical capacity with Canadian football on TSN. Chris has said he'd like to work another five years, or until age 70, before retiring. And, we were reminded again this week that Rogers and Hockey Night has a thoroughly capable successor to C.C. Harnarayan Singh stepped in for an ailing Cuthbert to call the Toronto at Dallas game on Thursday night, in which Matthews broke Vaive's Leaf record of 54 goals in a season. Singh, 37, was initially hired to telecast Hockey Night games in Punjabi, but is equally capable in English, as he proved with a wonderful call of the Maple Leafs–Stars match. He's a natural to one day succeed Cuthbert. Neither is it insignificant that the future No. 1 voice of hockey in Canada proudly wears a turban (below). Religious and ethnic boundaries are falling by the wayside. This is another classic and deserved example.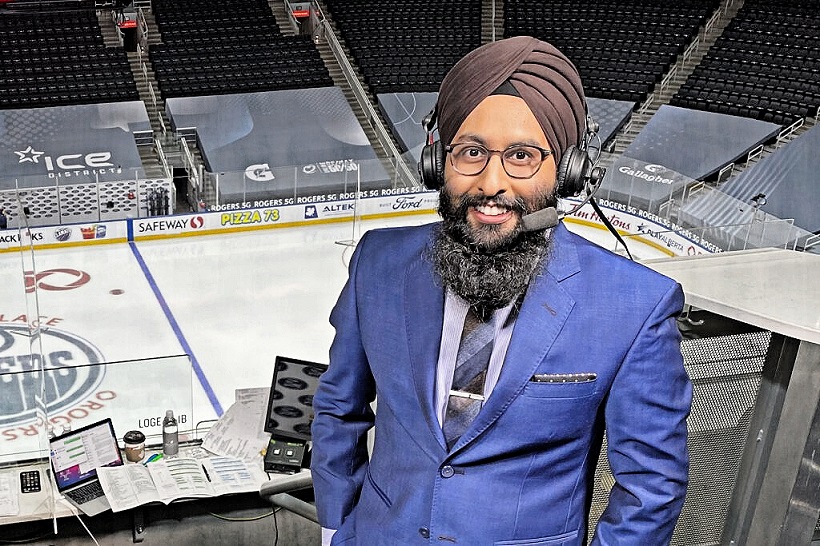 BLUE JAYS AT THE DOME: BACK TO NORMAL
It was a pleasure to be among more than 43,000 people at Rogers Centre on Saturday afternoon for the second Toronto Blue Jays game of the season (a win over Texas). Not since September 2019, six months before the COVID–19 pandemic, has baseball been played in a "normal" environment around here, with close to a sellout audience and facemasks being optional. Rogers has spruced up the appearance of its ageing playpen by the lake. More–focused field lighting (the stands are noticeably darker than before) and an expanded videoboard above center field are the most–obvious improvements. The artificial turf has taken on the look of a grass field, with alternating rows of "manicured" dark and light green. And, the home team is universally favored to be among the World Series candidates. Some images from the ball park on Saturday: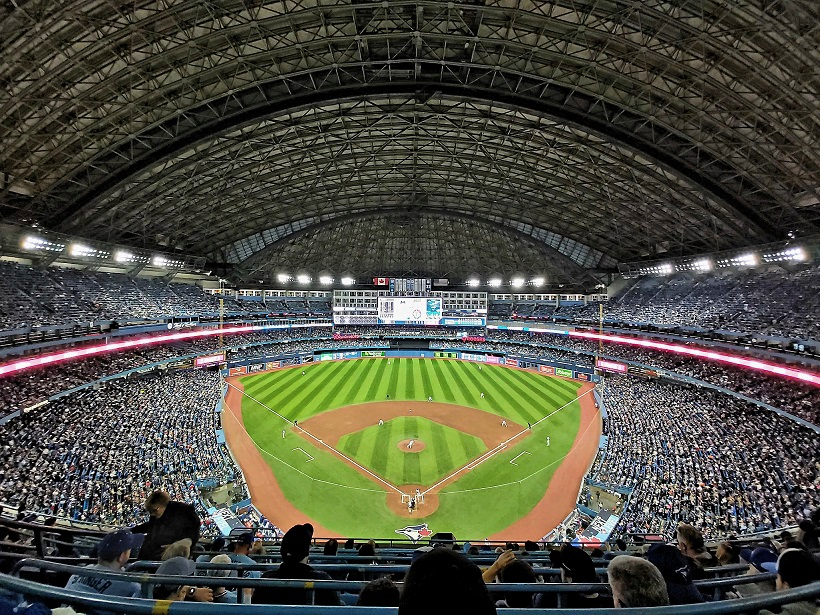 WIDE–ANGLE VIEW FROM SEC. 524B, ROW 11, SEAT 8. THE RETRACTABLE ROOF WAS CLOSED.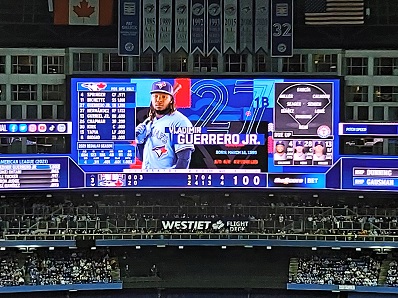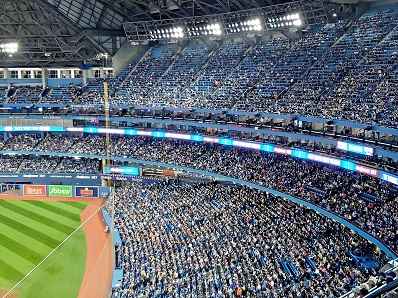 THE MASSIVE NEW VIDEOBOARD IN CENTER FIELD (LEFT)… AND DOWN THE FIRST BASE LINE.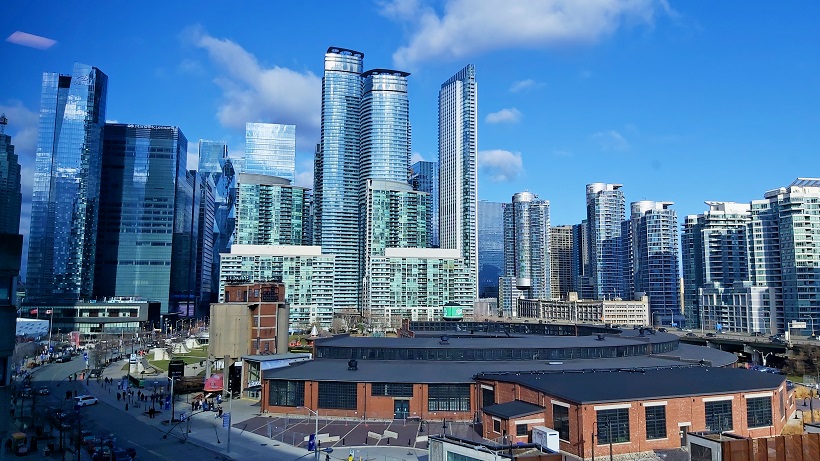 LOOKING SOUTHEAST FROM THE STADIUM ON A BRIGHT AFTERNOON. CONDOS SOAR.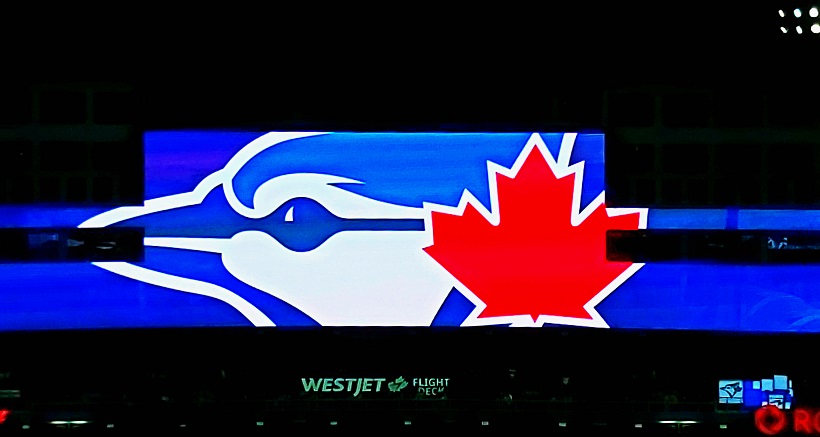 AT THE TOP OF THE STAIRS (BELOW, LEFT)… AND BOTTOM OF THE TOWER (RIGHT).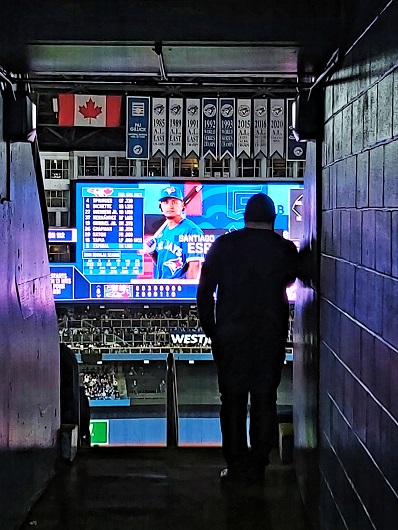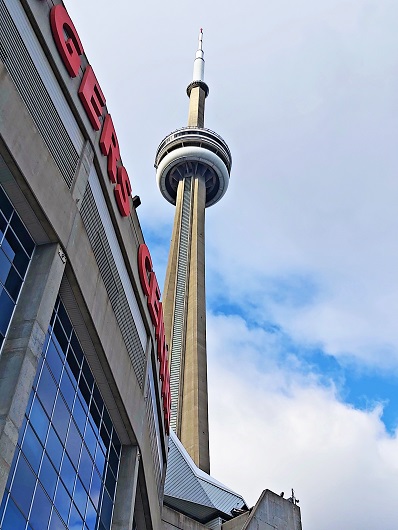 EMAIL: HOWARDLBERGER@GMAIL.COM