TORONTO (May 20) — If Dorothy can click her glass slippers and return from colorful Oz to the farm in Kansas, the Toronto Maple Leafs can probably win a playoff series. Who knows, it might even happen next spring, should the law of averages kick in. Surely, there are two people — Brendan Shanahan and Kyle Dubas — who would love nothing more than to shove it down the throats of naysayers from coast to coast in our city and country.
But, aren't we now past the point of a credible "Ha! I told you so"? If there's a statute of limitation to the current regime exacting emotional revenge, it occurred with the seven–game loss to Tampa Bay. Some may suggest even earlier, after folding against Montreal last year. The Shanahan–Dubas administration can no longer attain retribution by merely advancing to the second round. That should have already happened, even by fluke, given the top–end skill of the roster. Only a legitimate Stanley Cup challenge would allow Brendan and Kyle to honorably point fingers at the killjoys (yours truly among them) who are certain this Toronto nucleus is beyond playoff salvation.
Heck, it's gotten so bad that even a good fellow such as Steve Keough, the Maple Leafs' director of media relations, sent me an email asking that I unsubscribe him from this blog. As if Steve wouldn't know where else to find it on the world wide web. Which brings me to the club's central figure, Auston Matthews, and the unwillingness or inability of Leaf media advocates to consider the possibility that No. 34 could wear another National Hockey League jersey. Only Chris Johnston of the Toronto Star dared to venture down that chilling path with a smart, timely column this week, even if he shivered with apprehension throughout the exercise. Sportsnet author Jason Bukala penned a detailed analysis of the Leafs that included identical lines about Matthews and Mitch Marner: "He isn't going anywhere and will have to be part of the solution." It's just unspeakable for any person with a Leafs tattoo to imagine the 60–goal shooter — yet six–time playoff dud — either traded or taking his act elsewhere.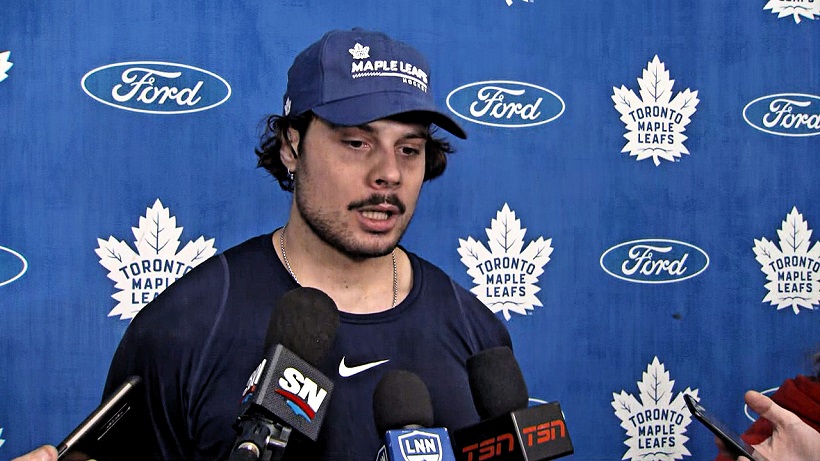 WILL THERE COME A TIME WHEN AUSTON MATTHEWS GROWS FED UP WITH ANSWERING FOR THE MAPLE LEAFS' — AND HIS — FAILURE IN THE STANLEY CUP TOURNAMENT? IF NOT TRADED BEFOREHAND, HE CAN TAKE HIS ACT TO ANOTHER NHL CITY JUST TWO SUMMERS FROM NOW.
The perfect juncture, I'd say, to remind you that a number of the most–accomplished players in the NHL — including the two greatest, Bobby Orr (Boston to Chicago in 1976) and Wayne Gretzky (Edmonton to Los Angeles in 1988) — changed teams one way or another. As, in the expansion era, did Bobby Hull (Chicago to Winnipeg of the World Hockey Association in 1972); Frank Mahovlich (Toronto to Detroit in 1968, then Montreal in 1971); Bernie Parent (Philadelphia to Toronto in 1971, then back in 1973); Marcel Dionne (Detroit to Los Angeles in 1975); Phil Esposito (Boston to New York Rangers in 1975); Lanny McDonald (Toronto to Colorado in 1979, then Calgary in 1981); Darryl Sittler (Toronto to Philadelphia in 1982); Paul Coffey (Edmonton to Pittsburgh in 1987); Guy Lafleur (Montreal, then out of retirement in 1988 to the New York Rangers and Quebec); Brett Hull (Calgary to St. Louis in 1988); Peter Stastny (Quebec to New Jersey in 1989); Scott Stevens (Washington to St. Louis in 1990, then New Jersey in 1991); Ron Francis (Hartford to Pittsburgh in 1991); Mark Messier (Edmonton to New York Rangers in 1991); Adam Oates (St. Louis to Boston in 1992); Mats Sundin (Quebec to Toronto in 1994); Chris Pronger (Hartford to St. Louis in 1995, to Edmonton in 2005 and Anaheim in 2006); Jarome Iginla (Dallas to Calgary in 1995); Luc Robitaille (Los Angeles to Pittsburgh in 1995); Teemu Selanne (Winnipeg to Anaheim in 1996); Pavel Bure (Vancouver to Florida in 1998); Martin St. Louis (Calgary to Tampa Bay in 2000); Jaromir Jagr (Pittsburgh to Washington in 2001); Eric Lindros (Philadelphia to New York Rangers in 2001); Dominik Hasek (Buffalo to Detroit in 2001); Joe Thornton (Boston to San Jose in 2005); Scott Niedermayer (New Jersey to Anaheim in 2005); Ilya Kovalchuk (Atlanta to New Jersey in 2010); Erik Karlsson (Ottawa to San Jose in 2018).
Look at the above list, again, and tell me why Auston Matthews moving on from Toronto is inconceivable. Yes, the circumstances varied but several players switched NHL jerseys after scoring as many or more goals than Auston did this season. Such as Gretzky (92, 87, 73, 71, 62); Esposito (76, 68, 66, 61); Selanne (76); Bure (60, twice) and Jagr (62). The players highlighted in green combined to win 49 Stanley Cup titles… 49 more, to this point, than Matthews. Once again, take note that July 1 of next year (2023) is a seminal date involving the Leafs and their super scorer — when the club is first eligible to extend Matthews' contract by the maximum eight years… and, more significantly, when a full no–movement clause kicks in that provides the player full control. If the Maple Leafs cannot extend Matthews before July 1, 2024, he can walk as an unrestricted free agent. With no return. Which would obviously compel the club to make a monumental trade before that moment arrives. The patellar reflex among many here in Toronto is that Matthews will not venture elsewhere, thereby remaining a Leaf for life. But, I can guarantee that such sentiments were expressed, at one time or another, about those in the above paragraph. It's been said countless times since Aug. 9, 1988: "If Wayne Gretzky can be traded, so can anyone else."
There was another newspaper opinion on Thursday from my old pal, Michael Traikos, of the Toronto Sun — among the precious few in the mainstream media not intimidated by the hockey club. Michael felt it could work for the Leafs to "rearrange the deck chairs" yet again beneath the vaunted nucleus. But, Traik was off base when pointing to Tampa Bay as a prime example. Yes, the Lightning quickly rebounded from the horror of being swept by Columbus in the opening round of 2019, after tying a league record with 62 regular–season victories. But, Tampa Bay, during the Steven Stamkos era, had won nine playoff rounds before the Columbus debacle, which included four appearances in the Conference final (2011–15–16–18) and one trip to the Stanley Cup final, losing to Chicago in 2015. In that regard, the Lightning and Maple Leafs should not be mentioned in the same sentence.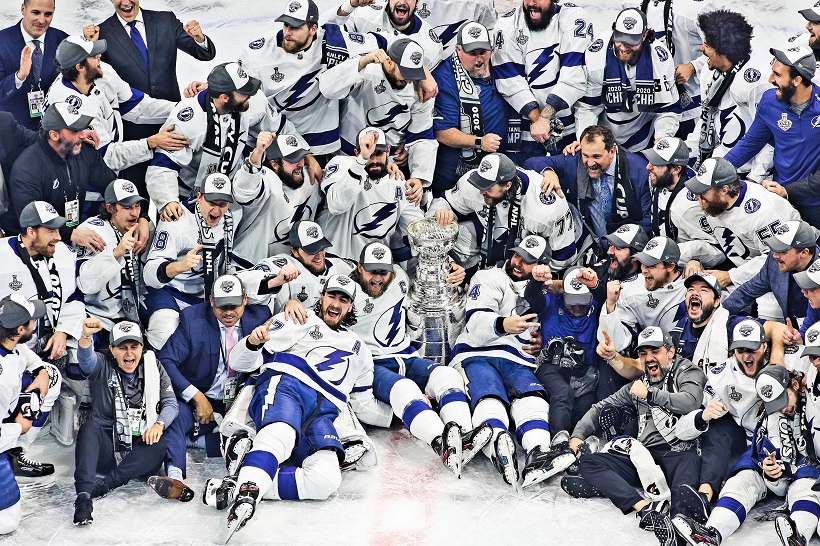 If there is one concession among Leaf rooters (media and fans), it's that time has arrived to explore a trade involving William Nylander. The flat salary cap, alone, might necessitate such a move, but how could Dubas pull the trigger after his infamous vow (in December 2018) to never unload the slick winger while GM of the hockey club? What indication, in fact, comes from anyone in the Maple Leafs hierarchy that the beloved core of this perennial playoff loser will be altered? Again, it was absolutely stunning to watch Shanahan and Dubas congratulating themselves at the podium on Tuesday after six consecutive losses in the opening (or qualifying) Stanley Cup round.
And, vowing not to change for the sake of change (heavy sigh).
All we can say, for certain, is the Leafs enter the 2022 off season with the playoff bar set lower than at any time since the Harold Ballard era. It's a bar that only the club, itself, can raise. If the principals are willing.
Which doesn't appear, once more, to be the case.
EMAIL: HOWARDLBERGER@GMAIL.COM