TORONTO (May 7) — Numbers occasionally lie, as they did for the Toronto Maple Leafs a year ago this month. But, here's a fact: In Stanley Cup playoff history, the team that leads 2–1 after Game 3 in a best–of–seven series prevails 70 percent of the time. Which provides the defending–champion Tampa Bay Lightning a mere 30 percent chance of winning three of the final four matches in their opening–round clash with the Leafs. Yes, I know, you'd prefer not reading this after Toronto coughed up 90.8 percent odds of eliminating Montreal last May with a 3–1 death–grip on the Canadiens. Neither was that Montreal team in the same planetary system as the Lightning. Yet, the Leafs are more balanced, right now, than any Toronto outfit since the Pat Burns– Doug Gilmour–Felix Potvin edition appeared in consecutive Stanley Cup semifinals nearly three decades ago. This club knows how to win.
Whether it can hold off Tampa Bay in the coming week remains a mystery. But, a worst–case scenario for the Leafs is a series deadlock after four games with the pivotal fifth match on home ice Tuesday night — a storyline most Toronto rooters would have accepted prior to the series. Should the Leafs remarkably win both matches at Amalie Arena this weekend, the 90.8 percent odds of moving on to the next round will arise yet again. Yikes!
While writing my pre–series blog entitled IN THE END, IT'S UP TO SMILIN' JACK, I suggested the Leafs could defeat the Lightning only if Jack Campbell outperformed Andrei Vasilveskiy. Which happens to be the situation after three games. That worm could easily turn given Vasilveskiy's Stanley Cup resume during the pandemic. But, Campbell seems more poised and acrobatic than during his first playoff round a year ago. His glove stab off a patented Steven Stamkos one–timer Friday night will be featured for awhile on those "best of" TV filler shows.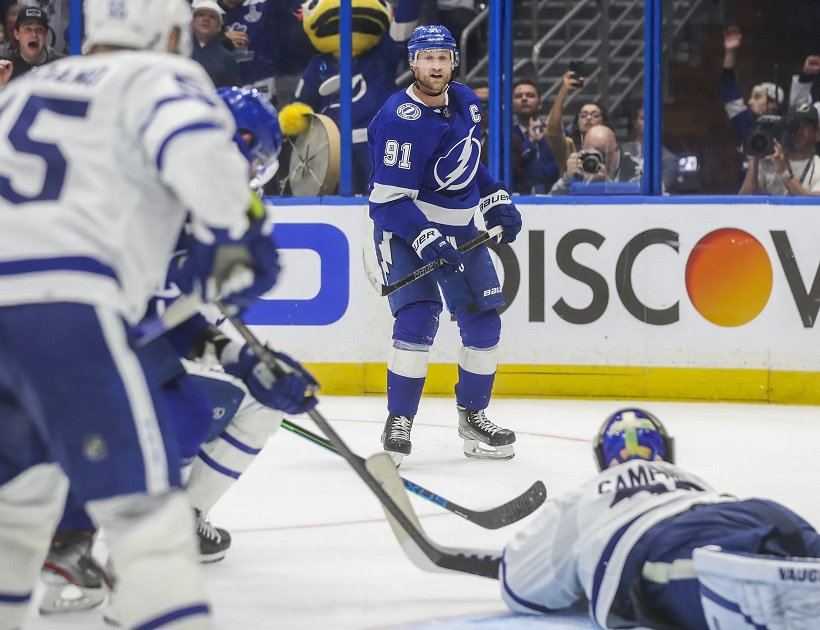 LIGHTNING CAPTAIN STEVEN STAMKOS WATCHES IN DISBELIEF AFTER GETTING ROBBED BY LEAFS GOALIE JACK CAMPBELL IN THE THIRD PERIOD FRIDAY NIGHT. DIRK SHADD TAMPA BAY TIMES
It's too early to say "I told you so" but the innumerable Toronto hockey zealots that wrote off Smilin' Jack as a "back–up goalie" during his post–All Star funk this season have rejoined the bandwagon. As I repeatedly promised, in this corner, they would. Campbell may not move on to the next playoff round, but the Maple Leafs aren't likely to be conquered by the Lightning as a result of sub–par goaltending. Campbell has rebounded very close to the level that made him an Eastern All Star through October, November and December. Vasilevskiy, by contrast, didn't make a timely stop in either Leafs victory thus far. It has to be alarming for Tampa Bay fans that their club was unable to capitalize on a loud, raucous gathering Friday night; instead, falling behind the Leafs, 2–0, before the midway point of the opening period. Which was very un–Lightning like during the Jon Cooper era.
If there is a red flag for the Leafs, it involves being out–bumped by the Lightning in the first three games. Tampa is winning the body contact war, which could have an accumulative impact on the Maple Leafs as the series progresses. I reference my youth when offering such caution. Anyone old enough to remember the Leafs–New York Islanders quarterfinal of 1978 will recall how Toronto fell behind 2–0 and 3–2 in the series, losing twice in overtime at the Nassau Coliseum. Through the entire fortnight, after wins and demoralizing losses, rookie coach Roger Neilson used a mantra while talking to reporters: "If we keep out–hitting the Islanders, we'll eventually wear them down and have a good chance of winning." Which is precisely what transpired. Darryl Sittler, Lanny McDonald, Dave (Tiger) Williams, Dan Maloney, Pat Boutette, Jerry Butler and Brian Glennie repeatedly hammered Bryan Trottier, Mike Bossy, Denis Potvin et al and the Leafs prevailed by the slimmest margin: McDonald winning Game 7 in extra time. Perhaps Jon Cooper is of the same mindset right now, with his club behind heading into Game 4.
It's evident so far that the Leafs and Lightning are evenly matched — practically mirroring one another. Thus the punch/counterpunch pattern of the first three games. If it continues, Tampa Bay will even the round on Sunday night. If the pattern is broken, the Leafs will be in an enviable position: up 3–1 with an elimination game on Tuesday at Scotiabank Arena. Which sounds hauntingly familiar just 49 weeks after failing to close out Montreal in an identical scenario. Either way, the Maple Leafs deservedly find themselves in a good spot after three games.
FROM THE PLAYOFF VAULT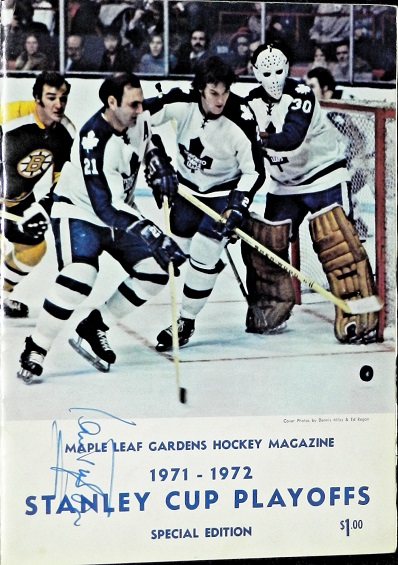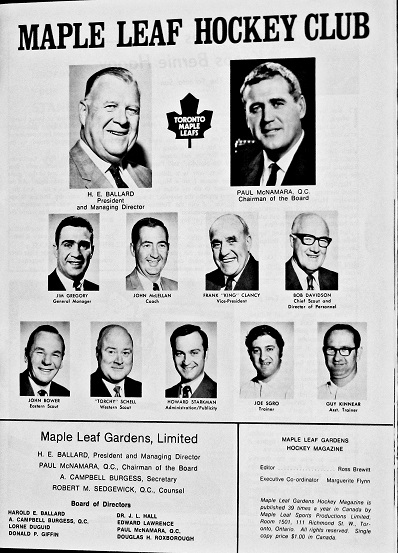 While the Maple Leafs qualified for the playoffs 50 years ago this spring, they were no match for Bobby Orr, Phil Esposito and the Boston Bruins. Jim Harrison of Toronto beat Gerry Cheevers in overtime of Game 2 at Boston Garden to even the series and provide Leaf fans with false hope. Back at Maple Leaf Gardens, the Bruins took control of the quarterfinal with 2–0 and 5–4 victories. This program, slightly yellowed by Scotch Tape in the lineups and signed by Canadian country singer Ian Tyson (today, 88), was from the 2–0 Boston triumph in Game 3 (Apr. 8, 1972), which I attended as a 13–year–old. Boston finished the 1971–72 season atop the National Hockey League standings with a record of 54–13–11 for 119 points. The Leafs were fourth in the East Division at 33–31–14 for 80 points, four more than Detroit. The Bruins eliminated the Leafs with a 3–2 triumph in Game 5 at Boston Garden then upended St. Louis and the New York Rangers to win their second Stanley Cup title in three years.
There are many familiar and legendary names in the lineups for both teams (below).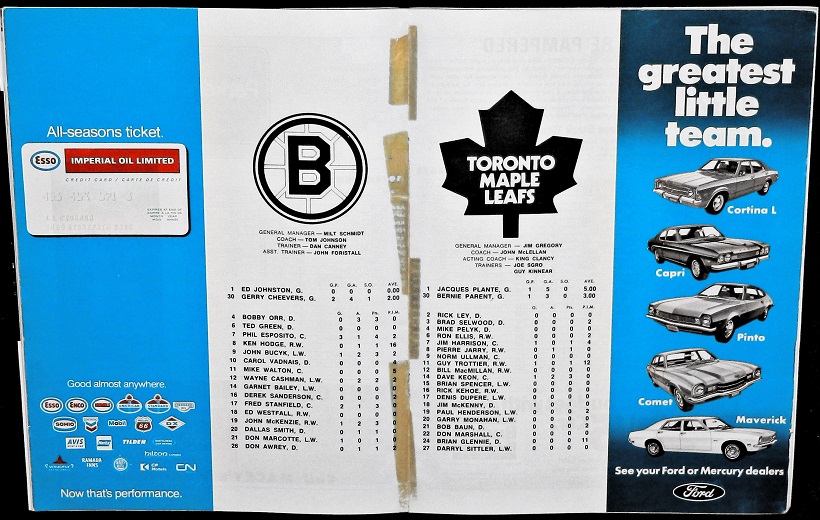 EMAIL: HOWARDLBERGER@GMAIL.COM