TORONTO (May 26) — I worked with veteran radio man John Derringer (real name: John Hayes) a generation ago at The FAN–590 when he co–hosted our morning show with the late Pat Marsden. Though I never spent much time around John (he attended an office party at my house one night prior to the 1996 Summer Olympics in Atlanta), I found him to be a pleasant fellow with a good sense of humor. That's why I'm saddened to learn of his allegedly perverse behavior around female colleagues during much of the past decade; claims that surfaced this week from former Q–107 co–hosts Jennifer Valentyne and Jacqui Delaney (another ex–FAN–590 colleague).
It should also be noted that Derringer is the father of three girls.
If the charges are proven accurate, John's voice should never again be heard over the air.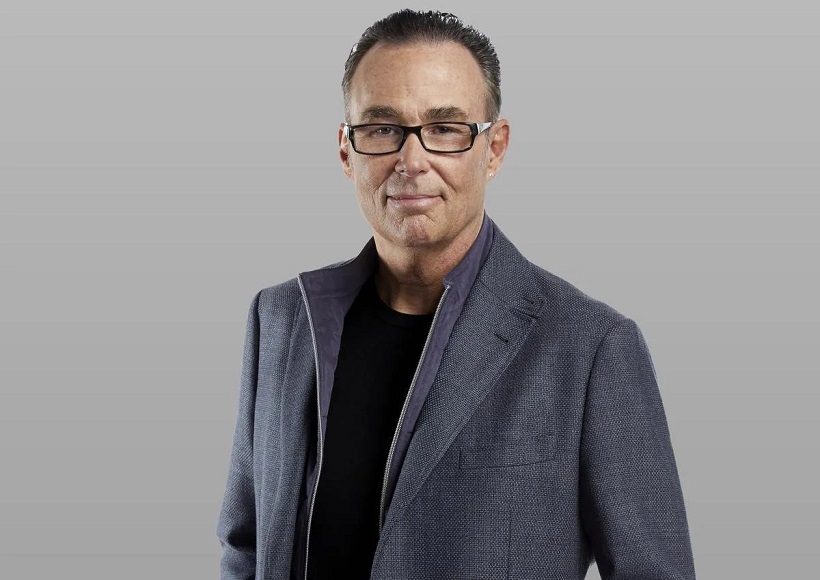 At the moment, he is on "hiatus" from the Q–107 morning show while charges of harassment and gender discrimination are being investigated by the parent company, Corus Entertainment, and the Ontario Human Rights Commission. Neither, if the allegations are accurate, should Corus be excused for its managers and executives turning a blind eye to such revolting comportment. Which appears to be the case and is hardly unheard of in the radio business when a host is pulling in copious advertising dollars in the morning or afternoon "drive" shift. There is also unconfirmed word of at least one woman being paid "hush money" to keep quiet about Derringer. "What would you do if a co–worker screamed at you, belittled you, called you names, shut you out, brought you to tears, and then laughed when he told you to cry all you want?" asked Valentyne in a video posted on social media (Toronto viewers will remember Jennifer as part of the CITY–TV morning show from 1992 to 2016). "That he didn't feel one bit sorry for you, and let you know with utter conviction that if you went to HR, they would choose him?"
Offered Delaney (real name: Jacqui Budden) on Twitter: "I'm about to have one final interview (re: Derringer) and then I'm done. This is not my story to tell. I suffered with him for only two months, versus years of suffering for others. My motivation for speaking out was to corroborate [Valentyne] and the fact that management knew." Jacqui elaborated on her brief experience as Derringer's co–host earlier this week during an eye–popping interview with Mike Boon on the popular Toronto Mic'd podcast. I worked with Delaney for nearly a decade in radio and found her to be an ambitious, motivated and affable colleague. We still keep in touch on Facebook.
It's forever been known that power has the capacity to corrupt… and this could be another example.
Prior to and after his brief stint with The FAN–590, Derringer built an enormous following here in town among the most–marketable advertising demo: men between the ages of 18 and 35. Such radio figures are often "untouchable." I am more familiar with a personality becoming a cash cow for our country's first all–sports radio station. Bob McCown turned enormous profits for Telemedia Communications Inc. (of Montreal) and Rogers Communications during his 30–year stint (1989 to 2019) as host of Prime Time Sports (I produced the program for the first three years). He, too, could be cantankerous, bullying and infused with "power." Yet, I never saw him belittle a female colleague. Neither did any such allegation arise during his three–decades–long term at The FAN–590.
I cannot help but wonder how the charges against Derringer have personally impacted members of his family. I spent many hours in the FAN–590 studio with John's brother, Bill Hayes, a salt–of–the–earth type; among my favorite all–time radio colleagues. John's nephew (Bill's son), Bryan Hayes*, has evolved into arguably the best sports–radio host in Canada on TSN's signature Overdrive show, weekday afternoons from 4–7 p.m. (Eastern).
*Bryan Hayes did not appear on the Thursday edition of Overdrive, nor will he appear on Friday. Coincidence?
GIVE 'EM PROPS: For the past two springs, the Toronto Maple Leafs have been in overtime of Game 6, just one shot removed from advancing beyond the opening round of the playoffs. Last year, they were subdued by a mediocre (if suddenly hot) Montreal team; this year, by the soon–to–be three–time Stanley Cup champions. Given how Tampa Bay just dismantled Florida in a Round 2 sweep, the Leafs deserve much credit for slugging it out through seven games with the Lightning. Until, however, someone performs a Vasil–ectomy on the guy wearing 88 between the pipes, no rival will defeat the Gulf Coasters in four of seven matches… as the Maple Leafs nearly did.
Sadly for the Blue and White, NHL doesn't stand for the National Horseshoes League. In the playoffs, "close" and "distant" are brethren. That said, I suspect only Colorado, among the remaining playoff clubs, is capable of extending the champs the way the Leafs did. Which says quite a bit about Toronto's level of skill, yet baffling inability to close out the opposition. The Leafs also had Boston down 3–2 in games during the 2019 Stanley Cup tournament. Three of four years… and the same result. If (when?) Tampa does win a third Cup, its dynasty will be the equal of all others in NHL history except for Montreal's record five–year run that started in 1956. To capture three successive championships during the salary cap era is every bit as remarkable as Montreal and the New York Islanders winning four straight Cups in the imbalanced league of the late–1970's and early–80's. It hasn't happened yet… but it will. Kayoing a team with the best goalie (Andrei Vasilevskiy) and best defenseman (Victor Hedman) in the world is all–but impossible. Even if the Leafs were soooooo darned close to making it happen.
ON THE CONTRARY: Kyle Dubas is certainly a man of his word; a person of unwavering consistency.
Last year, after the Maple Leafs were embarrassed by coughing up a 3–1 lead to Montreal in the opening round of the playoffs, Dubas vowed to stay the course and re–signed veteran forward Jason Spezza to a one–year contract worth $750,000. It occurred a mere 16 days after being eliminated by the Habs. This spring, following a sixth consecutive one–and–done in the Stanley Cup tournament, Dubas, yet again, vowed to stay the course. But, it required half the amount of time — only eight days — for the general manager to throw $1.6 million for two seasons at ancient blueliner Mark Giordano. Given the pattern, we'll assume that next year's hasty contract will be awarded to a declining grey–beard four days after a seventh opening–round ouster. This is easy arithmetic.
The latest comfort move was praised in a Toronto Sun headline: MAPLE LEAFS SMARTLY RETAIN GIORDANO. Another dispatch referred to the nearly 40–year–old as a "playoff–hardened defenseman", despite a grand total of 30 post–season games over 18 seasons; his Calgary teams never advancing beyond the second round. No appearance in the Conference final. Or, of course, the Stanley Cup final. Only in Toronto could this marginal resume be described as "playoff–hardened." Sportsnet flag–waver Luke Fox posted his latest public relations dispatch on behalf of the team, entitled: WHY MARK GIORDANO MADE A 'TREMENDOUS SACRIFICE' TO REMAIN A MAPLE LEAF. Wrote Fox, surely through tears: "The fan base should be ecstatic at Giordano's we–before–me approach." The rhetorical question that everyone around here ignores: Where did Giordano help guide the Maple Leafs that they hadn't previously been in the springtime since 2004? The irrefutable answer: Absolutely nowhere.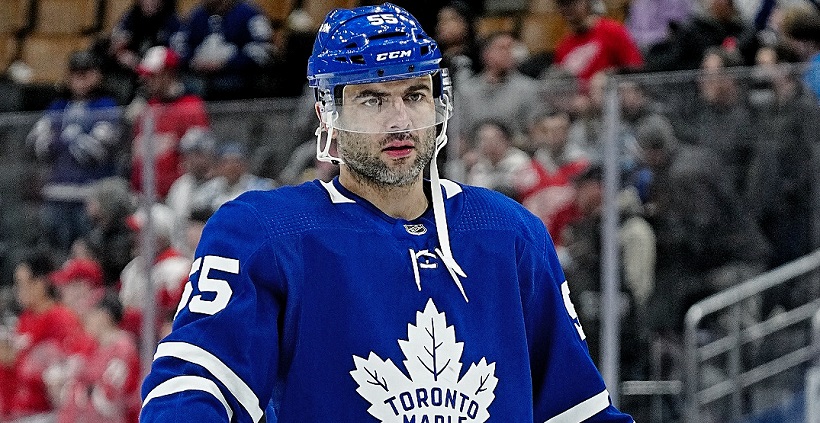 Neither do the Leafs require "veteran leadership" on the blue line; not with 28–year–old Morgan Rielly perhaps the most–respected voice in the dressing room. Rielly, in October, will enter his 10th full season with the club.
Perhaps Sun hockey scribe Terry Koshan best summed it up in the first line to his follow–up story: "Mark Giordano got his wish." And, that's what it's all about in our hockey town. That's what it has been all about for as long as anyone can reasonably remember: clinging to the local boy and keeping him happy… ten years after his biological prime. I wouldn't have spent eight dollars, let alone eight–hundred-–thousand, to retain Giordano for each of the next two years. Not with my team already in salary cap pandemonium and with younger, more serviceable skaters to keep in the fold. Undoubtedly, allowing yet another Toronto boy to play out the string in his golden years will harm the Leafs. Precisely how cannot be determined at this time. But, it will. All I know is that each of Rasmus Sandin and Timothy Liljegren need to be signed out of entry level to their first professional contracts. And that both defensemen are nearly young enough to be Giordano's children. Ilya Lyubushkin is also up for renewal, at 28.
If Giordano's extension winds up costing the Maple Leafs 22–year–old Sandin, it will come back to bite the club. Hard. Sandin is not a No. 1 defenseman, but he has borderline–elite skill with the puck. There's also the small matter of signing a No. 1 goalie (the Leafs do not seem enamored of Jack Campbell)… and the club's most–improved player this season, unrestricted free agent Ilya Mikheyev (who will likely follow Zach Hyman out the door, with no return). Good luck to Dubas if he feels he can move forward by losing Sandin and Mikheyev. The terrific regular–season — and dismal playoff — nucleus still consumes more than $48 million of the dormant salary cap; Kyle steadfastly vowing to keep hands off John Tavares, Auston Matthews, Mitch Marner, William Nylander and Rielly. Committing, therefore, nearly $1 million to another over–the–hill Toronto boy (see Wayne Simmonds) is, in my view, hardly a reason for the fan base to be "ecstatic", no matter what the compliant media tells you.
McDAVID vs. MATTHEWS? NOT: When the Edmonton Oilers followed a 16–5–0 start with a 2–12–2 eyesore, heads were about to roll. On Feb. 10, respected coach Dave Tippett was replaced by farm–team (Bakersfield, Calif.) apprentice Jay Woodcroft. With veteran Mike Smith sidelined, the Oilers could not receive adequate goaltending from back–up Mikko Koskinen. The downward spiral would surely remove the club from playoff contention. Funny how circumstances change. Here we are, 3½ months later, with the Oilers on the verge of  the Stanley Cup semifinals for only the second time in 30 years, and first time since 2006, when the club defeated Anaheim, then lost to Carolina in the NHL title round. Edmonton is doing it with an improved, but hardly stellar, performance in goal from the veteran Smith, who is spectacular and erratic, with not much in–between. Instead, the Oilers, as with a select few teams in Stanley Cup history, are riding the undisputed best player on the planet.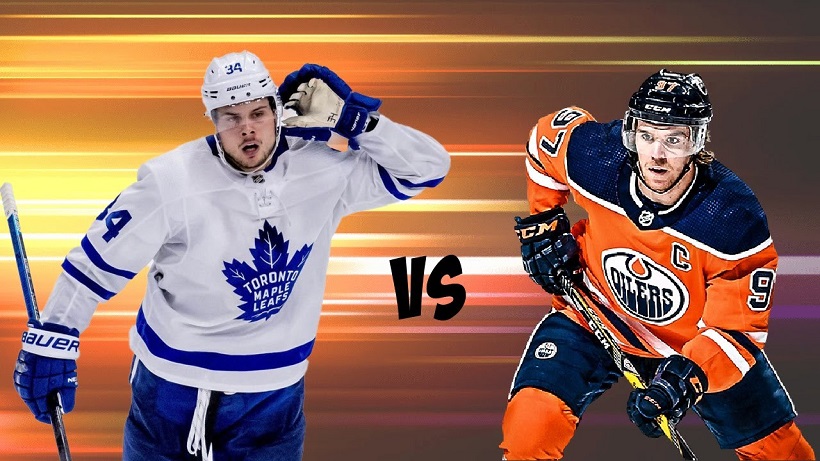 Connor McDavid is the fastest, most–exceptional skater the game has ever known. With respect to pure skill, he ranks tied for third among players seen by these eyes… trailing only Bobby Orr and Wayne Gretzky; tied with Mario Lemieux. Though nothing is impossible here in Toronto, the 2022 playoffs should finally put to rest the silly notion that Matthews is the "best player in the world" — a sentiment frequently written and heard as the Maple Leafs star erupted for a franchise–record 60 goals. Matthews, for the past two years, has been the best regular–season scorer in the NHL and, by comparison, a mostly marginal figure in the playoffs. McDavid, conversely, has an attribute the Leafs can only dream of: a superstar that increasingly separates himself from the pack as the stakes increase. Not since Doug Gilmour, nearly 30 years ago, has Toronto possessed such a dominant playoff figure. Neither will the Leafs advance deep into the Stanley Cup tournament until another–such player emerges.
LIFE AFTER LEAFS? Ask Tyler Bozak, Nazem Kadri or Zach Hyman.
MEA CULPA: Though I've been critical of Dubas and his largely stubborn approach to building a Stanley Cup contender, the still–young GM of the Leafs has maneuvered the club nicely. Until a better goalie comes along, I maintain his acquisition of Jack Campbell from Los Angeles ranks near the top among Leaf trades in the post–Gilmour era. As such, I truly shortchanged the GM in my blog here on May 17, which followed his end–of–season gabfest with reporters. Given that I write with passion and refuse to sugarcoat opinions, I'm in the habit of re–reading my blogs every couple of weeks, to determine whether I've under or overstated a viewpoint. And, I cringed when I saw the word "gutless" pertaining to Kyle's hands–off approach to the club's five–man nucleus. While I maintain the Leafs will not change in a meaningful way until one of Matthews, Marner or Nylander departs for cap flexibility (Tavares is untouchable; Rielly not going anywhere), "gutless" was an amateurish depiction. I emailed my apology to Dubas (via the Leafs director of media relations, Steve Keough), which I hope the GM received.
EMAIL: HOWARDLBERGER@GMAIL.COM