TORONTO (May 16) — Whatever roster/salary cap manipulation the Toronto Maple Leafs are considering from this point forward absolutely must involve Auston Matthews. Not solely because he failed to help lift the club beyond one playoff round for a sixth consecutive year. But, more as a result of the contract the Leafs accorded him on Feb. 5, 2019: a five–year, $58.17 million pact that consumed only one year of unrestricted free agency.
It allows for Matthews to test the open market in the summer of 2024, when he enters his biological prime. Far more urgently is a no–movement clause that kicks in just more than a year from now (July 1, 2023), when Matthews is eligible to sign a contract extension. At which point the player holds all the cards. He cannot be traded without consent and the Maple Leafs will garner no return if he decides to choose another team a year later. Undoubtedly, his next contract will span the maximum eight–year term, ushering Matthews into his mid–30's. So, it's mandatory that the Leafs and their top goal–scorer begin to determine the position of each side.
Unless the Maple Leafs are impotent lap dogs and will throw themselves at Matthews' feet, an onerous decision lurks on the not–too–distant horizon. From the club's perspective, how does more than a half–decade of playoff deficiency govern whether to provide Matthews a career–long guarantee in the Big Smoke? And, from the player's standpoint, is Auston starting to consider the cliché–like bromide that "there's a limit to everything?" With a franchise–record and National Hockey League–best 60 goals, followed by another quick exit from the Stanley Cup tournament, is Matthews pondering an eventual change of scenery? It is virtually assured that he'll divulge nothing about his future when the Maple Leafs gather with the media on Tuesday and clean out their lockers. Nor should we expect any form of declaration from general manager Kyle Dubas. Instead, we'll hear how Matthews loves it in Toronto and cannot imagine playing elsewhere, with similar tidings from Kyle and Co.
But, the actual stakes broaden with each day. Starting now.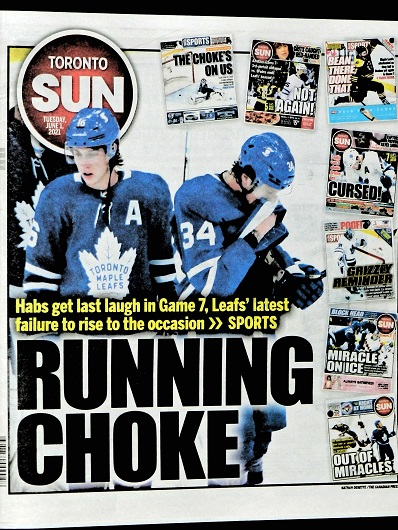 THE TORONTO SUN (RIGHT) WAS A BIT KINDER TO THE LEAFS AFTER LOSING TO TAMPA BAY THAN FOLLOWING THE PLAYOFF HUMILIATION AGAINST THE HABS (LEFT) A YEAR AGO.
Complicating matters is that Mitch Marner also becomes unmovable on July 1, 2023 and — more significantly — a limited no–movement clause takes effect with William Nylander, who can submit to the Leafs a list of 10 cities to which he cannot be traded (more on Nylander later). One year in professional sport is the veritable blink of an eye. It was one playoff attempt ago that the Leafs were embarrassed by the Montreal Canadiens. If you're a fan of the club, doesn't that seem like only yesterday? Well, it's the time remaining before Matthews, unbound by restriction, can dictate his future to the Maple Leafs… and, possibly, take his wonderful goal–scoring exploits to another city. Under no circumstance, naturally, will the Leafs allow that to happen. Which could result in one of the most–compelling, momentous trades in the now 105–year history of the Blue and White. Implausible though it seems.
The gut response from Leafs Nation, of course, will be "aw, he's not going anywhere. Auston will sign with Toronto for life." Which is hardly inconceivable, especially if Dubas remains in the GM's chair. Though he's built an exceptional club between October and April, Kyle has shown absolutely no compunction to tinker with his beloved core.
Which begs the question, perhaps rhetorical: Can he make a tough, strategic call that involves players with whom he's emotionally invested? Already, one cheerleader in the local media has granted a parochial view (with more surely to follow). Wrote Toronto Star columnist Chris Johnston (who doubles as an insider with Leafs–owned TSN): "Really, this is about Matthews and what needs to happen over the next 13–plus months to ensure he's eager to sign another contract [with the Maple Leafs] at the earliest available opportunity." That offering is so 'Toronto': "Lock up our hero forever… even if it means 16 consecutive years of first–round playoff elimination."
Continued Johnston: "Unless, of course, the team decides to trade him by June 30, 2023 — but how could the Leafs possibly even consider doing that with one of the sport's most–unique talents, unless he indicates a desire to test the open waters a full year before he can actually hit the market? They can't, and he won't." More proof that Johnston, as with so many Maple Leaf followers, has been conned and bamboozled by regular–season accomplishment. Dubas, Brendan Shanahan and the decision makers need to think more broadly… as should, quite frankly, a columnist with Canada's largest newspaper. But, we exist in a fishbowl–type environment in which far too many observers in the Toronto media talk and write as an extension of the hockey club. It is truly a shame.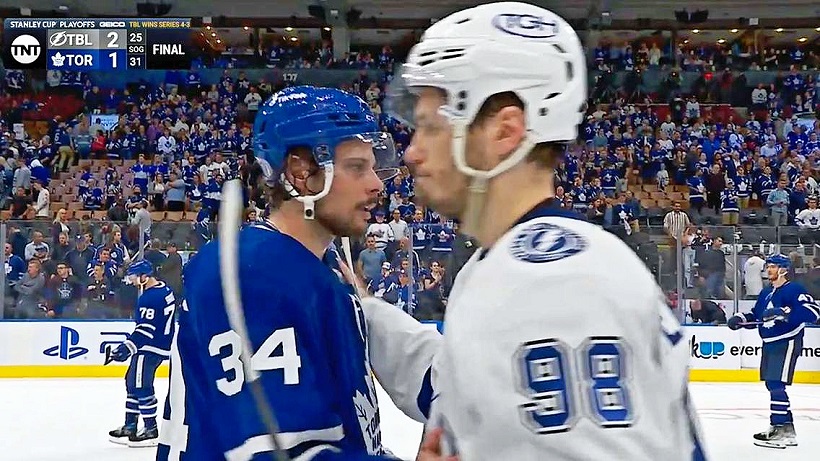 Fact remains that the Leafs have accomplished nothing with Matthews on board. He has unlimited skill with the puck and does provide immense value to the club and its ticket patrons during the 82–game playoff warmup. Once the stakes increase, however, he is (to this point) incapable of lifting the Leafs even marginally, in the manner of Darryl Sittler, Doug Gilmour and Mats Sundin. Or, the way Connor McDavid carried the Edmonton Oilers past the stubborn Los Angeles Kings and into the first Battle of Alberta since 1991. After six failed attempts, there is no arguing the matter. What remains to be determined is how many more times the club — and the player — wish to venture down the same, desultory path. If we hear another version from Dubas, on Tuesday, of "we'll get this done" or "we believe in the group", you can predict the outcome. But, to suggest, as did Johnston, that the Leafs absolutely, positively cannot move forward beyond next season without Matthews is nothing shy of myopic.
SECOND ROUND PLAYOFF PREDICTIONS
I was 6–2 in the first round of the Stanley Cup playoffs, missing with St. Louis (I chose Minnesota) and Carolina (I chose Boston). Here is my forecast for Round 2, which begins Tuesday night (HOME–ICE team in caps):
EASTERN CONFERENCE
Tampa Bay over FLORIDA in 7
CAROLINA over New York Rangers in 6
WESTERN CONFERENCE
COLORADO over St. Louis in 7
CALGARY over Edmonton in 7
EMAIL: HOWARDLBERGER@GMAIL.COM