TORONTO (June 11) — So, it was Steve Briere's "fault" that Jack Campbell posted a dismal 51–14–9 record in 77 appearances under his direction. The Toronto Maple Leafs — forever absolving the $40 million men up front — began the blame game this week by firing their goaltending coach. An obvious move given the constant criticism of Briere during the seven–game loss to Tampa Bay, in which the Leafs failed, for the sixth time, to emerge from the opening series of Stanley Cup toil. Wait… you don't remember Chris Cuthbert, Craig Simpson, Ron MacLean, Elliotte Friedman, Kelly Hrudey and Co. blasting Briere on every Hockey Night In Canada telecast? That's probably because his name was never mentioned while Campbell out–performed Andrei Vasilevskiy in five of the seven matches. But, again, anything to deflect culpability from the hallowed and beloved Core 4 up front, which combined for one whole goal in the last two games against the Lightning, assuring the Leafs — for the third time in four springs — would cough up a 3–2 lead in the opening playoff round. The golden boys are clearly untouchable.
As such, while John Tavares, Auston Matthews, William Nylander and Mitch Marner began to enjoy, with immunity, yet another extended off–season, Leafs management looked through the wreckage for a fall guy. Perhaps Briere would have been spared if Campbell had won 60 of his 77 games between the pipes. A meager 51 was undoubtedly reason for dismissal. Walking the plank soon will be the actual culprit, Smilin' Jack, whose next jersey in the National Hockey League could well be the orange and blue of the Edmonton Oilers. Unless, that is, the Maple Leafs come to their senses. If I'm Oilers general manager Ken Holland — saddled with the ancient Mike Smith and the unreliable Mikko Koskinen — I toss large money and term at Campbell on July 13, when the goaltender will almost surely become an unrestricted free agent. Imagine Smilin' Jack's swagger and confidence behind Connor McDavid, Leon Draisaitl, Evander Kane (if he re–signs) and ex–Leaf Zach Hyman. Edmonton took a massive step in the playoffs this spring, advancing to the Western Conference final. With reliability in goal, the club may have provided Colorado's juggernaut a bigger challenge. Campbell can offer the Oilers that dependability.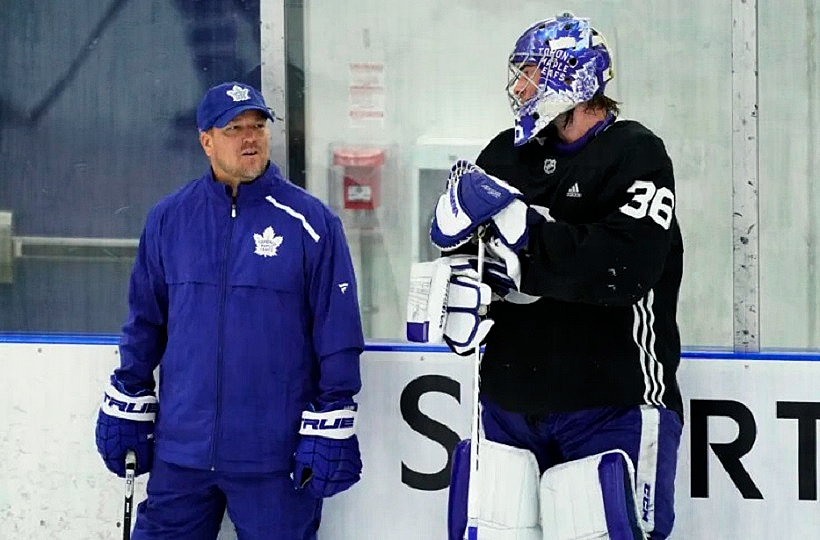 FORMER MAPLE LEAFS GOALIE COACH STEVE BRIERE EVIDENTLY INSTRUCTING JACK CAMPBELL ON HOW TO FAIL.
Meantime, we await the latest in a string of saviors for the locals, having deployed a paltry 74 goalies since winning the 1967 Stanley Cup. The roll call: JOHNNY BOWER, BRUCE GAMBLE, AL SMITH, MARV EDWARDS, GERRY McNAMARA, JACQUES PLANTE, BERNIE PARENT, MURRAY McLACHLAN, GORD McRAE, RON LOW, DOUG FAVELL, DUNC WILSON, EDDIE JOHNSTON, PIERRE HAMEL, WAYNE THOMAS,  MIKE PALMATEER, PAUL HARRISON, JIRI CRHA, CURT RIDLEY, VINCENT TREMBLAY, JIM RUTHERFORD, MICHEL (BUNNY) LAROCQUE, BOB PARENT, RICK ST. CROIX, ALLAN BESTER, KEN WREGGET, BRUCE DOWIE, TIM BERNHARDT, DON EDWARDS, JEFF REESE, MARK LaFOREST, PETER ING, DAMIAN RHODES, GRANT FUHR, FELIX POTVIN, RICK WAMSLEY, DARREN PUPPA, DON BEAUPRE, MARCEL COUSINEAU, GLENN HEALY, CURTIS JOSEPH, COREY SCHWAB, TOM BARRASSO, SEBASTIEN CENTOMO, ED BELFOUR, MIKAEL TELLQVIST, TREVOR KIDD, JEAN-SEBASTIAN AUBIN, ANDREW RAYCROFT, SCOTT CLEMMENSEN, VESA TOSKALA, MARTIN GERBER, JUSTIN POGGE, JEAN-SEBASTIEN GIGUERE, JONAS GUSTAVSSON, JOEY MacDONALD, JAMES REIMER, BEN SCRIVENS, JUSSI RYNNAS, JONATHAN BERNIER, DREW MacINTYRE, GARRET SPARKS, FREDERIK ANDERSEN, JHONAS ENROTH, ANTOINE BIBEAU, CURTIS McELHINNEY,  CALVIN PICKARD, MICHAEL HUTCHINSON, KASIMIR KASKISUO, JACK CAMPBELL, DAVID RITTICH, PETER MRAZEK, JOSEPH WOLL, ERIK KALLGREN.
Why would anyone doubt the Leafs' ability to recognize goaltending brilliance (sigh)?
Removing tongue from cheek, we offer legitimate moves that would serve to alleviate the salary cap logjam here in town. The Leafs, today, have $7,844,384 with which to obtain a No. 1 goalie… and to either re–sign or replace pending free agents Ilya Mikheyev, Ondrej Kase, Colin Blackwell, Pierre Engvall, Rasmus Sandin, Tim Liljegren and Ilya Lyubushkin. That works out to $1,120,626 per man. Or, frighteningly close to the NHL minimum.
Somehow, Kyle Dubas needs to find a way of magically making to disappear (ala Lou Lamoriello) the $7.3 million committed to Petr Mrazek and Alex Kerfoot for next season. And, ideally, to break up the forever–underachieving Core 4 by trading William Nylander for a first–round draft choice. That would free up $14,262,366 in cap space and provide the Leafs a potential draft gem under entry level salary restriction. With Connor Bedard (Regina Pats) projected to be a franchise–altering player and Russian Matvei Michkov not far behind, it's unlikely the NHL's weak sisters will gamble on foregoing a lottery pick in 2023. Imagine, though, how the gifted Nylander might help Arizona, Philadelphia or San Jose, having scored the fewest goals this past season. The Coyotes struck for a league–low 207 tallies in 82 games (just 2.52 per match) compared to 315 for the Maple Leafs (3.84 per game).
Perhaps the desert dogs will "tank" to procure the best odds of acquiring Bedard… with the potential (gulp!) of adding local free agent Matthews two summers from now. Otherwise, try to envision the embarrassment of failing to sell out the 5,000–seat arena at Arizona State University that will be the Coyotes' home for the next three seasons. Surely some added firepower up front would create a more–appealing spectacle for fans in the southwest.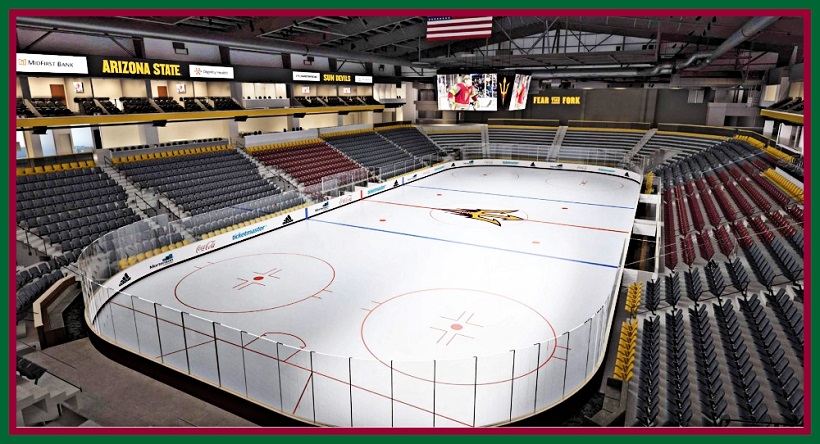 WITH A POP–GUN ATTACK, THERE'S NO GUARANTEE THE COYOTES CAN REGULARLY FILL THE 5,000–SEAT ARENA AT ARIZONA STATE UNIVERSITY IN TEMPE. SUCH A TALENTED SHOOTER AS WILLIAM NYLANDER WOULD SURELY HELP.
In any circumstance, the Leafs would garner a high draft pick and futures for Nylander, with whom the club cannot win in the playoffs (though he's far from alone). Among the others in the Core 4, Tavares is untouchable; neither will Dubas move Matthews nor Marner… unless Matthews indicates he will not sign an extension with the Leafs when first eligible on July 1, 2023. That's to be decided at the trade deadline next season. Right now, Nylander is the lone option, even if still subject to the absurd promise made by Dubas (in December 2018) to not peddle the slick forward on his watch. Of course, that was four playoff failures ago… if it matters at all to Leafs management.
Truth be known, this blog is likely born of fantasy. The Leafs will start firing caretakers at Scotiabank Arena before manning up and recognizing where the real problems lay. Neither will there be pushback from a soft and compliant media. Sadly, Toronto has become the easiest hockey city in which to founder when it matters. Endlessly.
THE EXPANSION BUFFALO SABRES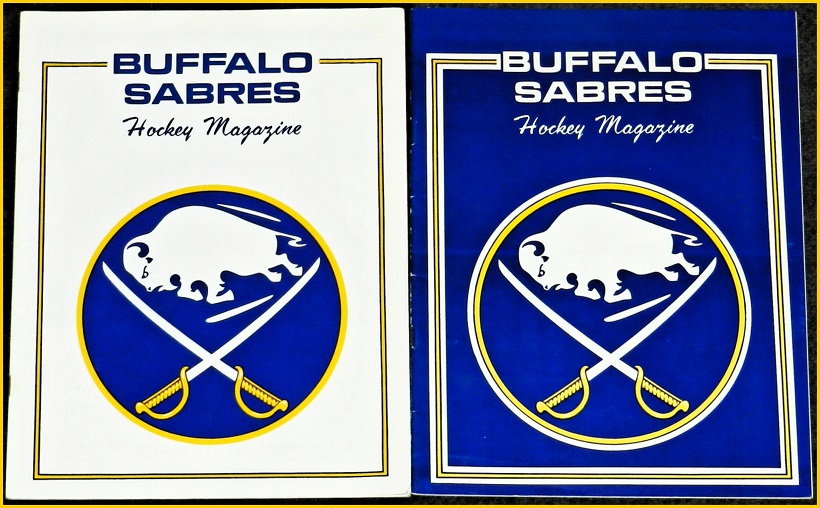 A treat, here, for the wonderful hockey fans of western New York. Among the items I purchased at the Sports Card & Memorabilia Expo in Toronto last weekend were game programs from the first two years of the Buffalo Sabres. The issue at left, with the white cover, is featured here: Buffalo hosting the prolific Boston Bruins on Feb. 23, 1971.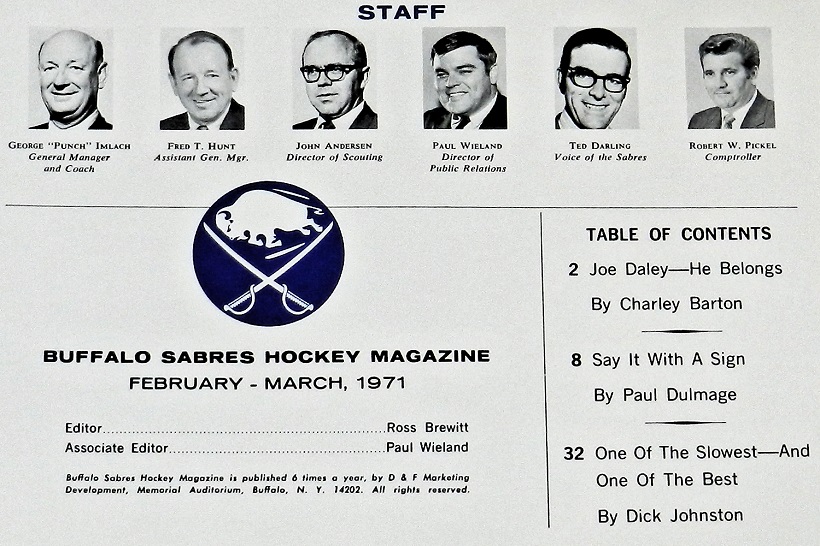 The original Sabres were constructed by GM/coach Punch Imlach (Mar. 15, 1918 – Dec. 1, 1987), who had guided the Leafs to four Stanley Cups in the 1960's. The original radio voice of the Sabres was Kingston, Ont. native Ted Darling (June 9, 1935 – Dec. 19, 1996). He died young, at 61, after a five–year battle with Pick's Disease.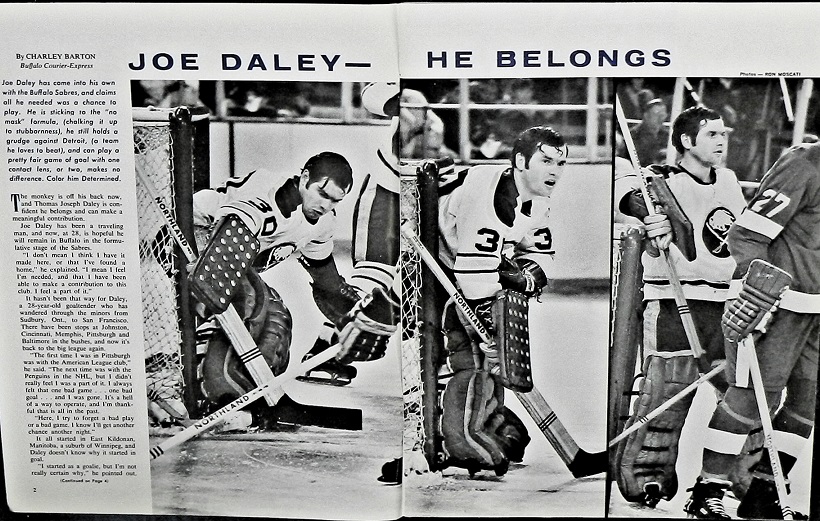 Goalie Joe Daley (b. Feb. 20, 1943) had appeared in 38 games with the Pittsburgh Penguins (1968–69 and 1969–70) before going to Buffalo in the expansion draft. He split the first–season duties with veteran Roger Crozier (Mar. 16, 1942 – Jan. 11, 1996), winning 12 games with a 3.74 goals–against average.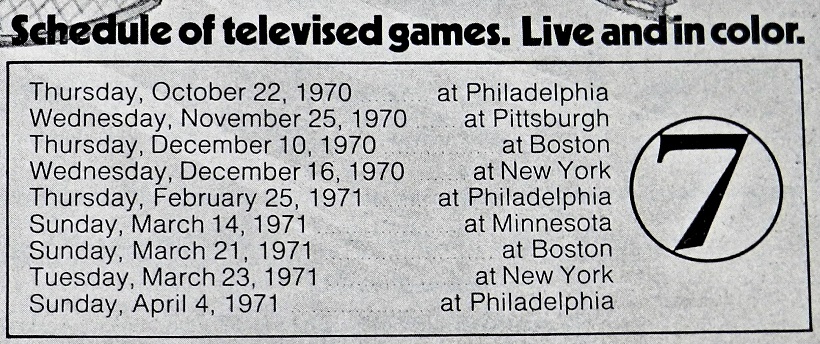 Whereas today, all games are available on TV, the expansion Sabres were shown merely nine times on WKBW Channel 7, the ABC outlet in Buffalo. Dave Hodge (b. Jan. 8, 1945) called the play, one year before replacing Ward Cornell (May 4, 1924 – Feb. 5, 2000) as intermission host for Maple Leaf telecasts on Hockey Night In Canada. WKBW sports director Rick Azar (Apr. 24, 1929 — Mar. 25, 2021) worked alongside Hodge.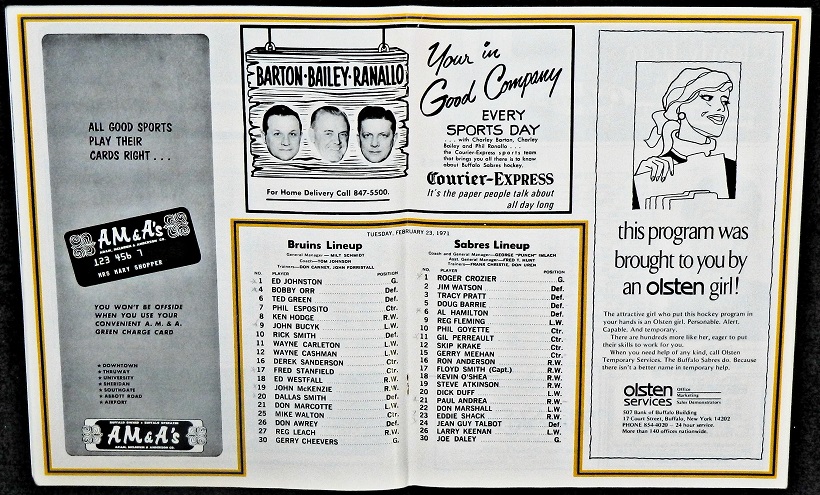 The Sabres were 52 points behind the Bruins when Boston arrived at the Memorial Auditorium (line–ups above and below) in the third week of February. Buffalo lost, 6–3. Six different scorers beat Roger Crozier in the home net: Derek Sanderson, John McKenzie, John Bucyk, Phil Esposito (his 51st goal en route to a record 76), Ken Hodge and Bobby Orr. For Buffalo, Steve Atkinson and Tracy Pratt fooled veteran Ed Johnston. Boston outshot the Sabres, 38–34. Referee Lloyd Gilmour assessed only 18 penalty minutes (Orr and Pratt were sent off for roughing midway through the third period). Gilmour worked with linesmen John D'Amico and George Ashley.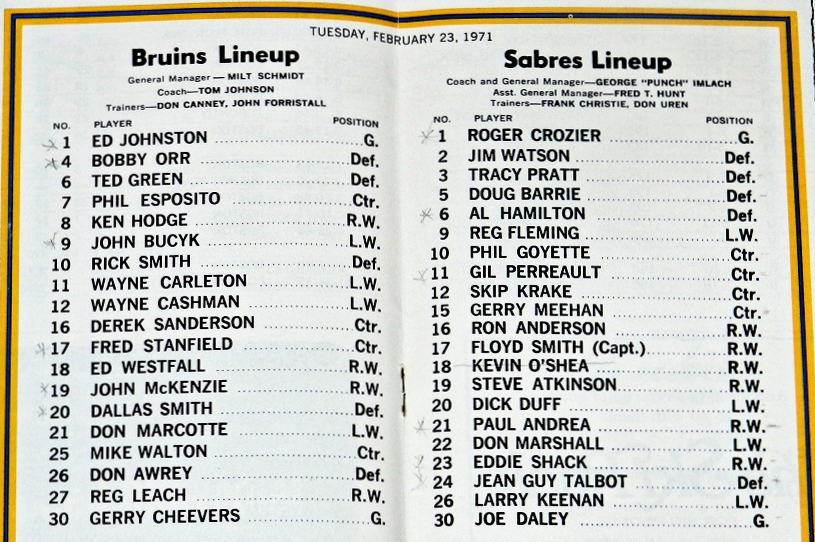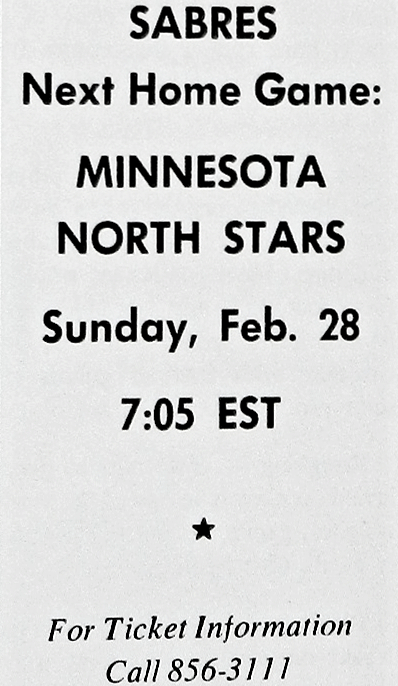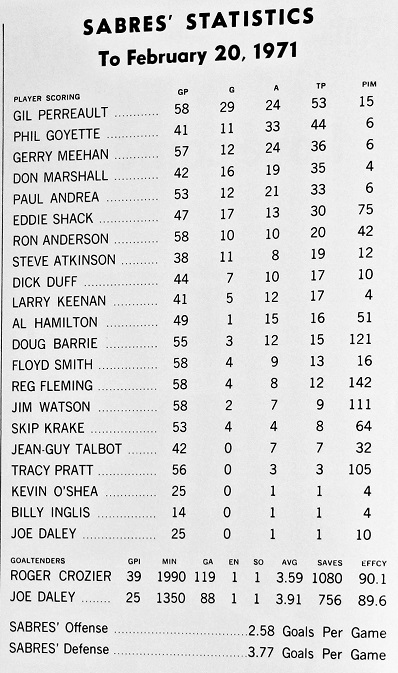 Gilbert Perreault (b. Nov. 13, 1950), chosen first by Buffalo in the 1970 amateur draft (from the Montreal Jr. Canadiens), would win the Calder Trophy as rookie–of–the–year. He remains among the most–electrifying players in modern NHL history. Perreault finished his inaugural campaign with 72 points in 78 games.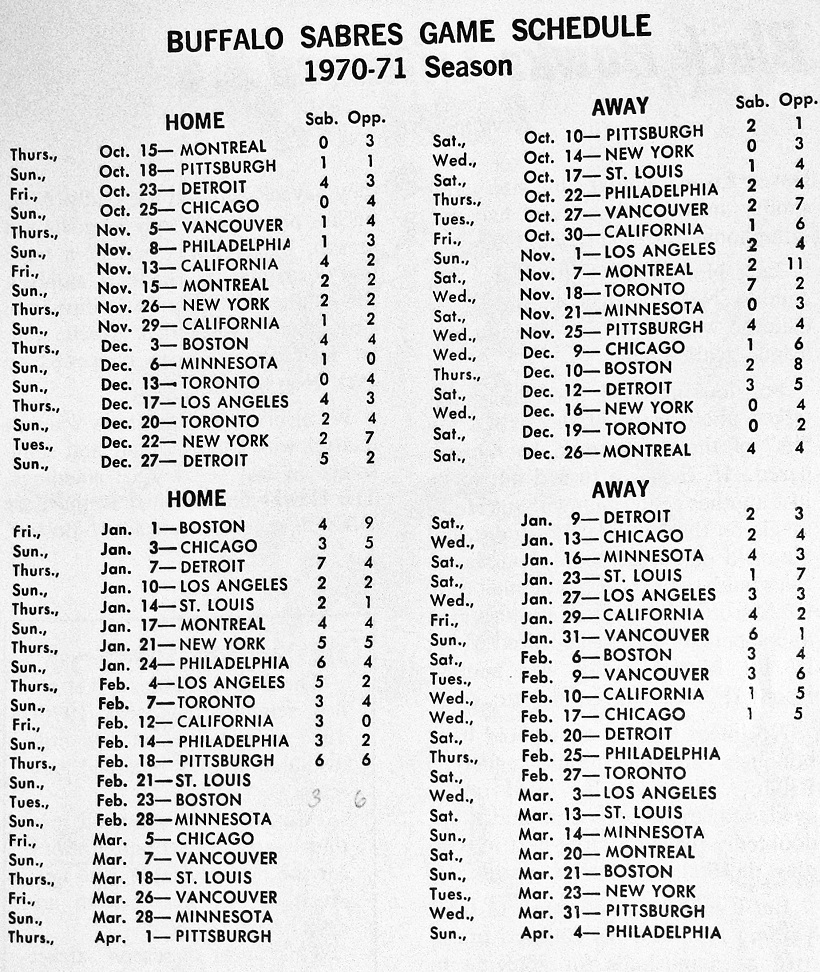 The Sabres won their NHL debut in Pittsburgh on Oct. 10, 1970 and finished a respectable 24–39–15 for 63 points, ahead of fellow expansionist Vancouver and downtrodden Detroit in the East Division.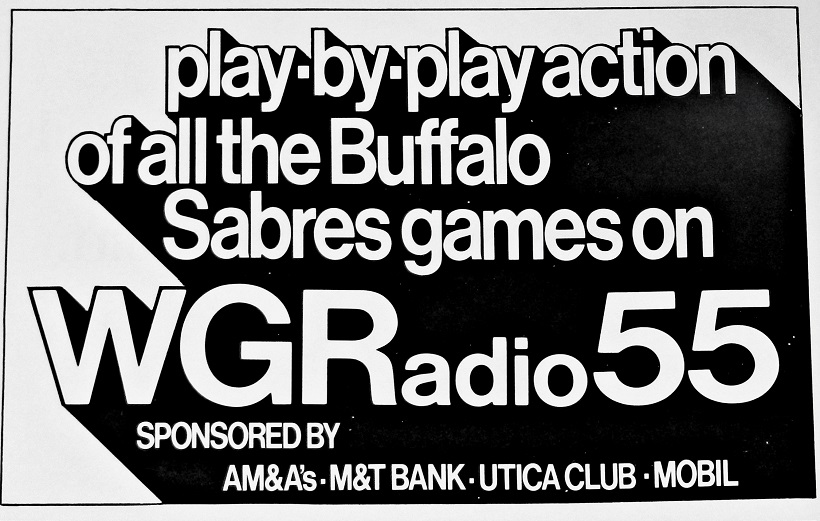 With my ol' FAN–590 boss, Allan Davis, in the big chair, all–sports radio WGR–550 is still the voice of the Sabres.
Season 2: LOS ANGELES at BUFFALO — Dec. 2, 1971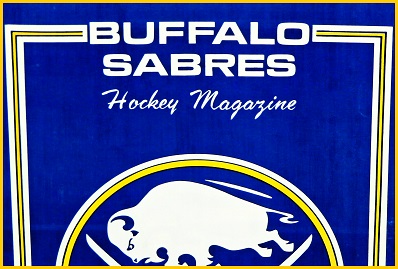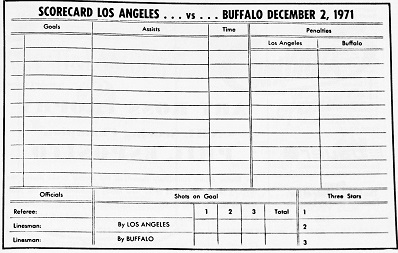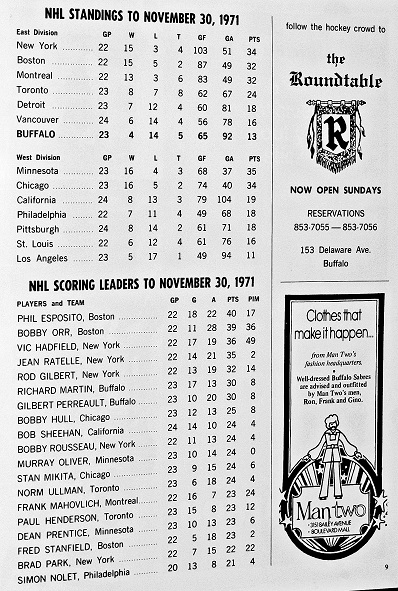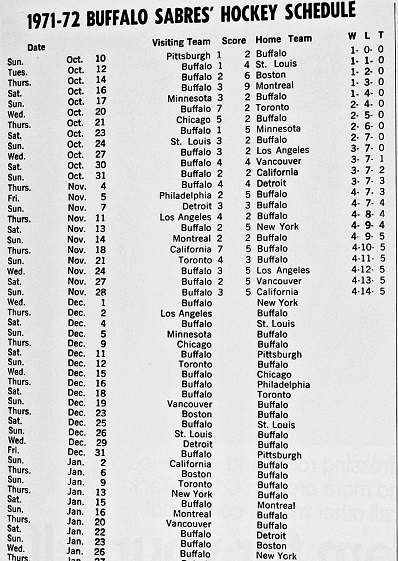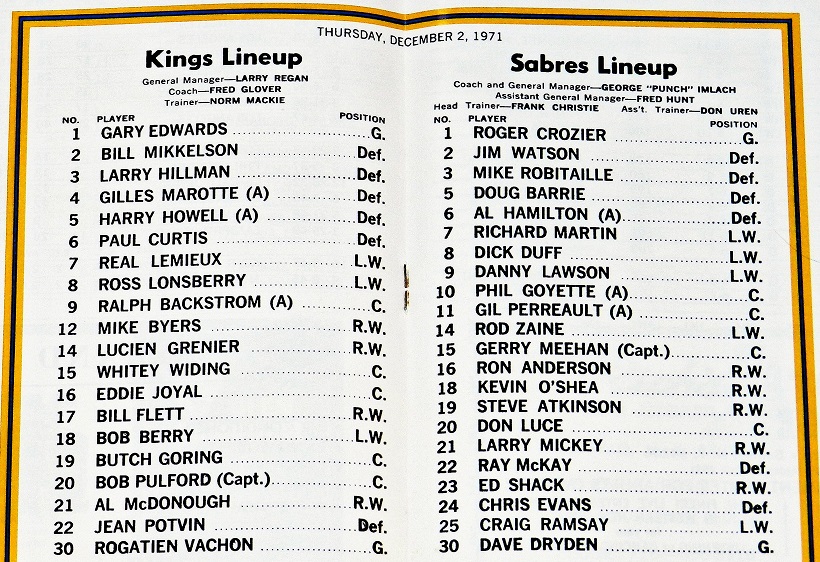 Hardly a battle of titans at the Memorial Auditorium, as the Sabres (5–15–1) blanked the Kings (5–19–1), 2–0, in December of the club's second NHL season. Roger Crozier stopped 31 shots to record the shutout. Gerry Meehan (b. Sep. 3, 1946) scored on Gary Edwards (b. Oct. 5, 1947) in the first period; Eddie Shack (Feb. 11, 1937 – Jul. 25, 2020) in the third. Shack had played with Los Angeles in 1969–70 and at the start of 1970–71 before Punch Imlach acquired him for the Sabres. Referee Bill Friday (below) handed out 22 penalty minutes.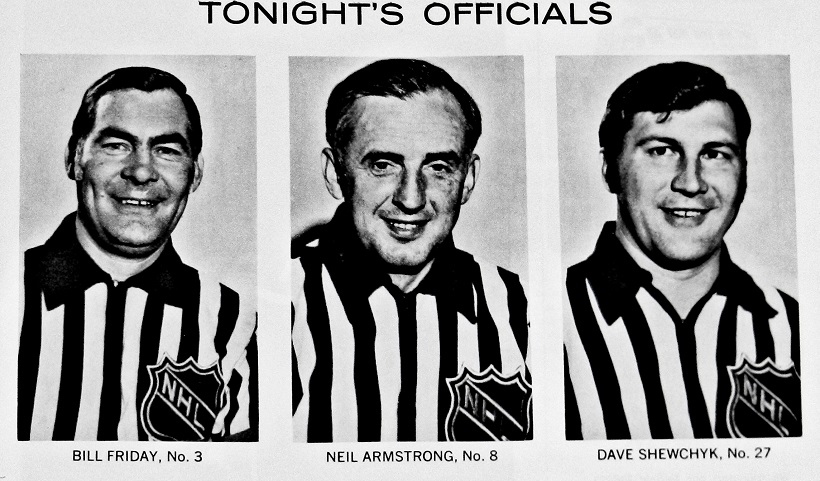 EMAIL: HOWARDLBERGER@GMAIL.COM