TORONTO (June 13) — Among the early off–season rumors involving the Maple Leafs has forward Sam Gagner, 32, joining the club. Which makes perfect sense considering that Gagner meets all the typical Leafs criteria:
*Ontario boy… check.
*At least five years past his biological prime… check.
*Wants to finish his playing days near to home…. check.
*Has a very close friend on the team (the captain)… check.
There is also speculation about goalie Matt Murray of the Ottawa Senators:
*Ontario boy… check.
*Has former affiliation with the general manager (ala Garret Sparks)… check.
As the Leafs continue to scour National Hockey League rosters for local lads on the downslope of their careers, Steven Stamkos is going to the Stanley Cup final for the fourth time. Why? Because he was sufficiently prudent to reject a career offer from the Blue and White in the summer of 2016. Rather than "coming home", the Markham, Ont. native signed an eight–year, $68 million contract extension with the Tampa Bay Lightning, which selected him first overall in the 2008 NHL draft (Stamkos was somewhat tempted but had no desire to play for then–Maple Leafs coach, Mike Babcock). The player similarly chosen a year later (in 2009) — Mississauga, Ont. native John Tavares — couldn't resist the local pull, or the marvelously inflated offer of seven years and $77 million from the Leafs. He "came home" on July 1, 2018 and his $11 million cap hit is now largely an albatross for the hockey club.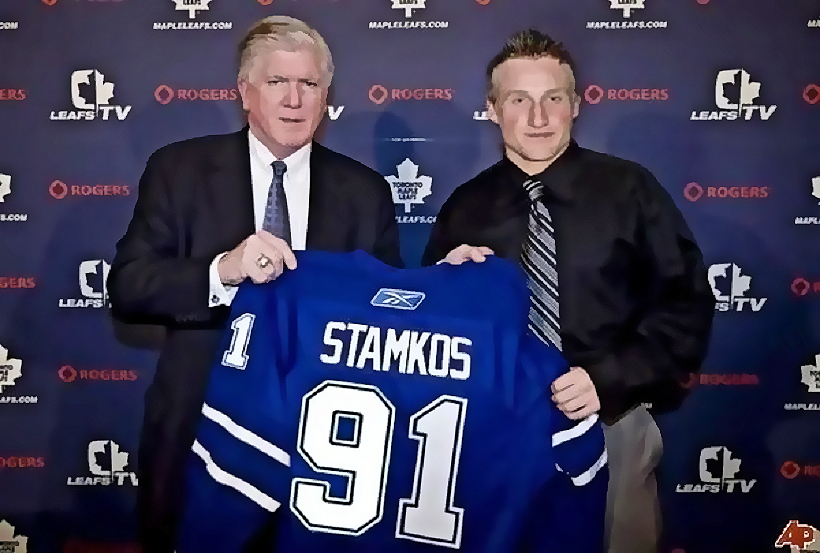 ISN'T PHOTOSHOPPING WONDERFUL? THE MOMENT THAT NEVER HAPPENED: BRIAN BURKE AND STEVEN STAMKOS.
It's difficult to pinpoint the origin of this silly Leaf pattern, but the most–profound example dates to the 1995 NHL draft in Edmonton when the club chose defenseman (and Toronto native) Jeff Ware in the first round, 15th overall, ostensibly because he was a family friend of assistant GM Bill Watters. Ware appeared in 21 NHL games, recording one assist. The Maple Leafs might have done better with Petr Sykora (18th to New Jersey / 323 NHL goals) or Marc Savard (91st to the Rangers / 706 points in 807 games). But, neither, significantly, were from Toronto.
The local angle did work exceptionally well three years later (in July 1998) when Keswick, Ont. (70.6 kilometers north of the city) native Curtis Joseph joined the Leafs from Edmonton as an unrestricted free agent. Naturally, it happened by means of a fluke. Cujo was leaning toward Philadelphia when Leafs president Ken Dryden ran into the goalie's agent, Don Meehan, while buying ice cream on Davenport Rd. during a warm, summer night. Meehan impressed upon Dryden the perfect conformity of an Ontario boy coming to the Maple Leafs in the prime of his career. Joseph signed on for four years, leaving John Vanbiesbrouck for the Flyers. An enormous edge in goaltending enabled the Leafs to eliminate Philadelphia in the first round of the 1999 playoffs. Cujo appeared in ten post–season rounds for Toronto, winning six, and twice advancing to the Stanley Cup semifinals (1999 / 2002).
At the 2011 NHL draft in St. Paul, Min., the Leafs chose defenseman Stuart Percy of Oakville, Ont. in the first round, 25th overall, leaving a couple of bums — Nikita Kucherov and Johnny Gaudreau — for Tampa Bay and Calgary. Percy made the Leafs to start the 2014–15 season and lasted nine games. His NHL totals: 12 games played; three assists. As of today, Kucherov and Gaudreau have combined for 1,164 games and 1,225 points.
The Leafs, absurdly, are in the process of replacing goalie Jack Campbell and his mediocre 51–14–9 record. Would Kyle Dubas consider such a move if Campbell were from the Toronto area rather than Port Huron, Mich.?
The rush to lock up antiquated blue–liner Mark Giordano soon after being eliminated by Tampa Bay showed that the Leafs are still mesmerized by the local angle. Should the pattern continue, Dubas will likely show interest in pending free agents P.K. Subban (from Toronto) and Max Domi (born in Winnipeg but raised here while father, Tie, played for the Leafs). Subban would come markedly cheaper than the $9 million salary he left behind this season in New Jersey. Though 33 and past his prime, he could add valuable experience and local flair to the home team.
Domi and the Leafs, for obvious reasons, have long been an apparently natural fit.
Meantime, the ultimate Toronto boy is thanking his lucky stars that the allure of playing at home did not overwhelm common sense six summers ago. Stamkos, therefore, could win his third consecutive Stanley Cup this spring.
STANLEY CUP PREDICTION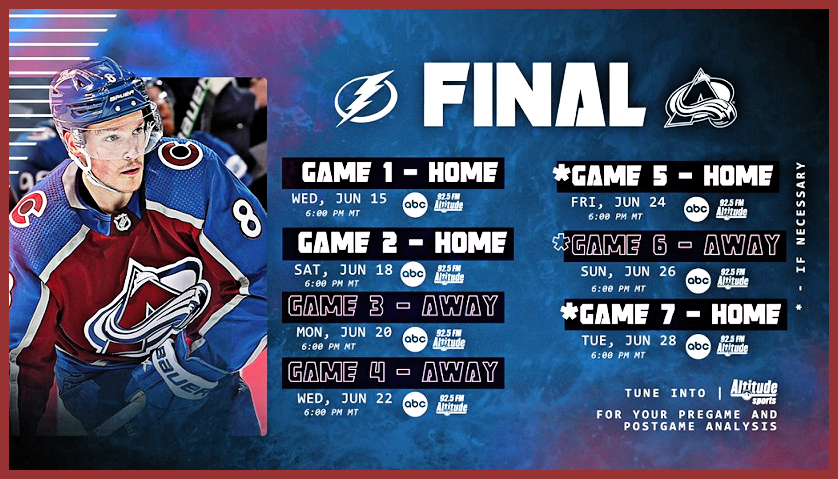 TAMPA BAY, WITH ANDREI VASILEVSKIY, HAS THE EDGE OVER COLORADO IN GOAL. THIS WILL PROVIDE THE LIGHTNING A SLIGHT ADVANTAGE IN WHAT SHOULD BE A TERRIFIC STANLEY CUP FINAL. MY PICK: TAMPA IN 6.
THE LAST GOOD PLAYOFF ERA — Part 1


With Pat Quinn behind the bench, the Maple Leafs appeared in 13 playoff series between 1999 and 2004, winning seven, while twice advancing to the Stanley Cup semifinals. At the recent Sports Card & Memorabilia Expo here in town, I purchased four programs (above) from that era, which I had the privilege of covering as a reporter for The FAN–590, Canada's first all–sports radio station. In Part 1 of a series, we look back to the spring of 1999, when the Maple Leafs eliminated Philadelphia and Pittsburgh, before losing to Buffalo in the Eastern Conference final: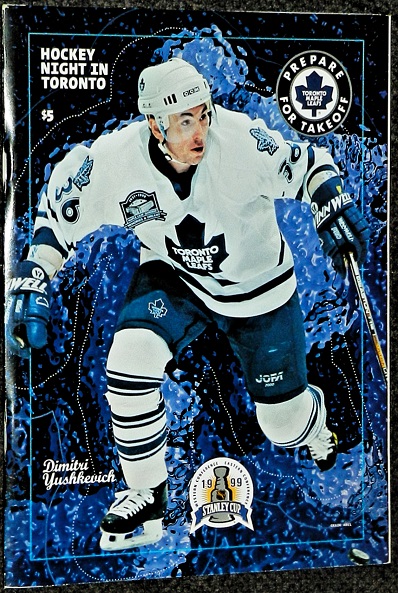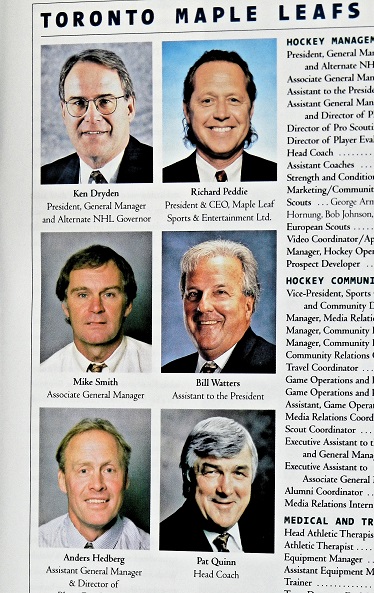 Defenseman Dmitri Yushkevich graced the cover of the program for Game 1 of the Conference final (May 23, 1999), a matinee at Air Canada Centre. Yushkevich had been a key performer in Round 2 against Pittsburgh, sticking close to — and frequently annoying — Penguins star Jaromir Jagr. The Leafs prevailed in six. The club's front office (top–right), while building a successful team on the ice, was fractured and dysfunctional, each man trying to curry favor from the board of directors. It led to an acrimonious split between Ken Dryden and Mike Smith (Dryden prevailed) and to Quinn taking on the dual role of general manager and coach. This match, by the way, remains a legendary missed opportunity for the Maple Leafs, who unexpectedly encountered Buffalo's No. 2 goalie, Dwayne Roloson, in place of injured Hall–of–Famer and two–time Hart Trophy recipient, Dominik Hasek.
Toronto lost, 5–4, en route to a five–game elimination.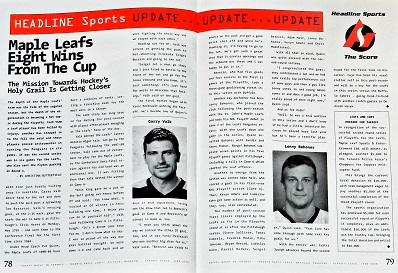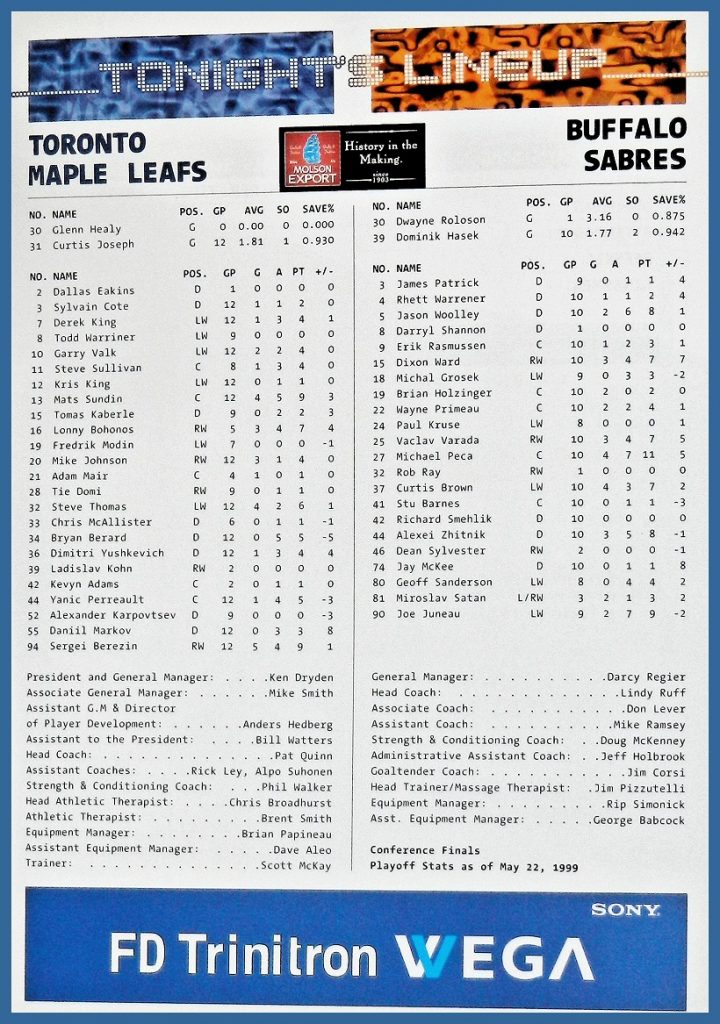 LINE–UPS (ABOVE): Curtis Joseph (No. 31) was finishing his first year in goal for the Maple Leafs, having signed as a free agent from Edmonton in July 1998. His numbers through two playoff rounds were superb. Dallas Eakins (3) played defense for the Leafs and is now head coach of the Anaheim Ducks. Since Nov. 6 of last year, Derek King (7) has been head coach of the Chicago Blackhawks. Kris King (12) is currently senior vice–president of operations for the NHL. Mike Johnson (20) is a media star at TSN. Kevyn Adams (42) won a Stanley Cup as a player with Carolina in 2006 and is, today, the oft–beleaguered GM of the Buffalo Sabres. Alexander Karpovtsev (52) and injured Leafs teammate Igor Korolev (22, below) were tragically killed aboard the Lokomotiv Yaroslavl (Kontinental Hockey League) jet that crashed while taking off from Tunoshna Airport in Russia on Sep. 7, 2011. Look at Dominik Hasek's numbers in goal for Buffalo and you'll again discover why the Leafs missed a grand opportunity to win Game 1 of the Eastern final in his absence.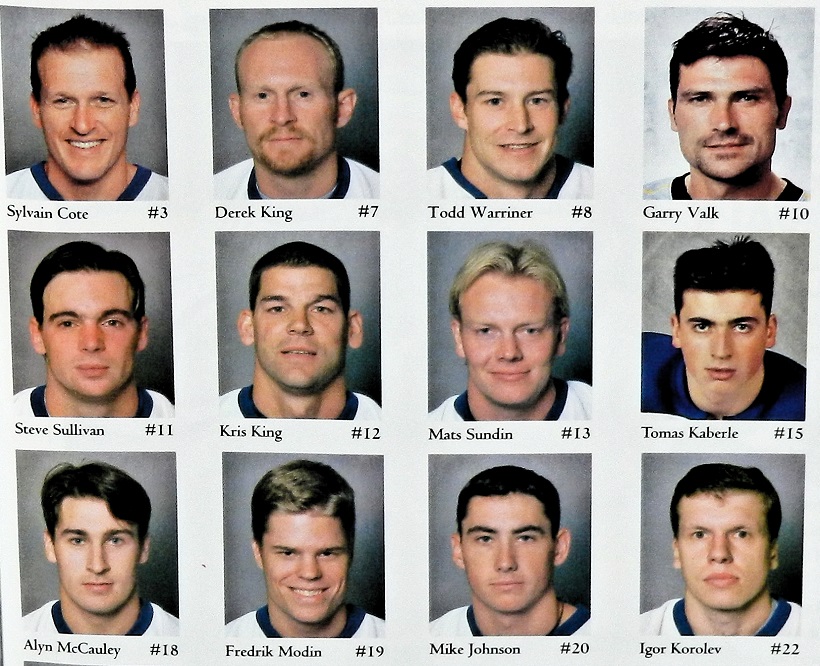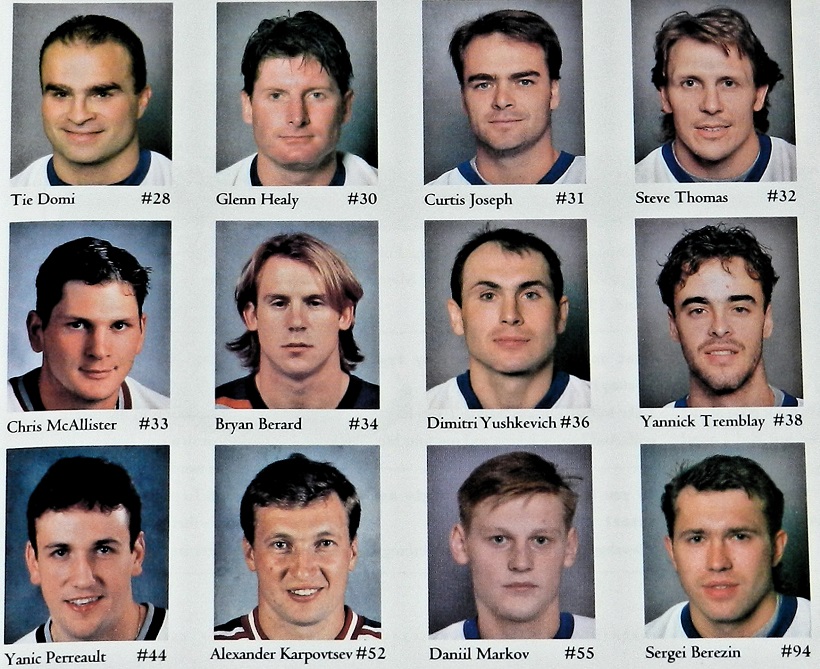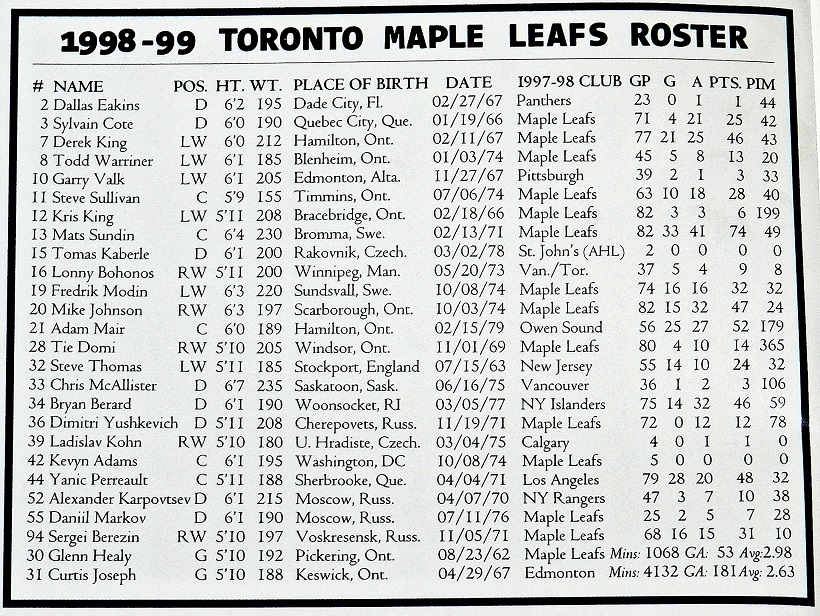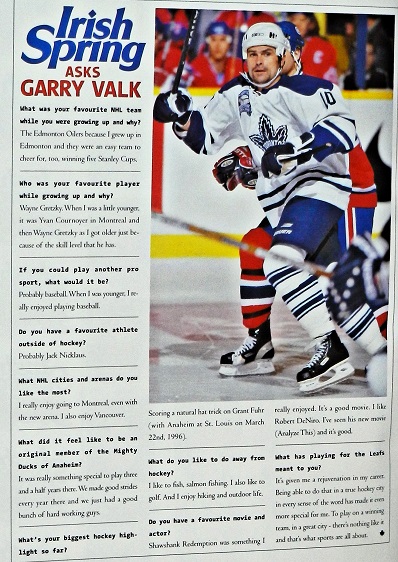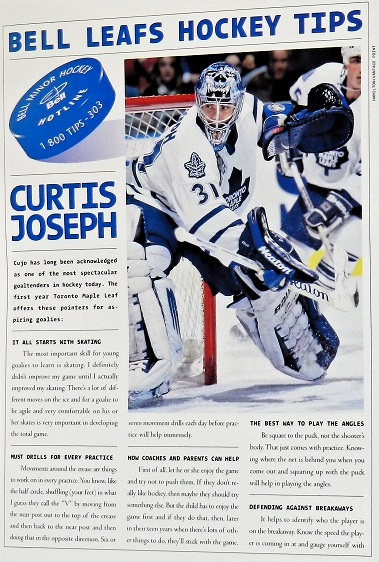 Forward Garry Valk (left) provided the biggest single moment of the 1999 playoffs for the Leafs, scoring early in overtime of Game 6 at the old Pittsburgh Mellon Arena to eliminate the Penguins from Round 2.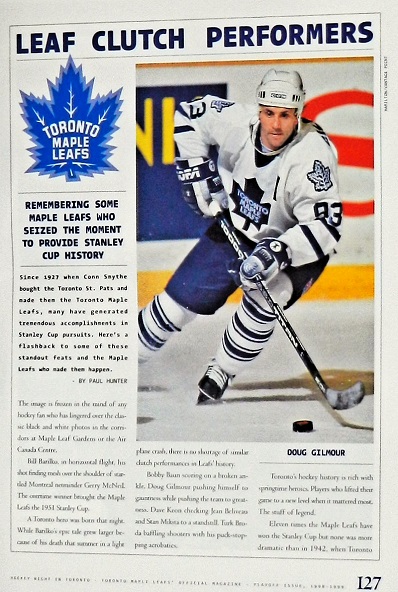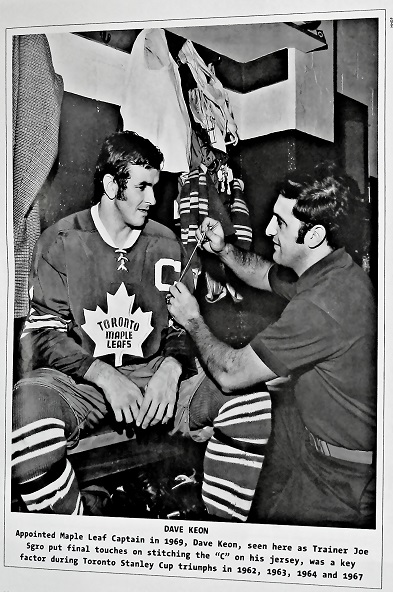 Sadly for Leafs fans, an article such as this could involve no current player. The club, as of yet, has nothing to compare with franchise playoff legends Doug Gilmour, Dave Keon, Bob Baun and Teeder Kennedy.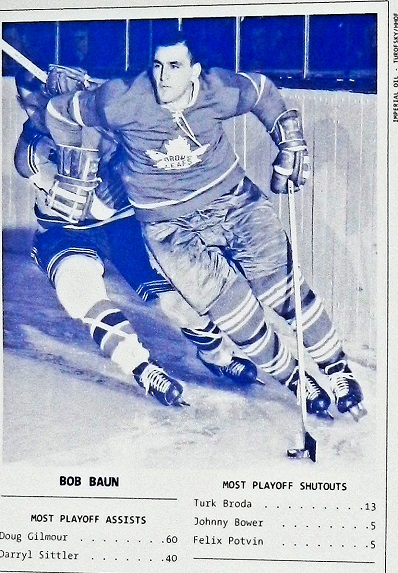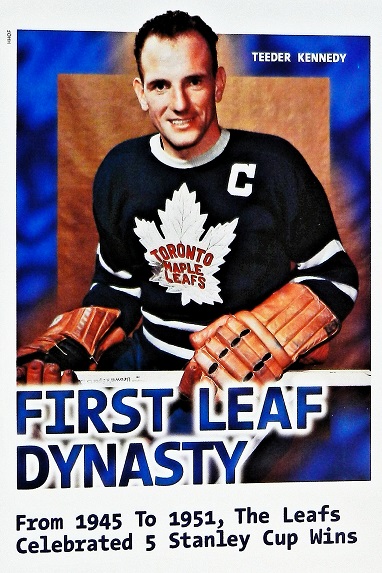 EMAIL: HOWARDLBERGER@GMAIL.COM