TORONTO (June 23) — There is no way to minimize a 60–goal performance in the National Hockey League.
Auston Matthews, this season, emerged as the most–prolific shooter in the long and once–storied history of the Toronto Maple Leafs. No gifted scorer — not Charlie Conacher, Syl Apps, Ted Kennedy, Frank Mahovlich, Darryl Sittler, Lanny McDonald, Rick Vaive, Dave Andreychuk, Alexander Mogilny or Phil Kessel — produced goals at such a monumental pace. Matthews was full value for the NHL's most–prestigious individual award, as evidenced by a 119–29 landslide in first–place votes over Connor McDavid of Edmonton; 1,630 to 1,111 in total votes.
Still, isn't it remarkable that only two Hart Trophy winners in the past 31 seasons have ultimately won the Stanley Cup? And, no one since current Montreal coach Martin St. Louis, with Tampa Bay, in 2004 (prior to that, it was Mark Messier in 1990, with Edmonton)? In other words, not once in the salary cap era (beginning in 2005–06) has "the most valuable player to his team" lifted the ol' chalice. The Hart Trophy is traditionally presented to the "best player" in the NHL during a time — late in the playoffs — when others ascend to that level. As menacingly as Matthews terrorized goalies during the regular season, three rival skaters would surely be chosen ahead of him by objective hockey observers. Right now, and without question, Cale Makar is the most–dominant player in the world; the Norris Trophy winner as best defenseman (he'll likely add the Conn Smythe Trophy to his mantle).
Barring injury, the Colorado blueliner will dominate Norris voting in the next half–decade. His anticipation and puck–handling skill is beyond measure. Neither would a sound hockey person choose Matthews ahead of the Oilers' dynamic duo of McDavid and Leon Draisaitl, which still leads the 2022 Stanley Cup scoring race with a combined 65 points (Makar is third with 27). Draisaitl had 55 goals in the regular schedule, just five fewer than Matthews. He then soared miles beyond the Leafs' top skater once the Cup tournament began. Were the "most valuable" or "best" player in the NHL chosen as a result of regular season and playoffs, Matthews would finish no higher than fourth for the Hart. As mentioned, however, he is far from alone since 1990 in that delineation.
Neither is it beyond the realm that the Maple Leafs could have to trade Matthews… if he indicates he will not sign a long–term extension with the club before July 1 of next year (2023), when a full no–movement clause kicks in.
He can walk as an unrestricted free agent on July 1, 2024.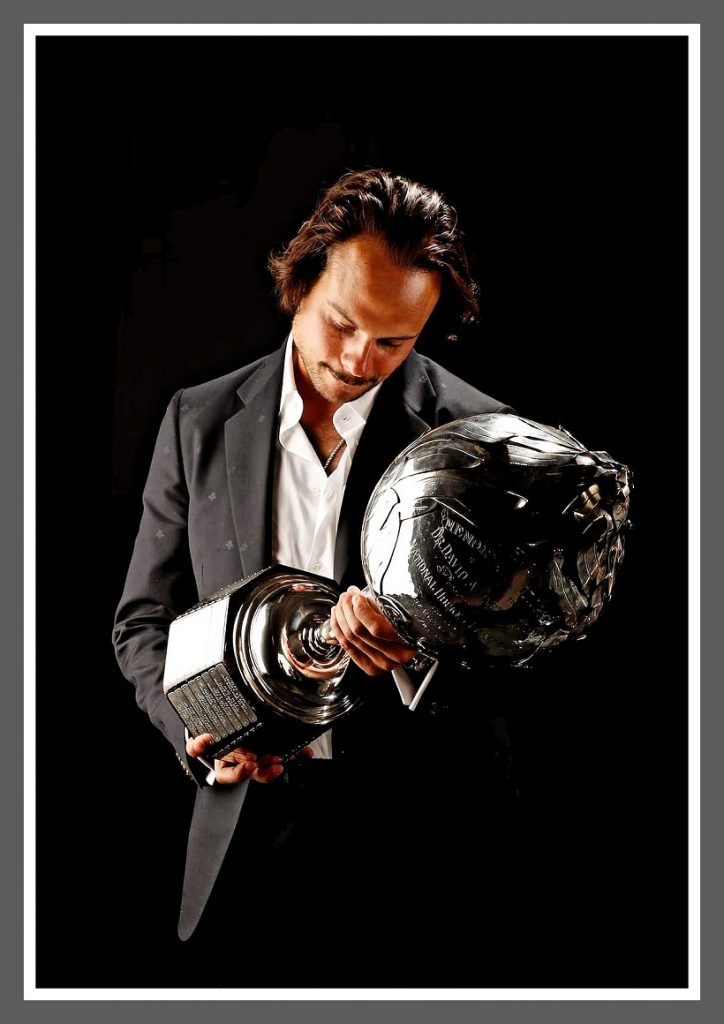 DESERVING WINNER: AUSTON MATTHEWS CRADLES THE HART TROPHY.
More historic "consolation" for the Leafs arrived this week when two Toronto skaters — Matthews and Mitch Marner — were named to the NHL's first all–star team. That hasn't occurred since way back in 1962–63, with Frank Mahovlich and Carl Brewer. It is also remarkable that only three Leaf players (Babe Pratt in 1943–44; Ted Kennedy in 1954–55 and Matthews) have won the Hart Trophy, first presented in 1924 to Frank Nighbor of the original Ottawa Senators. In fact, when Alexander Mogilny won the Lady Byng Trophy in 2003, it ended a 37–year period in which only one Toronto skater captured a major individual award: Doug Gilmour and the Frank J. Selke Trophy in 1992–93 as "the forward who best excels in the defensive aspect of the game." Dougie wasn't too bad with the puck that year either, accruing Maple Leaf records for assists (95) and points (127). He then put up 35 points in 21 playoff games for another team standard. Prior to Mogilny, it was Brit Selby winning the 1966 Calder Trophy as rookie–of–the–year. Since Mogilny, Matthews has copped the Calder (in 2016–17); the Maurice Richard Trophy (the past two seasons) for leading the NHL in goals; then the Hart and Lester B. Pearson honors this year.
If you noticed a glaring lack of euphoria in Leafs Land when Auston captured the Hart this week, you're not alone. The club's Stanley Cup and first–round playoff famines easily trumped regular–season accomplishment. Neither will Matthews be considered among the authentic greats in NHL annals until (or if) he builds a playoff resume. Just ask Marcel Dionne — still sixth, all time, in regular season points (1,771), trailing Wayne Gretzky, Jaromir Jagr, Mark Messier, Gordie Howe and Ron Francis; also sixth in goals (731), behind Gretzky, Howe, Alex Ovechkin, Jagr and Brett Hull. Between 1975 and 1987, the Los Angeles Kings repeatedly failed to construct a championship–caliber team around Dionne, who never played for the Stanley Cup in his brilliant, Hall of Fame career.
To this point, after six NHL seasons, Auston Matthews has not appeared in Round 2 of the playoffs.
And, it served to temper, this week, arguably the greatest Leafs moment since winning the 1967 NHL title.
THE LAST GOOD PLAYOFF ERA — Part 2


With Pat Quinn behind the bench, the Maple Leafs appeared in 13 playoff series between 1999 and 2004, winning seven, while twice advancing to the Stanley Cup semifinals. At the recent Sports Card & Memorabilia Expo here in town, I purchased four programs (above) from that era, which I had the privilege of covering as a reporter for The FAN–590, Canada's first all–sports radio station. In Part 2 of a series, we look back to the spring of 2001, when the Maple Leafs swept Ottawa in four games before losing in seven to the New Jersey Devils: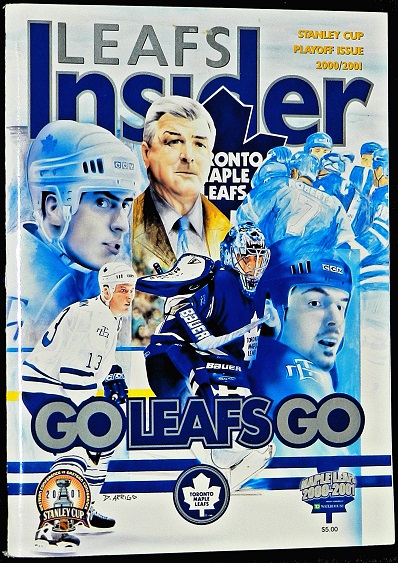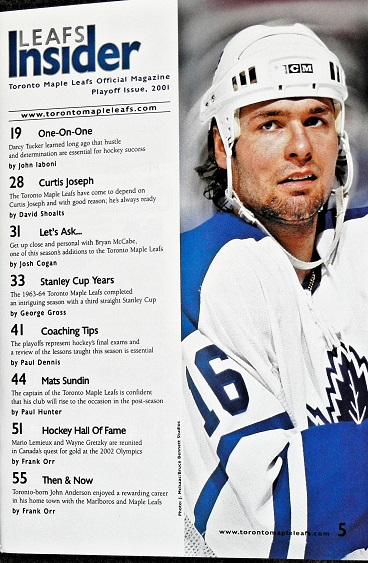 PROGRAM COVER AND CONTENTS (ABOVE) FOR GAME 3 OF THE 2001 STANLEY CUP PLAYOFFS AT AIR CANADA CENTRE BETWEEN THE MAPLE LEAFS AND OTTAWA SENATORS. DEFENSEMAN CORY CROSS BEAT OTTAWA GOALIE PATRICK LALIME WITH A SLAPSHOT AT 2:16 OF THE SECOND OVERTIME TO PROVIDE TORONTO A 3–2 VICTORY AND 3–0 LEAD IN THE BEST–OF–SEVEN ROUND. THE SENATORS HAD SCORED LATE GOALS (MARIAN HOSSA AT 16:51 AND DANIEL ALFREDSSON AT 19:24 OF THE THIRD PERIOD) TO TIE THE COUNT AND SEND THE MATCH INTO EXTRA TIME.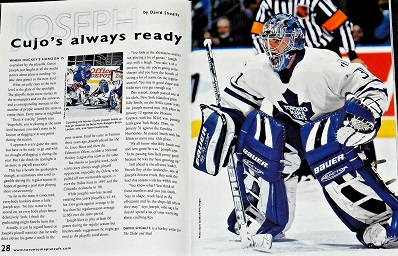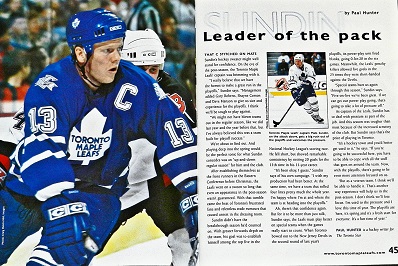 CURTIS JOSEPH AND MATS SUNDIN WERE THE LEADERS DURING THE PAT QUINN PLAYOFF YEARS.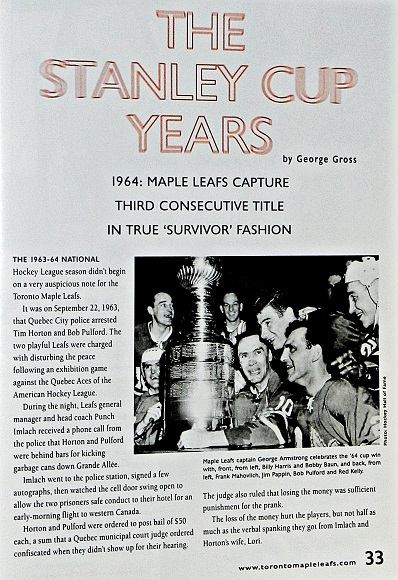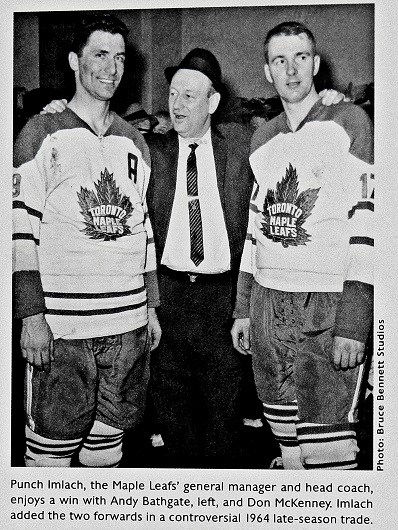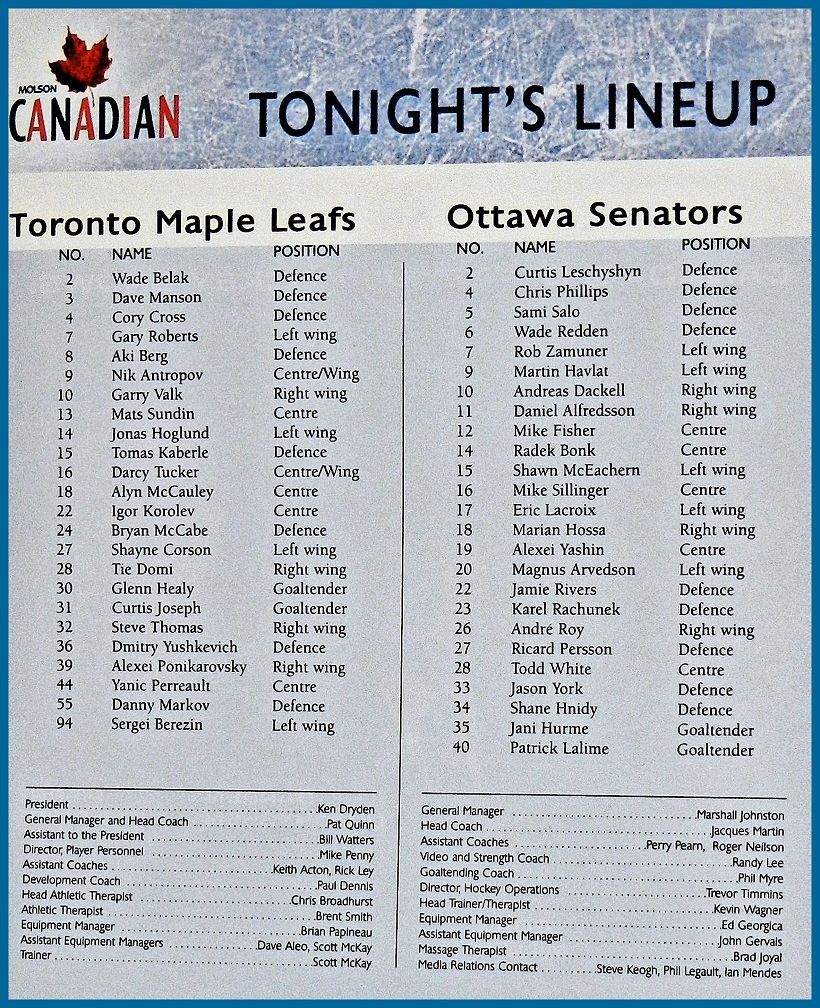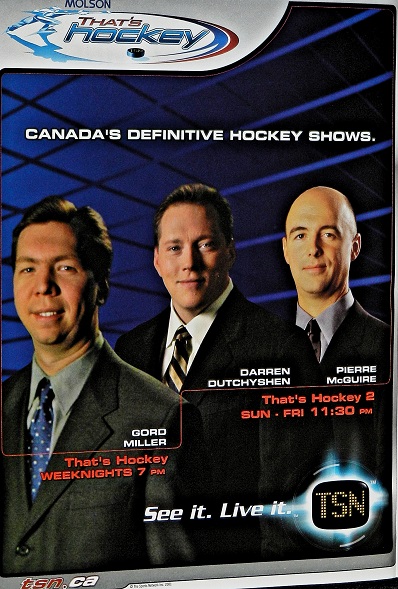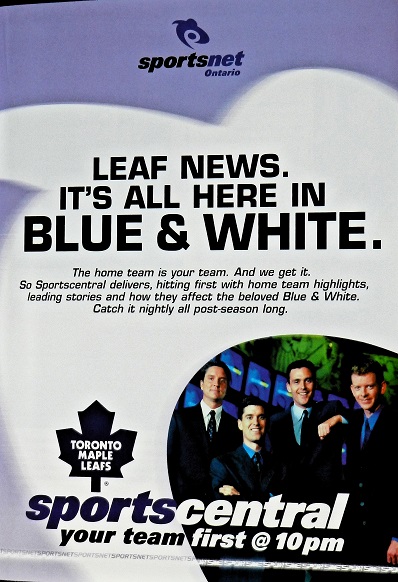 FAMILIAR TV FACES IN 2001. LEFT: GORD MILLER, DARREN DUTCHYSHEN AND PIERRE McGUIRE OF TSN. RIGHT: BRAD FAY, DAREN MILLARD, MIKE TOTH AND JAMIE CAMPBELL OF SPORTSNET.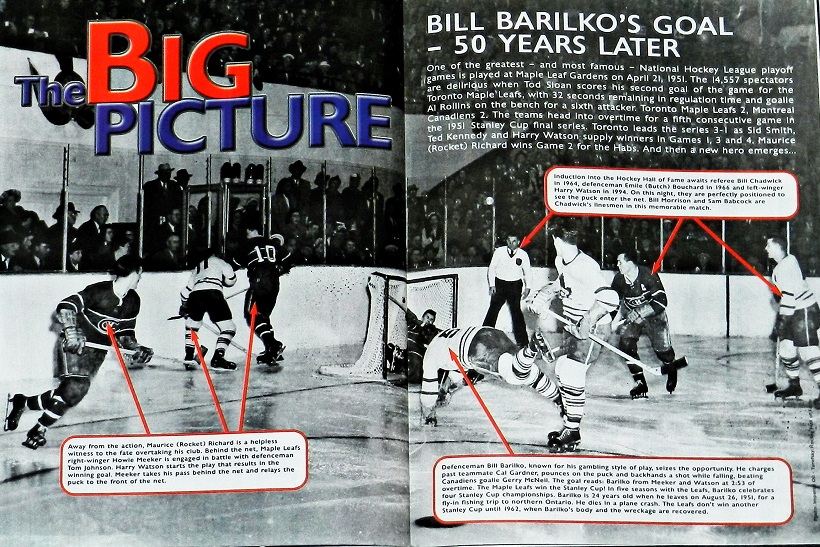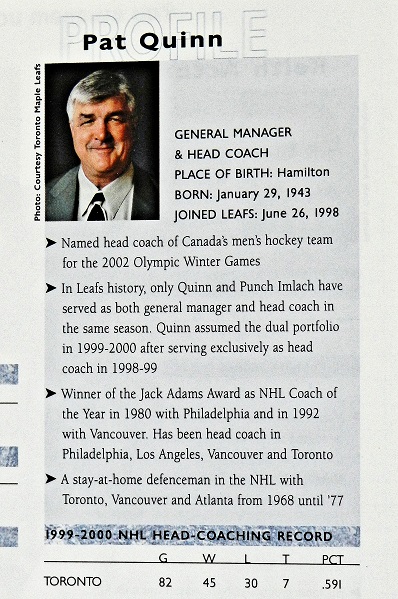 EMAIL: HOWARDLBERGER@GMAIL.COM