TORONTO (June 5) — Truth be known, only one factor has prevented the Toronto Maple Leafs from signing goalie Jack Campbell to a new contract: Reluctance. And, what a terrible shame that is.
Once again, those culpable for a first–round playoff defeat — the big–money boys up front — have been absolved. Though it required four years for management to stubbornly recognize the Leafs could not advance in the Stanley Cup tournament with "Soft Goal Freddie", it appears Smilin' Jack will be scapegoated after just two playoff defeats… even if he out–performed Andrei Vasilevskiy of Tampa Bay in five of seven matches this spring.
You see, Campbell is justifiably pursuing to at least triple his paltry $1.6 million stipend from the past three years. And, the Leafs, who have fumbled the most–important position in the game for nearly two decades, evidently consider Smilin' Jack's request too rich for their capped–out payroll. Which is truly a shock given that acquiring Campbell from Los Angeles for comparative peanuts in February 2020 is, undoubtedly, the best move in the still–young career of general manager Kyle Dubas. And, given that Dubas is sacredly loyal to those he has obtained and/or signed for the Maple Leafs, this apparent decision could be emanating from higher in the executive suite.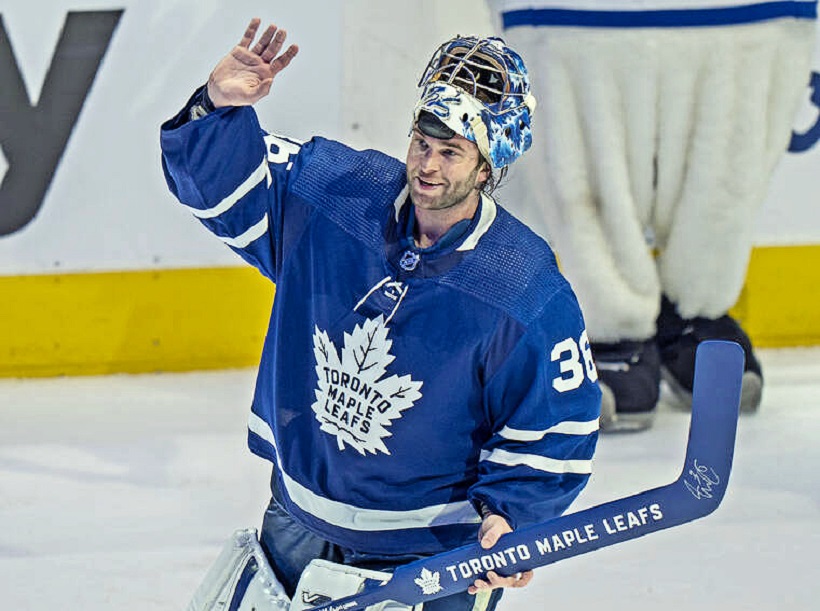 WILL THE MAPLE LEAFS AND GOALIE JACK CAMPBELL WAVE BYE–BYE TO ONE ANOTHER?
Someone in the ivory tower on Bay Street doesn't want Campbell to return. To this point, anyway. And, with less than 1½ months until the goalie can become an unrestricted free agent. Though trading for Campbell was a brilliant move, perhaps Maple Leaf Sports and Entertainment is looking askance at the GM for wasting a boatload on Petr Mrazek last summer; maybe even for his imprudent choice, in 2018, to elevate Garret Sparks from the American Hockey League in place of reliable back–up Curtis McIlhinney. From this perspective, Dubas finally got it right with Campbell, a dazzling 51–14–9 in 77 appearances the past three regular seasons. But, the club's immediate priority after losing to Tampa Bay was to blow $1.6 million on ancient defenseman Mark Giordano, yet another Toronto boy who "sacrificed so much" (as per cheerleaders in the local media) to finish his career at home.
Conveniently overlooked, again, is that Auston Matthews, Mitch Marner, John Tavares and William Nylander (still gobbling up roughly half the team's payroll) combined for one goal in the last two games against the Lightning, thereby consigning the Maple Leafs to defeat — for the third time in four springs — after which they held a 3–2 lead in the opening round (only Morgan Rielly beat Vasilevskiy in the decisive match at Scotiabank Arena). For the second consecutive spring, the Leafs lost Game 6 in overtime on the road… then failed to exploit home ice in a winner–take–all showdown. It's been left for such "money" players as Connor McDavid, Leon Draisaitl, Evander Kane, Nathan MacKinnon, Cale Makar, Mika Zibanejad, Adam Fox, Nazem Kadri (ouch!) and Zach Hyman (double–ouch!) to show desolate Toronto fans how to perform when it most matters; separating from the pack as the Stanley Cup stakes broaden. Which the vaunted Core 4 cannot accomplish. So now, evidently, it is time to blame the goalie, even if Smilin' Jack would have needed to pitch a shutout in Game 7 for the Leafs to finally advance.
Perhaps the Leafs are playing hardball with Campbell's agent, Kurt Overhardt. Given the club's eternal cap distress, Dubas needs to offload a big salary or penny pinch with the free agent players he wants to retain. The GM may also wish to avoid a potential five–year term for Campbell… or any goalie. Still, the list of stoppers eligible to test the market this summer is hardly overwhelming. Campbell, in my view, is the best of an elderly bunch that includes (age in brackets): Mikko Koskinen (33), Martin Jones (32), Thomas Greiss (36), Jaroslav Halak (37), Marc–Andre Fleury (37) and Braden Holtby (32). The situation in Colorado bears watching. The Avalanche is on the brink of its first Stanley Cup final appearance since Patrick Roy, Joe Sakic, Raymond Bourque and Co. defeated New Jersey in 2001. Starting goalie Darcy Kuemper (32) won 37 games for Colorado during the regular season and has not been re–signed. Back up Pavel Francouz (32), who has capably stepped in for the injured Kuemper this spring, did sign a two–year, $4 million extension. Is Kuemper a better option for the Leafs than Campbell?
Let's compare stats from the 2021–22 regular schedule:
CAMPBELL… GP: 49 / Record: 31–9–6 / GAA: 2.64 / Save%: .914 / SO: 5
KUEMPER… GP: 57 / Record: 37–12–4 / GAA: 2.54 / Save%: .921 / SO: 5
In the playoffs since 2013 with Minnesota, Arizona and Colorado, Kuemper has made 23 starts with a 13–8 record, 2.78 GAA and .908 Save%. Campbell, in 14 playoff games (all with the Maple Leafs), is 6–8 / 2.45 / .915, having lost seven–game series to future Hall–of–Famers Carey Price and Vasilevskiy.
From my perspective, Campbell would have fared as well or better than Kuemper while playing behind a defense that includes Norris Trophy candidate Makar… and a host of clutch playoff scorers (Makar, MacKinnon, Kadri, Gabriel Landeskog and Mikko Rantanen). Still 30, Smilin' Jack is the youngest of the potential free agent class and has developed an ardent following among Scotiabank Arena patrons that chant "Soooooooouuup!" every time he makes a routine stop. If Elliotte Friedman's report of a $2.75 million offer by the Leafs is accurate, Campbell will sign elsewhere on July 13, when the market opens. Dubas will need to increase that number to a minimum $4.8 million. Why the Leafs are again putzing around with the game's most–critical position is an abiding mystery.
Dubas found his man in the trade, nearly 2½ years ago, with Los Angeles. If the Maple Leafs continue to exonerate the Core 4 and scapegoat Smilin' Jack for the playoff loss to Tampa Bay, the club will regret its decision.
SPORTS CARD AND MEMORABILIA EXPO
Held twice a year at the Toronto International Centre across from Pearson Airport, the summer version of the Sports Card & Memorabilia Expo took place this weekend before a smaller gathering — at least on Saturday — than during the November edition. Still, there was much to see (and purchase) in the enormous display hall. I attended with my son, Shane, and my trusty NIKON: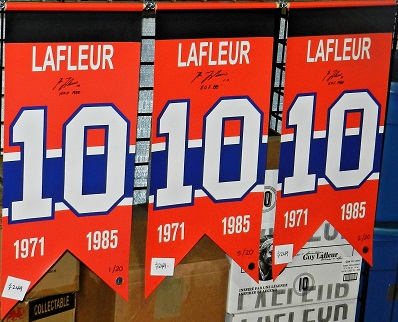 GONE, BUT LONG FROM FORGOTTEN, WERE THE THREE HALL–OF–FAMERS THAT HAVE SUCCUMBED TO CANCER IN 2022 — CLARK GILLIES (Jan. 21); MIKE BOSSY (Apr. 15) AND GUY LAFLEUR (Apr. 22) — WHO COMBINED TO SCORE 1,462 GOALS IN THE REGULAR SEASON; 190 MORE IN THE PLAYOFFS.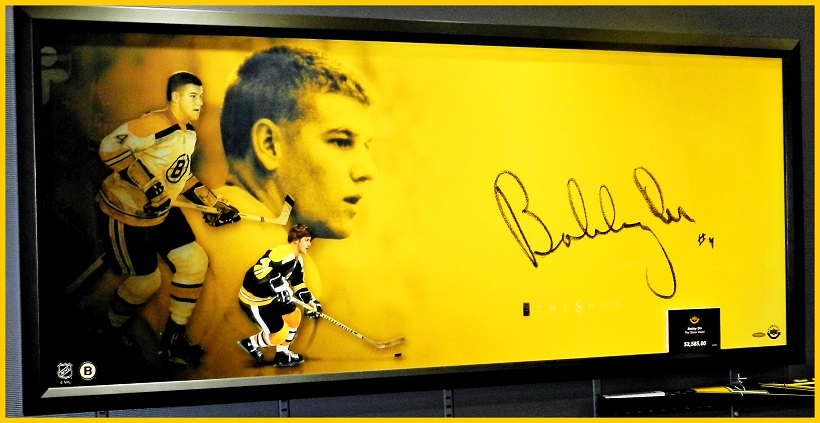 THE GREATEST PLAYER IN NHL HISTORY, BOBBY ORR, IS ALL OVER THESE MEMORABILIA SHOWS.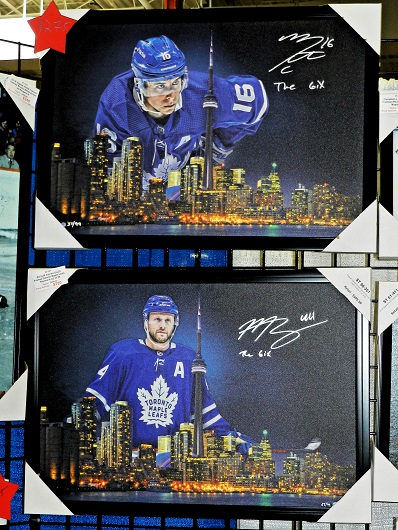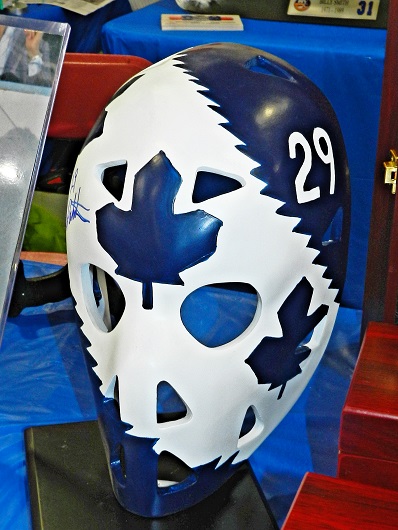 TORONTO CITYSCAPE (TOP–LEFT) SIGNED BY LEAFS STARS MITCH MARNER AND MORGAN RIELLY. A DUPLICATE OF THE MASK (RIGHT) WORN BY LEAFS GOALIE MIKE PALMATEER IN THE LATE–1970's.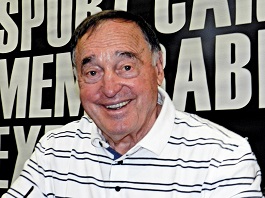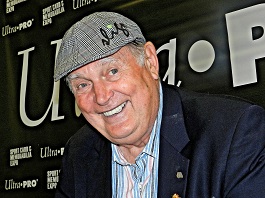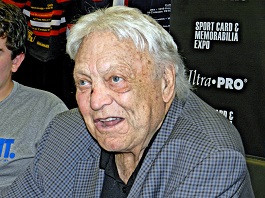 SIGNING AUTOGRAPHS ON SATURDAY WERE HOCKEY LEGENDS (LEFT–TO–RIGHT) FRANK MAHOVLICH, PETER MAHOVLICH AND BOBBY HULL. ANOTHER LEGEND, MARCEL DIONNE (BELOW), ALWAYS ATTENDS THE TORONTO SHOW WITH MEMORABILIA FROM HIS YEARS (1975–87) STARRING FOR THE LOS ANGELES KINGS. THE MAHOVLICH BROTHERS, HULL AND DIONNE COMBINED TO SCORE 2,162 NHL GOALS; DIONNE LEADING THE WAY WITH 731, STILL SIXTH ON THE ALL–TIME LIST, TRAILING ONLY WAYNE GRETZKY, GORDIE HOWE, ALEX OVECHKIN, JAROMIR JAGR AND BRETT HULL.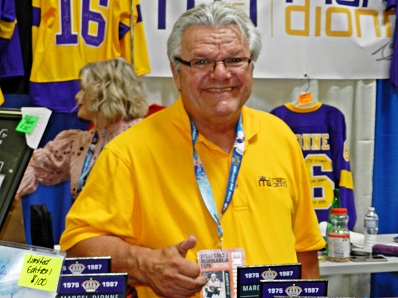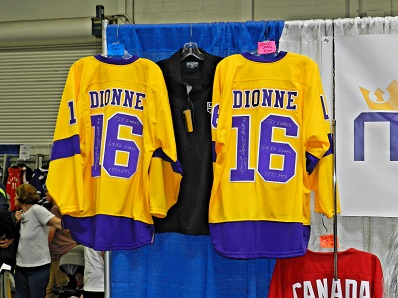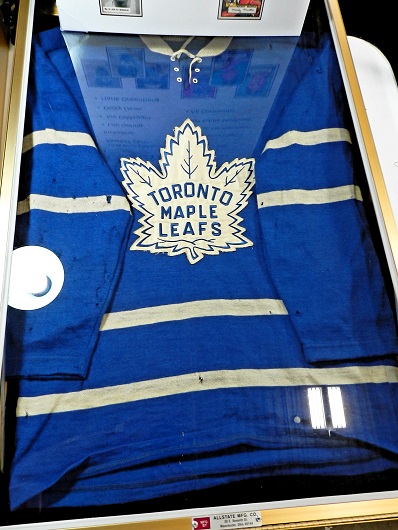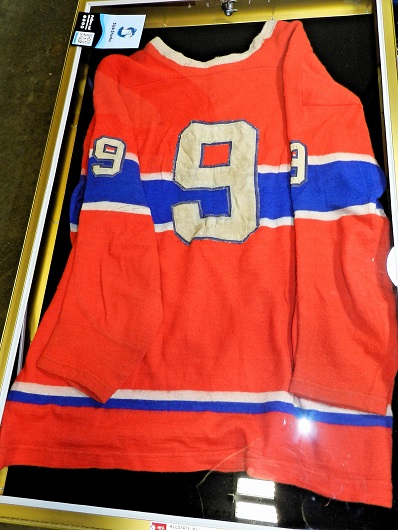 GAME–WORN LEAFS JERSEY FROM THE 1960's AND ONE THAT BELONGED TO MONTREAL GREAT MAURICE RICHARD.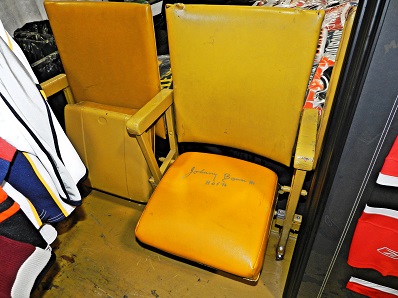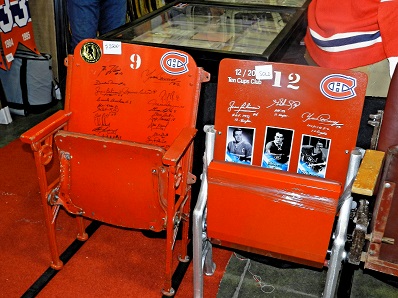 A GOLD SEAT FROM MAPLE LEAFS GARDENS, SIGNED BY JOHNNY BOWER. AND, SEATS FROM THE OLD MONTREAL FORUM, SIGNED BY JEAN BELIVEAU, HENRI RICHARD AND YVAN COURNOYER.

QUITE THE RARE ITEM: A JACKET FROM THE 1964 MEMORIAL CUP–CHAMPION TORONTO MARLBOROS, WHO SWEPT THE EDMONTON OIL KINGS IN FOUR GAMES — ALL PLAYED AT MAPLE LEAF GARDENS. AMONG THOSE ON THE VICTORIOUS JUNIOR 'A' CLUB WERE FUTURE LEAFS RON ELLIS, JIM McKENNY, ROD SEILING, PETER STEMKOWSKI, BRIT SELBY, GARY SMITH AND MIKE WALTON. THE COACH WAS JIM GREGORY, GENERAL MANAGER OF THE LEAFS FROM 1969–79.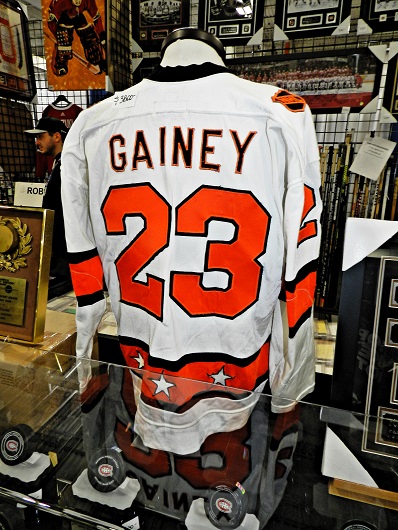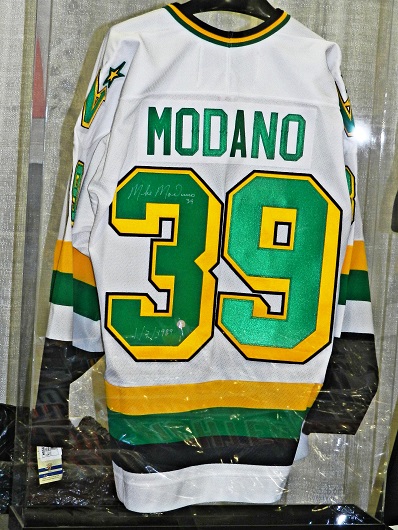 ALL–STAR GAME JERSEY (LEFT) WORN BY BOB GAINEY OF MONTREAL IN 1978 (AT THE BUFFALO MEMORIAL AUDITORIUM). AND, THE LAST JERSEY WORN BY MIKE MODANO BEFORE THE MINNESOTA NORTH STARS MOVED TO DALLAS IN 1993. GAINEY COACHED MODANO IN BOTH CITIES FROM 1990–95.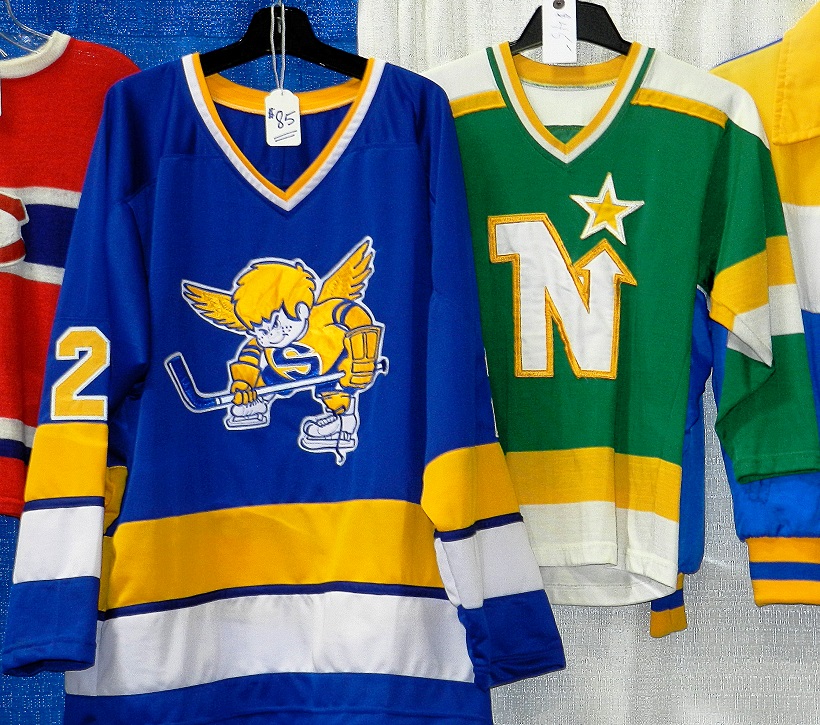 SPEAKING OF MINNESOTA, THERE WERE JERSEYS FOR SALE REPRESENTING THE FIGHTING SAINTS OF THE WORLD HOCKEY ASSOCIATION… AND THE NHL NORTH STARS.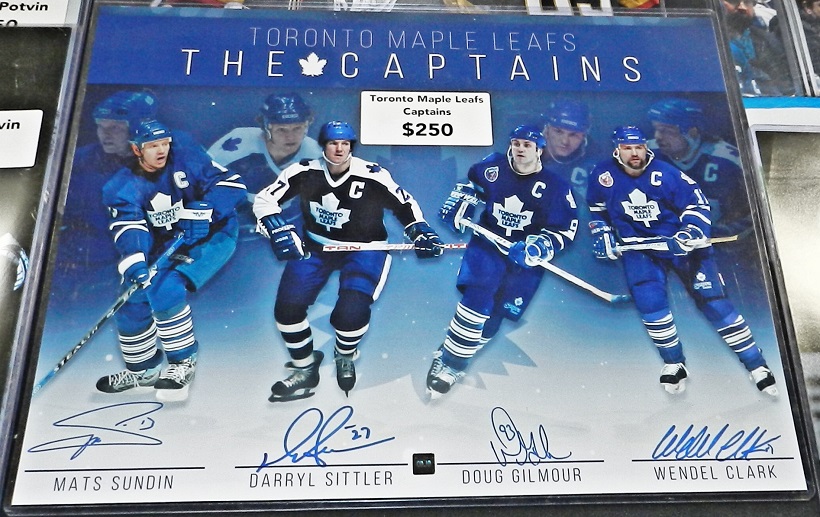 THESE MAPLE LEAF CAPTAINS COMBINED TO WIN 24 STANLEY CUP PLAYOFF ROUNDS BETWEEN 1975 AND 2004 — 24 MORE THAN ALL TORONTO PLAYERS IN THE PAST 17 SEASONS.
EMAIL: HOWARDLBERGER@GMAIL.COM