TORONTO (July 15) — It cannot possibly have been the message the Maple Leafs wished to impart.
Yet, there it was — in bold and black — atop Kevin McGran's hockey missive (below) in Thursday's Toronto Star: Leafs general manager Kyle Dubas admitting what the rest of us already know, but with words that should have come from somebody else. "It will be a wide–open competition," Dubas told reporters about his latest goaltending architecture, having obtained Matt Murray via trade and Ilya Samsonov as an unrestricted free agent (the Leafs clearly needed to recoup an "Ilya" after losing Mikheyev to Vancouver and Lyubushkin to Buffalo). "We will give them both a good run and our hope is that both play as well as they can." Now, I ask: Did anyone expect Dubas to so blatantly confess that his hockey club is devoid of a legitimate No. 1 stopper? This corner certainly didn't. It was, however, the GM's unmistakable acknowledgement with respect to his replacement(s) for Jack Campbell.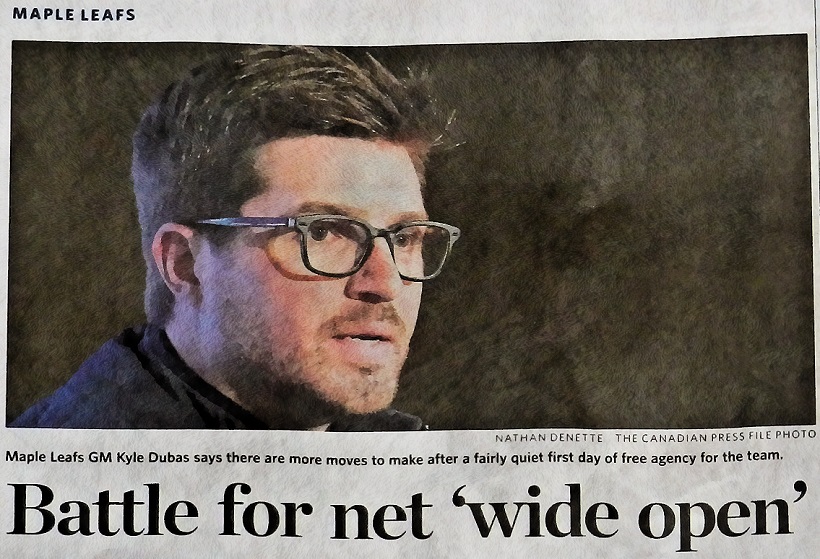 At the risk of condemning honesty from Dubas, we can tell you the following:
There was no claim of "wide open" competition when the Leafs signed Curtis Joseph in July 1998, even with incumbent Felix Potvin still on the roster. Neither was there such a claim while Potvin backstopped the Leafs to consecutive Stanley Cup semifinals in 1993 and 1994. Nobody talked about "wide open" competition when Pat Quinn signed Ed Belfour to replace Cujo in July 2002. Mike Palmateer was, without a smidgen of doubt, Toronto's No. 1 goalie in the late 1970's, which included an upset of the New York Islanders in the 1978 Stanley Cup quarterfinals. Heck, there wasn't even an argument about pecking order during the "Soft Goal Freddie" era (2016–21). Yet, here we are today with the Leafs GM essentially boasting about the lack of a genuine No. 1 man between the pipes.
The hockey apologists in these parts will invoke "recency bias", citing Colorado's Stanley Cup victory with Darcy Kuemper and Pavel Francouz, neither of which is bound for the Hall of Fame. Yet, "tandem" goaltending almost never prevails in the National Hockey League's playoff marathon. It was fashionable at the start of the two–goalie era in the mid–1960's. Montreal won NHL titles with Gump Worsley supported by Charlie Hodge, then Rogie Vachon. The Leafs won with Johnny Bower and Terry Sawchuk; Boston with Gerry Cheevers and Ed Johnston.
It all changed, however, when Ken Dryden assumed the No. 1 mantle, in 1971, with the Canadiens. For every example, henceforth, of a Kuemper–Francouz triumph, there were five that included an indisputable No. 1 man.
Look at the names, chronologically: Dryden; Billy Smith (New York Islanders); Grant Fuhr (Edmonton); Patrick Roy (Montreal and Colorado); Tom Barrasso (Pittsburgh); Mike Richter (New York Rangers); Martin Brodeur (New Jersey); Mike Vernon, Chris Osgood and Dominik Hasek (Detroit); Belfour (Dallas); Cam Ward (Carolina); Jean–Sebastien Giguere (Anaheim); Corey Crawford (Chicago); Tim Thomas (Boston); Johnathan Quick (Los Angeles); Braden Holtby (Washington); Jordan Binnington (St. Louis); Andrei Vasilevskiy (Tampa Bay). Not all are amid the pantheon of goaltending marvels, yet their status as No. 1 was never in question. Neither, as mentioned, did an argument occur in the rare occasions, since 1967, that the Maple Leafs advanced deep into the Stanley Cup tournament. It was first achieved with Palmateer… then with Potvin (twice)… Joseph.(twice)… and Belfour.
As we know, not even a playoff round has been conquered since the latter upended Ottawa in April 2004.
Should Leaf fans, therefore, be heartened by Dubas insisting there's a "wide open" battle between Murray and Samsonov? Or, did the GM rather distinctly imply that neither of his acquisitions can assume the No. 1 role?
You be the judge.
WHAT ABOUT THE MASTER?
Maple Leafs president Brendan Shanahan enjoyed a Hall–of–Fame playing career as the prototype power–forward, scoring 656 goals with New Jersey, St. Louis, Hartford, Detroit and the Rangers. Only with the Red Wings did he hoist the Stanley Cup (on three occasions) — overwhelmingly amid the influence of Scotty Bowman, who coached the club to championships in 1998 and 2002. Scotty has forgotten more about hockey than most of us will ever learn. Though 88 years of age, he can still provide an accurate appraisal of virtually every player in the NHL. And, his track record is without peer: Nine Stanley Cups (between 1973 and 2002) as head coach; four more as senior advisor with the Red Wings and Chicago. He lives on the Gulf coast of Florida and attends most home games of the Tampa Bay Lightning. Today, after resigning from the Blackhawks, he's an unrestricted free agent, still desiring to remain active. Would it harm the Maple Leafs if Shanahan hired his old mentor to provide information and advice? At his advanced age, Bowman would hardly be considered a "threat" to Kyle Dubas… or to anyone in the organization. Rather, he'd stand as a remarkable asset for management and scouting personnel.
Even for coach Sheldon Keefe, who wouldn't likely turn away if Scotty approached him with an idea.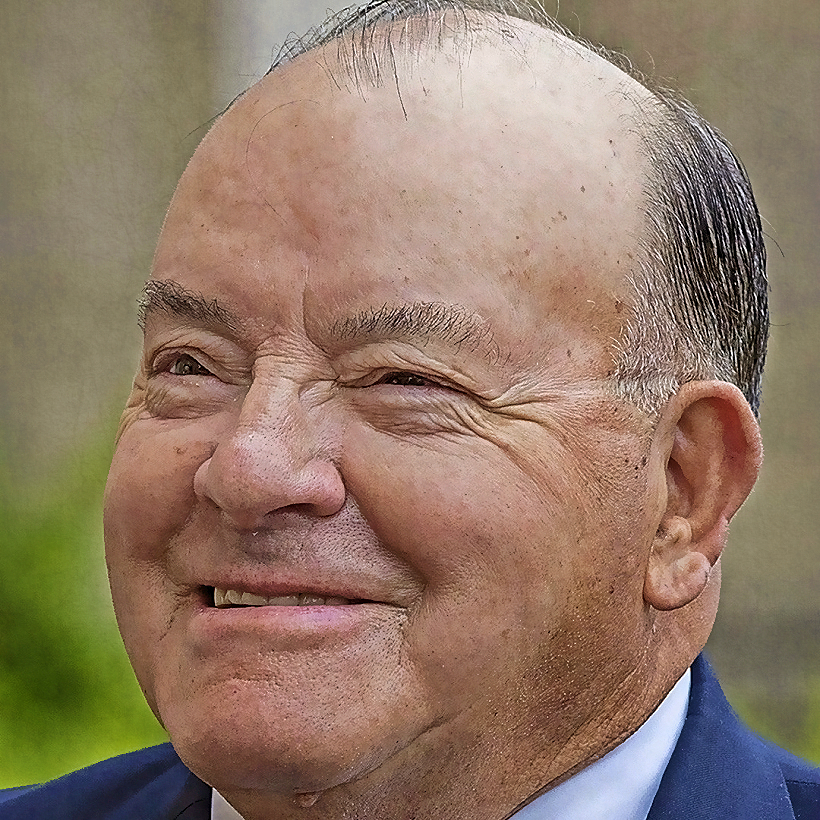 Methinks Brendan should give Scotty a call. Then, put him on the Maple Leafs' gargantuan payroll.
Bowman's 60 years in the game would not be anything but beneficial to the Blue and White.
EMAIL: HOWARDLBERGER@GMAIL.COM