TORONTO (July 6) — It was a seminal moment for the Maple Leafs, this week, when they promoted Canadian hockey legend Haley Wickenheiser to assistant general manager. Diversity and gender equality are a hallmark of Maple Leaf Sports and Entertainment. For which the company has earned praise in our "melting pot" city.
The spotlight will now shift to the ice during the week of the National Hockey League draft and unrestricted free agency. A Toronto team convinced it was "right there" after another first–round playoff defeat has a minor issue: How can the Leafs be "right there" — or anywhere — with no answer to their goaltending dilemma? It's like suggesting a football team is "right there" without a quarterback. Assuming that management has a succession plan to Jack Campbell, we should know the details by next week at this time, with the free agent frenzy underway.
Frankly, it is difficult to garner confidence in the group led by Kyle Dubas. Assessment of goaltending has been all over the map. The front office stuck with Frederik Andersen long after it became inevitable he would not lift the club beyond playoff mediocrity. Then, Dubas seemed to get it right by trading with Los Angeles for Campbell, who accrued an historic and dazzling 51–14–9 record in 77 appearances the past three regular seasons. Now, the tall thinkers have either soured on Campbell or are refusing to negotiate his price–point, which should be triple the paltry $1.6 million–per–season he earned in his expiring contract. Any stopper worthy of the No. 1 mantle will command a salary close to $5 million. So, precisely what the Maple Leafs are concocting is a deep mystery. 

THE LEAFS MADE AN EXCELLENT TRADE WITH LOS ANGELES FOR JACK CAMPBELL (RIGHT); DEVELOPED HIM INTO A SPLENDID GOALIE… AND NOW, EVIDENTLY, CANNOT AFFORD HIM OR ANYONE ELSE WORTHY OF THE NO. 1 MANTLE (45 TO 55 STARTS). YET, THE CLUB IS "RIGHT THERE". DAN HAMILTON USA TODAY SPORTS
All we can tell you, for certain, is that Toronto — even with all its offensive firepower — cannot remotely contend for the Stanley Cup until this issue is successfully resolved. The fact it remains in flux is a failure of the current administration. Compounding the matter, immeasurably, is the abundant waste of $3.8 million the next two seasons in cap room for Petr Mrazek*… with the benefit of hindsight, clearly the worst decision in the Dubas era. Though displaying promise, we didn't see enough of Erik Källgren to determine whether he can appropriately handle 30 regular–season appearances (behind fill–in–the–blank). So, even the No. 2 goal position is largely unsettled.
*Good work by Dubas unloading this colossal blunder on scorched–earth Chicago. Will he now re–sign Smilin' Jack?
This is not a good look for the team that somehow considers itself "right there".
It absolutely must change in the coming days and weeks.
KYLE IN DENIAL
Gathering with reporters in Montreal on the eve of the draft, Dubas said this about the underperforming and injury ravaged Mrazek: "Do I bet that he was the goalie he was last year in the 20 games? Or do I bet he was the goalie he was for the 270 before, which was a .910 save-percentage guy that gave his team a chance to win? I'd probably bet on the larger sample, and that's where Petr fits into it at this time." Wasn't it Kyle who offered up Mrazek for free on NHL waivers late last season, undoubtedly praying that a rival colleague would take leave of his senses?
Such absurdity with the goaltending spot has held back Dubas in his four years as manager of the Leafs.
It appears nothing will change until another person occupies the big chair.
EVEN THE BEST CAN PUZZLE
Terry Koshan of the Toronto Sun is the most forthright of the scribes that cover the Leafs in the mainstream media. He wrote an exceptional story over the weekend about the challenges — many of them self–inflicted — that Dubas will encounter before next season. This passage, in particular, stood out: "As of today, no goalie who could make a significant difference is affordable for the Leafs. That includes Jack Campbell, as much as he has loved his time in Toronto." So, I ask again: How can the Leafs contend for anything if they are priced out at the game's most–critical position? Shouldn't that be rather concerning for the most–loyal (and tortured) fans in the NHL?
Terry then added a line that puzzled me: "Trade William Nylander, at his value? Not a chance."
Koshan's premise was understandable; Nylander, at less than $7 million per season, does offer more–than fair value for his 30–plus goals. Conversely, he provides the Leafs no value at all, given the club hasn't emerged from the opening playoff round in all of his six seasons… and that Dubas cannot reasonably move another member of the forward nucleus to help land a No. 1 goalie. Nylander's true benefit to the Leafs remains as a trading chip. If the club could obtain a first or second–round draft pick and a good prospect, unloading Willie's $6,962,366 cap hit would offer the Leafs more help than he can supply on the ice. I'm not sure why this is so difficult to comprehend.
BULDGING SUITCASES
During my 17 years covering the Leafs for The FAN–590, it was always an exciting day when the NHL released its schedule for the following season. The 2022–23 sked came out earlier today, showing the Maple Leafs with a trio of five–game road trips. Such journeys were more common in my early years around the team (1994 to 1998) when it resided in the Western Conference. Since moving back to the East in 1998–99, road trips have rarely exceeded three or four matches. But, the club gets right into it during the first month of the season with a five–game jaunt (Oct. 22–30) to Winnipeg, Vegas, Los Angeles, San Jose and Anaheim. Other such trips occur Feb. 26 to Mar. 7 (Seattle, Edmonton, Calgary, Vancouver, New Jersey) and Mar. 18–26 (Ottawa, New York Islanders, Florida, Carolina, Nashville). There's also a four–game swing (Nov. 23–28) through New Jersey, Minnesota, Pittsburgh and Detroit. Toronto concludes its 82–game slate with a three–gamer (Apr. 10–13) to Florida, Tampa Bay and the New York Rangers. The longest homestand of the season covers five games (Jan. 23 to Feb. 1) with visits by the Islanders, Rangers, Ottawa, Washington and Boston. There are afternoon games Nov. 6 (5 p.m. at Carolina); Nov. 25 (U.S. Thanksgiving, 3 p.m. Eastern, at Minnesota); Dec. 22 (2 p.m. at home to Philadelphia) and Jan. 29 (5 p.m. at home to Washington). The Leafs open the season at Montreal on Wednesday, Oct. 12.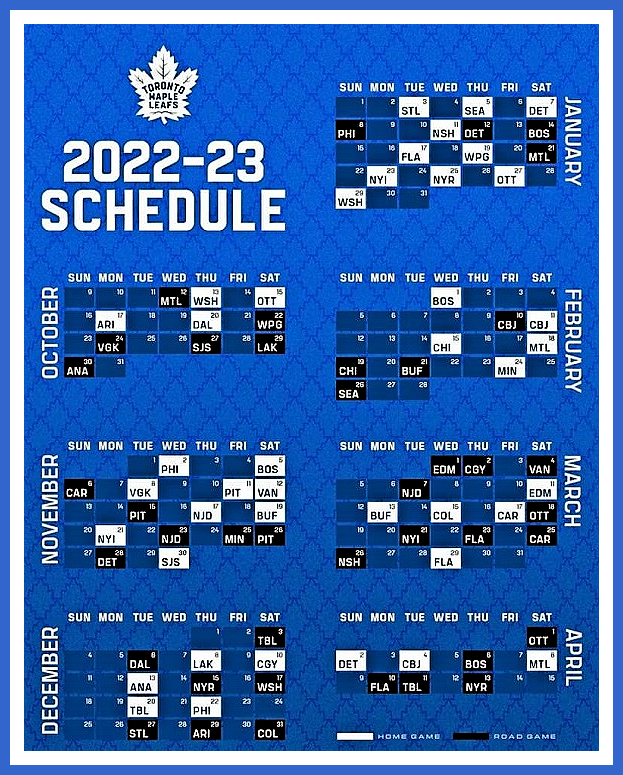 25 YEARS AGO: A SUMMER OF CHANGE
FROM MY SCRAPBOOK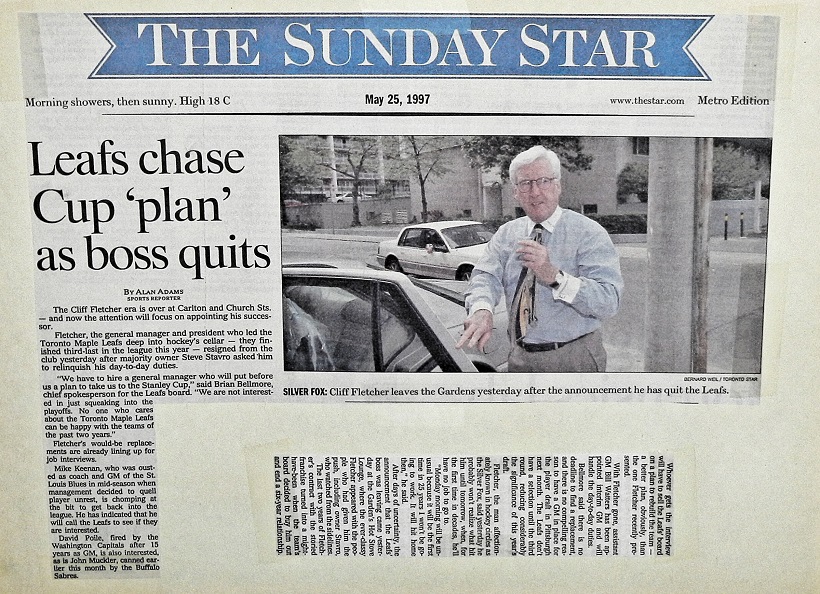 It was in the summer of 1997 that the Maple Leafs remodeled their hockey department, firing president and GM Cliff Fletcher after six years and replacing him with Hall–of–Fame goalie Ken Dryden, who won six Stanley Cups as a player with the Montreal Canadiens. Fletcher had quickly and brilliantly improved a staid Toronto club by hiring Pat Burns as coach; trading with his former team (Calgary) for Doug Gilmour and promoting netminder Felix Potvin to the No. 1 role by sending Grant Fuhr to Buffalo for winger Dave Andreychuk. Having missed the playoffs in consecutive years, the 1992–93 Maple Leafs shot forward and came to within a single triumph of playing for the Stanley Cup. The middle part of the decade, however, proved a struggle for Fletcher. The Maple Leafs regressed under his watch and missed the playoffs in 1996–97. He was fired by owner Steve Stavro on May 24, 1997.
Dryden attempted to hire, as GM, former Habs teammate Bob Gainey, then (reportedly) ex–Washington manager David Poile, who, one year later, became the first GM of the expansion Nashville Predators. Ultimately, Dryden named himself "acting" GM and appointed former Winnipeg Jets executive Mike Smith to run the hockey club. It was a marriage made in hell, even though the Leafs — after hiring Pat Quinn as coach — advanced to the Stanley Cup semifinals in 1999. Dryden and Smith clashed and eventually split, with the former goalie prevailing in a boardroom battle. These were the Toronto newspaper headlines and stories from a quarter century ago: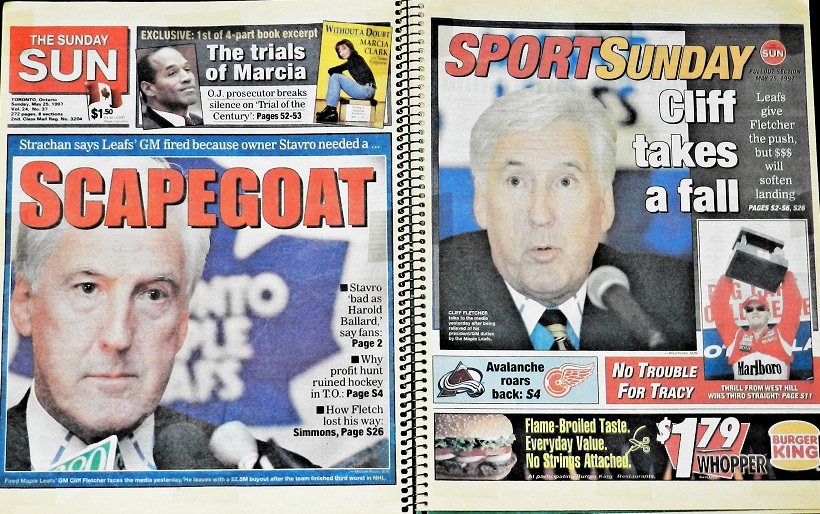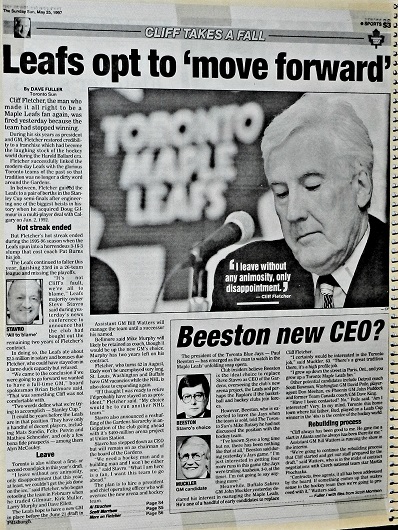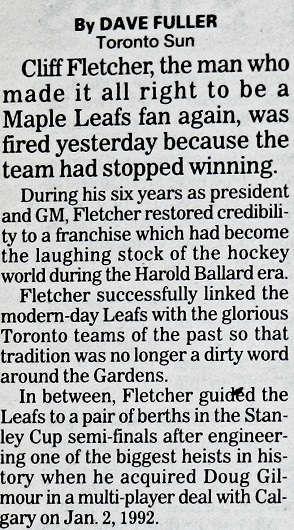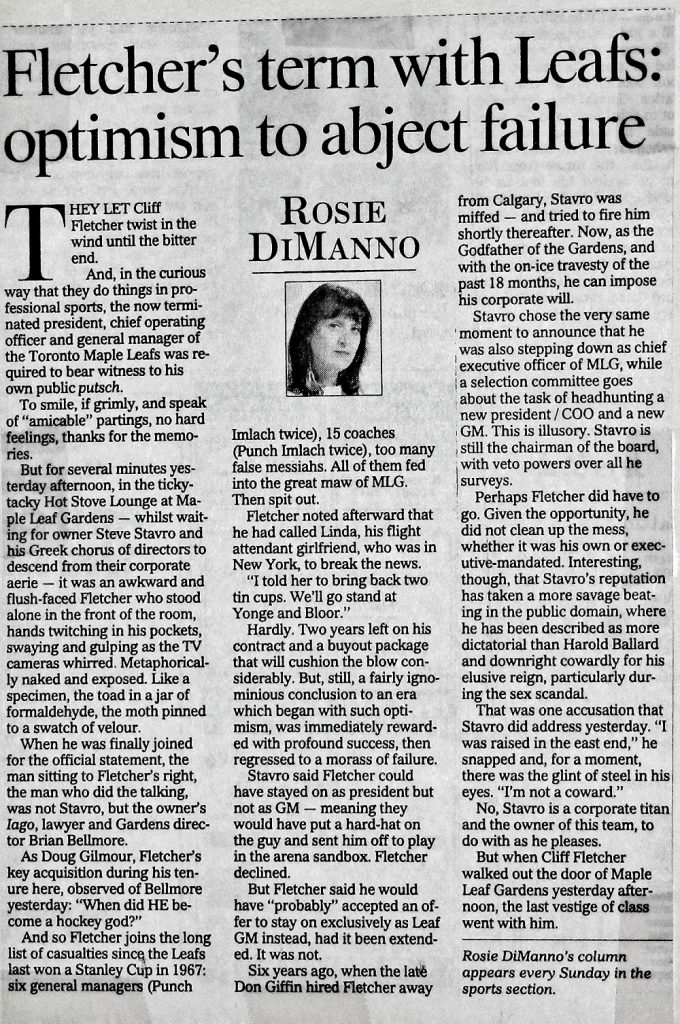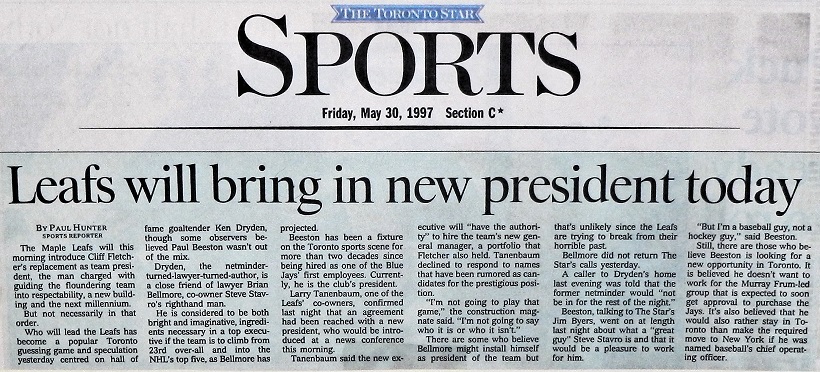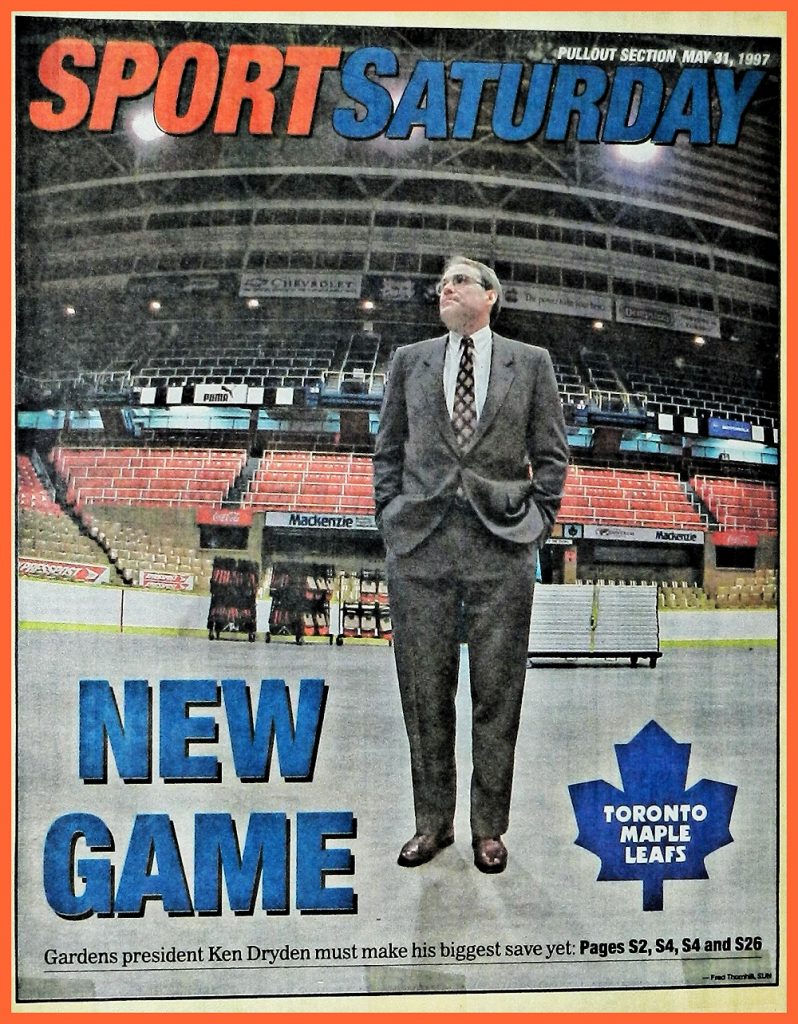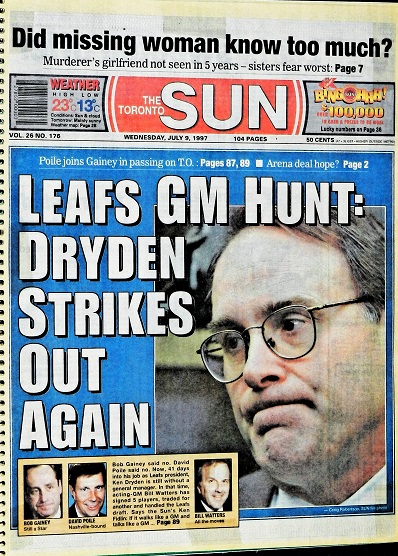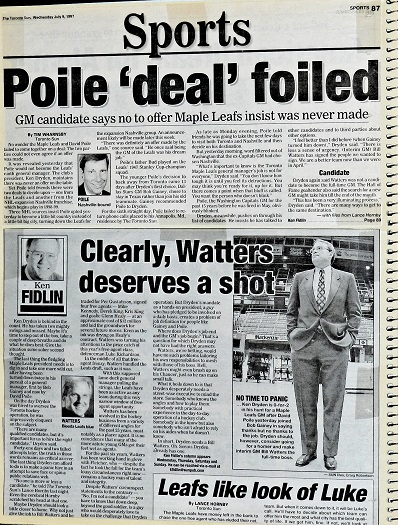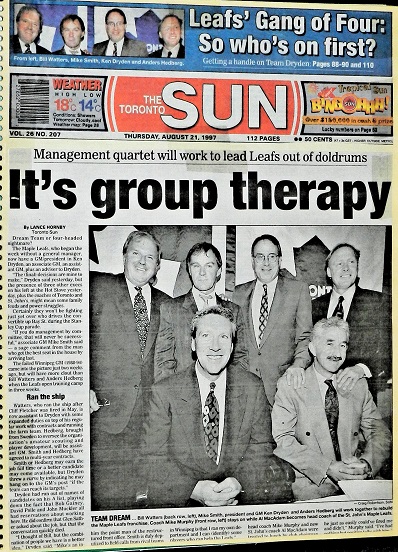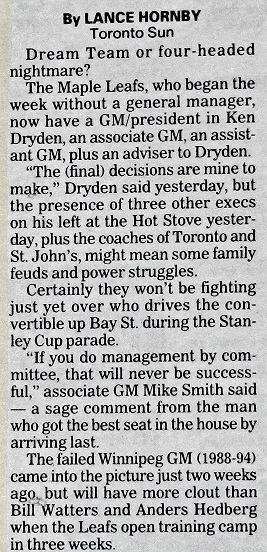 EMAIL: HOWARDLBERGER@GMAIL.COM