TORONTO (July 2) — The color bar (below) from the past 52 years of Stanley Cup winners may appear complicated at first glance, but it really isn't. Without question, the seasons designated with LIGHT PURPLE are the most rare… and, the category in which the Toronto Maple Leafs currently reside. The list clearly shows that only two teams since 1970 — the 1990 Edmonton Oilers and 2006 Carolina Hurricanes — won the National Hockey League championship with neither a Hall–of–Fame goalie nor a Norris Trophy type on the blue line. The 2022 Maple Leafs match that description with Jack Campbell and Morgan Rielly, even if Rielly is better than average.
Toronto hockey fans will contend that the Leafs are stacked up front, thereby mitigating the requirement for an elite goalie and/or defenseman. It's a poor argument. The 1990 Oilers and 2006 Hurricanes represent a mere 3.8% of Cup–winning teams since 1970. In the absence of both essential elements, winning the NHL title is nearly impossible. In fact, the Leafs have not even appeared in the Cup final during this more than half–century juncture.
COLOR BAR LEGEND:
HALL–OF–FAME GOALIE AND NORRIS TROPHY CANDIDATE/WINNER
HALL–OF–FAME GOALIE WITHOUT NORRIS TROPHY CANDIDATE/WINNER
NEITHER HALL–OF–FAME GOALIE NOR NORRIS TROPHY CANDIDATE/WINNER
GOALIE NOT IN HALL OF FAME, BUT NORRIS TROPHY CANDIDATE/WINNER
PROJECTED FOR ELECTION TO THE HOCKEY HALL OF FAME
1970 BOSTON (Gerry Cheevers, Bobby Orr) / 1971 MONTREAL (Ken Dryden, Serge Savard, Guy Lapointe) / 1972 BOSTON (Gerry Cheevers, Bobby Orr) / 1973 MONTREAL (Ken Dryden, Serge Savard, Guy Lapointe, Larry Robinson) / 1974–1975 PHILADELPHIA (Bernie Parent) / 1976–77–78–79 MONTREAL (Ken Dryden, Serge Savard, Guy Lapointe, Larry Robinson) / 1980–81–82–83 NEW YORK ISLANDERS (Billy Smith, Denis Potvin) / 1984–1985 EDMONTON (Grant Fuhr, Paul Coffey) / 1986 MONTREAL (Patrick Roy, Larry Robinson, Chris Chelios) / 1987 EDMONTON (Grant Fuhr, Paul Coffey) / 1988 EDMONTON (Grant Fuhr) / 1989 CALGARY (Mike Vernon, Al MacInnis, Gary Suter) / 1990 EDMONTON (Bill Ranford) / 1991–1992 PITTSBURGH (Tom Barrasso, Paul Coffey, Larry Murphy) / 1993 MONTREAL (Patrick Roy) / 1994 NEW YORK RANGERS (Mike Richter, Brian Leetch, Sergei Zubov) / 1995 NEW JERSEY (Martin Brodeur, Scott Stevens, Scott Niedermayer) / 1996 COLORADO (Patrick Roy) / 1997 DETROIT (Mike Vernon, Larry Murphy, Nicklas Lidstrom) / 1998 DETROIT (Chris Osgood, Larry Murphy, Nicklas Lidstrom) / 1999 DALLAS (Ed Belfour, Darien Hatcher, Sergei Zubov) / 2000 NEW JERSEY (Martin Brodeur, Scott Stevens, Scott Niedermayer) / 2001 COLORADO (Patrick Roy, Rob Blake, Raymond Bourque) / 2002 DETROIT (Dominik Hasek, Chris Chelios, Nicklas Lidstrom) / 2003 NEW JERSEY (Martin Brodeur, Scott Stevens, Scott Niedermayer) / 2004 TAMPA BAY (Miikka Kiprusoff, Dan Boyle) / 2006 CAROLINA (Cam Ward) / 2007 ANAHEIM (Jean–Sebastien Giguere, Scott Niedermayer, Chris Pronger) / 2008 DETROIT (Chris Osgood, Chris Chelios, Nicklas Lidstrom) / 2009 PITTSBURGH (Marc–Andre Fleury, Kris Letang) / 2010 CHICAGO (Antti Niemi, Duncan Keith) / 2011 BOSTON (Tim Thomas, Zdeno Chara) / 2012 LOS ANGELES (Jonathan Quick, Drew Doughty) / 2013 CHICAGO (Corey Crawford, Duncan Keith) / 2014 LOS ANGELES (Jonathan Quick, Drew Doughty) / 2015 CHICAGO (Corey Crawford, Duncan Keith) / 2016 PITTSBURGH (Matt Murray, Kris Letang) / 2017 PITTSBURGH (Marc–Andre Fleury) / 2018 WASHINGTON (Braden Holtby, John Carlson) / 2019 ST. LOUIS (Jordan Binnington, Alex Pietrangelo) / 2020–2021 TAMPA BAY (Andrei Vasilevskiy, Victor Hedman) / 2022 COLORADO (Darcy Kuemper, Cale Makar).
The overwhelming color, though not as frequent in the salary cap era (beginning in 2005–06), is GOLD — representing Stanley Cup teams that possessed a Hall–of–Fame (or PROJECTED Hall–of–Fame) goalie and a Norris Trophy type on defense. Between 1970 and 1987, 16 of 18 (or 88.9% of) Cup winners had both; the lone exception being the back—to–back Philadelphia teams of 1974 and 1975, which did not own a front–line defenseman.
In the salary cap era, 11 of 17 (or 64.7% of) Cup winners have not possessed a Hall–of–Famer between the pipes. This recent trend is difficult to explain, even if only one club since 2005–06 (the 2017 Penguins with Kris Letang injured throughout the playoffs) has been devoid of a Norris Trophy candidate/winner. As with the current champion from Colorado (Cale Makar), it proves that nothing is more critical to Stanley Cup success than an elite blue liner, which the Leafs have not possessed since Borje Salming was in his prime more than 40 years ago.
As of today, according to capfriendly.com, the Leafs have $6,444,384 of salary cap maneuverability. From that amount, the club must either re–sign or replace No. 1 goalie Jack Campbell; defensemen Rasmus Sandin and Ilya Lyubushkin; forwards Ilya Mikheyev, Ondrej Kase, Colin Blackwell and Pierre Engvall. It leaves general manager Kyle Dubas with an average of $920,626 for each of the seven components. And, still, with neither an elite goalie nor defenseman (though Campbell's 51–14–9 record in 77 appearances with Toronto is well beyond elite).
What it proves, unequivocally, is that Dubas must unload an expensive contract in order to try and reverse the one–and–done playoff quagmire of the past six years. When I say "unload", I mean "get rid of" without commensurate return. A salary dump, as with Chicago last year and $7 million goalie Marc–Andre Fleury.* For the time being, Dubas is remaining stubborn and steadfast with his Core–4 up front (John Tavares, Auston Matthews, Mitch Marner, William Nylander), which gobbles up half the salary cap allotment. Nylander, as always, is the prime candidate to be dealt, possessing no movement restrictions. Excising his $6,962,366 contract would provide Dubas $13,366,750 with which to enter the free agent market on July 13. And, still with plenty of firepower up front.
*Or, Tampa Bay and Cup–winning defenseman Ryan McDonagh, whose salary was dealt to Nashville.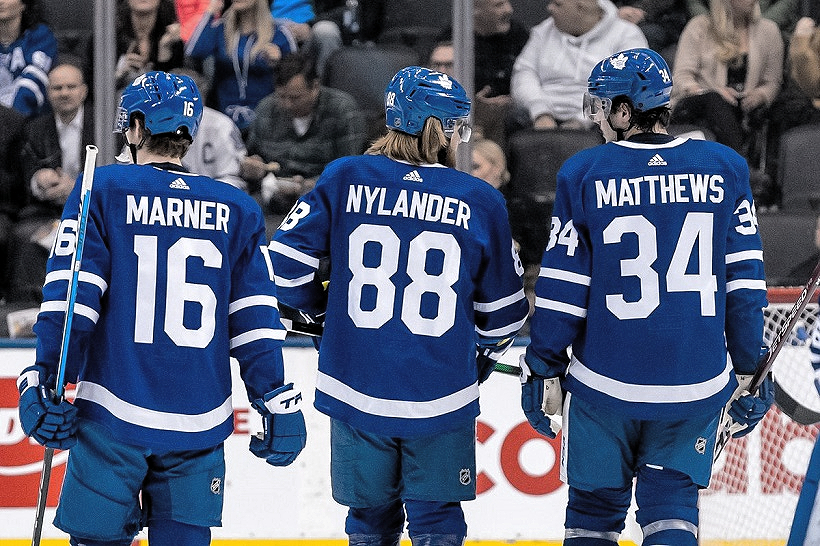 Evidently, the Toronto GM is still clinging to the absurd promise of never trading Nylander on his watch. Which seems to indicate that he'll also retain (for better or worse) Matthews and Marner, even with full no–movement clauses for each player kicking in just more than a year from now (July 13, 2023)… and with Matthews eligible to walk as an unrestricted free agent on July 1, 2024. As proven since 2017, this is a recipe for playoff disaster.
MORE GARBAGE FROM ROGERS
I guess Rogers Communications has spent the $82.3 million it received from our federal government in the COVID–19 wage subsidy program. How else to explain canceling one of its signature shows, the weekly Hometown Hockey, after eight years? Times must be tough at the ol' media cartel given that Rogers reported a paltry total service revenue of $12.53 billion in the fiscal year 2021, up from $12 billion in 2020. One can barely imagine the economic horror generated by those flights between Toronto, Brandon, Halifax and other rural outposts. Dropping Hometown will surely alleviate the financial crunch in the ivory tower at Bloor and Jarvis.
This is such a load of crap.
The company, in which human beings are mere numbers, will follow by needlessly decimating more media careers in the coming days and weeks. For which the mid and upper–level managers will receive bountiful contract bonuses. It's a sick and inhumane manner of doing business among corporations that rake in massive profits each year. Neither is there a way to prevent, or temper, such repulsive conduct from mega–wealthy executives.
STRINGING FOR CANADA'S NATIONAL NEWSPAPER
It began while I covered a game between the Leafs and Philadelphia Flyers at Maple Leaf Gardens on Nov. 19, 1997. Neil A. Campbell, sports editor of the Globe and Mail, sauntered up beside me in the press box and wondered if I'd be able to cover some Leaf road games for Canada's national newspaper. It was my fourth full season following the Leafs, home and away, as a reporter for The FAN–590, Canada's first all–sports radio station.
I had known Neil since 1979, when I held my first media job as sports writer at the Etobicoke Guardian community newspaper. He would provide the occasional freelance article for the weekly broadsheet that we published each Wednesday. Now, 18 years later, Neil was asking me to string for the Globe and Mail — an assignment I considered challenging and quite a privilege. The notion of a "radio guy" writing for a national paper was met with vehement opposition from the existing beat reporters that covered the Leafs in print. I shrugged off the nonsense and checked with my bosses at The FAN–590, Doug Ackhurst and Nelson Millman, who offered me their blessing.
Starting two nights later, at Colorado, I covered the first of 14 Maple Leaf road encounters for the Globe. It was an enjoyable experience that led, directly, to me providing the same service for The National Post, when that paper began publishing in October 1998; an assignment I held for 10 consecutive National Hockey League seasons.
My Globe and Mail stories originated from several venues that are no longer home to NHL teams — such as McNichols Arena in Denver; America West Arena in Phoenix; Reunion Arena in Dallas; Joe Louis Arena in Detroit; Miami Arena… and the cavernous Coliseum in Greensboro, N.C. I kept the Globe articles in a scrapbook:
FRI. NOV. 21, 1997: Toronto 1 at Colorado 3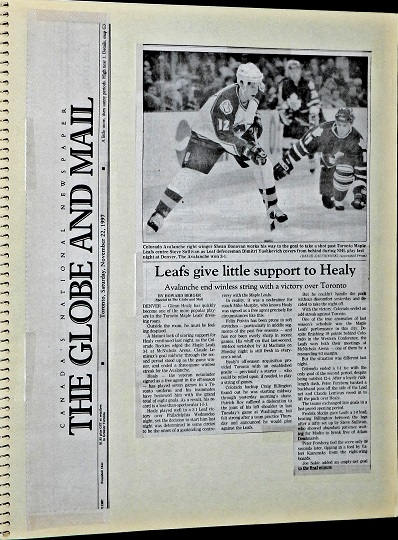 SAT. NOV. 22, 1997: Toronto 0 at Phoenix 2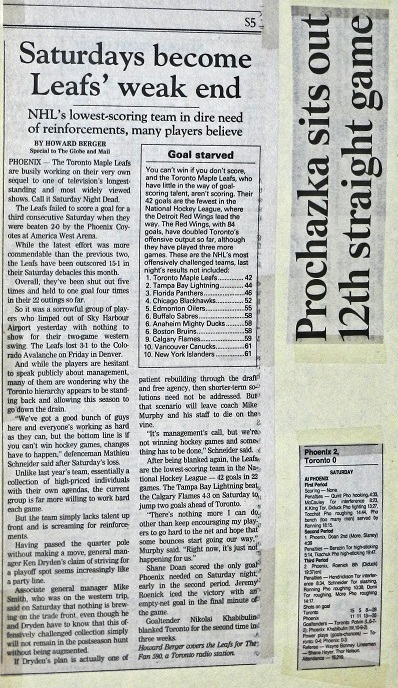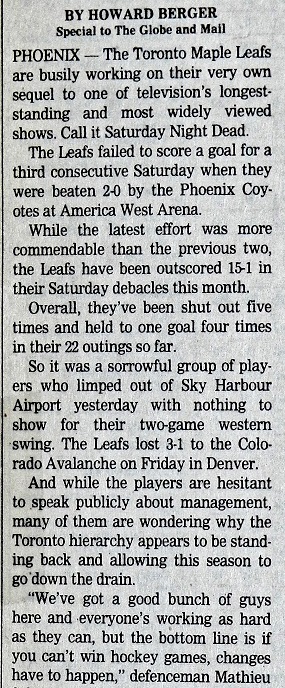 \
FRI. DEC. 26, 1997: Toronto 1 at Detroit 4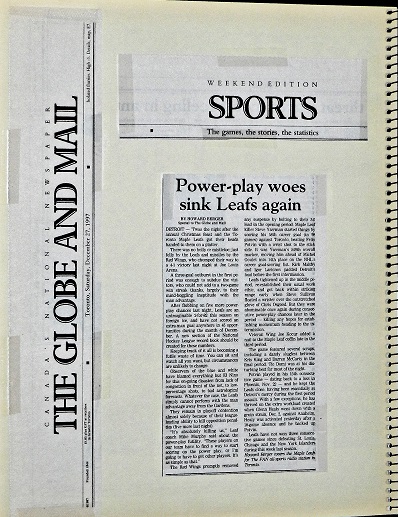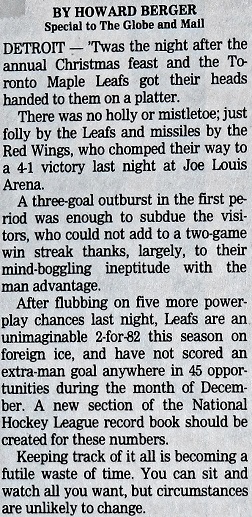 WED. JAN. 07, 1998: Toronto 5 at Tampa Bay 2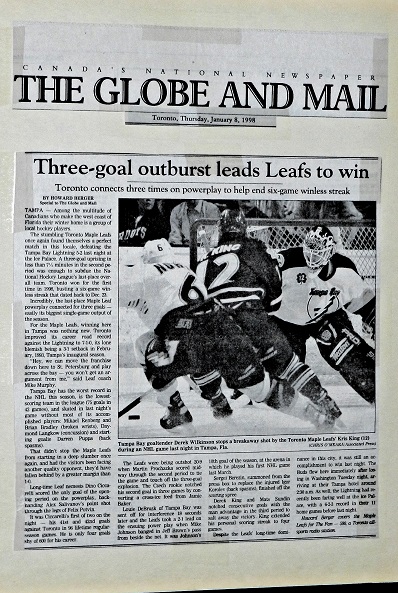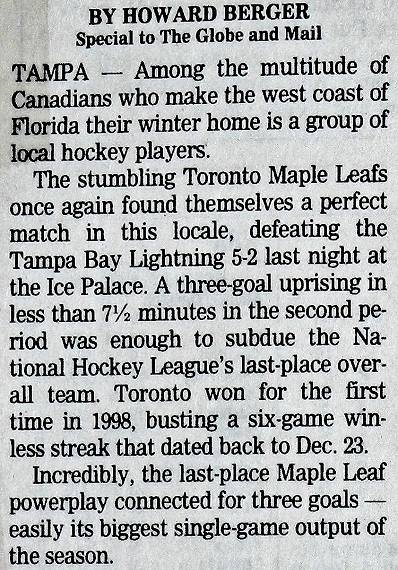 MON. JAN. 12, 1998: Toronto 2 at New York Rangers 3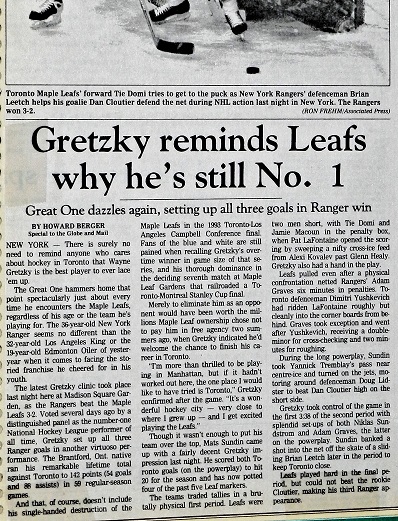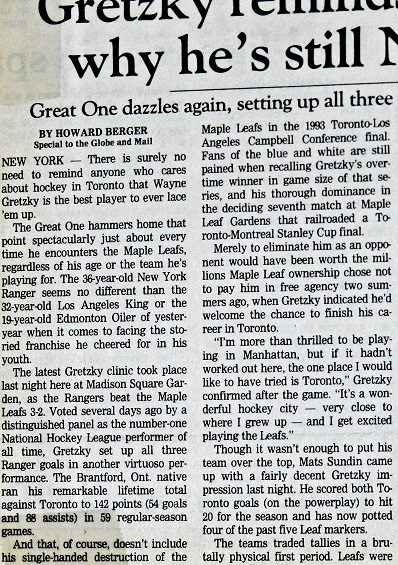 THU. JAN. 22, 1998: Toronto 3 at Chicago 0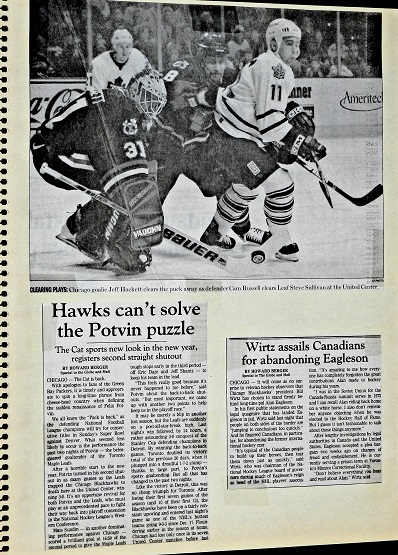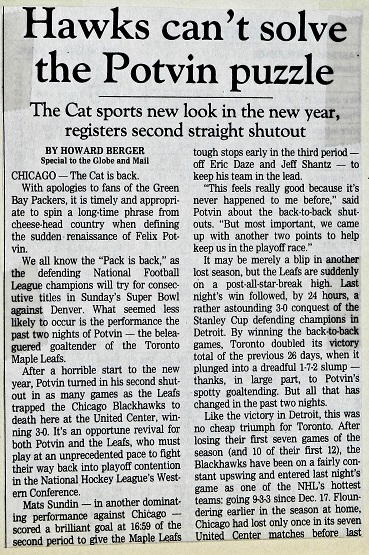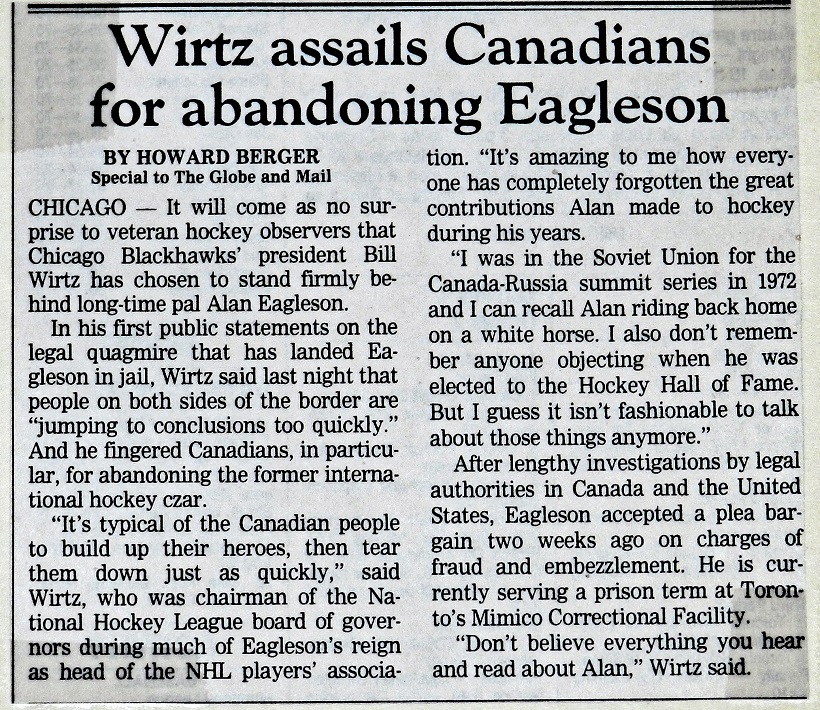 THU. JAN. 29, 1998: Toronto 0 at St. Louis 2

MON. MAR. 16, 1998: Toronto 1 at Philadelphia 4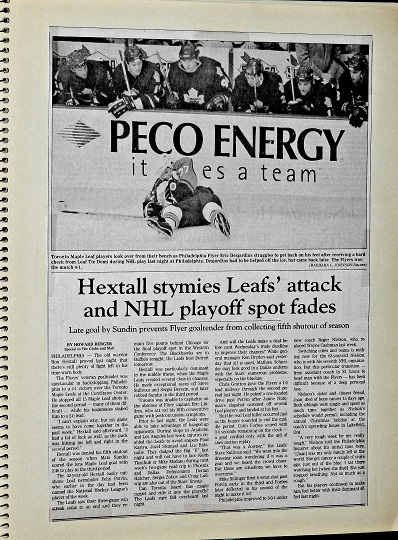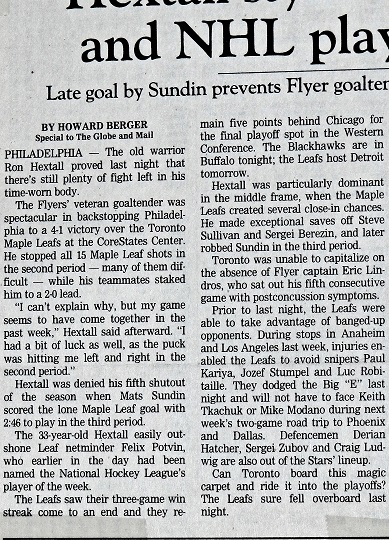 THU. MAR. 19, 1998: Toronto 0 at Boston 4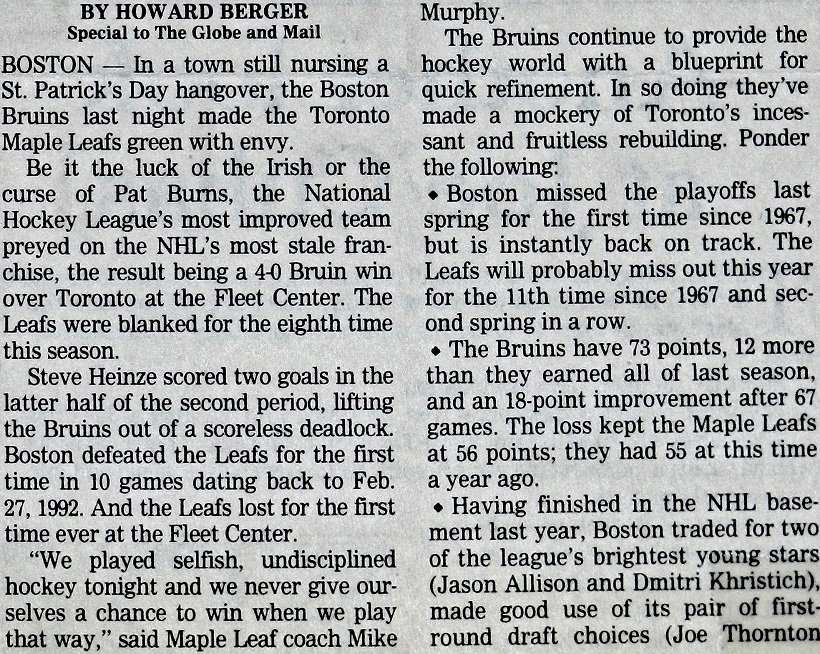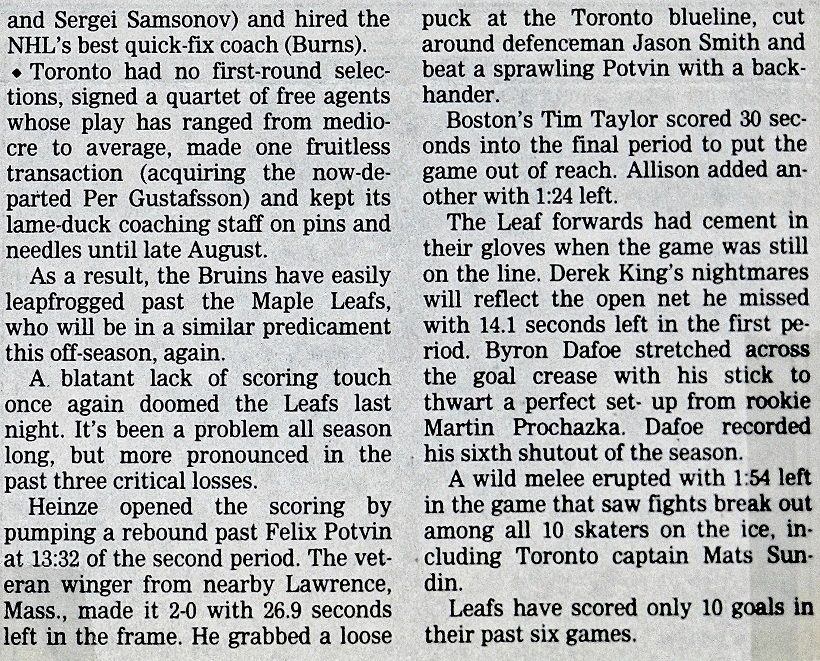 MON. APR. 06, 1998: Toronto 1 at Dallas 0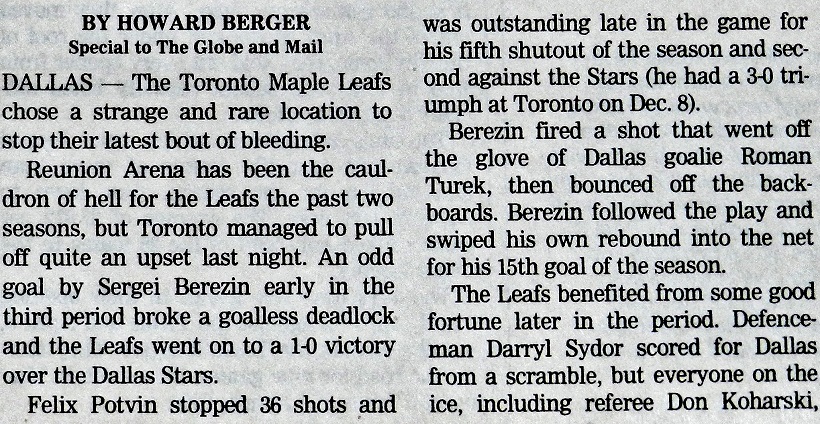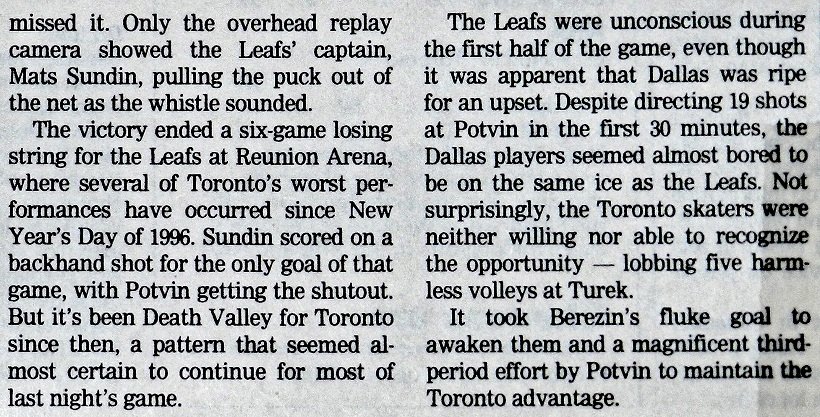 TUE. APR. 07, 1998: Toronto 3 at Florida 1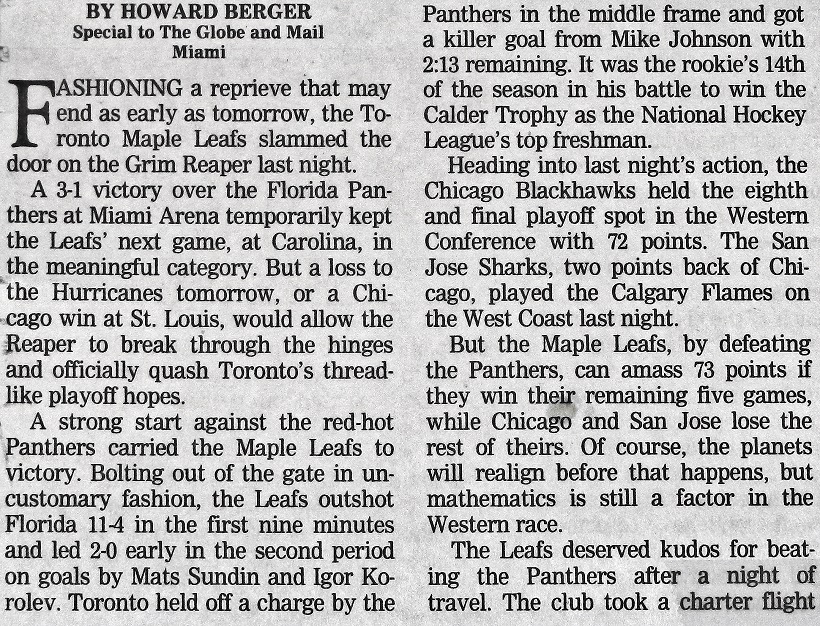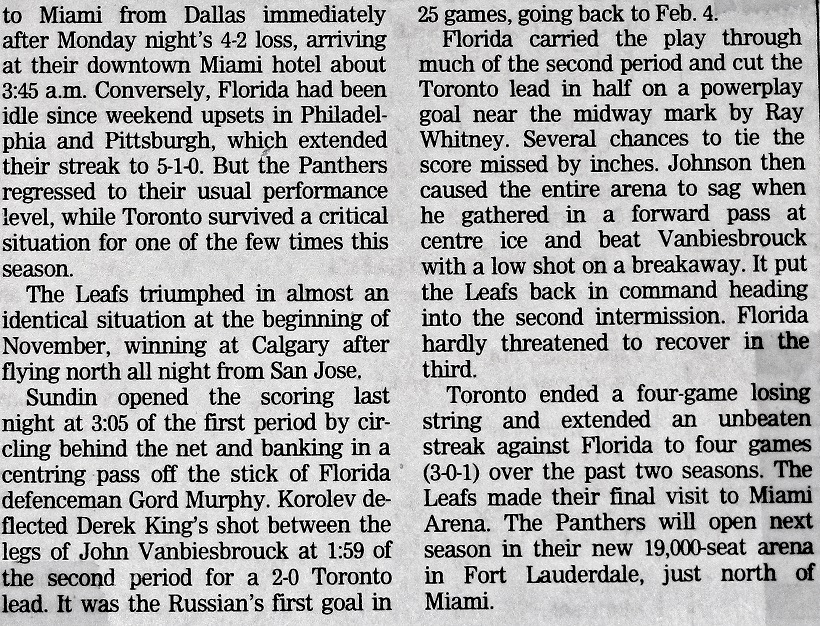 THU. APR. 09, 1998: Toronto 2 at Carolina 5


EMAIL: HOWARDLBERGER@GMAIL.COM