TORONTO (July 11) — Yes, the career of two–time Stanley Cup winner Matt Murray can be resurrected at age 28; still young for a National Hockey League goalie. Even if behind a club in defensive disarray for half–a–century.
I maintain that re–upping with Jack Campbell is the most–prudent course of action for the Toronto Maple Leafs, whose annual (it seems) goaltending shakedown will materialize in the next 48 hours. If Smilin' Jack, an unrestricted free agent as of Wednesday, is "too expensive" — and the Ottawa Senators are willing to eat half of Murray's $6.2–million cap hit for the next couple of seasons — a trade between the Ontario rivals is conceivable.
Murray would be a solid option for the Blue and White.
What provides me that sentiment? Primarily, a gut feeling. But, the same gut feel that insisted, in this corner, the Maple Leafs would win nothing with Frederik Andersen between the pipes… and that Campbell would emerge from his mid–season funk in time for the 2022 playoffs. Which he did. No, Jack wasn't the winning goalie, but only one team (Colorado) has bettered Andrei Vasilevskiy and the Tampa Bay Lightning in the past three Stanley Cup tournaments. So, I'll stand behind my instinct about Murray, should Kyle Dubas acquire him from the Senators.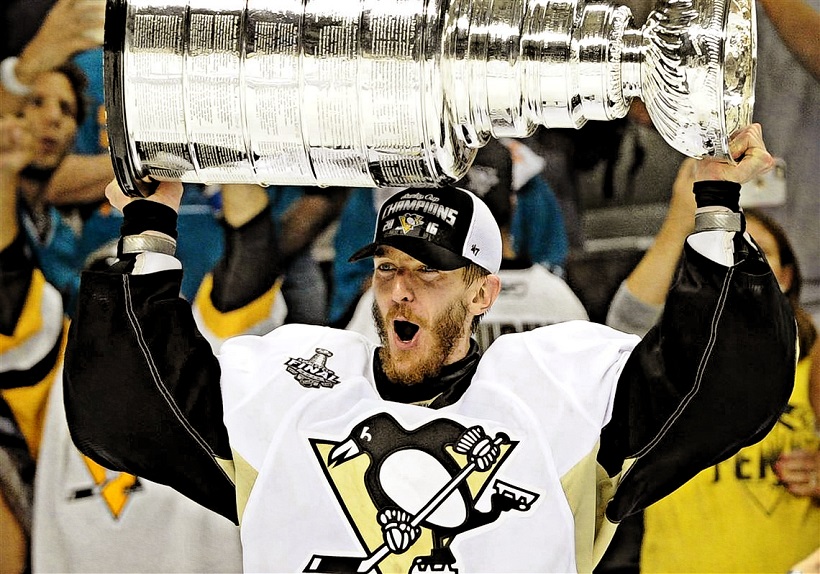 MATT MURRAY HOISTS THE 2016 STANLEY CUP AFTER BACKSTOPPING THE PITTSBURGH PENGUINS TO A SIX–GAME TRIUMPH OVER THE SAN JOSE SHARKS. MATT FREED PITTSBURGH POST–GAZETTE
Ottawa is poised to move forward, rather economically, with Anton Forsberg as No. 1 stopper. Claimed off waivers from Winnipeg, Forsberg (this past March) signed a three–year, $8.25 million extension which carries a paltry $2.75 million hit. With nearly $21 million in cap space, the Senators could easily manage 50 percent* of Murray's remaining pact: $3.1 million next season and in 2023–24.*
*The Leafs officially acquired Matt Murray late this afternoon. He replaces "Sooouupp!"
*Ottawa retained 25 percent of Murray's salary.
Dubas could also trade restricted free agent defenseman Rasmus Sandin, only to regret the move within two or three years. Wasting nearly $1 million of cap room on ancient Mark Giordano was absurd, given that Sandin — still 22 and with gobs of talent — must be retained out of entry level restriction. This could easily happen if Dubas unloaded the final two seasons of William Nylander's contract for a prospect and high draft choice. It appears, however, the Maple Leafs GM would rather sleep on a bed of nails than tinker with his playoff–challenged Core 4.
It was six years ago that Murray backstopped Pittsburgh to the first of consecutive Stanley Cup titles. He shared the playoff load with Marc–Andre Fleury as the Penguins repeated in 2017. Murray's career in Steeltown then went off the rails. Though he won 76 games over the next three years, the Thunder Bay, Ont. native recorded abysmal numbers (2.87 goals–against average and .899 save percentage) in 2019–20, the first season impacted by the COVID–19 pandemic. Ottawa took a chance on him in free agency, signing Murray for $25 million over four years. He was mostly horrible behind one of the NHL's worst teams (GAA of 3.38 and 3.05), prompting a demotion for more than a month (Nov. 24 to Dec. 28) last season to Ottawa's American Hockey League affiliate in Belleville.
Clearly, double–M is eyeing yet another change of scenery. Not since Jean–Sebastien Giguere in 2009–10 have the Leafs acquired a goalie with a Stanley Cup resume. And, the current Toronto club is infinitely superior to that outfit, which staggered out of the gate at 1–7–5 in its first 13 matches and finished with only 74 points. Murray, if obtained, would become the 75th man to play goal for Toronto since its last Stanley Cup championship, in 1967.
Is it a gamble? Of course. But, the Leafs haven't regularly deployed a front–line goalie since Curtis Joseph manned the crease between 1998–99 and 2001–02, twice backstopping the club to the Stanley Cup semifinals.
MLG INSTEAD OF BMO FIELD?
It was the Great Arena Charade, Part 2. Less than a year after insisting it would build a new home "atop" Union Station, Maple Leaf Gardens Ltd. insisted the arena would land on the grounds of the Canadian National Exhibition — the Leafs playing home games on the site of Exhibition Stadium, which the Blue Jays and Argos had vacated for SkyDome 6½ years earlier. Had the project materialized, BMO Field would not stand as today… and it's possible that Toronto F.C. would not have joined Major League Soccer as an expansion team in 2007.
November and December 1997 — nearly a quarter–century ago — saw this idea suddenly flourish on the front pages of Toronto newspapers, where it encountered near–universal scorn. Ultimately, and predictably, the notion died when the Leafs bought the Air Canada Centre (still under construction) and the Toronto Raptors, who were modeling the arena bowl exclusively for basketball. A few nooks and crannies were altered; a press box for hockey took shape on the south flank, and both teams moved into the ACC in February 1999: the Maple Leafs from the Gardens (home since 1931); the Raptors from the SkyDome, where temporary stands were erected in 1995 adjacent to the south baseball seats (the first–base line) for the National Basketball Association club.
In my Leafs scrapbooks from 1997–98 are stories and opinions from the halcyon columnists of the day: Dave Perkins and Damien Cox of the Toronto Star; the late George Gross of the Toronto Sun: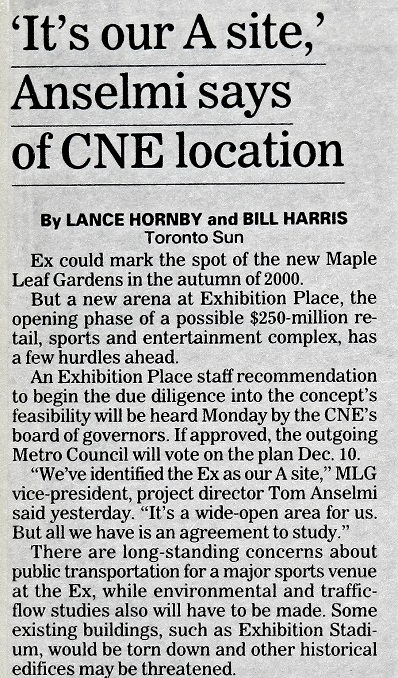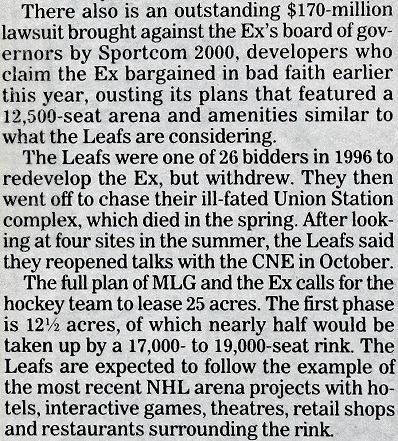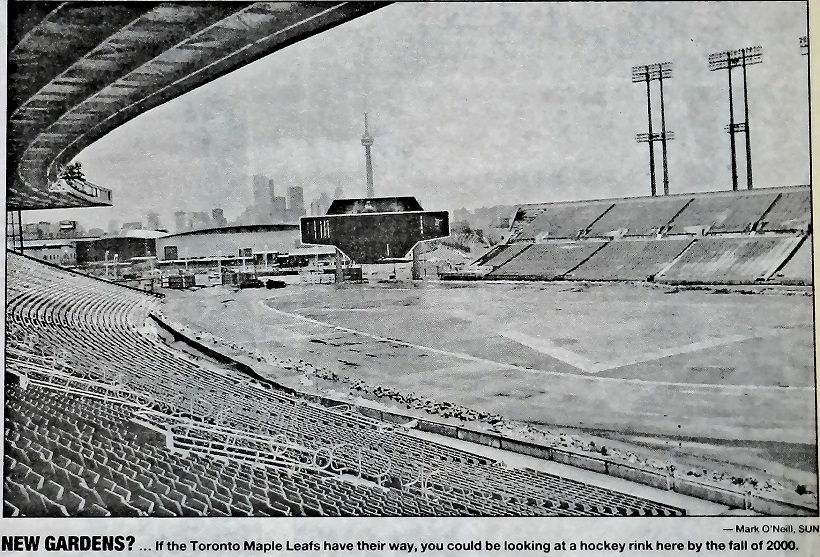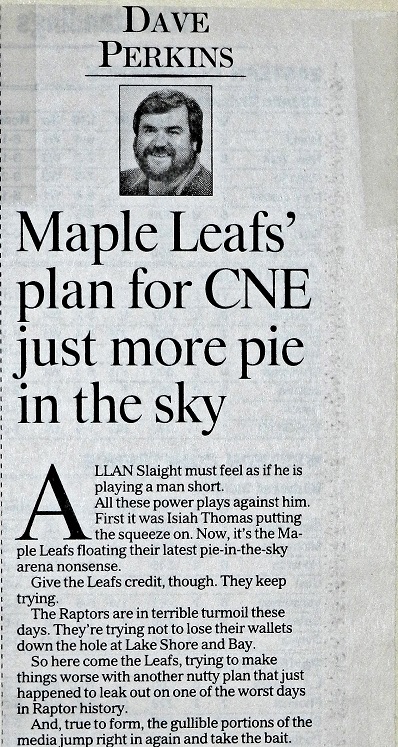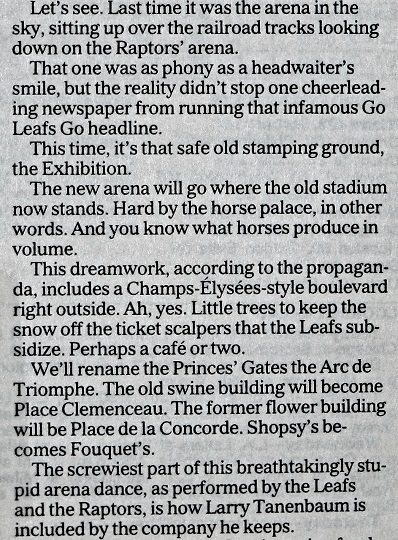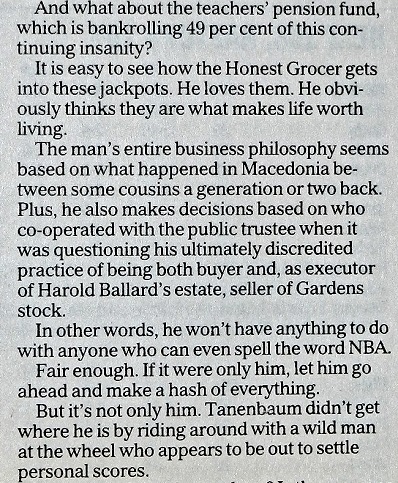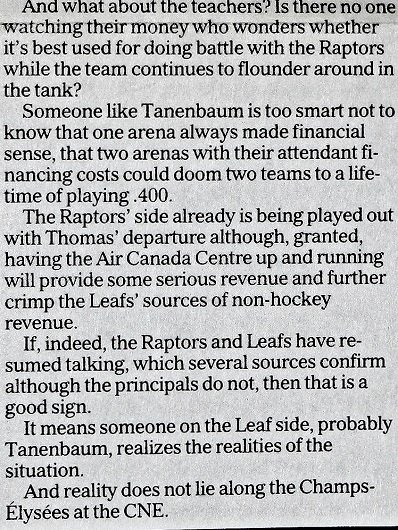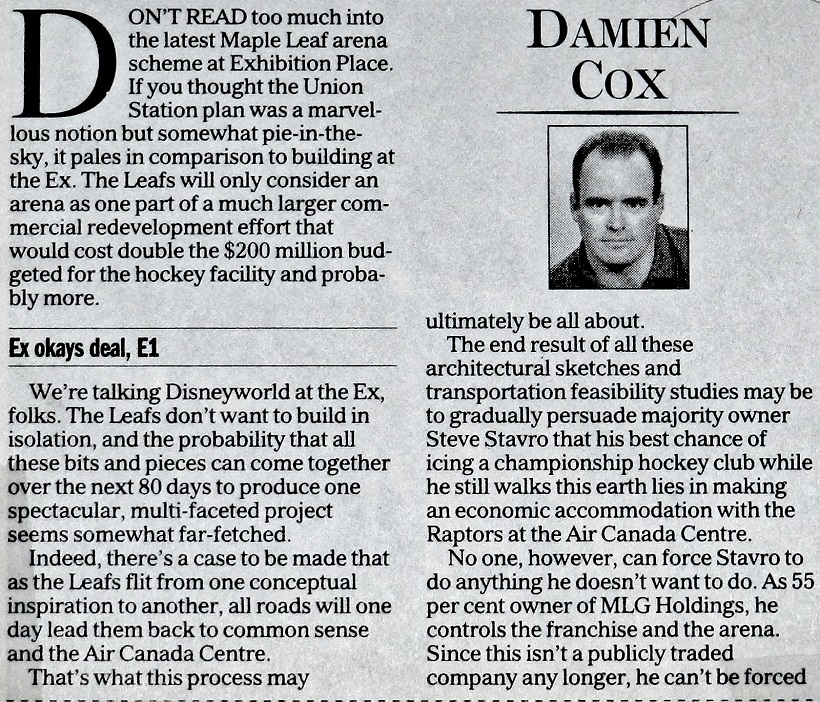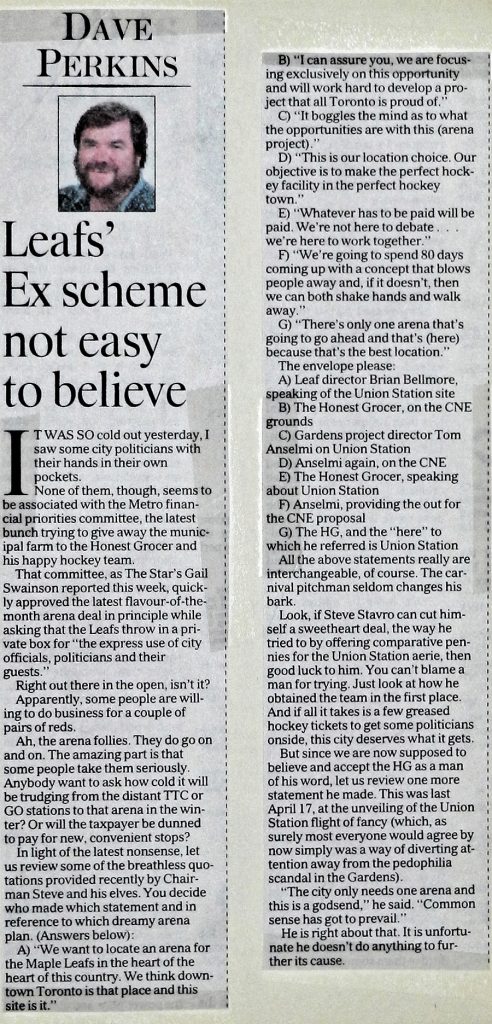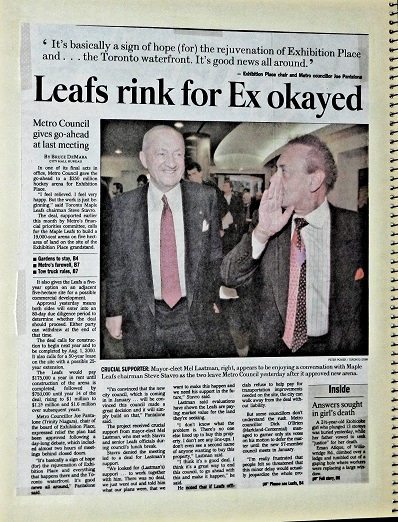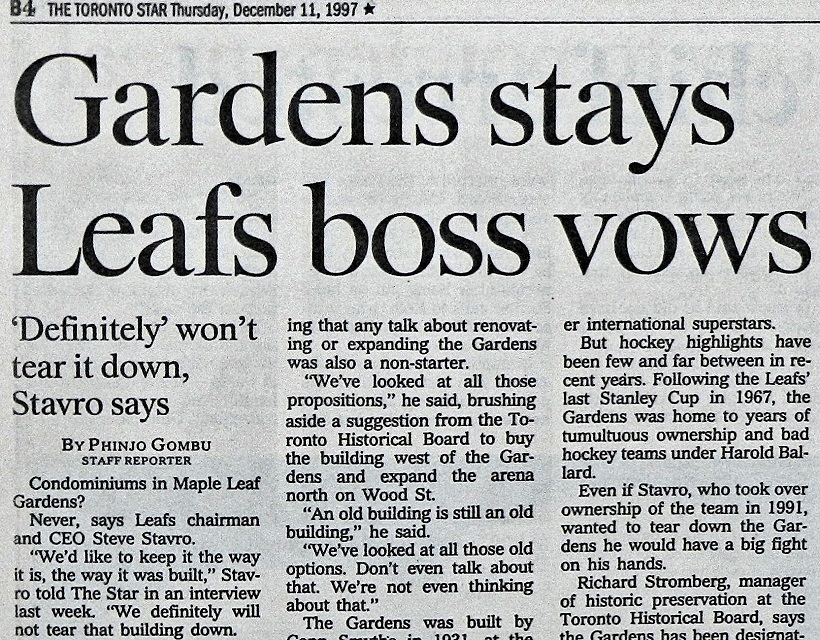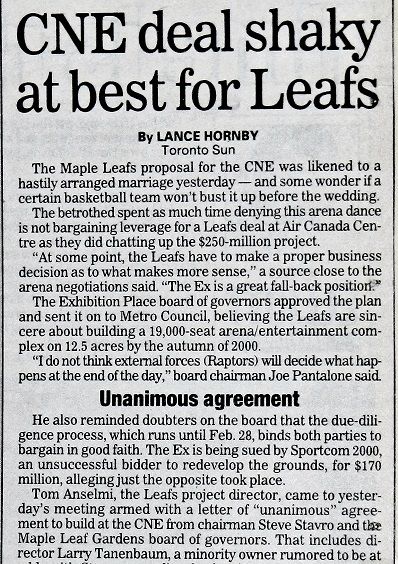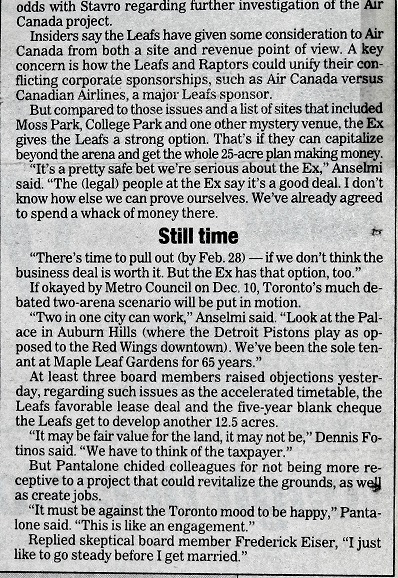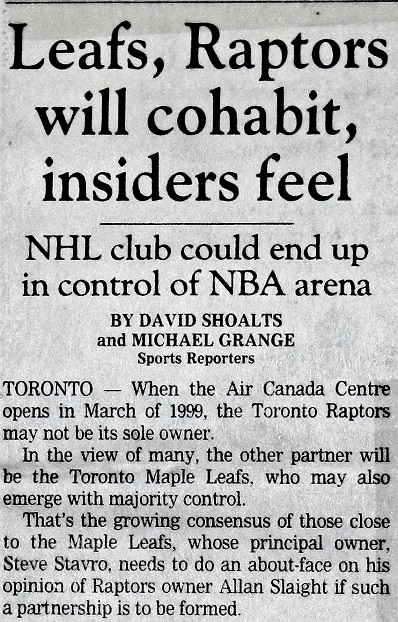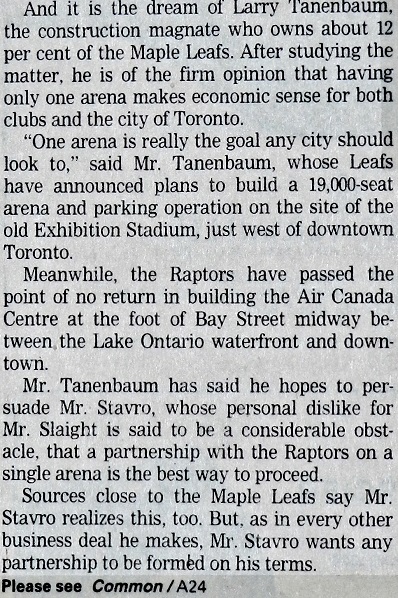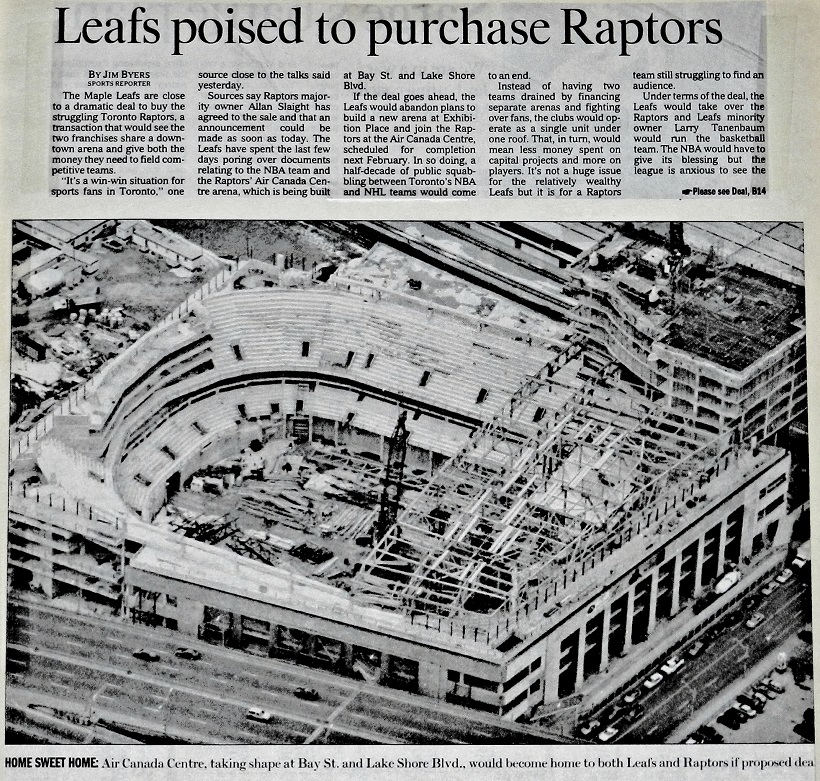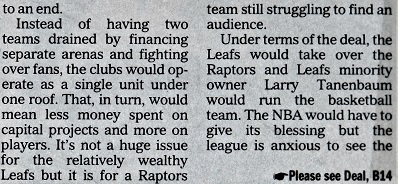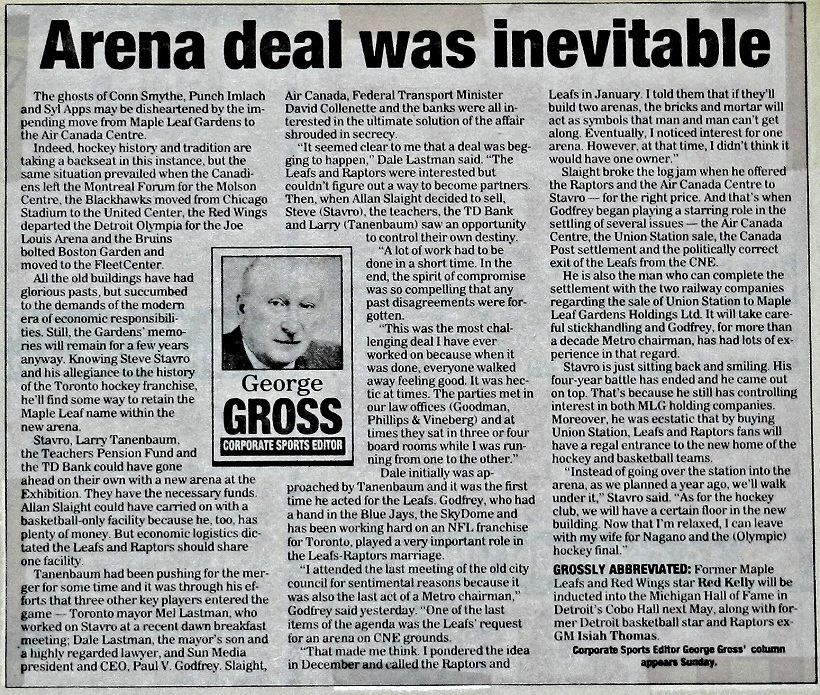 EMAIL: HOWARDLBERGER@GMAIL.COM