TORONTO (July 9) — It almost makes too much sense. The Arizona Coyotes, who couldn't score in a brothel last season and are swimming in cap space ($29,994,166), acquire a fairly prolific shooter with two years remaining on his contract. Perhaps bettering the opportunity to sell all 5,000 seats for home games in Tempe. The Toronto Maple Leafs, hunting stability on the blue line for more than half a century, obtain a young, burgeoning defenseman still with three years of control… and save another $2,362,366 in cap room. For the extra year and the slight cap inconvenience, the Leafs throw in a draft choice (which they never use, anyway). Say a third–rounder.
Voila! You've got a "hockey" trade and a "money" swap all in one. Quite the rarity since 2005–06.
Yes, Kyle Dubas would be sent to his room after breaking the solemn vow of December 2018 that William Nylander is never to be unloaded on his watch. But, the Toronto general manager, in securing Jakob Chychrun, would pull off the most–strategic trade of his four seasons in the big chair… and maybe improve the club's likelihood of finally emerging from the opening playoff round (if one can imagine such a feat after 19 years). Clearly, Nylander hasn't contributed much toward that goal. Though gifted with the puck, he too often becomes "Peripheral Willie" at crunch time. Perhaps assuming a role beyond the shadows cast by Auston Matthews, John Tavares and Mitch Marner would bring out the best in Nylander. Likewise, the 6–foot–2, 220–pound Chychrun, having just turned 24, could take an enormous step with a team that generated a franchise–record 115 points last season, more than double the 57 accrued by the Coyotes. Though still lacking the Norris Trophy type (Cale Makar, Victor Hedman), a blue line with Morgan Rielly, Chychrun, T.J. Brodie, Jake Muzzin, Mark Giordano and Tim Liljegren would offer mobility, youth and veteran savvy, representing the best group Toronto has iced in many a year.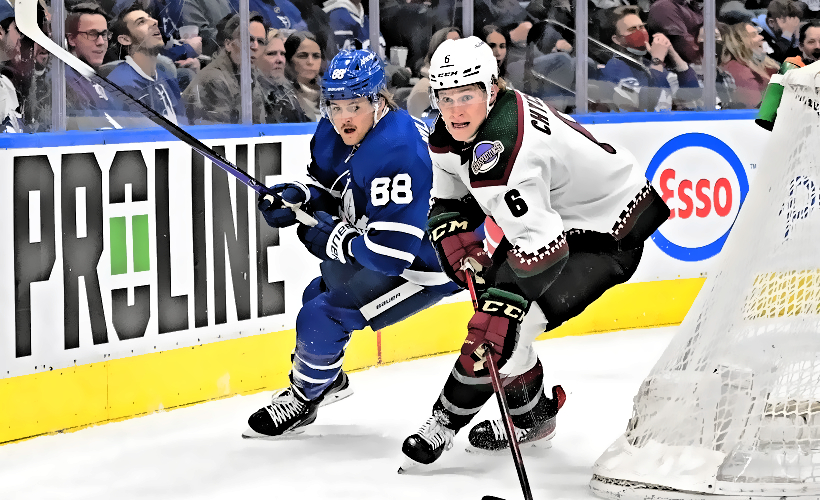 A SWAP OF THESE PLAYERS IS ULTRA–SENSIBLE FOR BOTH TEAMS. DAN HAMILTON USA TODAY SPORTS
For whatever reason, Dubas is still apparently petrified about tinkering with his Core 4, even after six consecutive first–round playoff defeats. As previously written, it's almost certain that no team in North American professional sport has ever provided its nucleus a seventh chance to achieve the playoff minimum. What evidence, other than blind hope, exists that next spring will be any different than the previous half–dozen? The dormant, fractured and easily contented ownership at Maple Leaf Sports and Entertainment (Rogers, Bell, Larry Tanenbaum) has shown no compunction to flex its might since ousting Brian Burke just before the abbreviated schedule of January to May 2013. The Shanaplan has since taken hold… with lots of marvelous window dressing between October and April. Until a bold move is made that alters the losing playoff culture of the Maple Leafs, nothing significant will change.
Offering the Coyotes the skill of Nylander would surely tempt Arizona GM Bill Armstrong, whose club struck for a league–low 207 goals last season (or a measly 2.52 per game), while yielding 313 goals (3.82 per match), only six fewer than 32nd–place Montreal. Beyond choosing American–born center Logan Cooley third overall in this week's National Hockey League draft, there isn't much to get excited about in the desert. Clayton Keller paced the Coyotes with 28 goals and a mere 63 points last season. Six Toronto players — Matthews, Marner, Nylander, Tavares, Rielly and Michael Bunting — equaled or surpassed Keller's total. Only Keller, Nick Schmaltz and Lawson Crouse hit the 20–goal mark. Clearly, Nylander would be a welcomed addition to such a impotent club.
As for Dubas, he's potentially gun–shy after pulling off a similar trade in July 2019. The Nazem Kadri–for–Tyson Barrie swap, enlightening and sensible at the time, turned into a disaster for the Leafs. But, keeping hands off the apex of the roster, while shuffling interchangeable deck chairs, is a losing proposition. It has counted for nothing at Stanley Cup time; nor will it magically evolve next spring. Who cares whether meek forwards Pierre Engvall and Ondrej Kase return, given a combined two goals and 11 assists in 48 playoff appearances? Rather than losing such–useful skaters as Connor Brown, Zach Hyman and Ilya Mikheyev for no return, isn't it time that Dubas altered the inefficient salary structure of the Leafs? Do you not honestly believe the club is overdue for a bold statement ala Masai Ujiri, who daringly operates the Raptors of the National Basketball Association for MLSE?
Or, is Toronto simply too apathetic a hockey market to inspire a courageous move?
Whatever the case, Dubas continues to travel the path of least resistance… with no apparent push–back from above. Even amid the inarguable and consistent playoff results. It remains an enigma wrapped in a mystery.
QUESTION OF THE DAY: Will the Leafs, before next week at this time, try to improve on Jack Campbell… or merely settle for whichever goalie is available after the open–market shakedown?
ULTIMATELY, THE FANS GOT THEIR WISH…
Just came across these two contentious blogs I wrote for hockeybuzz.com in late–2008. They prompted a delirious outcry that I be terminated by The FAN–590, Canada's first all–sports radio station. Which didn't happen… for another 2½ years. But, I survived… and, so, evidently, did this dagger–exchange with fans of the Maple Leafs, written in the midst of the club's record, seven–year playoff absence (2006–07–08–09–10–11–12).
Is it any wonder that nerves were frayed?
Most Valuable Losers Once Again
TORONTO (Oct. 30, 2008) — Oh, how they must be chuckling in the ivory tower on Bay Street!
Arguably the worst team in the National Hockey League since the lockout continues to be the most lucrative commodity on skates. Even the tall foreheads at Maple Leaf Sports & Entertainment have seemingly thrown in the towel on their annual dissing of Forbes Magazines' NHL value rankings. Normally, by the evening of the announcement, CEO Richard Peddie is on record suggesting that no person outside the hallowed halls of the Air Canada Centre could possibly have a line on the Leafs' monetary worth. This is either an effort to keep the tax people at bay, or to avoid laughing out loud at the sheep that form the lifeblood of the company.
Yes, that is YOU, Leafs Nation.
An insatiable willingness to accept whatever garbage is tossed your way each year lines the pockets of the executives you purportedly "hate" [I see that word a lot in my e-mails]. No form of indignity is powerful enough to dissuade you from the love of your Blue & White. You bitch… moan… and go insane over the always-accurate appraisals of the team in the media. Depending on the hour of day, you either castigate or lionize members of the hockey club — often the same player. The familiar disappointment of missing the playoffs on April 8th is washed away with delusional fantasies by April 9th. And, always, you are there to buy every ticket; purchase every jersey; watch every game on TV; lose your mind over every word written and spoken about the team [the part I like best], and generally cradle the habit you have no power to temper, let alone break. You are, by any measure, the most easily placated fans in all of sport — rivaled only by the zombie-like baseball fanatics on the north side of Chicago.
And, boy, do you make money for people! Even media scrubs like me. I can't begin to tell you what your devotion to these blogs is worth. I'm particularly thankful for the e-mailers that swear they will never again read my opinions, only to repeat that threat after the next blog…. and the next one… and the one after that. Probably the same folks that promise never to watch their blundering team after another home-ice embarrassment, only to count the hours until the puck drops again.
Knowledgeable? Where do I start? The celebration is already underway over the three-out-of-four games streak in October that may ultimately lift the team into its habitual 11th or 12th-place roosting in the Eastern Conference. What more could any devoted fan wish for?
Face it… you just can't control yourselves. And, the folks on Bay Street love you for it… so much so, that they refused to budget for playoff dates next spring at the ACC. I mean, why go down the same path of futility for a fourth consecutive year? Season-ticket renewals are dispatched after the Stanley Cup tournament concludes, prompting a wild stampede to the mailbox — cheques faithfully enclosed; interest about to accrue. The extra kick in the wallet from 100 percent renewals in early summer surely takes the sting off lost playoff gates, don't you think?
No wonder King Richard and Lucky Larry are indebted to you.
You ask for nothing, and give everything. What a perfect world some people live in.


FIRE ME? I'M HONORED!
TORONTO (Nov. 3, 2008) – Finally, I have something in common with Richard Peddie.
It has nothing to do with salary, or responsibility at Maple Leaf Sports & Entertainment, as King Richard would never threaten his own job security by placing me in charge of hiring the next GM of the Leafs. Richard and I, however, are the disconsolate subjects of websites aimed solely at our demise. Yes, a helpful e-mailer sent me an attachment this evening – "firehowardberger.com" has joined cyberspace alongside the more entrenched "firerichardpeddie.com." And, you thought Peddie was in a class by himself.
Anyhow, the preamble to the latter-day website – addressed to my boss, the general manager and program director at THE FAN-590, reads as such… "Dear Nelson Millman: We Leaf fans are sickened by the work of Howard Berger. We, the undersigned, demand that his services with FAN-590 be terminated immediately. We are the station's loyal listeners. If Mr. Berger is not terminated immediately, we will cease supporting your advertisers until such a time as he is fired."
I spoke to Nelson tonight and though I couldn't get him to commit to a raise in salary, I'm still confident I can work on him… but only if the signature count on the petition surpasses 1,000. At the moment, it doesn't appear too promising, as the paltry total sits at less than 40. Had the "firehowardberger" site been launched a bit sooner, I may have been able to capitalize on the momentum from my "Most Valuable Losers" blog last Thursday. Truth kills in Leafs Nation and, surely, the signature flow would have been greater by now. But, Nelson hasn't given me a deadline, so I'm confident there is still plenty of opportunity for the count to surge upward.
In the meantime, I'll  turn to King Richard for counseling. Only he knows how to weather such a storm.
I'm still learning… and hoping to view top-secret videotapes from the MLSE board meeting in the summer of 2007, when Richard and Larry Tanenbaum almost came to blows over the future of then-GM John Ferguson. Apparently, the anti-Ferguson forces – lead by Tanenbaum – executed a frontal assault on King Richard, only to be scattered by an unseen voice that reverberated through the meeting room: "WE, THE [ONTARIO] TEACHERS, SUPPORT RICHARD!!!" the voice boomed. I have no such advocate. In fact, I had to convince Nelson not to add HIS name to the petition. It might have inched me closer to the 1,000 mark. But, with lousy optics.
Oh yeah, the threat of boycotting advertisers from the "firehowardberger.com" folks had me mildly concerned. But, I checked the spot-log tonight and TOYS 'R US isn't part of our clientele. Whew!
To this day, I have no idea why I am, occasionally, the enemy of Leafs Nation. 😛
EMAIL: HOWARDLBERGER@GMAIL.COM