TORONTO (July 20) — God save the Core–4.
It has to be the motto of the Toronto Maple Leafs as they head toward a seventh opportunity to emerge from the opening round of the Stanley Cup playoffs. With the same failed group munching on 50 percent of the salary cap. And, still, with question marks galore on the defensive side of center ice — words that have applied to the hockey club throughout its record 55–year championship drought. Will Kyle Dubas ever make an attempt to solidify his very average blue line… in front of goaltending, once more, that no one in the game can foretell?
Clearly, there are options available (right now) and lots of time to explore them prior to next season. Nothing of significance, however, can materialize amid Toronto's perennial cap crunch unless the general manager is willing to open his mind about manipulating the blessed forward nucleus of John Tavares, Auston Matthews, Mitch Marner and William Nylander. By next year at this time, as fans of the Leafs are well aware, the GM will have to make a call on Matthews and Marner, whose mega–contracts automatically become unmovable in July 2023. Providing Matthews, in particular, the hammer for 12 months before he can walk as an unrestricted free agent.
On this 53rd anniversary of Neil Armstrong's first boot–print in lunar dust, the Leafs are evidently still afraid of taking "one giant leap", preferring "one small step" at a time. It hasn't worked. In fact, it's been a disaster for the current administration. Every year, in this month, the club loses a solid, serviceable veteran via mismanagement of the cap. Every year the club necessarily loads up on cheap, interchangeable parts that have no chance to provide a boost in the playoffs. Every year, there are questions about goaltending, with no long–term solution. And, every spring, the vaunted Core–4 goes golfing after the first round. As such, it can be argued, justifiably and blatantly, that the Maple Leafs need another person in the big chair. Not because Dubas is incapable of improving the club's chance to pose a Stanley Cup threat. But, rather as a result of his abject unwillingness to try something different.
With some of the biggest personnel decisions of all time on the horizon, the situation cries out for an impartial voice. There is absolutely no evidence that Dubas will alter the composition of the team. Next up, given the irrefutable pattern, will be Kyle relinquishing yet another first–round draft choice to create cap room: Alex Kerfoot ($3.5 million) and Justin Holl ($2 million) the most–likely candidates to clog up a lesser team's payroll for the privilege of selecting in the top 32 (providing, of course, it can be done, as both marginal players, astoundingly, own modified no–movement clauses). Before additional damage occurs, it is essential that a person unattached to the Core–4 be placed in charge of the franchise–altering moves that lay ahead; someone devoid of the emotional baggage that accompanies such a no–trade "promise" as the one Dubas absurdly made to William Nylander.

The only outlier is a change of course that prompts Dubas to offload the final two years of Nylander's $6,962,366 cap hit. I keep returning to Nylander because there is no way the current hierarchy will consider (at this point) trading Matthews or Marner (Tavares cannot be moved). Nylander, in spite of his more–than–reasonable salary, is the lone option available to potentially hoist the Blue and White from its playoff quagmire. But, it appears that Dubas would swallow a Cyanide capsule before arriving at such a decision. That's why a new GM is urgently required.
An unprejudiced individual might be open to freeing up cap room that would accommodate such a player as John Klingberg, the best defenseman still available on the open market. Such a move would require most of Nylander's cap leverage and would come with an element of risk, as with all major personnel decisions. But, it says here the Leafs would evolve into a better, more–balanced team by adding a semi–elite blueliner. And, honestly, how much of a gamble would it be for a team that hasn't emerged from the opening playoff round in nearly two decades? It's not as if a string of championships is on the line. But, again, there is nothing at all to indicate that Dubas can un–wed himself from the nucleus that has taken the Maple Leafs nowhere during his four playoff years on the job.
And, if Kyle won't consider a trade for Nylander, what happens next year when God Himself (Matthews) potentially indicates he will not sign a long–term extension here? Can we reasonably count on Dubas to make the most–critical call in modern franchise history? One that may involve swapping the 60–goal shooter before the trade deadline next season? What about Marner, who will have two years of complete control over the club by July of 2023?
It is, in my view, imperative that the Leafs entrust an experienced and dispassionate hockey executive with these complex arrangements. Sadly for fans of the team, it cannot happen with ownership and management rolling in dough and lounging in easy chairs after every playoff disappointment; always taking the path of least resistance.
As such, there are likely darker days ahead, a la Calgary, for the NHL's most–resilient followers.
1967 CHAMPS ARE DWINDLING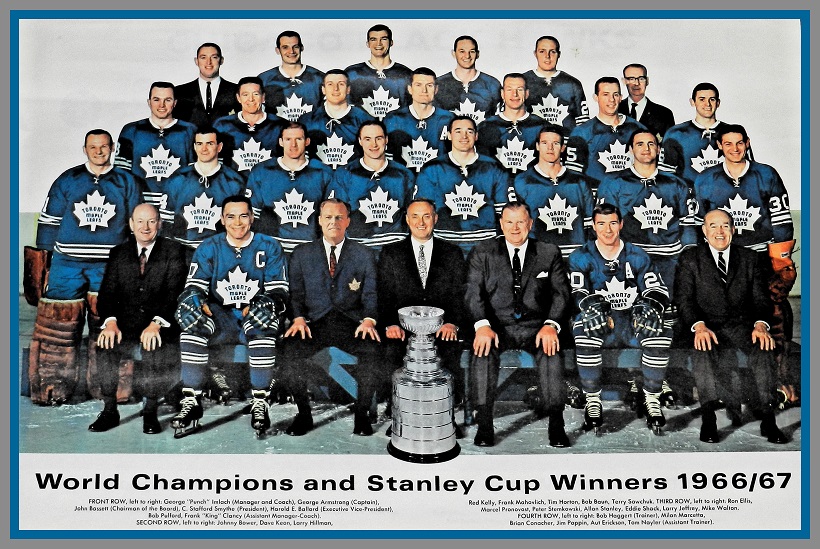 With the passing, on Tuesday, of Larry Jeffrey at age 81, there are now eight surviving members in the above photo of the 1967 Stanley Cup–champion Maple Leafs.
Still with us (age in brackets) are Brian Conacher (80), Ron Ellis (77), Peter Stemkowski (78), Mike Walton (77), Dave Keon (82), Frank Mahovlich (84), Bob Baun (85) and Bob Pulford (86).
Gone are Jeffrey, Bob Haggert (trainer), Milan Marcetta, Jim Pappin, Aut Erickson, Marcel Pronovost, Allan Stanley, Eddie Shack, Tom Naylor (assistant trainer), Johnny Bower, Larry Hillman, Red Kelly, Tim Horton, Terry Sawchuk, Punch Imlach (GM/coach), George Armstrong (captain), John Bassett, Stafford Smythe, Harold Ballard (owners), King Clancy (assistant GM).
EMAIL: HOWARDLBERGER@GMAIL.COM