TORONTO (Aug. 14) — Oddly, yet predictably, it required more than 2½ months for those on the receiving end of verbal harassment from radio host John Derringer to gain a measure of justice. Even if my former FAN–590 colleague, Jacqui Delaney, found no reason to celebrate the news, on Tuesday, that Derringer was finally "stepping down" from his role as morning man on Q–107, the flagship rock–music outlet owned by Corus Entertainment.
"How big was his payout? How many millions did he get for the years of abuse he inflicted on others? Absolutely disgusting," Delaney told the Toronto Star. "His bad behavior is once again being rewarded. He's walking away with millions because he was abusive… on top of millions he already earned. Of course they'll pay him out. He wasn't going to go quietly. That's what they've been busy negotiating. And they've been covering their ass(es)."
The message I'd impart to Delaney is simple: No amount of money offsets a frittered reputation in the workplace or an individual's good name in society. Once compromised, neither can be restored. So, Jacqui, it really doesn't matter if John is swimming in greenbacks for the rest of his life; none of us carries a plug–nickel to our grave.
Given his boorish behavior, primarily (but not exclusively) toward female colleagues, Derringer won't likely again work in a major radio market; his legacy as an accomplished host evermore supplanted by the allegations that led to the much–overdue farewell on Tuesday (disregard the "stepping down" baloney; John was fired by Corus).
From 1995 to 2000, Derringer (real name John Hayes) worked alongside the late Pat Marsden in the key morning–drive hours at Canada's first all–sports radio station, which commemorates its 30th anniversary next month.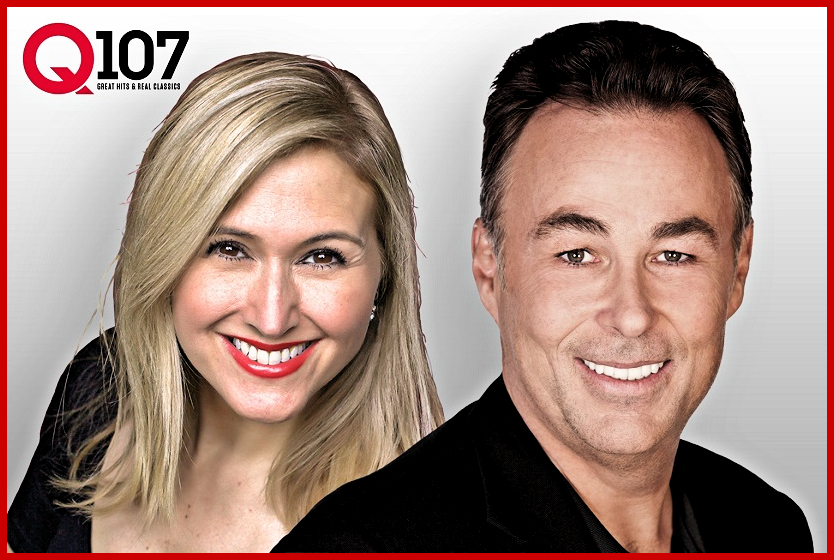 JENNIFER VALENTYNE AND JOHN DERRINGER IN A Q–107 PUBLICITY SHOT.
Delaney (real name Jacqui Budden) and yours truly were also employed by Montreal–based Telemedia Communications during that time. CJCL AM–1430 became The FAN–1430 on Sep. 4, 1992; then The FAN–590 upon moving down the dial, in February 1995, to a stronger signal. Derringer and Marsden came aboard after two aborted attempts to kick off weekday mornings — the first involving Mike Inglis and long–time voice of the Toronto Maple Leafs, Joe Bowen; the second, Bob McCown, who briefly moved from his familiar late–afternoon slot on Prime Time Sports. Delaney also worked with Derringer at Q–107, as did Jennifer Valentyne, who posted, in May, a 12–minute video to social media alleging repeated verbal abuse and gender discrimination by a co–worker she did not name. Other former Corus colleagues then stepped forward and Derringer was identified as the culprit.
Oh, to have been a fly on the wall during the "independent, internal" investigation carried out by the Toronto–based company. Without question, those in management that empowered Derringer should be found equally (or disproportionately) culpable. Such cowardly, irresolute governance in the name of ca$h is common among radio executives; it's clear that numerous tall thinkers at Corus looked the other way when news arrived that Derringer had berated yet another employee. "Corus remains committed to having a full, fair investigation that enables all relevant concerns under (the) Corus' Code of Conduct to be raised, and treats all participants equally regardless of their current employment status," the company said in a comical Twitter statement. Almost certainly, the 2½ months between Valentyne's social media posting and Derringer's inevitable firing were exhausted by his enablers running for cover. Such is the mostly sick environment that permeates large media companies blinded by profit.
On a personal note, I had a cordial (though distant) relationship with Derringer at The FAN–590. Not once did I witness him berating a colleague. He did lots of charitable work on the radio. But, too much smoke emanated from these allegations for there not to be fire. Sleeping in the bed he made should feel uncomfortable.
FRIDAY FRIGHT–NIGHT IN THE HAMMER
On a perfect eve at Tim Hortons Field, the Hamilton Tiger–Cats and Toronto Argonauts clashed in the second of four meetings this Canadian Football League season. Though the score was close (34–27 for the TiCats), the visitors were terrible in all three elements of the game: offense, defense and kicking teams. As previously written, the coach/quarterback tandem of Ryan Dinwiddie and McLeod Bethel–Thompson ranks among the most–inept I've witnessed in more than a half–century of watching the Argos. Until both are replaced, there is no hope for the Double Blue. Dinwiddie's staff runs a boring, predictable offense on the wide and long CFL field. Bethel–Thompson is able to complete hook and turn–in patterns to his receivers, but cannot hit a moving target. Which is unfathomable for a professional quarterback. There is no logical explanation for why Dinwiddie hasn't turned to rookie Chad Kelly, the nephew of Buffalo Bills legend Jim Kelly. Hamilton's back–up pivot (Matthew Shiltz) easily outperformed Bethel–Thompson, an immobile, stationary target who cannot escape even minimal pressure. The defense is overworked and overmatched. Neither is there a return game to speak of; Brandon Banks received a warm welcome in his first game back to Tim Hortons Field (with a video tribute), but Speedy B has nothing left.
The Argos, as evidenced thus far, acquired the future Hall–of–Famer one year too late.
I made the trip to Hamilton with my son, Shane. Here are some images: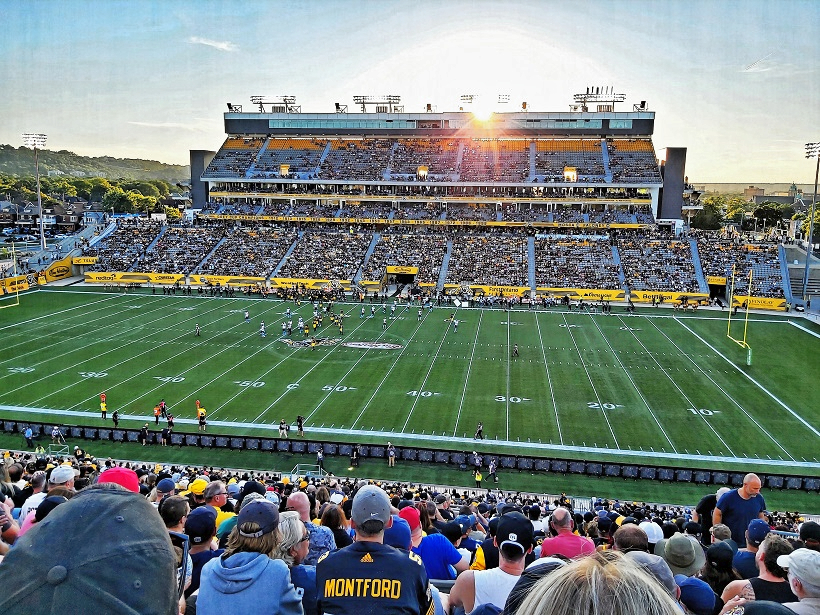 SITTING IN THE EAST STANDS REQUIRED SUNGLASSES (ABOVE AND BELOW) UNTIL LATE IN THE FIRST QUARTER. A PICTURESQUE REFLECTION OCCURRED WITH THE SUN SHINING THROUGH A GAP.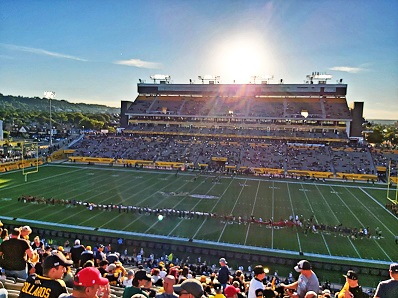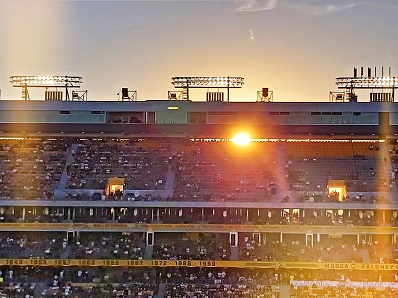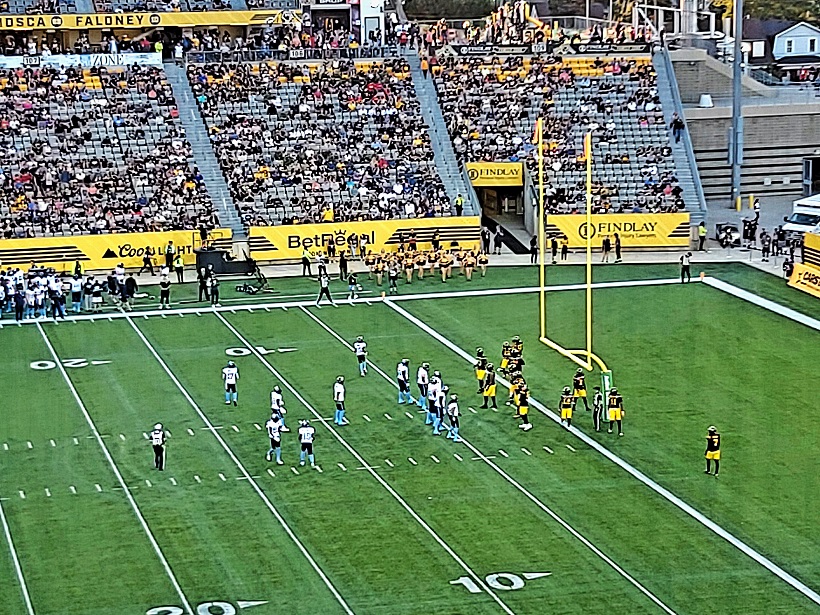 AN INTERCEPTION LED TO THE ARGOS FIRST POINTS OF THE GAME, IN THE OPENING QUARTER.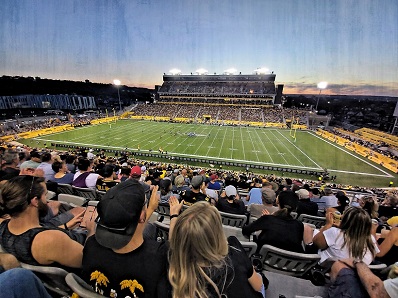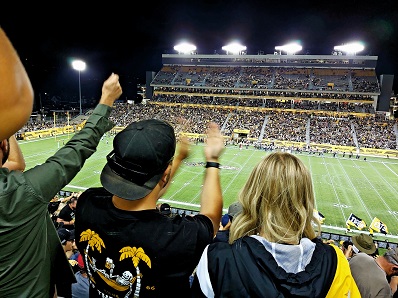 AS THE NIGHT DARKENED, SO DID TORONTO'S PERFORMANCE. THE LOCALS WERE HAPPY.
EMAIL: HOWARDLBERGER@GMAIL.COM