TORONTO (Sep. 30) — Unsurprisingly, it required only three exhibition games for the lap–dogs in the Toronto media universe to pile into the hockey club's corner.
Led, as always, by flag–waver Luke Fox of Sportsnet — and happily joined by Alec Brownscombe, who runs the myopic fan site Maple Leaf Hotstove — it was determined that restricted free agent defenseman Rasmus Sandin agreed to a contract on Thursday "for his own good." The fact it happened less than 24 hours after the decrepit Toronto blue line lost two more skaters (projected part–timers Jordie Benn and Carl Dahlstrom) to injury bothered not to occur to either Leafs rooter. It was merely a coincidence, of course, that Sandin re–signed. With the broken–down Jake Muzzin hobbling and Tim Liljegren absent from the line–up, the Leafs were hoping to avoid an all–star No. 3 pairing of Wayne Simmonds and Kyle Clifford. As it were, forwards Alex Kerfoot and Calle Järnkrok took regular shifts on the back end during Wednesday night's exhibition triumph over Montreal at Scotiabank Arena.
Thank goodness that Toronto Star columnist Chris Johnston — occasionally among the lap–dogs — chose to seek out an exclusive interview with Sandin, rather than lazily joining Fox and Brownscombe. Johnston smartly ascertained that Sandin instructed his agent, Lewis Gross, to close the gap with the Maple Leafs; the young Swede showing he's a team player that felt concerned about the bodies falling on the blue line. "Rasmus and Lewis informed us after watching last night and seeing more injuries accrued by our defence, that they wanted to get this locked in so Rasmus could get over to Toronto and help his teammates," Leafs general manager Kyle Dubas Tweeted to reporters. "We appreciate (giving) him the time to ready for the final preseason games (Oct. 7-8 against Detroit)." At 22, and with more inate skill than any of his defense–mates, Sandin could have easily held the Leafs hostage until the beginning of December, whereupon he'd have to sign or sit out the remainder of the schedule. For Fox and Brownscombe to even imply that Sandin was concerned about his immediate future didn't pass the laugh test. It did, however, keep Fox in the good books of Dubas, which seems to be the prime objective of those employed by the companies (Sportsnet and TSN) co–owned by Maple Leaf Sports and Entertainment.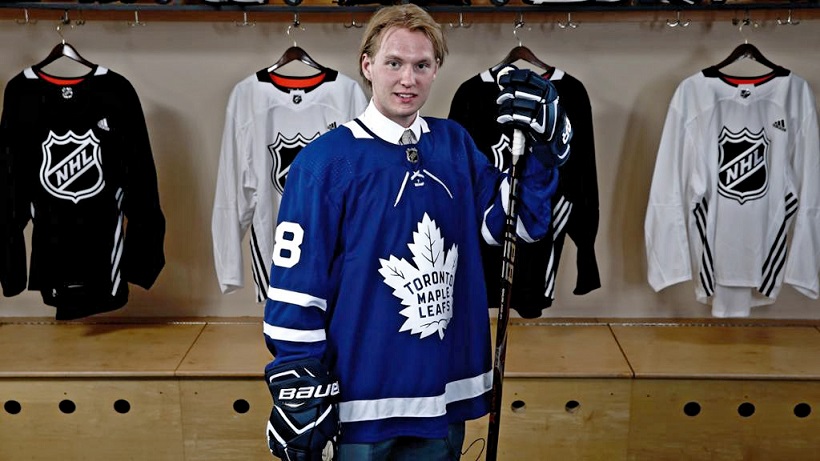 TORONTO'S MOST–SKILLED YOUNG DEFENSEMAN, RASMUS SANDIN, WILL REJOIN THE CLUB AFTER AGREEING TO A TWO–YEAR CONTRACT AS A RESTRICTED FREE AGENT ON THURSDAY.
Also stepping out of his normal posture was Star beat–writer Kevin McGran, who risked censure by pointing out, in his Breakaway blog, that tickets for games this season aren't exactly being hoarded by fans of the Blue and White. Kevin discovered that more than the usual allotment of game admissions were available at this time of year; a good find. Oddly, that column disappeared from the Star's website early this afternoon, replaced by a blog entitled "THERE'S REASON FOR OPTIMISM, EVEN IF THE SONG REMAINS THE SAME." As I've mentioned in this corner on numerous occasions, it is not the job of a hockey writer to determine "optimism" or "pessimism".
That should forever be the sole domain of the fan base.
As usual, Toronto Sun beat writers Lance Hornby and Terry Koshan played it straight with the Sandin signing (two years, Annual Average Value of $1.4 million, which will turn into a contract bargain for the hockey club).
Over at the Globe and Mail, Marty Klinkenberg, increasingly among the most–reliable of Leaf writers, also kept the accent on the proper syllable: "Here comes Rasmus, just in the nick of time," Marty penned. "A day after playing an exhibition game in which two forwards were forced to fill in on defence, the Maple Leafs agreed on Thursday to a two–year deal with Rasmus Sandin. Toronto's core of blueliners is so tattered that winger Mitch Marner was paired with Morgan Rielly for a while during practice at the Ford Performance Centre on Thursday. On Wednesday night, Alexander Kerfoot and Calle Järnkrok played two periods on the back end after Jordie Benn suffered a groin strain and Carl Dahlstrom incurred a shoulder injury (note: Dahlstrom underwent surgery and is out for six months). The defence was already missing Timothy Liljegren, who underwent surgery for a hernia, and Jake Muzzin. The latter practised for the first time during training camp but is still bugged by a bum back."
It isn't difficult to separate those in the media that ably provide information and analysis from those that fear retribution and take the path of least resistance. Trust the former, not the latter.
OLDIES FROM A PENTAX CAMERA…
During my teenage years, I got into photography after a relative bought me a Pentax camera. With season tickets for games of the Toronto Maple Leafs and Toronto Argonauts, I snapped black–and–white photos and later developed them in a "dark room" that I set up in the basement of our house. Yes, young ones, we had to cast the images onto an "enlarger", then place the photos in two chemical solutions before drying them in another machine. This was long before the age of instant digital photography. I found three boxes of my old images, dating to 1976 and 1977: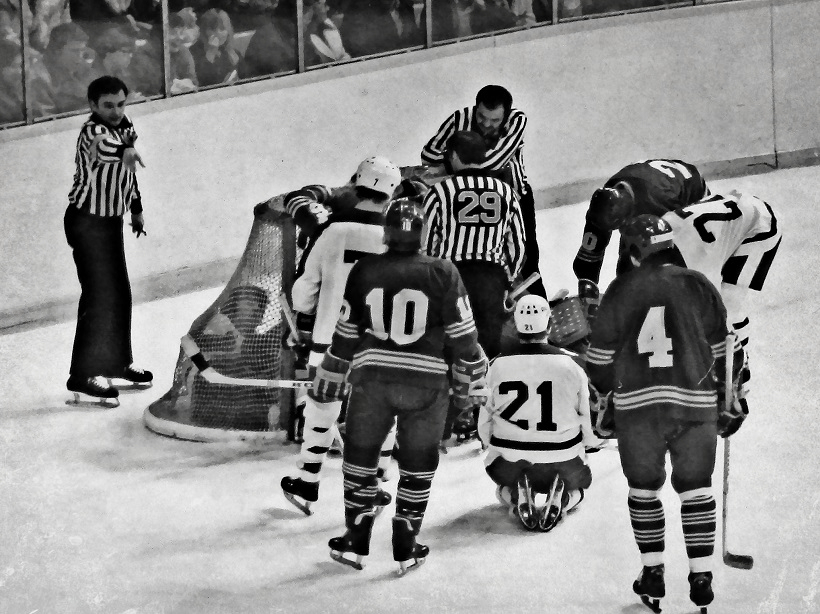 FEB. 27, 1977: AFTER LEAFS DEFENSEMAN IAN TURNBULL HAD BEEN DEPOSITED INTO THE BUFFALO NET AT MAPLE LEAF GARDENS, REFEREE ANDY van HELLEMOND POINTED TO THE LEFT FACE–OFF CIRCLE WHILE LINESMEN CLAUDE BECHARD (29) AND MATT PAVELICH SURVEYED THE SCENE. LOOKING ON WERE TORONTO PLAYERS LANNY McDONALD (7), BORJE SALMING (21) AND DARRYL SITTLER (27); SABRES PLAYERS CRAIG RAMSAY (10), JERRY KORAB (4) AND DON LUCE (20).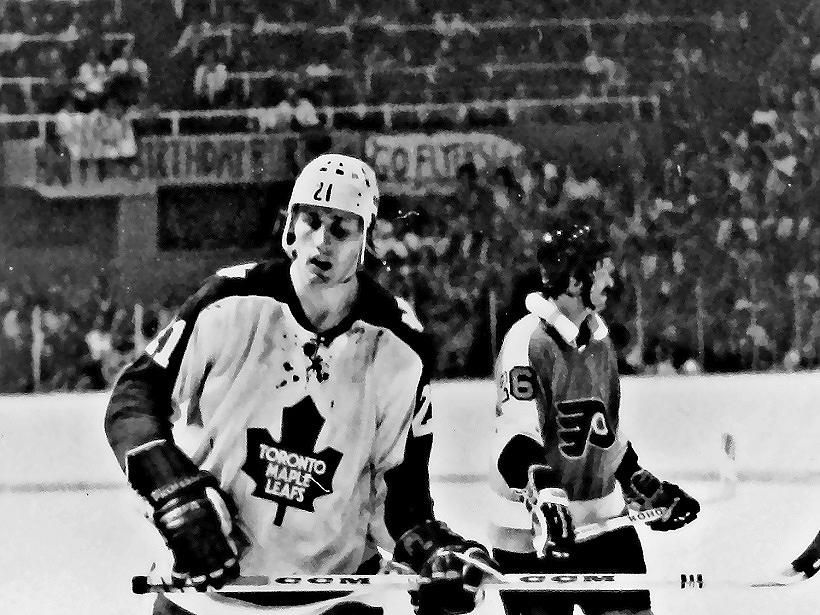 APR. 17, 1976: IT WAS A MOSTLY MEMORABLE NIGHT FOR BORJE SALMING ON HIS 25th BIRTHDAY, AS HE SCORED A LONG–LEGENDARY BREAKAWAY GOAL ON PHILADELPHIA'S BERNIE PARENT TO HELP THE LEAFS WIN GAME 4 OF THE STANLEY CUP QUARTERFINALS AT THE GARDENS. IF NOT FOR THE BLOOD SPILLED ON HIS JERSEY, IT WOULD HAVE BEEN A PERFECT EVE FOR THE SLICK SWEDE, NOW BATTLING LOU GEHRIG'S DISEASE. FLYERS FORWARD OREST KINDRACHUK (26) IS AT RIGHT.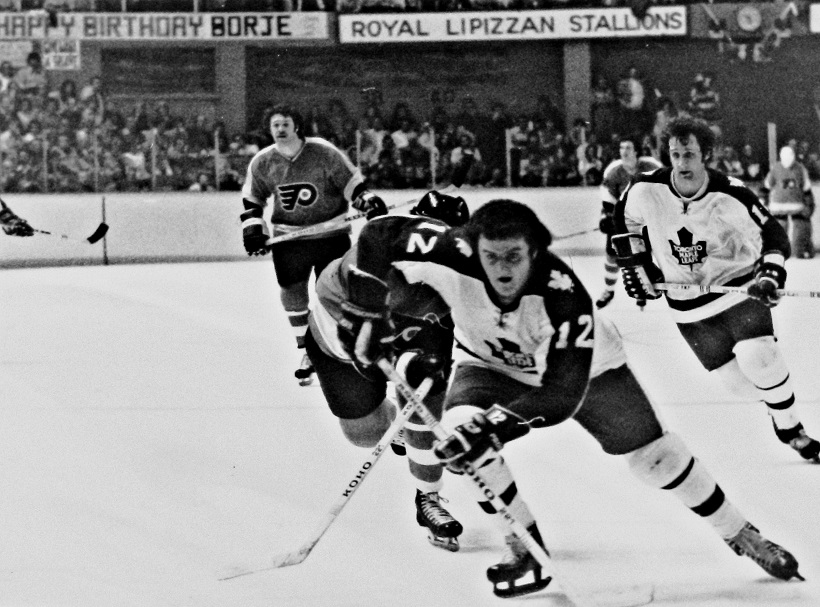 APR. 17, 1976: MAPLE LEAFS WINGER ERROL THOMPSON (12) RACES FOR THE PUCK, AS TEAMMATE ROD SEILING FOLLOWS. PHILADELPHIA PUGILIST DAVE SCHULTZ IS IN THE BACKGROUND.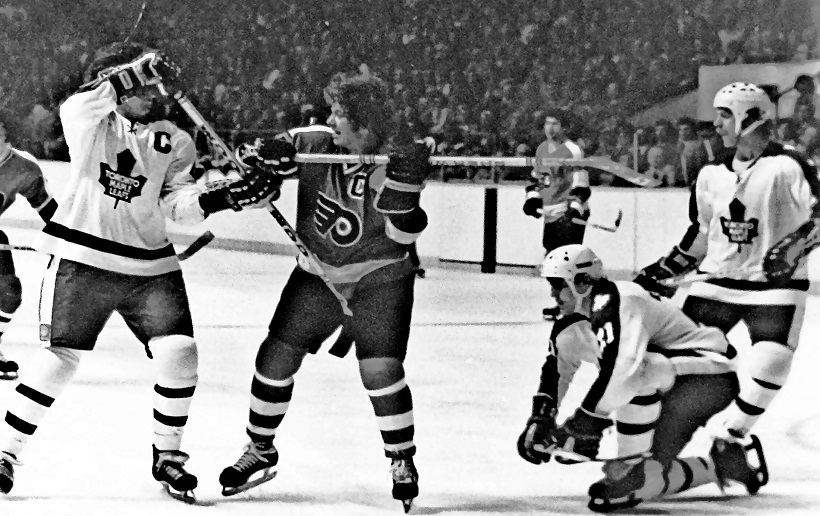 APR. 17, 1976: CAPTAINS DARRYL SITTLER AND BOBBY CLARKE HAD EPIC BATTLES DURING THE TORONTO–PHILADELPHIA PLAYOFF WARS OF THE MID–1970's. HERE, THE FUTURE HALL–OF–FAME CENTERS GET STICKS UP, WHILE BORJE SALMING (21) AND LANNY McDONALD KEEP A CLOSE EYE.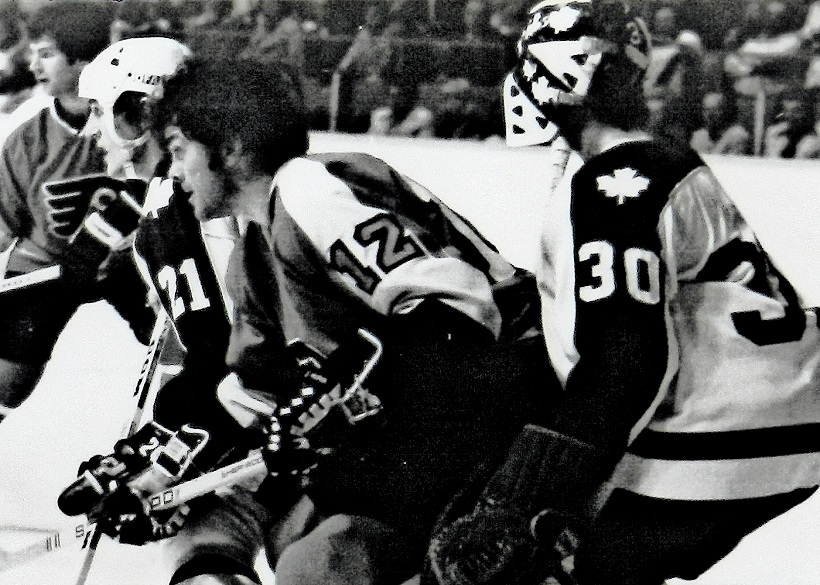 APR. 17, 1976: AS WAS CUSTOM, RUGGED FLYERS WINGER GARY DORNHOEFER (12) PLANTED HIS RUMP INTO MAPLE LEAFS GOALIE WAYNE THOMAS, WHILE BORJE SALMING WATCHED THE PLAY.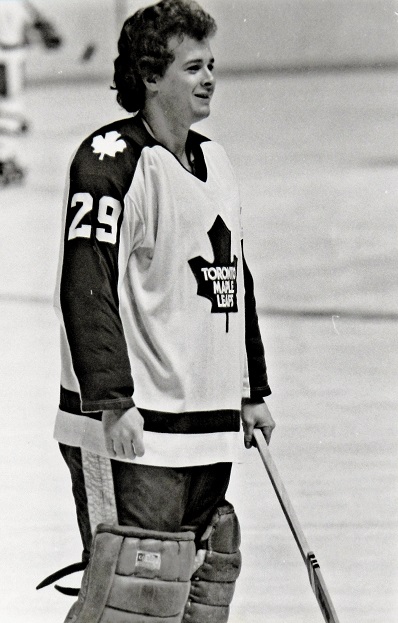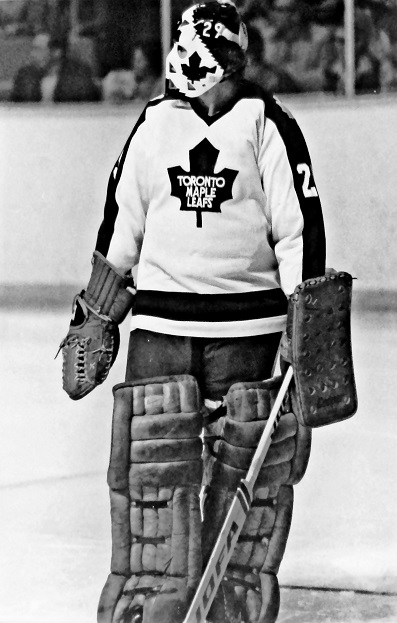 FEB. 2, 1977: AS HE POSED (LEFT) FOR A TV IMAGE DURING THE WARM–UP, LITTLE DID ROOKIE GOALIE MIKE PALMATEER KNOW THAT MAPLE LEAFS TEAMMATE IAN TURNBULL WOULD SET AN NHL RECORD BY SCORING FIVE GOALS IN A 9–1 ROMP AT THE GARDENS OVER DETROIT. TURNBULL'S MARK FOR DEFENSEMEN STILL STANDS, MORE THAN 45 YEARS LATER.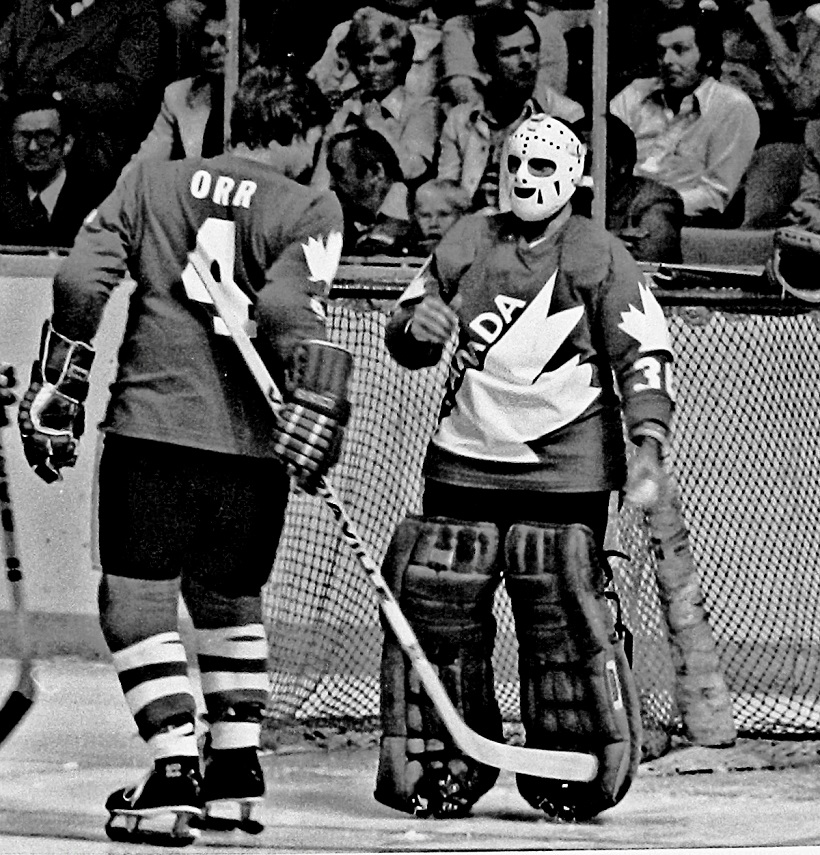 SEP. 12, 1976: PRIOR TO A ROUND–ROBIN GAME AT THE GARDENS (AGAINST RUSSIA) IN THE INAUGURAL CANADA CUP TOURNAMENT, BOBBY ORR OFFERS A PAD–TAP TO GOALIE ROGATIEN VACHON. THOUGH ORR, ON ONE HEALTHY LEG, WAS NAMED TOURNAMENT MVP (CANADA DEFEATED CZECHOSLOVAKIA), THE "OTHER" BOBBY (BELOW) WAS FEATURED ON THE OLD MLG MESSAGE BOARDS THAT HUNG ABOVE THE MEZZANINE BLUES AT BOTH ENDS OF THE ARENA.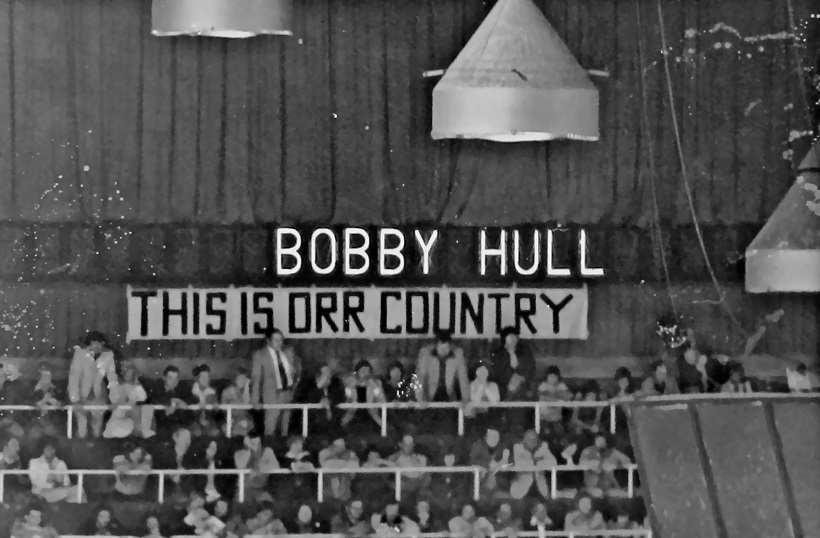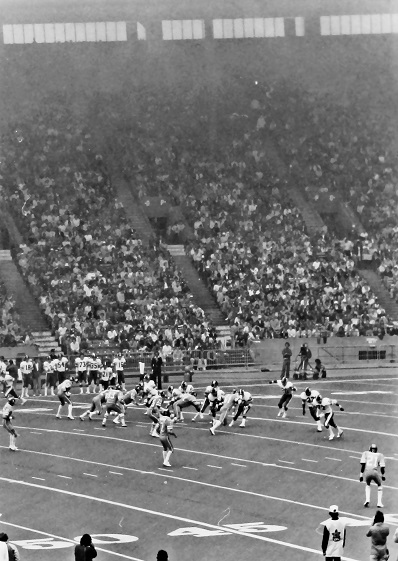 OCT. 2, 1976: AS OCCASIONALLY HAPPENED, THE FOG ROLLED IN OFF LAKE ONTARIO DURING A TORONTO–OTTAWA CFL GAME AT OLD EXHIBITION STADIUM. THE ARGOS, AT THE TIME, WORE BABY BLUE HOME JERSEYS AND PANTS, WITH DARK–BLUE HELMETS. LINEBACKER GEORGE ANDERSON (75) WALKED OFF THE CNE PITCH (BELOW) AFTER HELPING TO SUBDUE THE ROUGH RIDERS.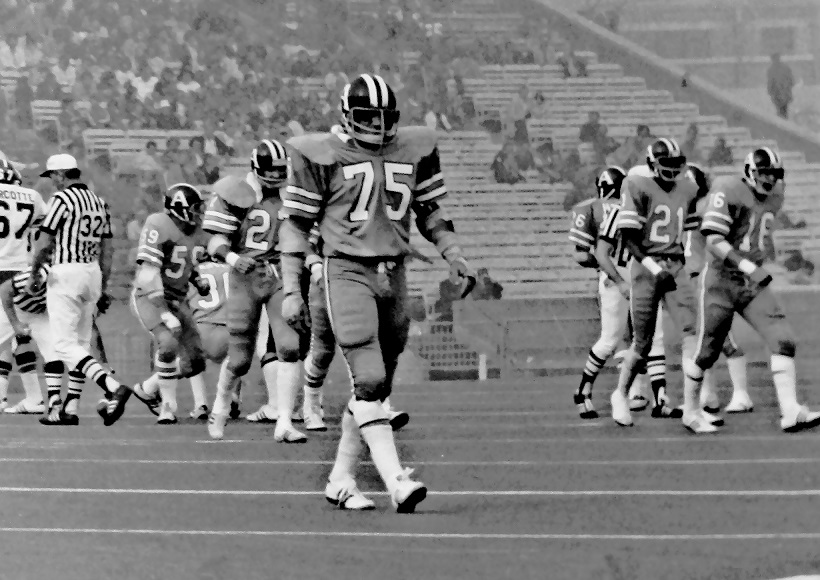 EMAIL: HOWARDLBERGER@GMAIL.COM