TORONTO (Sep. 27) — Here's an easy prediction: neither Jake Muzzin nor Mark Giordano will last the entire season on defense for the Toronto Maple Leafs. One is slow and dreadfully injury prone; the other, also slow, in his 40's and nearly a half–decade past his prime. It will necessitate Morgan Rielly, T.J. Brodie, Justin Holl (yikes!), Tim Liljegren and the still–unsigned Rasmus Sandin splitting the majority of moments on what is, even at complete health, a middling National Hockey League blue line. Given that injury riddled back–up goalies Matt Murray and Ilya Samsonov may not provide the Leafs a legitimate replacement for Jack Campbell (now with Edmonton), how, I wonder, can the club even contend for the Stanley Cup, let alone win the trophy for the first time in 56 years?
Yes, I know: the big boys up front will score enough goals to overcome whatever ails the team behind center ice. It's a plausible recipe between October and April… but a looming disaster once the playoffs begin. With jobs on the line from president to assistant coaches, you know that general manager Kyle Dubas will be searching for blue line help all season long. Jakob Chychrun is still out there and begging to be moved by Arizona. He'd fall in nicely as No. 2 behind Rielly, but it's nonsense to even mention this. Dubas could be offered Cale Makar and refuse to dawdle with his precious Core–4 (Chychrun will probably wind up in Ottawa, thereby strengthening the most–improved of Toronto's division rivals). Then there's the fact that all of Rielly, Brodie, Muzzin and Holl absurdly have some form of movement restriction in their contracts. Seriously. Justin Holl comes with a modified no–trade list, allowing him to present the Maple Leafs a list of ten teams to which he cannot be dealt. After regressing last season, Holl would be lucky to find 10 teams that would accept him in a trade. And, heaven forbid if Rielly should go down for any length of time, though you can say the same about virtually every NHL club and its top blue–liner.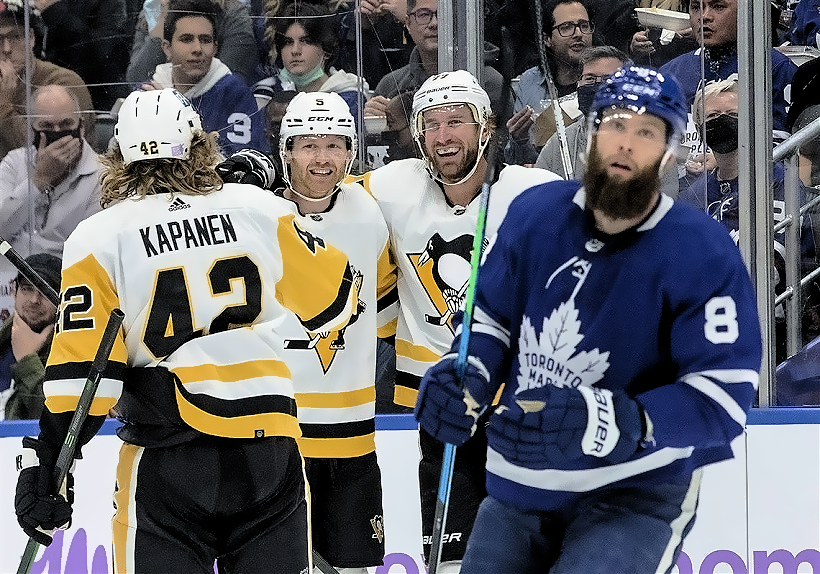 Nonetheless, this remains, for roughly 45th consecutive year, the Achilles Heel of the Blue and White: Simply not enough quality, or depth, on defense to survive four grueling playoff rounds, even if making it beyond the opening Stanley Cup series for the first time in 19 years is the Leaf criteria for saving jobs and sending fans into a tizzy.
Dubas will have to pull off a significant deal before the trade deadline. Or, nothing changes.
JUMPING THE GUN: Yes, I understand that local beat writers need to generate an angle after every practice and pre–season game. Used to be there, myself, for The FAN–590. Still, the headline in the Toronto Star after the split–squad exhibition openers against Ottawa on the weekend was an eye roller: THE LEAFS AND NERVOUS FANS HAVE HIGH HOPES FOR ILYA SAMSONOV AND MATT MURRAY. NO COMPLAINTS SO FAR. Honest to God, the Star printed "so far" in its headline with five more exhibition; 82 season and up to 28 playoff games left on the docket. And, we wonder why trusting, wide–eyed Leaf followers get lured into fantasy so often (and early).
Perhaps we can allow the club's new goaltending tandem — clearly, part of the Achilles Heel — a half–dozen minutes of the regular schedule before pronouncing it the elixir for Smilin' Jack. Or, is that too much to expect?
LOST TEAM CANADA '72 SCRAPBOOK
I knew it was somewhere, yet finding it would be the proverbial needle in a haystack. Determined, however, I tromped down to my condominium locker on Monday; virtually emptied the damned thing of 20–odd boxes… and there it was. A half–century after cutting out the newspaper stories and photos during the 1972 Canada–Russia summit series, I had come upon the "Beatles" scrapbook (bottom–left). Amid the first pages, was a ticket stub (bottom–right) from Maple Leaf Gardens for the second of two Team Canada scrimmages. That summer, I attended the College Hockey School in East York. The proprietor — center Lou Angotti (Jan. 16, 1938 – Sep. 15, 2021)  of the Chicago Black Hawks — took all of his campers to the Red vs. White exhibition. A near sellout necessitated tickets way up in the northeast Greys, but I remember it as a fun night.
Here, then, to commemorate the 50th anniversary of the most–memorable international hockey series ever, are some rather historic images from the long–lost scrapbook: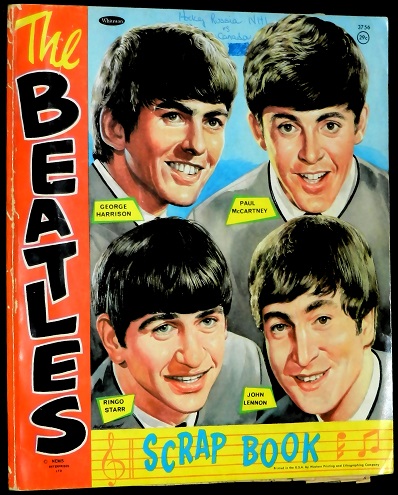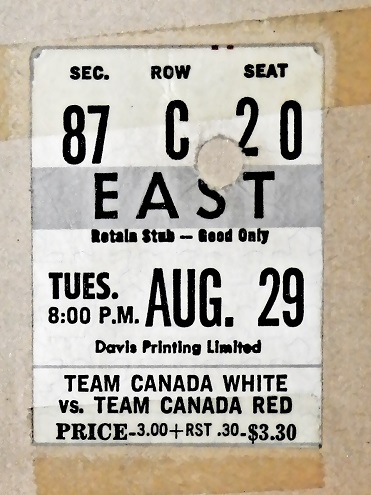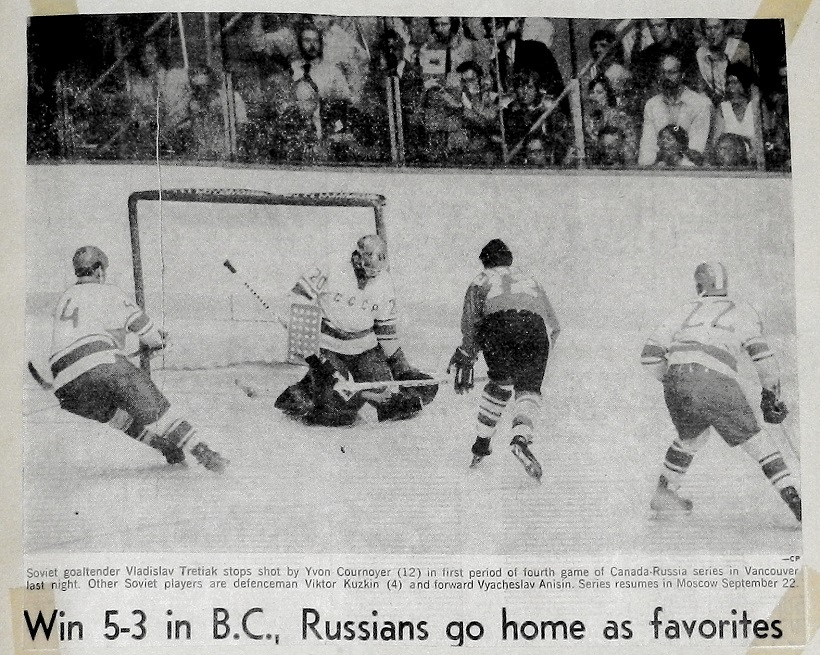 TEAM CANADA STRUGGLED TO A 1–2–1 RECORD IN THE FOUR TOURNAMENT GAMES AT HOME (IN MONTREAL, TORONTO, WINNIPEG AND VANCOUVER), LEAVING THE PACIFIC COLISEUM ICE AFTER GAME 4 AMID JEERING FROM THE CAPACITY CROWD. CANADIAN CENTER PHIL ESPOSITO FAMOUSLY BLASTED THE HOME FANS ON TV AFTERWARD, IN A LONG–LEGENDARY INTERVIEW WITH CTV REPORTER JOHNNY ESAW (Jun. 11, 1925 – Apr. 6, 2013). THE FOLLOWING DAY, IN THE GLOBE AND MAIL, APPEARED THIS STORY, WRITTEN BY COLUMNIST DICK BEDDOES (1926 — 1991):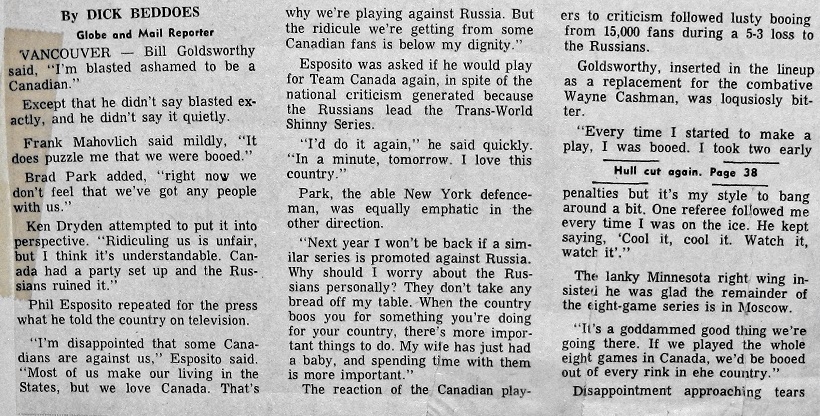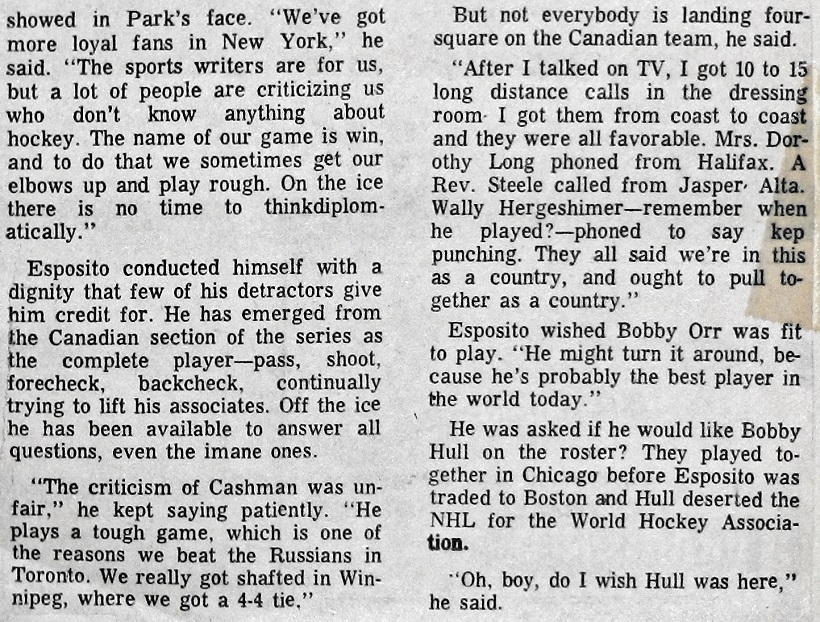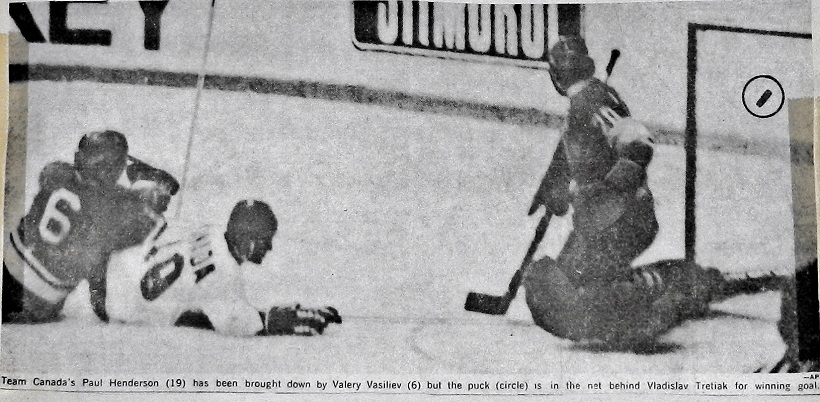 VETERAN WINGER PAUL HENDERSON OF THE TORONTO MAPLE LEAFS SCORED THE WINNING GOAL FOR TEAM CANADA IN EACH OF THE FINAL THREE GAMES IN MOSCOW. HIS MOST SPECTACULAR WAS AN INDIVIDUAL EFFORT (PHOTO ABOVE) THAT ENABLED THE VISITORS TO PREVAIL IN THE WANING MOMENTS OF GAME 7, SETTING UP A WINNER–TAKE–ALL GAME 8 TWO DAYS LATER.


THE MORNING AFTER GAME 8. AND, THE ONLY TIME IN NEARLY 51 YEARS THAT THE TORONTO SUN REMOVED THE CITY NAME (ABOVE AND BELOW) FROM ITS FRONT–PAGE BANNER, HONORING PAUL HENDERSON FOR HIS SERIES–WINNING GOAL WITH 34 SECONDS LEFT. THE LEAD COLUMN WAS WRITTEN BY FAMED CANADIAN JOURNALIST JIM COLEMAN (Oct. 30, 1911 – Jan. 14, 2001) .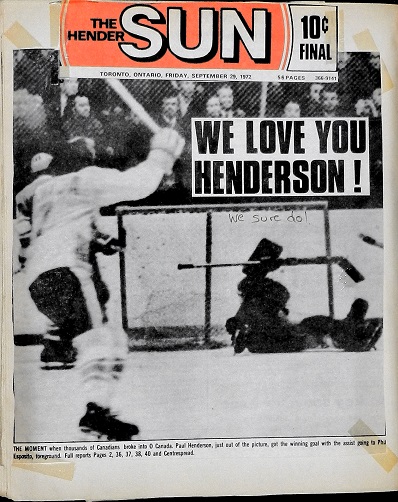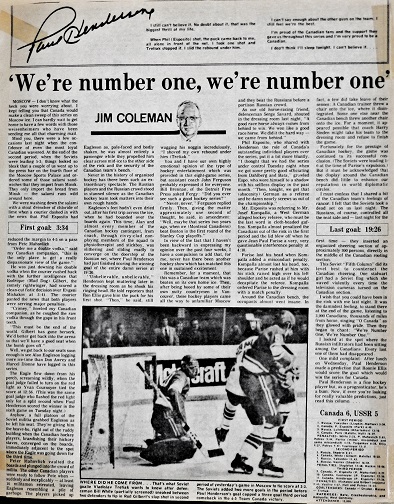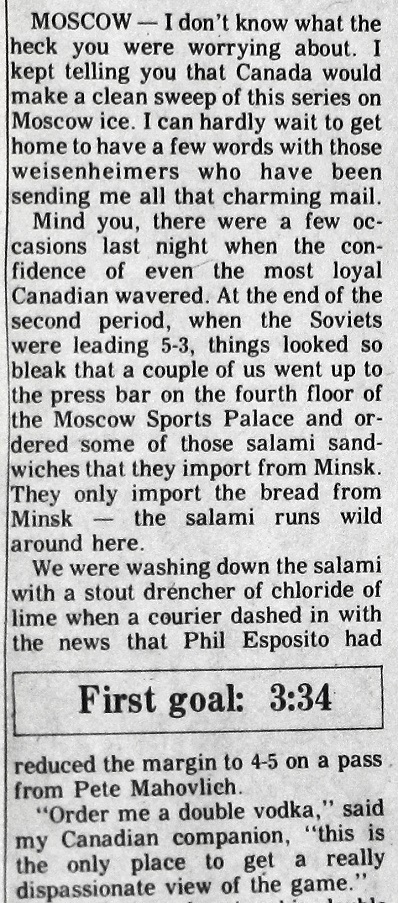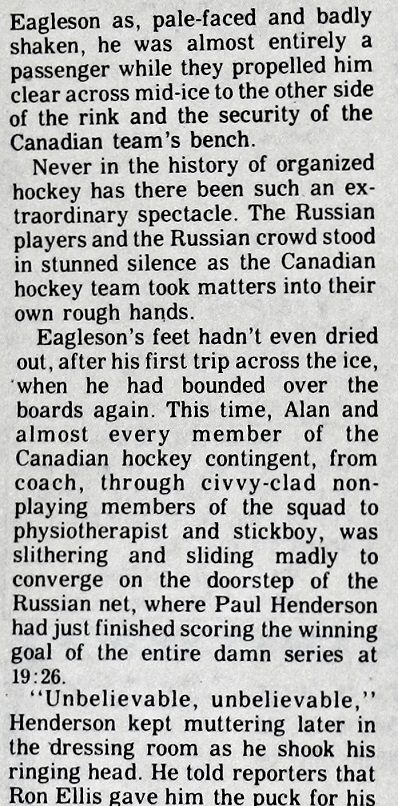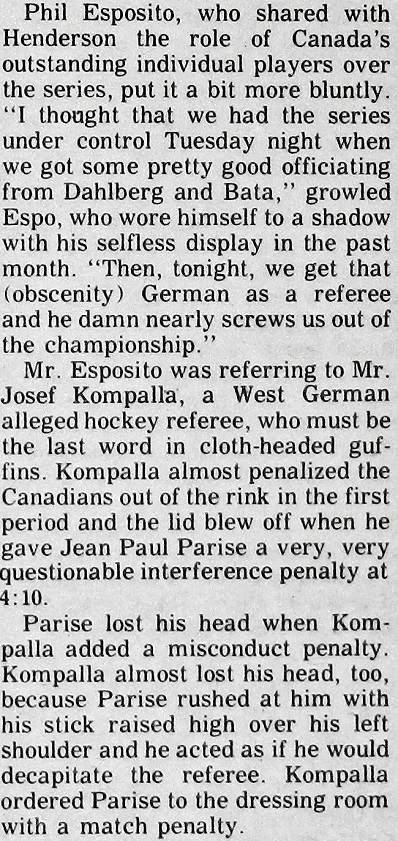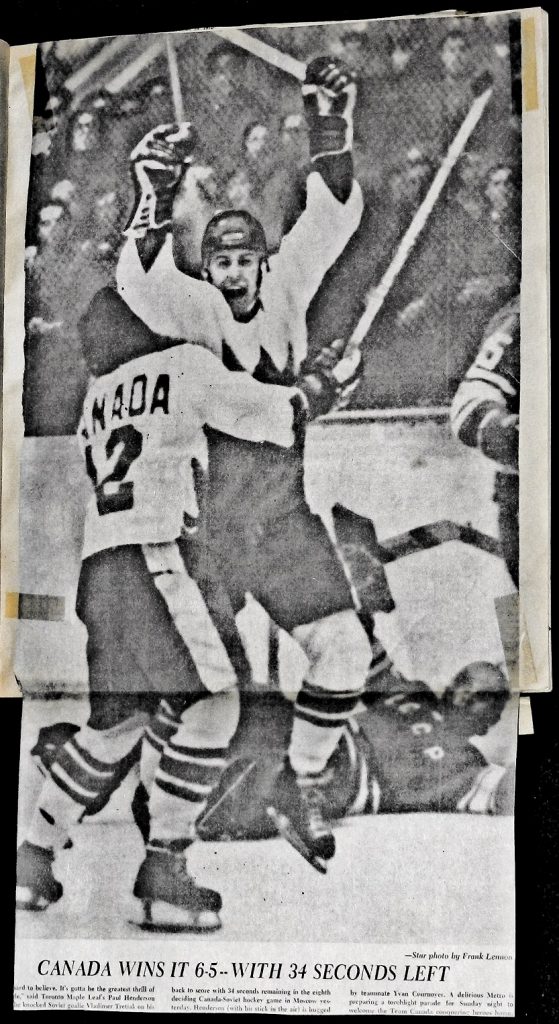 FROM THE SEP. 29, 1972 TORONTO STAR: A FULL–PAGE PHOTO OF PAUL HENDERSON LEAPING INTO THE ARMS OF LINEMATE YVAN COURNOYER AFTER BEATING RUSSIAN GOALIE VLADISLAV TRETIAK FOR THE SERIES WINNER. THIS IMAGE, BY THE STAR'S FRANK LENNON, WOULD BECOME ONE OF THE MOST–ICONIC IN HOCKEY ANNALS, ALONGSIDE THAT OF BOBBY ORR SCORING THE 1970 STANLEY CUP WINNER IN OVERTIME FOR THE BOSTON BRUINS.
EMAIL: HOWARDLBERGER@GMAIL.COM