TORONTO (Sep. 17) — For the first time since launching this website in June 2011, I've gone a full month without writing a blog. There is, to my knowledge, nothing wrong with me; neither have I been particularly busy, other than working my full–time job at Benjamin's Park Memorial Chapel. The gap between blogs is more the result of the Toronto Maple Leafs being, arguably, the least–compelling story on the eve of training camps in the National Hockey League. Apart from another stab at goaltending, which has lingered in flux throughout the reign of general manager Kyle Dubas, the Leafs are unchanged: a mostly passive club with elite, top–end forward talent that shuffles the bottom–forward deck chairs each summer; has a middling blue line… and cannot win when it matters.
What, then, has differed between Aug. 17 and today? Better yet, what is likely to differ between today and Apr. 17 of next year, when the Leafs are embroiled in yet another attempt to emerge from the opening round of the Stanley Cup playoffs? I suspect absolutely nothing. By the end of April 2023, all eyes will be on the immediate future of Auston Matthews and Mitch Marner — president Brendan Shanahan and Dubas almost surely being allowed to move forward with the club's vaunted nucleus for an eighth consecutive try at winning a post–season round. There is never urgency at the top of passive, lazy Maple Leaf Sports and Entertainment. Only the Toronto Raptors have made a franchise–altering move (Kawhi Leonard) in the past decade… and all they did was win the National Basketball Association championship. The Leafs, alternatively, are permitted to keep trudging along with players that need to look up "clutch" in the dictionary while babbling the same alibis and excuses each summer.
So, I ask again: Why should anything be different eight–plus months from now?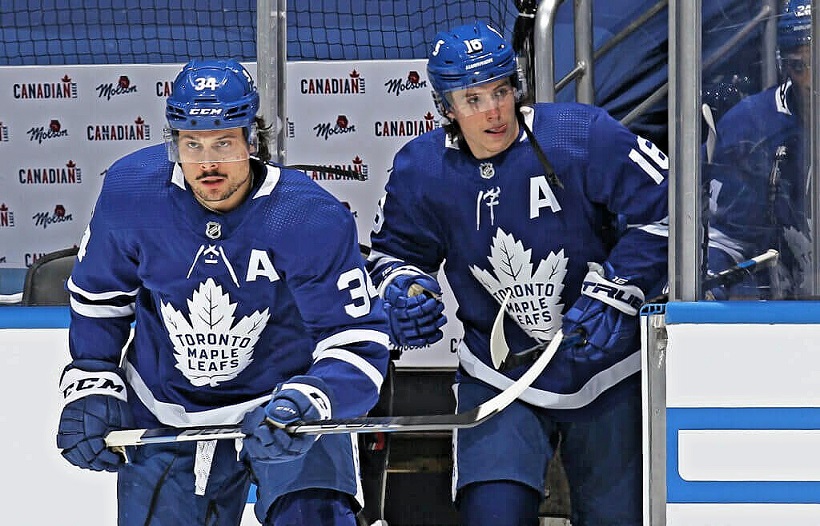 The cataclysm that is July 1 of next summer — when Matthews and Marner must agree to long–term contracts before no–movement clauses in their current deals become functional — will engender widespread panic among fans of the Blue and White. Precisely why, is a mystery, especially if the boys in blue are again watching the final three rounds of the Stanley Cup tournament. Here in the Big Smoke, however, it's all about the regular season… and individual awards for winning nothing. What else can we expect with a team in its 18th year of playoff oblivion? As Chris Johnston gushed about Matthews the other day in his Toronto Star column: "The [Leafs] organization already knows, well beyond a reasonable doubt, that it has the rarest of gems in its possession." Truer words have not been written. In the long, largely bungled annals of the Maple Leaf franchise, no star player has been so spectacularly adept at window dressing. Not Charlie Conacher, King Clancy, Syl Apps, Ted Kennedy, Dave Keon, Tim Horton, Frank Mahovlich, Darryl Sittler, Lanny McDonald, Borje Salming, Wendel Clark, Doug Gilmour or Mats Sundin — all of whom won at least a playoff round early in their careers (some, even the Stanley Cup).
Only "Regular Season Auston" has come up empty in the first six attempts (seven in a row for Marner).
So, yes, the Leafs, unquestionably, have the "rarest of gems" in their possession.
If playoff achievement mattered around here, a significant move would have occurred no later than after the Leafs coughed up that 3–1 series lead to a club (Montreal) on the verge of its worst season ever. But, no. You must remember that under MLSE and Shanahan, the current nucleus "will get it done" — a veiled pledge that has finally fallen of deaf ears among the majority of Leaf rooters; even while the submissive reporters and columnists here in town cling to such a fantasy. Leaf fans may be resilient, but they aren't stupid. Yes, they'll cheer every goal "Regular Season Auston" scores once again, only to lapse into fearful apprehension once the first puck is dropped at playoff time. That's become the inevitable cycle of Leafs Nation. Rinse. Repeat. And, try again (to no avail).
What if the pattern unavoidably continues, with Marner and Matthews (next April) going one and done for a seventh year? It's a rhetorical question. They'll be locked into deals that permit them to extend such futility to 15 years. Undoubtedly, with the approval of Leaf rooters such as Chris Johnston.
Call it "insanity", if you wish. So long as you keep in mind that urgency does not exist at Bay and Lakeshore.
JOE HAD NOWHERE TO GO…
Last week, for the first time, I watched a replay of the 1971 Grey Cup in its entirety.
The "greatest team that never won" has been remembered, through the decades, for an interception return late in the '71 Canadian Football League championship by defensive back Dick Thornton that set up the Toronto Argonauts (trailing, 14–11) on the 11–yard–line of the Calgary Stampeders. And, of course, for the subsequent fumble by flashy freshman Leon McQuay that sealed its fate. A closer examination of the match, however, proved that the Argos were systematically destroyed in the trench by Calgary's defensive front and linebackers — particularly such vaunted tacklers as John Helton, Dick Suderman and Wayne Harris. Rookie quarterback Joe Theismann, who would go on to National Football League fame and accomplishment with the Washington Redskins, never had a chance in the poring rain at Vancouver's Empire Stadium. As soon as he dropped to pass, there were red Calgary jerseys in his face. Joe the Throw, as evidenced by the TV images below, spent most of the afternoon on his back; then meandering to the sideline for another punt by teammate Zenon Andrusyshyn.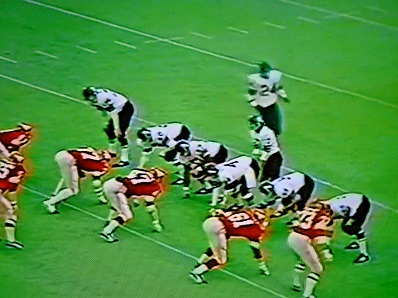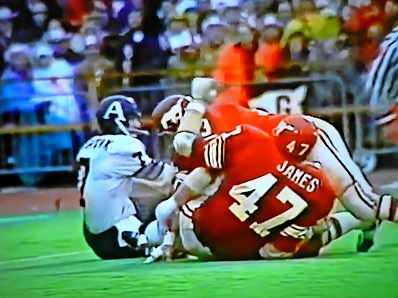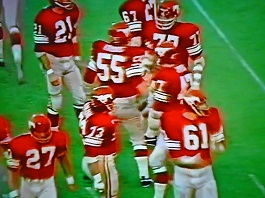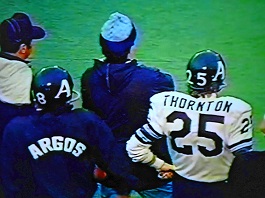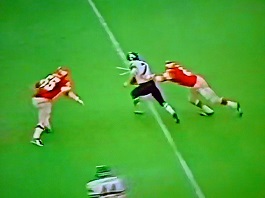 So, yes, the Argonauts undoubtedly had a chance to tie the game (14–14) with a field goal in the waning moments; perhaps even to win with a touchdown. But, Toronto got what it deserved when McQuay cut back on the soaked Tartan Turf and lost the ball to linebacker Harris. Calgary was far the better team where nearly all football games are won or lost: along the offensive and defensive line. It only took me 51 years to figure it out.
EMAIL: HOWARDLBERGER@GMAIL.COM