TORONTO (Oct. 4) — Here we are in the first week of October. Amid Leafs Land, Nick Robertson is scoring at a Wayne Gretzky pace. Matt Murray is stopping pucks like Patrick Roy never did. And, fleet–a–foot Mitch Marner could be the long–lost answer to Borje Salming as a Norris Trophy threat on the Toronto blue line.
What does it all mean? Absolutely nothing.
This is not to imply that Robertson, with soft and gifted hands, is unworthy of National Hockey League deployment. Or that Murray, an Ottawa castoff and former Stanley Cup winner, cannot regain the form of his early years in Pittsburgh. It's just that exhibition games in all of professional sport arise hazardous deception, yet are regarded materially by fans and media. Those with a sharp memory may recall the grandson of Leafs legend Syl Apps tearing it up in the pre–season schedule under Pat Quinn, only to be gently and respectfully denied a position on the roster. There was a fellow named Don MacLean who enjoyed some starry, starry nights with the Blue and White in late September only to fizzle out after three regular season matches. A first–round draft pick in 2011, defenseman Stuart Percy, cracked the opening night roster in 2014 after a splendid exhibition display. Nine games later, he disappeared. Another blue–liner, Mike Kostka, played well at Montreal in the opener to the lockout–abbreviated schedule of January to May 2013 — was termed a "rookie sensation" by a zealous Toronto Star scribe — and lapsed into oblivion shortly thereafter. This occurs virtually every year to one prospect or another in Leafs camp.
To be fair, it can also happen in reverse (though rarely).
In 1974, a rambunctious rookie from Saskatchewan named Dave (Tiger) Williams slugged it out in training camp with everyone except owner Harold Ballard and was dispatched to the farm team in Oklahoma City. In February of the 1974–75 schedule, with the passive Leafs getting smacked around, the Tiger came aboard — infused the club with courage — and accumulated 3,971 penalty minutes (still most in NHL history) in 962 big–league games.

SLICK NICK ROBERTSON IS MILKING HIS CHANCE TO CRACK THE LEAFS ROSTER.
As for Robertson and Murray, it is likely prudent to gaze upon pre–season accomplishment with a shaker–full of salt. As mentioned, Robertson has undeniable skill, yet is, ominously, the prototype Kyle Dubas forward. His lack of size and propensity to be shelved by one ailment or another will work against him during the lengthy NHL slog. Again, proving oneself against minor–league opposition in September and early October doesn't count for much. Murray is the ultimate reclamation project, as Dubas has again saved money between the pipes. He hasn't particularly excelled since backstopping the Penguins to the 2016 Stanley Cup with a playoff leading 15 wins. Ottawa, an improving team in the Atlantic Division, was happy to unload the 28–year–old native of Thunder Bay, Ont.
So, there is much work to be done, even if Murray has appeared sharp in his first two exhibition matches.
Though Marner on the back end is somewhat intriguing, I wouldn't bet a plug–nickel on any such development once the season begins. Until reinforcements are unearthed, the Leafs will sink or swim with a rickety blue line that includes broken–down Jake Muzzin and ancient Mark Giordano. Re–upping with Rasmus Sandin was a blessing for Toronto, yet defense remains the primary drawback on what is purportedly a Stanley Cup contender.
CONFLICT–OF–INTEREST CLAPTRAP: Though he's a much–respected game analyst, I swallowed hard when TSN football voice Duane Ford — after the Toronto Argonauts decimated the hapless Hamilton Tiger–Cats — said that McLeod Bethel–Thompson had "erased all doubt" with regard to his standing as a No. 1 quarterback. Then came a match, last Saturday, against a legitimate Canadian Football League opponent and Bethel–Thompson, unavoidably, reverted to form in a 29–2 pasting by the Calgary Stampeders. Which begs the obvious question: Did Forde take temporary leave of his analytical senses… or did he make such an absurd comment because his paycheck is signed by the same executives — Bell Canada (TSN) and Larry Tanenbaum — that co–own the Toronto football club? For the sake of TSN viewers, I'm desperately hoping it's the latter, not the former.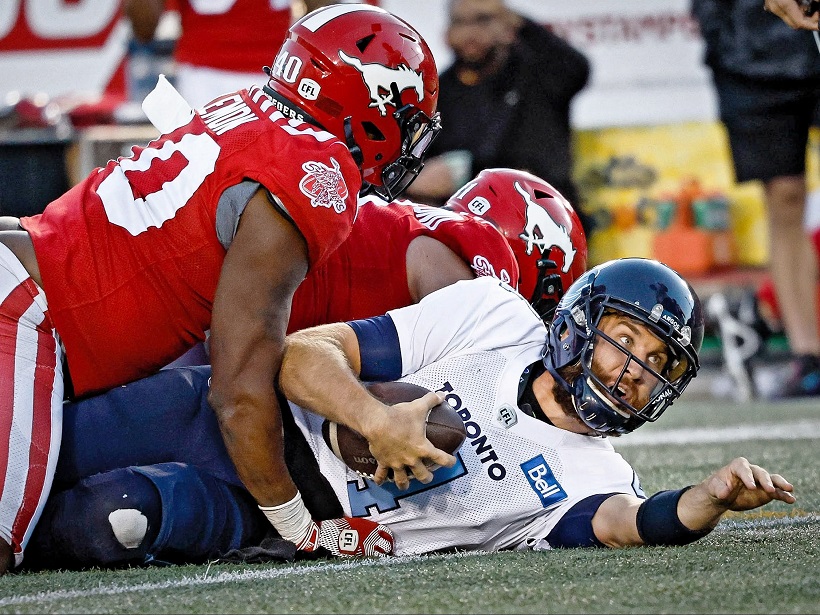 McLEOD BETHEL–THOMPSON ON THE McMAHOM STADIUM TURF LAST SATURDAY NIGHT. AL CHAREST POSTMEDIA
Though others in recent Argos lore have performed as ineptly as Bethel–Thompson, no quarterback with such limited capacity has been allowed to start games over a four–season span. Not Michael Bishop, Cody Pickett, Cleo Lemon, Spergon Wynn, Jarious Jackson, James Franklin… or any other such–glorious names. Only Bethel–Thompson, after largely authoring consecutive 4–14 seasons, was allowed to continue in the starting role. So long as that prevails, the Argos have no chance of winning a playoff game against a quality rival (MBT generated zero points at home in the second half of the Eastern final last November against the Tiger–Cats). Others on the TSN panel have needed to bite their lower–lips. Davis Sanchez and Milt Stegal occasionally swallow the Bethel–Thompson Kool-Aid — likely, too, as a result of the egregious conflict–of–interest — while Matt Dunigan has appeared ready to burst at the seams while holding back on his opinion of the Toronto starter. As a Hall–of–Fame pivot, Matt knows only too well what his former club (he guided the Argonauts to the 1991 Grey Cup title) is up against. I'm anxiously awaiting the moment when Dunigan loses it and spills the beans. If the Argos somehow retain Bethel–Thompson beyond the current season, we'll assume that Bell and Tanenbaum are trying to kill off the storied CFL franchise. Which the latter termed as "valueless" to the Globe and Mail a few months ago.
WHEN THE "BIBLE" WAS A NEWSPAPER…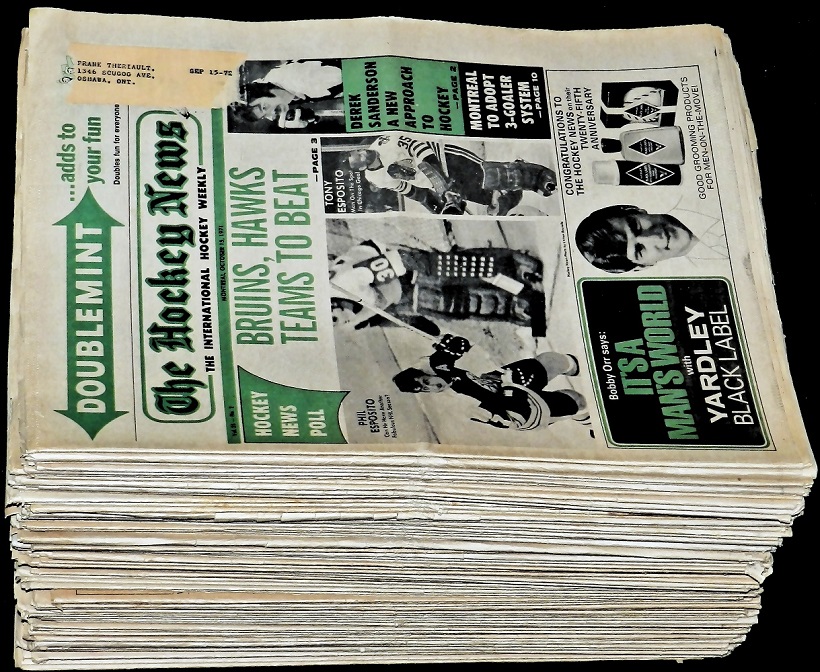 An exhaustive few hours combing through boxes in my condominium locker unearthed issues of The Hockey News, dating to 1971. Most were from 1973 to 1977, but the older items detailed the early weeks of the 1971–72 National Hockey League season. These were purchased at memorabilia shows and a number of them, sadly, came with address labels that are not removable without damaging and ripping the covers (I thank a man named Frank Theriault in Oshawa, Ont. for making his collection available). Today, The Hockey News is a slick, all–color magazine with glossy pages throughout. Until the turn of the millennium, the weekly "bible" of the sport was a newspaper, as per this compilation. We begin, nearly 51 years ago, with the 25th anniversary issue (Oct. 8, 1971):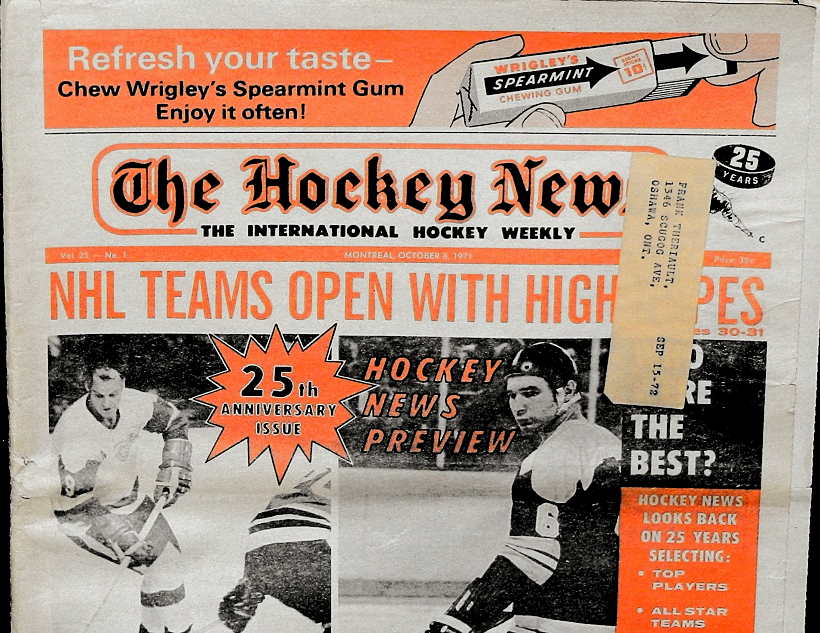 THERE WERE TRIBUTES FROM ALL THE PRO AND AMATEUR LEAGUES IN THE 25th ANNIVERSARY EDITION OF THE NEWSPAPER. THE CENTERSPREAD, BELOW, WAS RESERVED FOR THE NHL.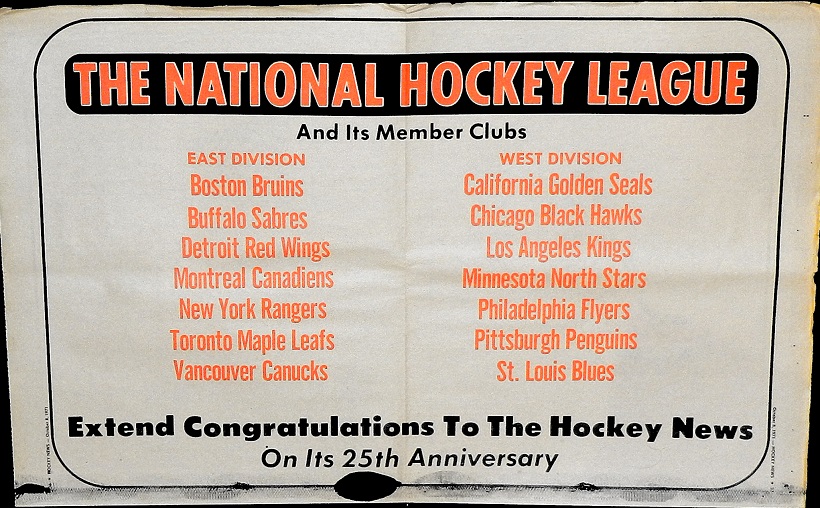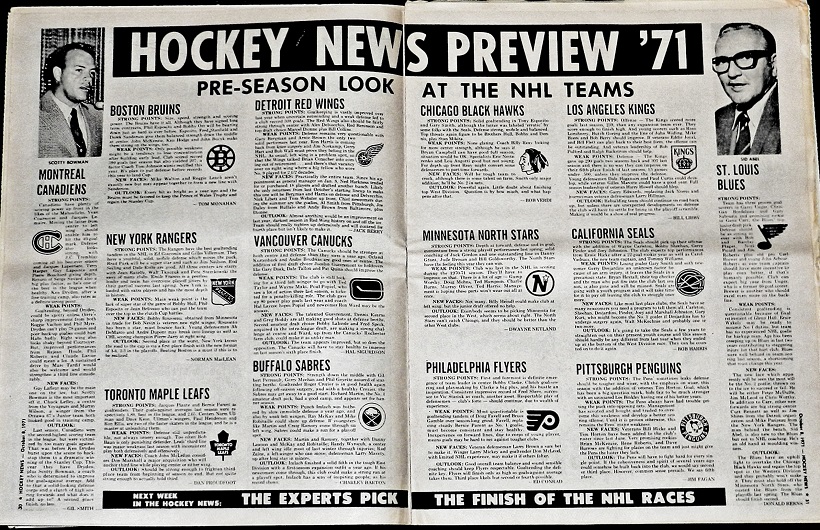 THE TORONTO MAPLE LEAFS, JUST FOUR SEASONS AFTER WINNING THEIR LAST STANLEY CUP, HAD BEEN SEVERELY DEPLEATED AND WERE ABOUT TO ENTER THE INGOMINIOUS HAROLD BALLARD OWNERSHIP ERA. THE 1971–72 CLUB DID SPORT A HALL–OF–FAME GOALIE TANDEM (BELOW).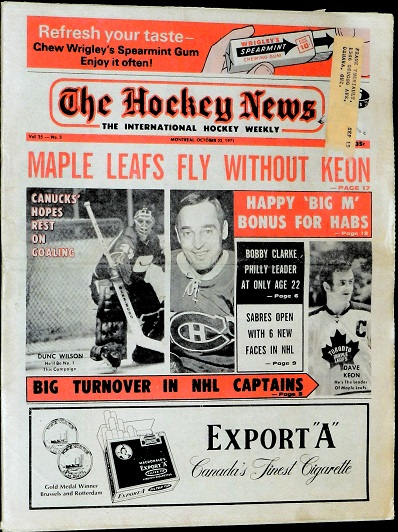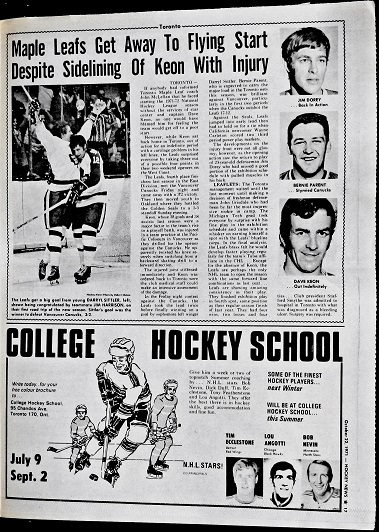 SOME THINGS HAVEN'T CHANGED IN THE PAST HALF–CENTURY. THE LEAFS, ACCORDING TO HEADLINE WRITERS (ABOVE), HAD GOTTEN AWAY TO A "FLYING START" — IF TWO OF 78 GAMES COULD BE CONSIDERED A "START." YES, THE CLUB ACCRUED THREE OF FOUR POINTS ON A TWO–GAME WESTERN SWING TO BEGIN THE 1971–72 SEASON, EDGING THE SECOND–YEAR VANCOUVER CANUCKS AND BLOWING A LATE, TWO–GOAL LEAD TO THE FOREVER–MEDIOCRE CALIFORNIA SEALS (SUMMARIES BELOW). AS TODAY, THE EXPECTATION BAR WAS SET REMARKABLY LOW.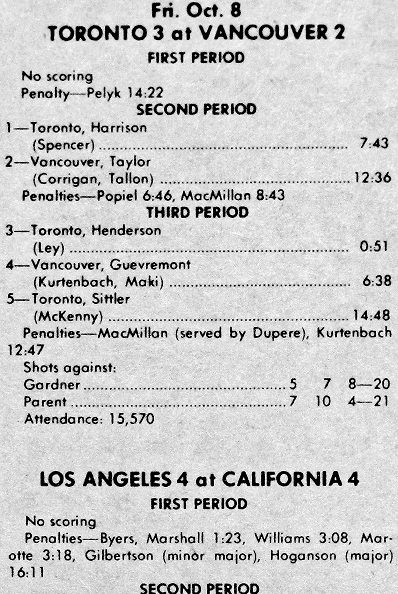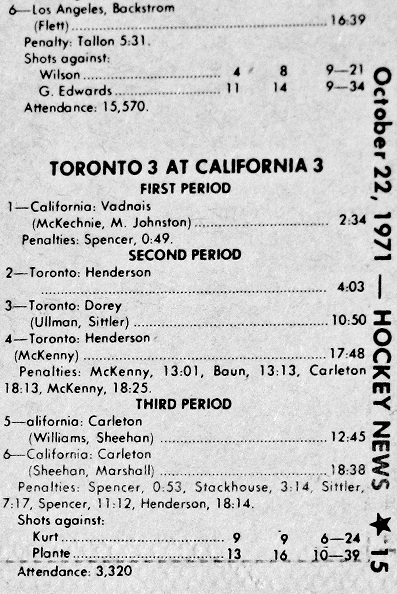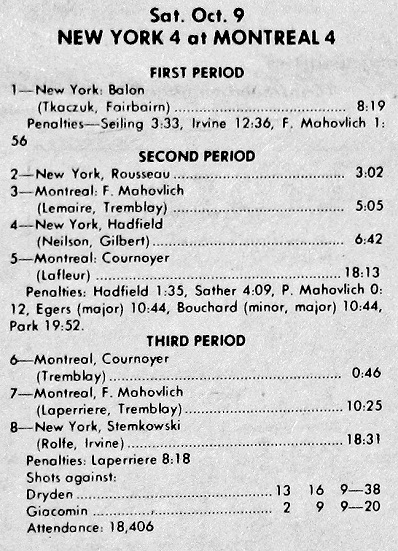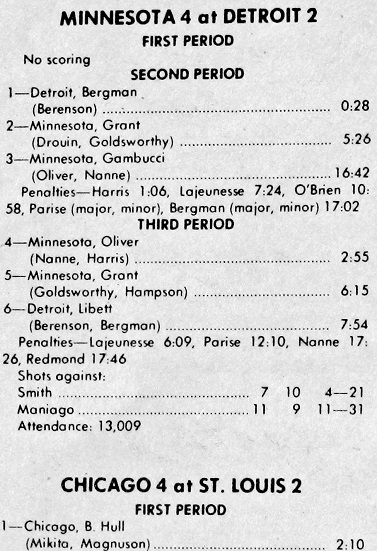 THE MONTREAL CANADIENS AND DETROIT RED WINGS BEGAN NEW ERAS, AS JEAN BELIVEAU AND GORDIE HOWE HAD RETIRED. THE HABS' OPENING GAME, AT HOME TO THE NEW YORK RANGERS (TOP–LEFT), WAS THE FIRST OF 1,126 IN THE CAREER OF GUY LAFLEUR, WHO REGISTERED HIS FIRST OF 1,353 POINTS ON A SECOND–PERIOD GOAL BY YVAN COURNOYER. DETROIT'S SEASON OPENER (TOP–RIGHT) SAW MARCEL DIONNE SUIIT UP FOR HIS FIRST OF 1,348 NHL GAMES, BUT THE NO. 2 PICK IN THE '71 AMATEUR DRAFT (BEHIND LAFLEUR) WAS HELD OFF THE SCORESHEET.
EMAIL: HOWARDLBERGER@GMAIL.COM