TORONTO (Oct. 6) — Believe it or not, I still have two vivid memories of 40 years ago tonight, when I sat down in my boyhood home to watch the Maple Leafs opening game of the 1982–83 National Hockey League season.
First, there was a Betamax — a heavy, awkward–looking machine on the glass table beside the television in our den. I had decided to record portions of live games, and highlights, during that NHL schedule… and, oh, how I wish I had kept those smallish video cassettes, given the exploits of Wayne Gretzky and the soon–to–be dynastic Edmonton Oilers. The second memory was a name and voice I did not recognize, perched in the telecast booth at old Chicago Stadium. Some guy named Jim Hughson, from Vancouver, had been hired to call midweek Leafs games on CHCH–TV, Channel 11, the independent outlet located in nearby Hamilton that had carried, since 1977–78, Wednesday night matches (home and away). As I switched on the Betamax for Hughson's debut (I remember how he called Leafs center Bill Derlago "Billy Dee" all night long), I was even less aware of the man in the neighboring booth calling his first match as radio voice of the Toronto club: Joe Bowen. It wouldn't take long, however, for fans of the Blue and White to gravitate toward the 31–year–old Sudbury native with the booming pipes.
"Oh, I'll never forget that night, for many reasons," Joe recalled not long ago when I reminded him of his first Leafs broadcast. "I got into a cab with the biggest human being I've ever seen and he started driving me into the dark slums along West Madison Avenue. I remember thinking 'where is this guy taking me?' The Stadium was in a very rough neighborhood back then. I climbed up to our broadcast location but the engineer couldn't get us on the air; I worked that night with [Maple Leafs assistant coach] Doug McKay. Jeez, I had planned all these things I was going to say leading into my first broadcast and we had no network connection. Just as the referee was set to drop the puck, the engineer pointed hard at me. And, away I went. I haven't stopped talking for the past 40 years."
During that time, Bowen, now 71, has called double the number of Leaf games than any other person, even pioneering radio voice Foster Hewitt. Given his decade–long role (mostly in the 1990's, on the Global Television Network) as play by play man for midweek telecasts, alongside the venerable Harry Neale, Joe has easily become the most–recognized and beloved person to ever broadcast Leaf games on TV or radio. Though Hewitt, who died in 1985, lasted more than 50 years as the inventor of hockey broadcasting, there were many fewer games in the NHL schedule between 1923 and 1976; neither did Hewitt travel regularly to Leaf road matches after 1970 (his son, Bill Hewitt, split the radio chores with Ron Hewat). In the era of 80, 82 and (briefly) 84–game NHL seasons, Bowen enters his 40th campaign behind the microphone (there was no NHL in 2004–05), having been voice of the Leafs for 3,076 regular–season and 219 playoff matches, (totaling 3,295). Included are 10 seasons of 80 games; 23 seasons of 82 games; two seasons each of 84 and 48 games, plus the 56 and 70–game schedules interrupted by COVID–19. Joe has missed four Leaf matches, mostly because of weather–related travel issues.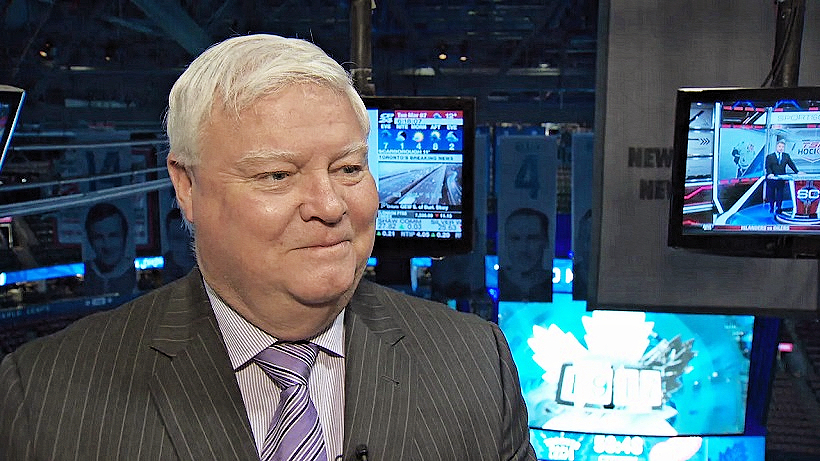 Where Bowen lags far behind Foster Hewitt is in the number of Stanley Cup final games involving the Maple Leafs. To this point, Joe's total is a big, fat ZERO, as the Leafs haven't played for the mug since 1967. In a much–different and smaller NHL between 1926 and 1967, Foster called 91 Cup final matches involving the Leafs and all 11 of the club's championships. Joe has often intimated that his broadcasting career will be somewhat incomplete until the Leafs win three playoff rounds one spring and he can get off the schneid. As all Leaf rooters are aware, Joe hasn't even called a second–round match since 2004. Another such gap of 19 years would take him to age 90. As I wrote in this space back in April, I have never heard Bowen as crestfallen as the moment Tampa Bay eliminated the Leafs from last spring's opening series; the sixth consecutive year of such failure (the past two, against Montreal and the Lightning, on home ice). In the 11–season span between 2005–06 and 2015–16, Joe called only seven Leaf playoff games, as the club failed to qualify in the other 10 springs (including a franchise–record seven consecutively). If anything, the law of Stanley Cup final averages is certainly in Joe's corner.
Of course, there have been triumphs, most notably and legendarily the spring of 1993, when the Leafs of Pat Burns, Doug Gilmour, Wendel Clark, Felix Potvin et al, appeared in 21 playoff matches over 42 nights, defeating Detroit and St. Louis in seven games before losing a decisive match (at Maple Leaf Gardens) in the Cup semifinals to Gretzky and the Los Angeles Kings. It marked the only time since 1967 that the Leafs have ventured to within one game of the championship round. There were semifinal appearances with Pat Quinn, Curtis Joseph and Mats Sundin in 1999 and 2002; I have long–maintained that a healthy Toronto club would have outlasted Carolina in the '02 Conference final and matched up against Detroit for the Stanley Cup. With Sundin, Darcy Tucker and others hobbling, the Leafs were ousted in six by the Hurricanes, who lost in five to the Red Wings.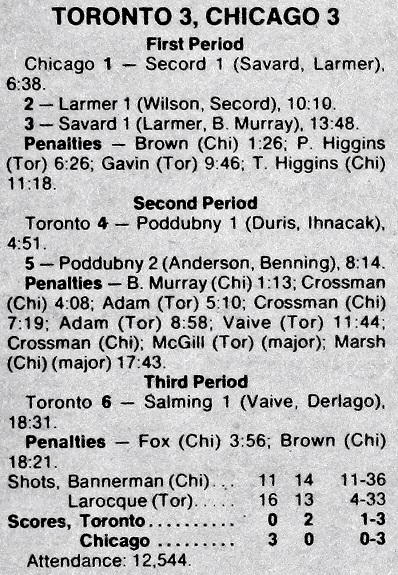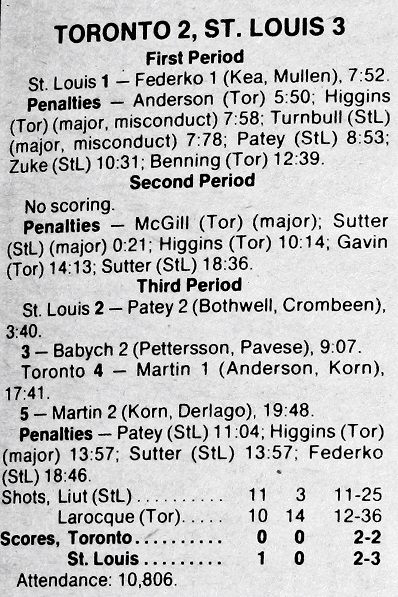 SUMMARIES FROM THE FIRST TWO LEAF GAMES CALLED BY JOE BOWEN — AT CHICAGO AND ST. LOUIS — ON OCT. 6/7, 1982. JOE'S FIRST HOME GAME WAS A 5–5 TIE AGAINST NEW JERSEY.
Bowen has spent the past 25 years alongside analyst Jim Ralph, who began his role as an always amusing color commentator in 1997–98, taking over from Mark Hebscher. Prior to that, Joe's main broadcast partners were Bill Watters and Gord Stellick. Yours truly had the honor of joining Joe for four regular–season matches: road games in Hartford, Los Angeles (both in 1990) and Winnipeg (1995), plus a home encounter with Detroit in '90.
Such a splendid career for Bowensy… and still going strong.
THOSE EYE–POPPING NIGHTS AT THE GARDENS…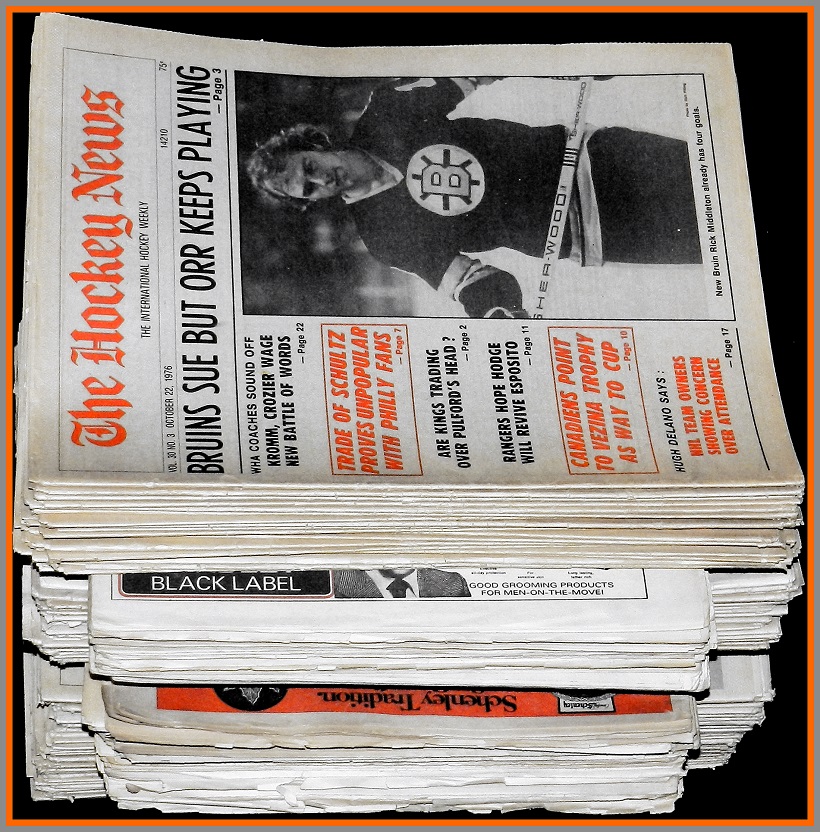 As I continued to sort through issues of The Hockey News discovered last week in my condominium locker, I came upon the newspapers that detailed the record–setting games — just less than one year apart — authored by Toronto Maple Leafs stars Darryl Sittler and Ian Turnbull. Sittler, legendarily, erupted for 10 points (six goals, four assists) against the Boston Bruins at Maple Leaf Gardens on Feb. 7, 1976. The Toronto captain broke the standing National Hockey League mark of eight points in one game and tied the modern–day standard for goals in a match. In the same week the following year (361 nights later), also at the Gardens, Turnbull popped in five goals against Detroit (Feb. 2, 1977), establishing the single–game record for defensemen. Nearly a half–century later, both marks stand. Neither Wayne Gretzky nor Mario Lemieux could equal Sittler's total; Bobby Orr, Paul Coffey, Raymond Bourque, Denis Potvin and others, Turnbull's record. The newspapers, below, are From Feb. 20, 1976 and Feb. 18, 1977. Pictured are the mastheads, front covers, summaries and Maple Leaf stats after the two monster games: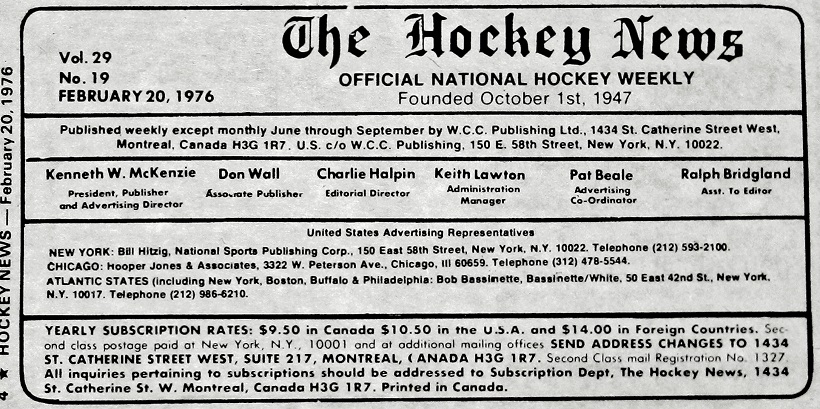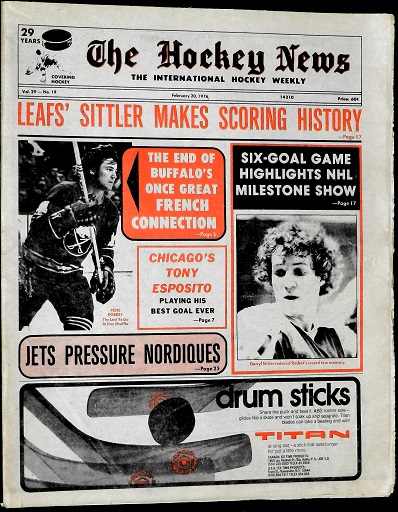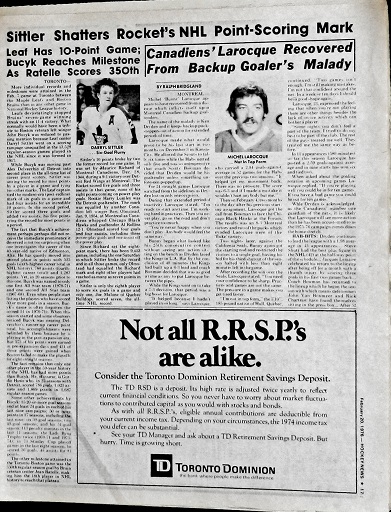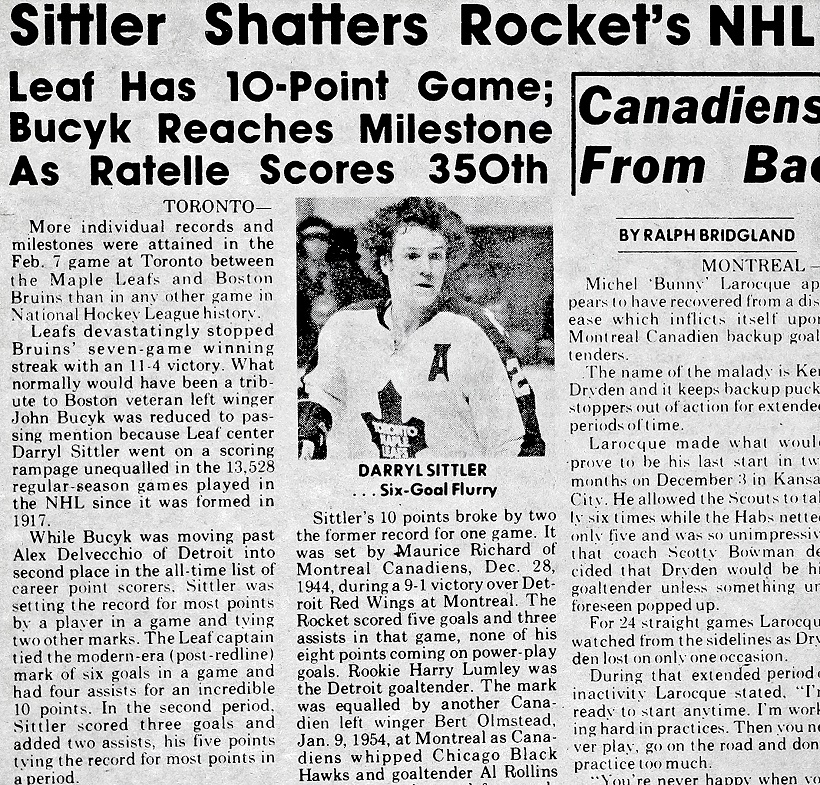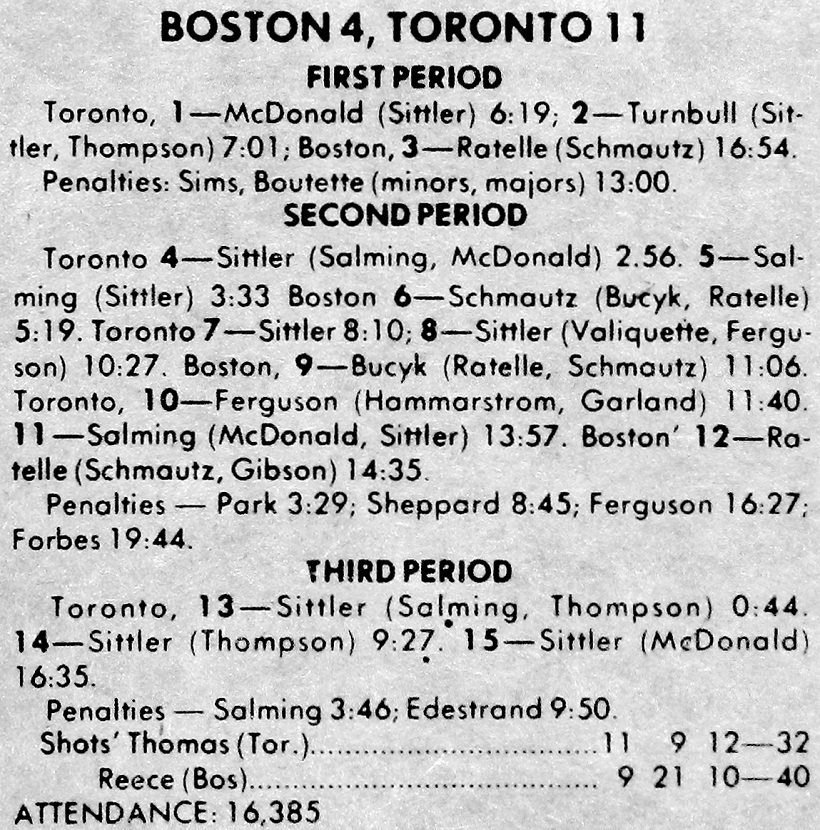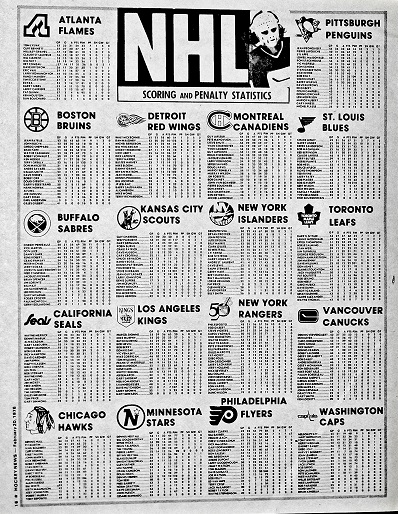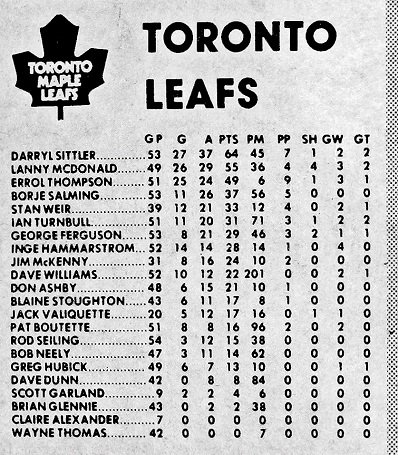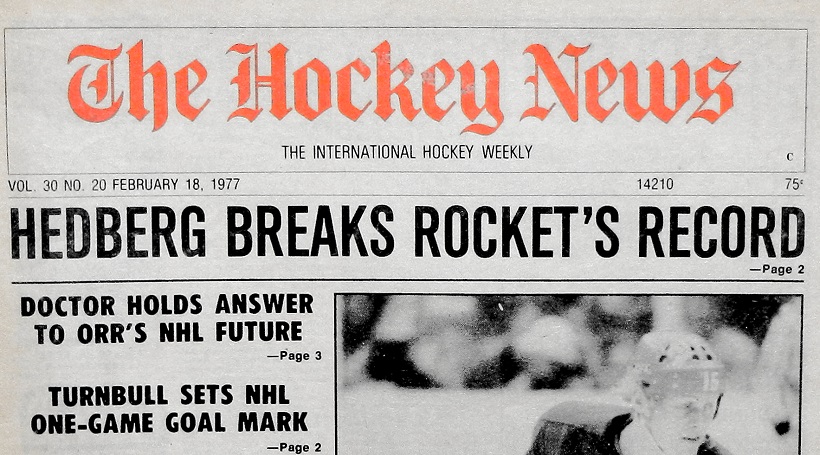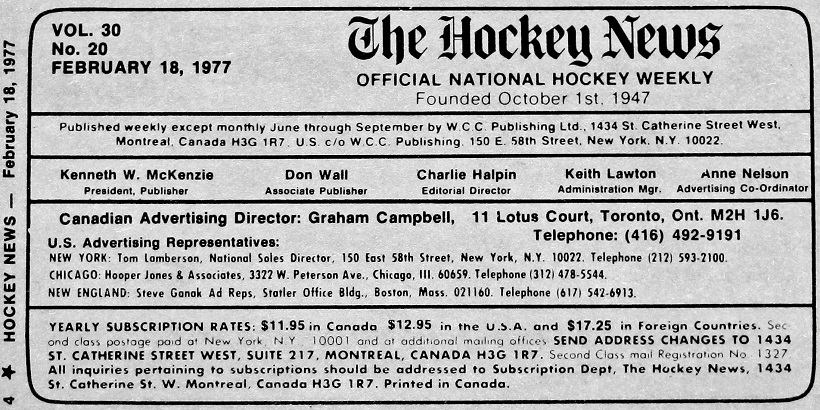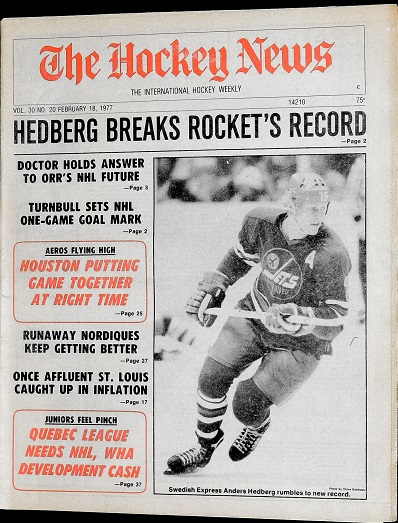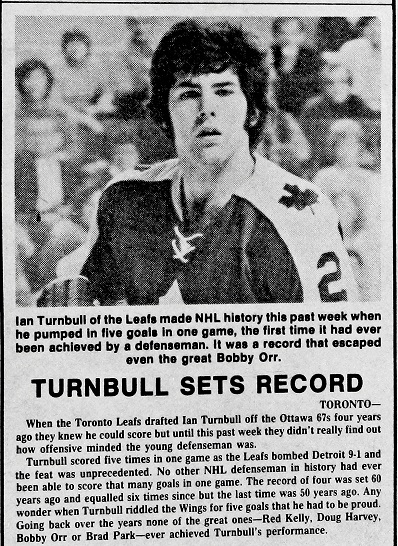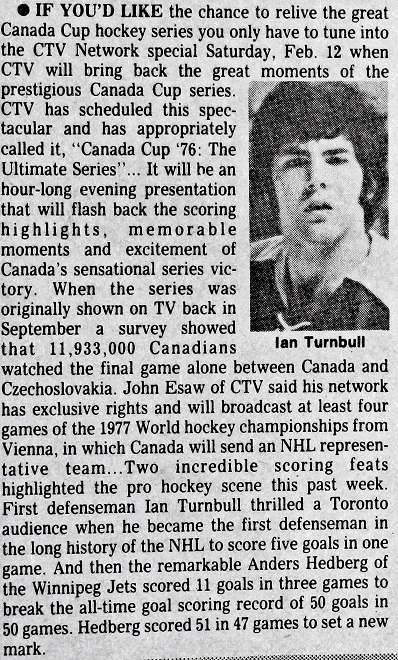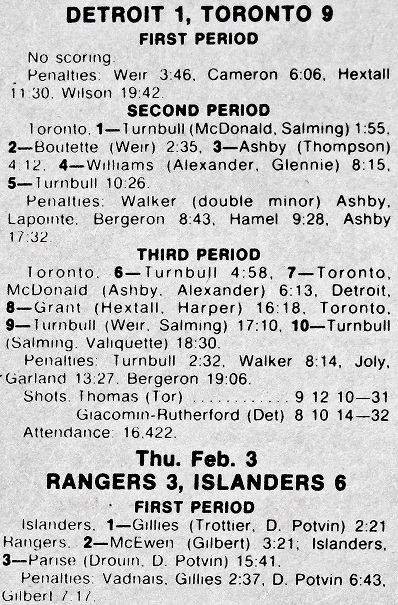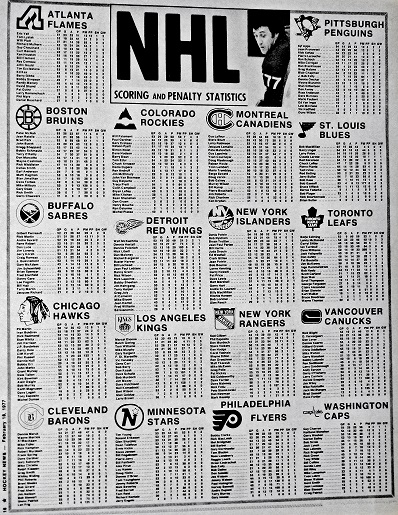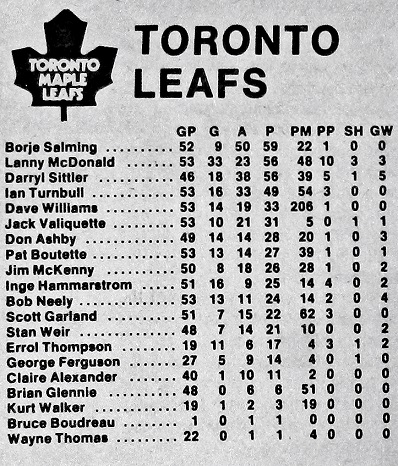 EMAIL: HOWARDLBERGER@GMAIL.COM