TORONTO (Oct. 14) — This is a delicate subject and I'm hoping you will carefully read what I am about to say.
Toronto Sun sports columnist Steve Simmons touched off a firestorm in his popular Sunday Notes page last week with a short paragraph about Akim Aliu, a black person almost nobody in hockey knew about until he alleged, in November 2019 on Twitter, that former Calgary and Carolina coach Bill Peters had directed a racial epithet toward him as a member of the American Hockey League Rockford Ice Dogs. This was a disturbing revelation… and quickly followed by others that were denigrated by Peters, who resigned, four days later, as coach of the Flames.
This is what Simmons wrote about Aliu:
"No one wants to say this because of the politically correct police and all, but those who coached Akim Aliu must cringe every time they see him in a news report or a commercial talking about what's wrong with hockey. Like he would know. By my count, Aliu played for 23 teams in nine different leagues in 12 professional seasons and rarely finished any season with the same team he started with. If that was colour–related, how is it that Wayne Simmonds spent just about the same 12 seasons playing in the NHL?"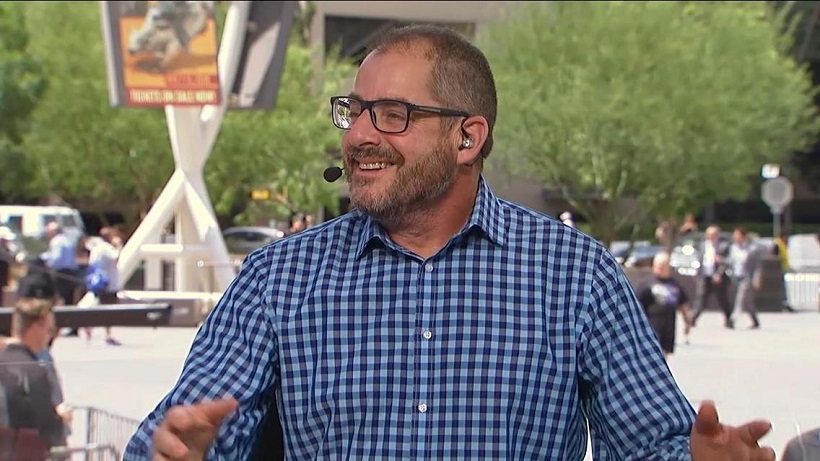 Now, please — and foremost — understand the obvious: Neither Steve nor myself have ever, or will ever, walk in the shoes of a black person. In no way, other than imagining the anger and heartache, can I identify with racism toward people of African, African–Canadian or African–American descent (Aliu was born in Nigeria). The 'N' word is the most–disgusting and reviling affront in the English language. I will, however, say that Steve and I are both Jewish, and have encountered mostly underlying antisemitism through the years. So, we know a bit about ethnic prejudice, though nothing so blatantly severe and repulsive as the 'N' word used against black people. Had Steve not included the last sentence of his paragraph, I don't believe that Wayne Simmonds, Nazem Kadri and others in the Hockey Diversity Alliance would have spoken out against him so strongly. The line about Aliu's marginal on–ice career possibly being "colour–related" was a mistake… and one Steve probably wishes he hadn't written.
Otherwise, I'll be honest: I, too, have often wondered "who the heck is Akim Aliu and why does he consider himself such a prominent spokesperson for hockey?" Again, this is not, in any way, related to Aliu's ethnicity or his bold callout of Peters, who may still be coaching and getting away with horrendous behavior had Akim not begun the process of ridding him from the sport. For that, I congratulate Aliu. Nor should any other athlete victimized by racism remain silent. It's just that Aliu's hockey credentials are so marginal that you kind of wish more–prominent black NHLers had entered the fray long beforehand. Such names has Grant Fuhr, Tony McKegney, Anson Carter, Georges Laraque, Donald Brashear, Ray Neufeld, Jarome Iginla and Joel Ward — all of whom must have surely encountered racism at some point in their ascent to the pro ranks. Perhaps they lacked the courage of Aliu, or felt there was more "at stake" in their careers than Akim for speaking about anything beyond the sport, itself.
This, I believe, is the point Simmons was trying to make last Sunday, whether or not you agree with it.
Steve has long been Canada's most widely read sports columnist, and not for withholding opinion. He's an easy target for the anonymous masses on social media… many of whom are quick to read his Sun submissions for that very reason: to attack, namelessly and facelessly. Talk about cowardice. I've known Steve since 1982, when we worked together, briefly, at the Calgary Sun. I then traveled with him covering sports for all of my 23 years as a reporter at The FAN–590 and can tell you, unequivocally, that he is not racist. He has long celebrated, in print, the careers of such–great black athletes in Toronto as Dave Raimey, Condredge Holloway, Terry Greer, Lloyd Moseby, George Bell, Tony Fernandez, Joe Carter, Carlos Delgado, Demar DeRozan and Kawhi Leonard… as he does, today, Blue Jays star Vladimir Guerrero Jr. Again, had he stopped his Aliu paragraph at "… finished any season with the same team he started with", I suspect the reaction toward him would have been negligible, or non–existent.
MASNICK NOW OLDEST SURVIVING LEAF
When Joe Crozier died on Tuesday at 93 years of age, Regina, Sask. Paul Masnick became the oldest surviving player to wear the Toronto Maple Leafs jersey.
Crozier, a defenseman, played five games for the Leafs in the 1959–60 season, then coached the club (under Harold Ballard) for 40 games in 1980–81. He is best remembered for guiding the Buffalo Sabres into the playoffs for the first time, in 1972–73, whereupon the club lost to eventual Stanley Cup–champion Montreal in six games. Crozier is also a legend in Rochester, N.Y., where he coached the Americans to three Calder Cup championships in a four–season span (1964–65, 1965–66, 1967–68). During that time, Rochester (in the American Hockey League) served as the top minor–league affiliate of the Maple Leafs. Crozier groomed such young players as Mike Walton, Jim Pappin, Peter Stemkowski and Larry Hillman — all part of the Leafs Stanley Cup team in 1967.
Masnick, a right winger, played 42 games for the Maple Leafs in 1958–59, contributing two goals and 11 points. Currently living in Barrie, Ont., north of Toronto, Masnick — born Apr. 14, 1931 — is 91 years and 181 days old, edging out, as eldest surviving Leaf (by just more than a month), former right–winger Ron Hurst (b. May 18, 1931 in Toronto). Hurst played 64 games with the club in 1955–56 and 1956–57, accruing nine goals and 16 points. More recently, he was a splendid and hilarious storyteller at the monthly hockey alumni lunches held in Markham, north of the city. Next up is former defenseman Jim Morrison, who turned 91 on Tuesday. Morrison played 399 games in a Toronto jersey between 1951–52 and 1957–58, an inglorious era for the club, sandwiched between the Stanley Cup dynasties of the late–1940's (under Hap Day) and the 1960's (under Punch Imlach). He finished his National Hockey League career with the Pittsburgh Penguins in 1969–70 and 1970–71. As a player, Morrison became a Hall–of–Famer in the American League for his terrific, eight–year stint (1960–68) with the Quebec Aces, anchoring the club's blue line. He later coached the Kingston Canadians of the Ontario Hockey Association (Junior 'A') from 1975–82. Among his chattels was forward Bernie Nicholls, who went on to score 475 NHL goals (1982–99), including 70 (and 150 points) as a teammate of Wayne Gretzky with the 1988–89 Los Angeles Kings.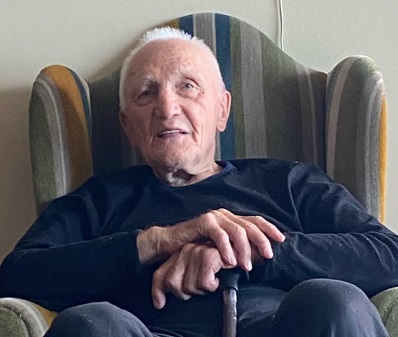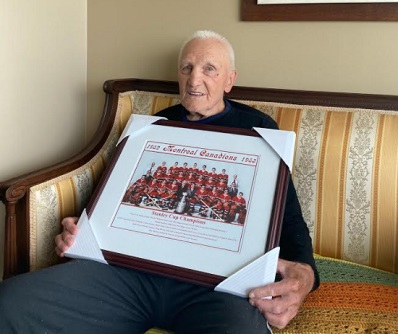 OLDEST LEAF PAUL MASNICK IS ALSO THE ELDEST SURVIVING PLAYER TO WIN A STANLEY CUP WITH THE MONTREAL CANADIENS (IN 1953). PHOTOS COURTESY BARRIE TODAY
After Masnick, Hurst and Morrison are the following eldest survivors of the Blue and White:
WILLIE MARSHALL, 90, center, b. Dec. 1, 1931 in Kirkland Lake, Ont. (33 games for the Leafs from 1952–59).
PETE CONACHER, 90, left wing, b. July 29, 1932 in Toronto (son of Maple Leafs legend Charlie Conacher).
ED CHADWICK, 89, goalie, b. May 8, 1933 in Fergus, Ont. (played all 70 games in 1956–57 and 1957–58).
BRIAN CULLEN, 88, center, b. Nov. 11, 1933 in Ottawa (scored 20 goals for the Leafs in 1957–58).
MARC REAUME, 88, defence, b. Feb. 7, 1934 in LaSalle, Ont. (traded to Detroit in 1960 for Red Kelly).
GERRY JAMES, 87, right wing, b. Oct. 22, 1934 in Regina (also played fullback for the Winnipeg Blue Bombers).
GARY ALDCORN, 87, left wing, b. Mar. 7, 1935 in Shaunavon, Sask. (scored 10 goals in 1957–58).
FLOYD SMITH, 87, right wing, b. May 16, 1935 in Perth, Ont. (was GM of the Leafs from 1989–91).
BARRY CULLEN, 87, right wing, b. June 16, 1935 in Ottawa (Brian's brother; scored 16 goals in 1957–58).
AL MacNEIL, 87, defence, b. Sep. 27, 1935 in Sydney, N.S. (coached Montreal to the 1971 Stanley Cup).
NOEL PRICE, 86, defence, b. Dec. 9, 1935 in Brockville, Ont. (played 28 games in 1958–59).
NORM ULLMAN, 86, center, b. Dec. 26, 1935 in Provost, Alta. (key figure in 1968 trade for Frank Mahovlich).
DICK DUFF, 86, left wing, b. Feb. 18, 1936 in Kirkland Lake, Ont. (won Cup with the Leafs in 1962 and 1963).
BOB PULFORD, 86, center, b. Mar. 31, 1936 in Newton–Robinson, Ont. (fixture on all four Stanley Cup teams in the 60's).
BOB BAUN, 86, defense, b. Sep. 9, 1936 in Lanigan, Sask. (anchored Stanley Cup defense pair with Carl Brewer).
LEAFS WILL STILL SPARKLE (in the regular season)... Other than blind hope, and perhaps the law of averages, there isn't much to suggest the Maple Leafs will decline prohibitively in the 82–game regular season… or survive, yet again, beyond the opening round of the Stanley Cup playoffs. Management keeps dipping into the same well, hoping it will spring a gusher. But, seven seasons is one hell of a long time to provide opportunity for the identical nucleus of skaters (beginning with William Nylander, Mitch Marner, Auston Matthews and Morgan Rielly during a six–game loss to Washington in April 2017). The script hasn't changed one iota during the past half–decade, as the top–heavy Leafs have been one–and–done in the post seasons of 2018–19–20–21–22; all of them extending to decisive games, losing at home to Columbus, Montreal and Tampa Bay the past three years.
Sloppy puck handling in the defensive zone has been the hallmark of this team for much of the post–1967 era and nothing changed in the season–opening loss to Montreal. Neither did Sheldon Keefe contribute much by putting Justin Holl and Jake Muzzin on the ice in the frantic final minute. Holl is a borderline NHLer and Muzzin has slowed considerably since his years with Los Angeles. It was rather frightful to watch him panic with the puck and hand it to the Canadiens for the winning goal with 17 seconds to play. Keefe called his club's effort "unacceptable" afterward, but he might have looked in the mirror after his blue line deployment with the game on the line.
Neither were the Leafs particularly brilliant in defeating Washington, 3–2, on Thursday night to capture their home opener. Matthews provided the winning goal, which took the sting off the previous night for Leafs Nation.

And, what is it with Matt Murray's paraphernalia (above)? Jack Lambert, the Hall–of–Fame linebacker, never wore shoulder pads so large and thick when the Pittsburgh Steelers were winning Super Bowls in the 1970's. I thought the NHL had cracked down on goaltending equipment. If Murray's undergarments are legal, he'll win the Vezina Trophy this season and the Maple Leafs will challenge for the Stanley Cup. It looks kind of ridiculous to me.
30 YEARS AGO TODAY at SkyDome…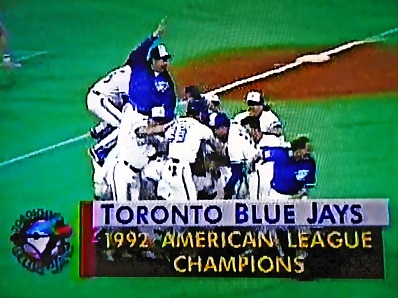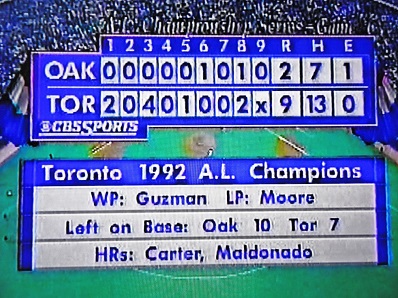 Oct. 14, 1992 provided a watershed moment in baseball history as the Toronto Blue Jays became the first Canadian team to win the American League title and advance to the World Series. I covered the game — and the entire 1992 American League Championship Series — between the Blue Jays and Oakland A's for The FAN–1430; we had become Canada's first all–sports radio station just more than a month earlier. But, I videotaped Game 6 at SkyDome, 30 years ago this afternoon, and still marvel at the call of the final out by veteran CBS sportscaster Dick Stockton: "[Rueben] Sierra sends the ball high into left field… Candy Maldonado camps under it… and the Blue Jays finally win the pennant!" Stockton, who called the series with ex–Major League pitcher Jim Kaat, accented the word "finally" to underscore how the Jays had lost the ALCS in 1985 (to Kansas City), 1989 (to Oakland) and 1991 (to Minnesota). Later that night, the Atlanta Braves authored a miracle, ninth–inning comeback against Pittsburgh, winning the National League Championship Series on a two–out single by pinch–hitter Francisco Cabrera. The Blue Jays then defeated the Braves in six memorable games, becoming the first non–American team to win the World Series. Toronto repeated in 1993, prevailing in six against Philadelphia.
EMAIL: HOWARDLBERGER@GMAIL.COM