TORONTO (Oct. 27) — In the third week of the seventh season since Auston Matthews scored four goals against the Ottawa Senators in his National Hockey League debut, joining franchise cornerstones William Nylander and Mitch Marner, the Toronto Maple Leafs are evidently in search of an "identity." So claims the cast of characters covering the team early in the 2022–23 campaign. Obviously, the media has grown as indifferent as the players.
The Leafs looking for an identity? It can't be serious. Not with a club unchallenged and unchanged through years of playoff failure by management, whose "elite" performers are so beyond censure that the coach — after valid and restrained criticism — is compelled to retract and beg pardon. Not with a club whose president and general manager, clearly supported by blasé ownership, turn a blind eye to indisputable frailty when the pressure mounts. The Maple Leafs, by all rational measure, have crafted an irrefutable identity as one of the foremost underachieving clubs in professional sport. How anyone following the team cannot long be aware of that boggles the mind.
Even the club's most–ardent media supporter, Luke Fox of Sportsnet, could barely contain himself in his latest website posting: "In an attempt to jolt an uncharacteristically sleepy collection of forwards, the Toronto Maple Leafs coach has made changes to three of his four lines after Monday's dreadful 3–1 loss to the Golden Knights in Las Vegas," wrote Fox. Dreadful, yes. Uncharacteristic? I'm not so sure. The apathetic performances against Arizona and Vegas in the past week were a hallmark of the current Leafs. As my son, Shane, emailed during the home loss to the Coyotes: "I've seen this game 1,000 times." Again, this is the unavoidable adjunct of a team that knows it is top–heavy enough to challenge for 100 points each year, yet one that also understands there will never be consequence for a lack of endeavor, no matter how blatant or humiliating. There is implicit direction from above that the nucleus of the team — Matthews, Nylander, Marner, John Tavares and Morgan Rielly — is not to be altered, reprimanded or rebuked in any manner, regardless of performance. As such, the vaunted quintet easily becomes distracted and disinterested against purportedly weaker opposition. It has already happened three times (beginning with the season opener, at Montreal) in the first two weeks of the schedule. When there is nothing to fear for a mail–in, there is no reason to exert. The background noise can be silenced with just a bit of effort, as we'll probably witness when the club confronts the weak California teams to conclude its first extended road trip.
The visiting Leafs romped past San Jose, Los Angeles and Anaheim last season by a 15–4 aggregate.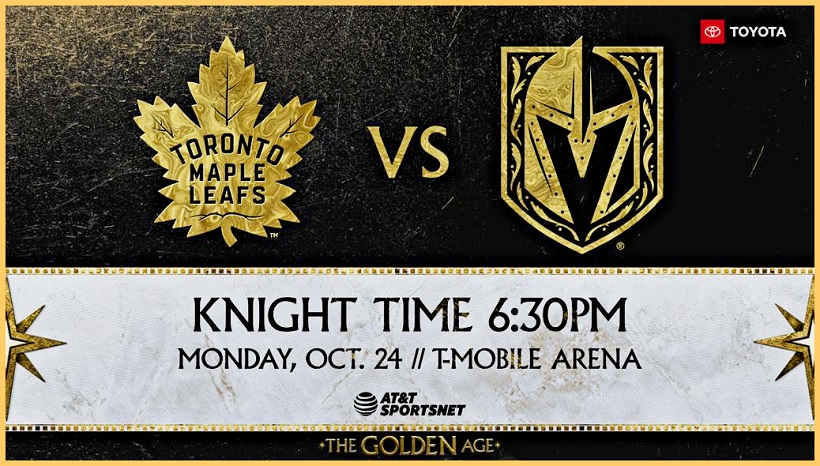 CLEARLY, KNIGHT TIME ARRIVED FOR ONLY ONE TEAM ON TUESDAY IN THE DESERT.
Make–up performances, of which the talented Leafs are fully capable, strengthen the team's identity as an uncontested body. It is beyond clear, today, that Matthews, Marner and Nylander will play elsewhere only if they choose to depart in free agency. Under no circumstance; regardless how many times the club is bounced from the initial strand of playoff warfare, will Dubas fiddle with his precious core. So long as he remains general manager, the status quo will prevail. If you are, therefore, among the five skaters gobbling up $48,005,616 of the salary cap, what impetus is there to show up more than half the time against inferior competition? If you are the president or GM of a team that underachieves every year when it matters — and the tall foreheads at Rogers and Bell (Larry Tanenbaum included) repeatedly look the other way — what incentive is there to make change? These are rhetorical questions that surround the most–stale franchise in the NHL. And, it's the reason that reporters following the club seek out absurd angles in the second week of October. Every other angle has been explored to death.
Only when Rogers, Bell and Tanenbaum grow tired of whistling past the graveyard might the club qualify for a new "identity". And, no one knows when, or if, that will happen. Hockey's richest franchise motors along, assured of a profit margin that is inconceivable to most. No, the club is not cheap, as were past iterations. But, it hasn't learned how to spend its boundless, interminable supply of cash. Toss in the non–stop bullheadedness of management ("we will get this done!"), and it's no wonder the players are bored much of the time. Look at your own job and imagine the consequence if you chose to show up and perform intermittently. You would at least be reprimanded… and ultimately replaced. The big–money boys wearing blue and white encounter no–such burden. They've been protected, coddled and excused for so long that shrugging off a night's work has become routine.
So, what's all this bunk about the Leafs seeking appearance?
No club in the NHL is as identifiable or predictable… during winter and early spring.
EMAIL: HOWARDLBERGER@GMAIL.COM