TORONTO (Oct. 31) — The Shanaplan has run its course. With no tangible result.
What seemed like a good idea nearly a decade ago has morphed into a calamity. And, it bears little relation to how many points the Toronto Maple Leafs accrue during this regular season. Stating it clearly and candidly, there is no logic or merit to Maple Leaf Sports and Entertainment continuing with its hockey management structure.
As per the blueprint of Brendan Shanahan, the Leafs drafted three talented youngsters, none of which possesses the appetite or inclination to challenge for the Stanley Cup. Certainly not while skating as feature performers on the same team; in a coddled, protected environment, no matter the homogenous, post–season frailty.
William Nylander, Mitch Marner and Auston Matthews will always provide empty thrills between October and April… but nothing more. Add in the crippling, $11 million–per–season contract handed to John Tavares — the lone member of the club's nucleus that is putting forth an honest effort right now — and there is nothing left of the scheme that was supposed to end the longest championship drought in National Hockey League annals. Such an effort requires two months of physical and emotional drudgery. This group cannot win a single playoff round.
It is time, therefore, to replace Shanahan as president and Kyle Dubas as general manager. Fatally injured in the crossfire will be yet another coach, the 20th since the club's last Stanley Cup triumph, in 1967. But, this mess is hardly the work of Sheldon Keefe, who has tried all means of roster manipulation to galvanize and inspire his elite players. Keefe was 100 percent bang on when he called out the $40 million men in the first week of the schedule. That it seems clear Shanahan and/or Dubas ordered him to backtrack is all you need to know about the club's leadership and credibility — on and off the ice.  An impartial person is now required… before the current hierarchy, stubbornly and inexcusably, locks up its abortive nucleus for another decade. The second (and most–restrictive) professional contracts of Matthews, Nylander and Marner simply cannot be entrusted to Shanahan and Dubas.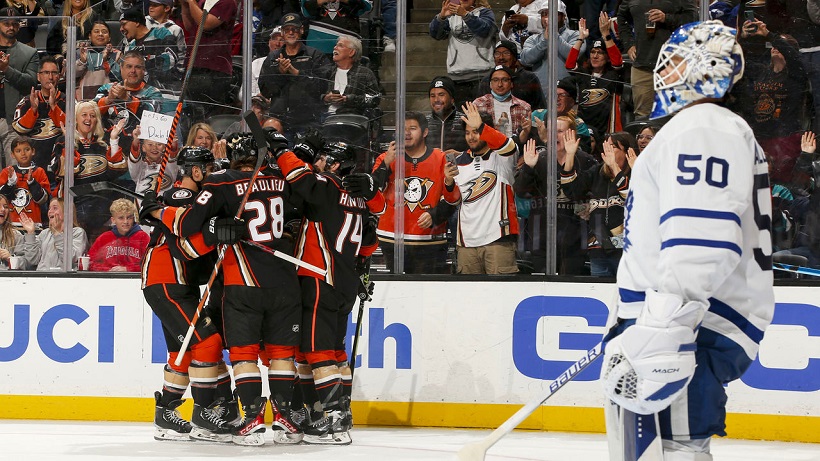 The just–completed road swing out west merely put an exclamation mark on the doddering franchise. That the Maple Leafs couldn't hold a 3–1, third–period lead against such a 'B' team as the Anaheim Ducks on Sunday night was not disastrous in and of itself. There are still too many games left in the season to worry about missing the playoffs… or not according the ticket buyers some entertainment. But, the 1–3–1 trip through Winnipeg, Las Vegas and California was too ominous to ignore. Matthews showed up sporadically, but was largely invisible. Marner, clearly frustrated (again), was noticeable only when turning over the puck that led to opposition goals. And, Nylander remains "Mr. Perimeter", with no drive or determination when he isn't within scoring range. The blue line, as per usual, is in a shambles. And, goaltending remains a revolving door. This amalgam has never worked — and will never work — when the chips are on the table (April–to–June). We've written that, here, more times than is necessary. It's unclear in the salary cap universe how the Maple Leafs can finagle these core contracts. All which is certain is that no change will be effected so long as Shanahan and Dubas are at the controls.
MLSE needs a fresh, new vision, led by an objective hockey mind that can see past the flaws of the current team. If ownership has even minimal integrity, it will have been quietly seeking such a person in the three weeks since the beginning of the schedule, when it was immediately clear that the club was spinning its wheels. Barry Trotz is among the most–respected figures in the game, but it's unlikely even he can re–shape the future with the current lineup. Whether or not Trotz has designs on general managership isn't known, but someone like him must overhaul the Toronto roster. If not immediately, then perhaps before the NHL trade deadline and ensuing playoffs. And, most critically, before next July 1, when no–movement clauses kick in for Matthews and Marner.
Standing pat will ensure that Shanahan and Dubas lock the Big 3 draft picks into career contracts… thereby dooming the hockey club to interminable post–season failure. A bold move is long overdue and cannot be executed by the prevailing hierarchy. Doing nothing, which has become a hallmark of Leafs ownership since the chancy pursuits of Shanahan and Mike Babcock, will work economically. With no pushback from ticket buyers, television sponsors or those that hoard team merchandise, neither is there authentic need to enact daring change.
But, make no mistake, the honor and ethic of this 105–year–old franchise is very much in peril.
We will find out whether that means anything to Bell Canada, Rogers Communications and Larry Tanenbaum.
PHOTO CREDIT: DEBORAH ROBINSON GETTY IMAGES
EMAIL: HOWARDLBERGER@GMAIL.COM