TORONTO (Oct. 28) — Forget, for a moment, that the Toronto Maple Leafs are a pedestrian 4–3–1 after eight games and have lost to three of the most–feeble outfits (Montreal, Arizona, San Jose) in the National Hockey League. With 74 matches ahead on the 2022–23 docket, chances are the boys in blue will string together enough prosperity to render this two–week wobble a distant memory… and again qualify for the Stanley Cup playoffs (remember, such a feat occurred only once between 2006 and 2016, and NOT once in a full 82–game schedule).
More urgent is trying to determine how much of what we've witnessed so far is a mirage. For example, a pair of headlines today in the wake of Thursday night's overtime loss to the Sharks were somewhat laughable: "Maple Leafs' defence is a growing concern," said Sportsnet. "What is wrong with the Maple Leafs' defence?" asked the Toronto Star. Please forgive me for not perusing the 50 or so blogs I've written on the topic since launching this website in 2011. Instead, I'll regale you with the most recent (https://bit.ly/3DYrb9a), penned on Sep. 27.
Suggesting the Maple Leafs' defence is a "growing concern" is the same as acknowledging that a big chunk of ice wounded the Titanic. Or, that swallowing a can of baked beans is inadvisable before your first Tinder date. In other words, quite obvious… and "growing" like the incessant ivy on the shrouded walls of Wrigley Field. The Toronto blue line, in fact, has been a concern pretty much since Tim Horton, Allan Stanley, Bob Baun and Carl Brewer anchored the unit for Punch Imlach during the 1960's Stanley Cup dynasty. For a few years in the 70's, Borje Salming and Ian Turnbull provided the club its most–skilled tandem. And, there was much to like about the Bryan McCabe–Tomas Kaberle duo under Pat Quinn. Otherwise, the back end of the Leafs has been a wasteland. As it is shaping up to be once more. Neither should that come as a surprise to Sheldon Keefe, or anyone.

THE SAN JOSE SHARKS, IN THEIR SNAZZY ALL–TEAL HOME UNIFORMS, CELEBRATE THURSDAY NIGHT'S OVERTIME VICTORY AGAINST THE MAPLE LEAFS. GODFREDO A. VASQUEZ THE ASSOCIATED PRESS
To contend for the Stanley Cup in the 21st century, a team needs a Cale Makar… or a Victor Hedman… an Alex Pietrangelo… John Carlson… Kris Letang… Duncan Keith… Drew Doughty… Zdeno Chara… Nick Lidstrom… Chris Pronger or Scott Niedermayer — all largely responsible for NHL championships since 2007. No team can win the Stanley Cup with Justin Holl among its top six. Or, quite frankly, with a very good, but not great, player in the No. 1 slot. Morgan Rielly is a first–rate pro, on and off the ice; an excellent skater and puck handler and a very good passer. But, his shot from the point will never daunt an opposition goalie; nor does he possess an alarming physical element (akin to such monsters as Hedman, Chara and Pronger). Rielly is unquestionably worthy of his $7.5 million price tag per season… but you need a $10 million man to scare anyone between April and June.
One such player is a waste of money for the shoddy Sharks, but is just the player the Leafs have lacked since Salming. And, no irony could be lost when future Hall–of–Famer Erik Karlsson decided Thursday's match with a breakaway goal in overtime. Afterward, Keefe spoke the truth once more when questioning his run–of–the–mill blue line and its lack of a firm outlet pass. Again, this has been a Leafs issue since well before Keefe was born (in 1980). Credit to the coach for not shying away from honesty after someone above him ordered a backtrack on his assessment, last week, of the club's "elite" forwards; denunciation of Auston Matthews, Mitch Marner and William Nylander is strictly verboten amid the inner sanctum. A member of the national hockey media here in Canada that everyone knows claimed, in an email exchange with yours truly, that Keefe had been "neutered" by the unnamed employer(s). Still, ol' Sheldon wasn't afraid to sing soprano about his immobile defense after the loss in San Jose.
Help is on the way, but anyone that thinks Jordie Benn and Tim Liljegren will transform the Toronto blue line is dreaming in technicolor. Jake Muzzin has the rest of his life to worry about and won't likely return. Neither is the still–competent but ever–slowing Mark Giordano much of a factor. Rasmus Sandin possesses loads of skill but not enough size or physical comportment. Which essentially reduces the Maple Leafs to Rielly and T.J. Brodie as cornerstones. It's just not enough. And, it detracts from what appears to be a solid acquisition by Kyle Dubas in goaltender Ilya Samsonov. Through a small sample size, I like what I've seen from the former Washington chattel.
WATCHING THE GREEN SEALS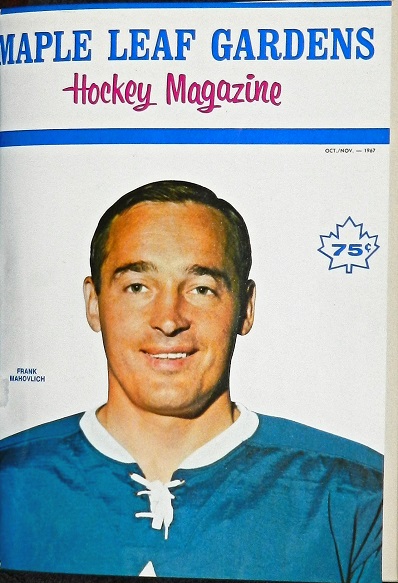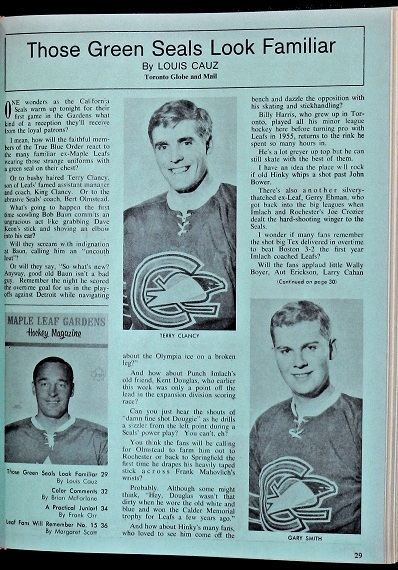 This date will forever ring a bell for the time, in 1967, when I first saw one of the NHL's six new expansion teams. Yes, it was 55 years ago tonight that the California Seals — donned in white jerseys and green pants — paid their initial visit to Maple Leaf Gardens, bringing along ex–Leaf players Gary Smith, Aut Erickson, Larry Cahan, Wally Boyer, Billy Harris, Gerry Ehman, Terry Clancy, Kent Douglas and Bob Baun. In other words, half the roster. Toronto breezed to a 5–2 victory. Frank Mahovlich graced the program cover (top–left). The line–ups are below: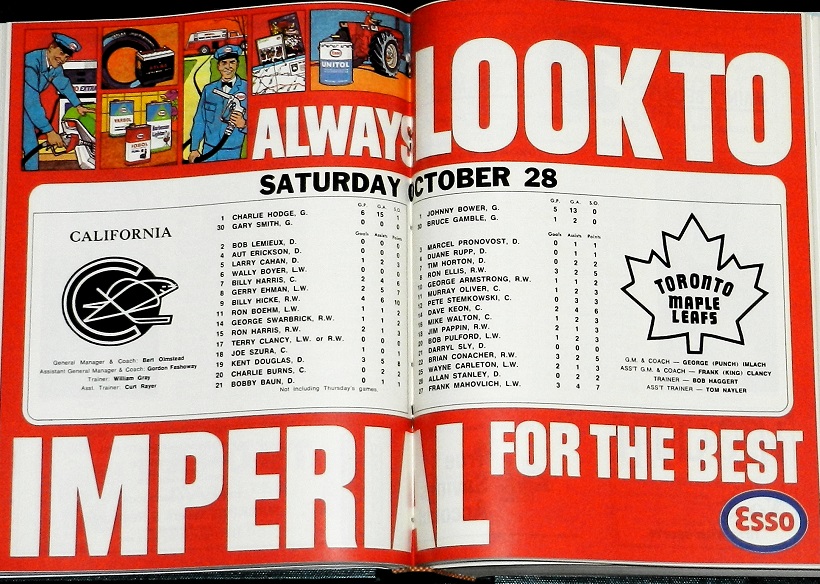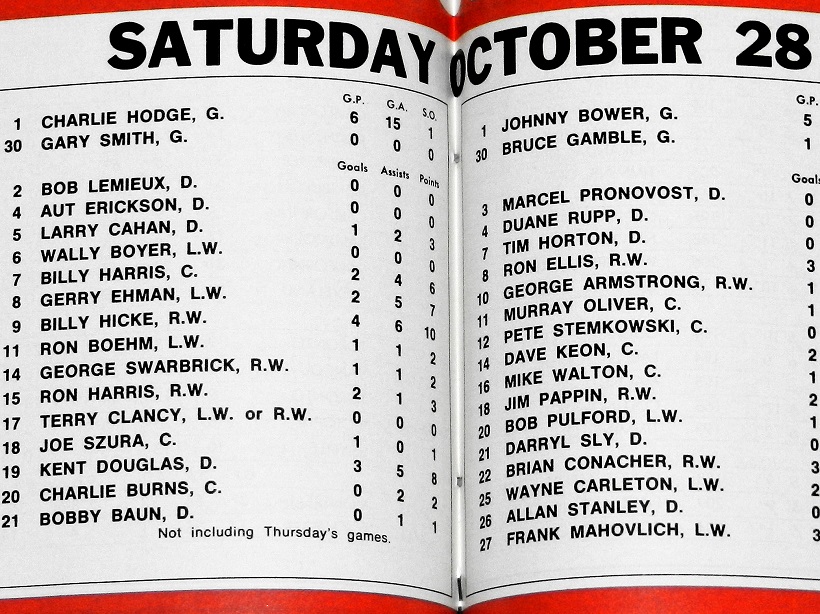 50 YEARS AGO THIS WEEK
A sports fan of ilk here in town will remember the day the Toronto Argonauts fired Leo Cahill as coach, after a six–year run in which he revitalized football interest in Toronto. Included were a pair of 10–4 seasons and an appearance in the 1971 Grey Cup (14–11 loss to Calgary). With abundant promise, the 1972 Argos lost starting quarterback Joe Theismann to a broken ankle in the season opener against Montreal and never recovered, slumping to 3–11. One day after a loss at Hamilton to end the schedule, owner John Bassett tied the can to Cahill, who would return briefly as coach in 1977 and 1978; then as general manager in 1986. But, the first Cahill era was the most memorable… and it ended a half–century ago this week, as evidenced by a scrap book I still have: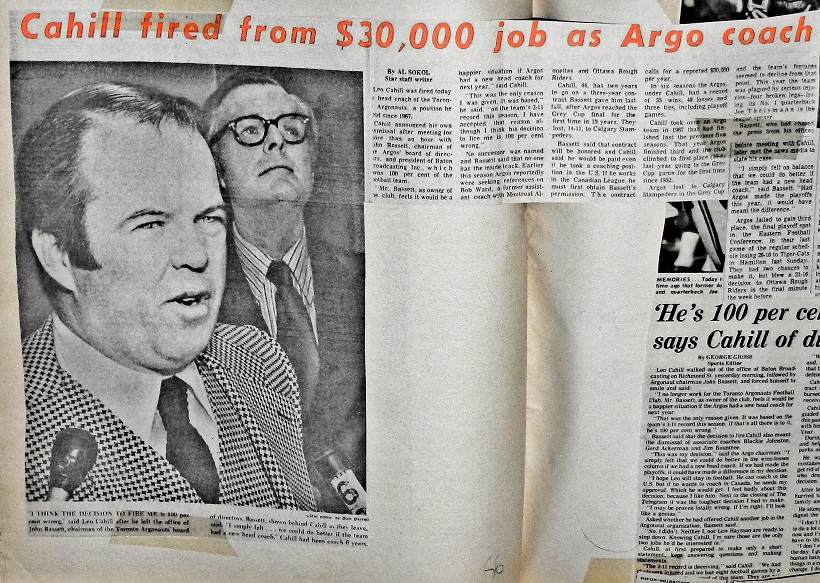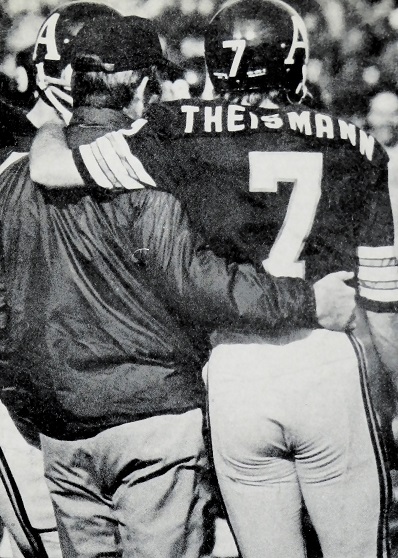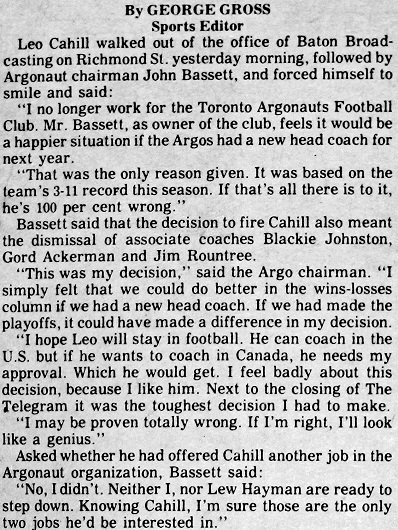 EMAIL: HOWARDLBERGER@GMAIL.COM