TORONTO (Oct. 22) — He has been retired for nearly a decade but there is no person with sports media credentials that continues to call it as straight as Dave Perkins. In fact, it's almost too easy for me to ring the former, award–winning columnist of the Toronto Star for the purpose of a blog. I practically run out of ink — and laugh myself silly — while jotting down his diatribes; all of them with merit. And, so it was, on Friday evening, when Dave returned a phone message to discuss the plight of the Toronto Blue Jays and the never–ending quest of the Toronto Maple Leafs to win a Stanley Cup playoff round. I'm still shaking the cramp out of my note–taking hand.
"Just think about it, Howard," Perky began, "Kyle Dubas had four dollars in cap space to start last season. He spent $3.25 for the University of Toronto's goalie to take the subway from St. George to Union Station. And, Kyle was still left with 75 cents. I mean, how much smarter can a hockey general manager get?"
The story dates to precisely one year ago this weekend, when Petr Mrazek went down with an entirely predictable groin injury in his first start with the Blue and White. That Matt Murray fell victim to the exact malady this season cannot possibly be a coincidence. It's called karma. But, I digress. Dubas didn't have sufficient cap space to promote a qualified reserve netminder from the American Hockey League. Instead, the Maple Leafs dressed U of T stopper Alex Bishop as back–up to Jack Campbell against Ottawa on the first Saturday night of the schedule.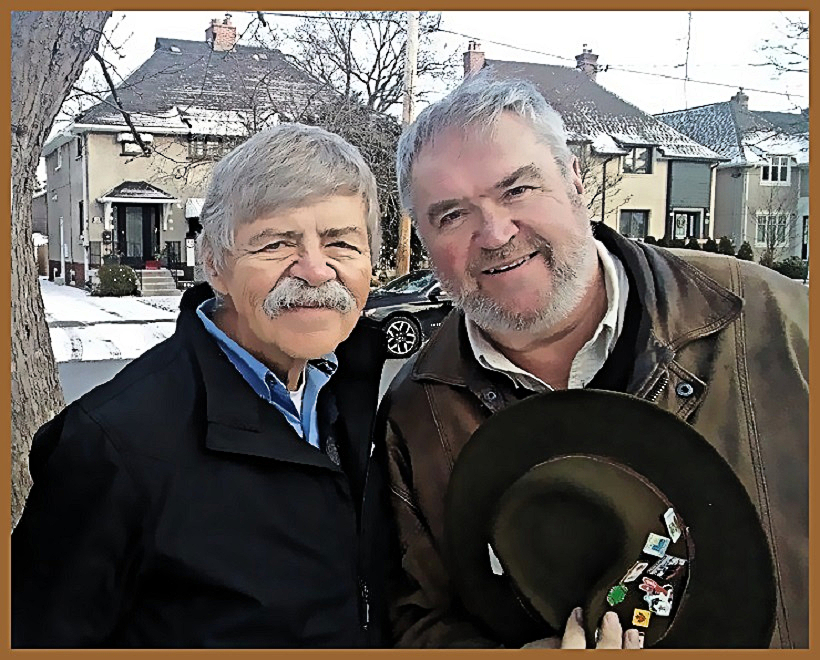 BASEBALL MEDIA LEGENDS DAVE PERKINS (RIGHT) OF THE TORONTO STAR AND BOB ELLIOTT (LEFT) OF THE TORONTO SUN. BOTH WERE ON HAND WHEN THE BLUE JAYS WON CONSECUTIVE WORLD SERIES TITLES, IN 1992 AND 1993.
Ol' Dave was just getting warmed up. There was the situation, this week, where Leafs coach Sheldon Keefe justifiably called out his "elite" players after a malodorous effort against the Arizona Coyotes… only to backtrack and explain himself a day later. From this desk, no such reparation was needed. Keefe was bang on about Auston Matthews, Mitch Marner, William Nylander and Co. for the anticipated no–show at Scotiabank Arena. Perkins agreed. "I guess Keefe remembered what happened when the $50 million coach hurt Mitchy's feelings and was gone soon afterward," Dave chided about Mike Babcock's failed ploy in getting Marner to "sing" about his teammates. "Otherwise, Keefe said nothing. He told his big boys, through the media, to play better. Which is precisely a coach's job. If he felt he had to apologize the next day for such a benign and accurate comment, the Leafs are the biggest bunch of pussies in NHL history. Even worse if someone above Keefe compelled him to backtrack.
"This is why the Leafs are a laughingstock across Canada," Perkins continued. "I have relatives in many places of the country and they chuckle at the hockey team because of its attitude of being bigger, smarter and richer than anyone else. All the Maple Leafs cannot do is win when it matters. But, they're all geniuses. Just ask them."
Turning to the Blue Jays, who were mauled and humiliated two weekends ago in a wild card playoff mess against Seattle, Dave could barely contain himself. "I watch those guys on TV, throwing peanuts in each other's hair; giggling like little children; putting on silly jackets, and I wonder what the championship Blue Jays teams would think," he offered. "I can understand a bunch of rich kids having fun, but what about acting professionally? Or, at least waiting until you win something to go off the deep end. Can you imagine players like Paul Molitor, Dave Stewart, Joe Carter, John Olerud, Tony Fernandez, Jack Morris, Jimmy Key or Tom Henke going goofy like that? Even Robbie Alomar, with all his off–field issues? Remember, the Blue Jays were favored by Las Vegas to win the World Series, not to scrape into the playoffs as a wild card team and get embarrassed. It was a total failure, from top to bottom. The manager panicked at the worst moment [taking out $100 million pitcher Kevin Gausman in Game 2] and got rewarded with a three–year contract. Everyone praised John Schneider for his wonderful record after replacing Charlie Montoya. But, look who the Jays were up against: Kansas City, Boston, Texas, Baltimore, Pittsburgh, Detroit. What team favored to win the World Series wouldn't look good against such weak opposition?
"And, how about the decision makers?" Perkins continued. "Mark Shapiro and Ross Atkins paid Jose Berrios $131 million; Hyun–Jin Ryu $80 million and Yusei Kikuchi $36 million. That's almost a quarter–billion dollars for three pitchers; none of which were good enough to start a big playoff game. It's a travesty. Yet, no one says or writes anything about that? You've said it, Howard: Nothing in professional sport is easier than losing in Toronto."
That's where Perky and I aren't only on the same page, but the same sentence. Complacency has overwhelmed the Maple Leafs and Blue Jays. "No championship team ever made more change from one year to the next than the 1992 Blue Jays," Dave pointed out. "Jimmy Key took a front–loaded contract from the Yankees. World Series hero Dave Winfield went to Minnesota after [Pat] Gillick rightfully refused to pay him what he demanded. In came Molitor and Stewart, a pair of first–rate pros. Pat Hentgen became a starter (and would win the 1996 American League Cy Young Award). Gillick picked up Fernandez and Rickey Henderson late in the season. He understood that staying the same, even after winning the World Series, wasn't conducive to repeating. Today, there's no such attitude. You get embarrassed in front of the entire baseball world, blowing an 8–1 playoff lead on your home field, and everything is just fine. The same group is allowed to come back and play like little school children yet again.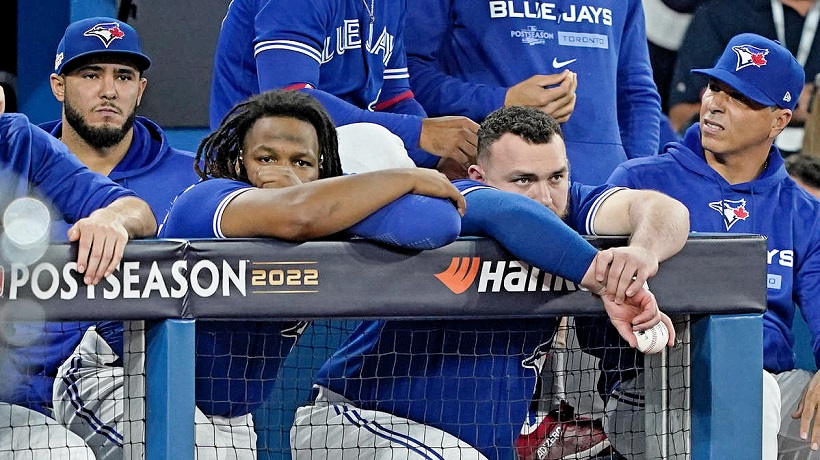 "And, don't start with me about the Leafs," Perky went on. "No management group, in any sport, has convinced itself that repeated failure in the playoffs is reason to change nothing. Six years, out in the first round. And, all we hear is 'we'll get this done' and 'we like our group'. The poor fans have to cross their fingers and try to believe it, even if they know better. And, wait to see the contracts Mitchy and Auston get next time around. Even if it's seven–and–out this spring. What team has ever made such a continuous mess of the salary cap? Either [Brendan] Shanahan and Dubas are incredibly stubborn, or they haven't a clue. There is no other explanation."
You may not, as a Toronto sports fan, enjoy what Perkins has said in this blog.
But, neither can any of his points be reasonably argued.
PERKY'S PADDLING: Those in the sports media world know that Perkins suffered a heart attack, late in 2014, while at the FAN–590 studio, waiting to join Bob McCown on Prime Time Sports. Thankfully, Dave recovered, but life has hardly been a bowl of cherries since that fateful afternoon. Perky being Perky, however, he looked at the situation with self–effacing humor. "Oh, I've been paddled eight times," he said about doctors correcting an Arrhythmia (or irregular heart–beat) with electric shock. "And, I've had two cardiac ablations. The next time that happens, they'll find out the cause of death in an autopsy. But, heck, I'm still on the right side of the grass."
THE KID AND THE VETERAN
As expected, and rightfully so, the ink and chatter, Thursday night, focused on the diminutive Nick Robertson, whose overtime tally lifted the Maple Leafs to a tough victory over the Dallas Stars. It was Robertson's second goal of the game, in his 2022–23 season debut. These eyes, however, admired the veteran, Auston Matthews.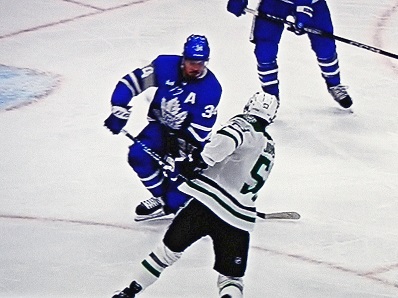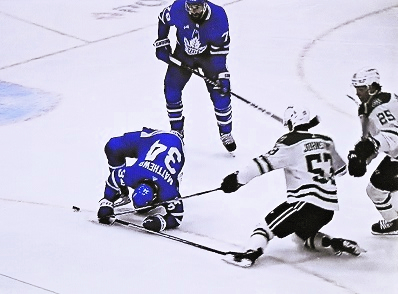 Though No. 34, uncharacteristically, has scored only once in the first five games of the schedule, he turned in a courageous and gritty performance against the Stars — twice leaving the ice in obvious pain, only to return and enter the physical fray. Matthews blocked shots and took hits along the boards to make passes. Though he enacted, on this night, a support role to the kid wearing No. 89, Auston proved that he's becoming a more–rounded and complete player; the type that will stand the Leafs a better chance of emerging from the first round of Stanley Cup toil. From my perspective, and though few were talking about it afterward, Matthews played one of his best games in a Toronto jersey. The flash and dash of the NHL's top goal–scorer the past two seasons doesn't always prevail. Nor does it have to. Thursday provided the Leafs and their fans an effort that wasn't quite as recognizable.
Yet, one that was clearly as important as any of Auston's multi–goal gems. SPORTSNET TV IMAGES
IAN, SCOTT AND NEIL: My telephone chat, earlier this week, with Ian Turnbull centered on the heart–rending condition of Turnbull's former defense partner with the Maple Leafs, Borje Salming. As most in the hockey world are aware, the pioneer of the European influence in the NHL is steadily declining in the throes of Amyotrophic Lateral Sclerosis [ALS, or Lou Gehrig's Disease]; a sad tale that was graphically illustrated by a posting, last weekend, on the Expressen newspaper website. But, Turnbull and I did enjoy a few moments of levity. Residing near Torrance Beach, south of Los Angeles, Ian began our conversation with "how's my favorite mortician?" and confessed he enjoyed this blog for its "muckraking" (who, me?). At one point, we talked about the great Toronto Star hockey scribe Frank Orr, who died in February 2021 and was remembered, last week, in a celebration of life at the Hockey Hall of Fame. Orr covered the Maple Leafs during the years that Turnbull, Salming, Darryl Sittler, Lanny McDonald and Mike Palmateer had the club among the top half–dozen in the NHL. Ian then remembered another sports–writing legend, Scott Young [d. June 12, 2005], who wrote columns for the old Toronto Telegram and, later, the Globe and Mail. And, who was equally known for being the father of a Canadian music icon.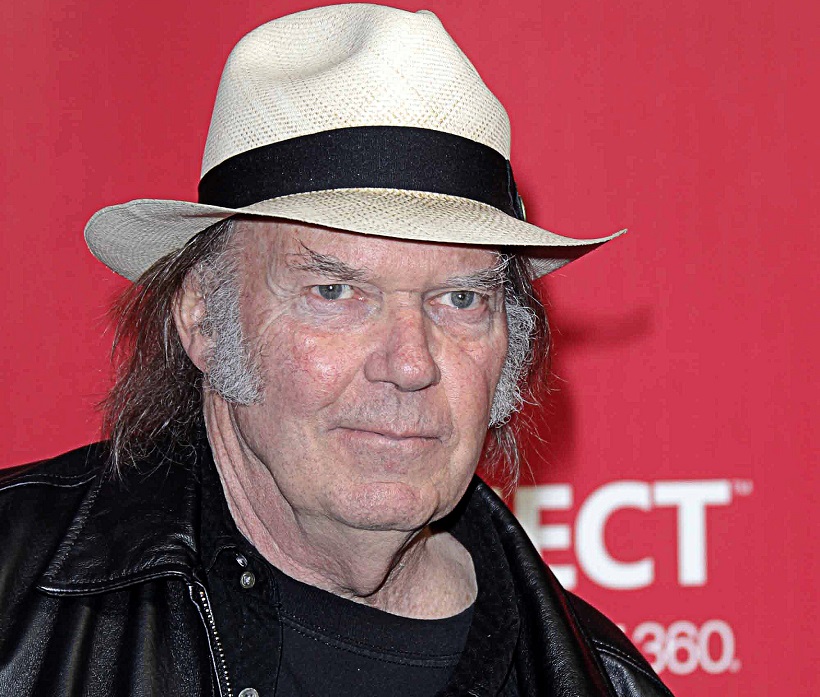 "Back then, you knew you had made it as a Leaf when Scott Young wanted an interview," Turnbull explained. "He chatted with me one day in my second or third year and I told him I enjoyed strumming away on the guitar. He replied, 'oh, is that right? My son also plays the guitar.' And, I said, 'Yeah? What's his name?' Scott mentioned 'Neil' and I didn't think any more about it until I was driving home. Then it hit me: 'Scott Young. Neil Young.'
"I felt like a dope."
EMAIL: HOWARDLBERGER@GMAIL.COM