TORONTO (Oct. 9) — The epic collapse by the Blue Jays on Saturday supplied the perfect prolog for the next six months of irrelevance involving our local shinny heroes. Not that anyone will pay heed to this warning when Auston Matthews begins to gyrate over an empty net goal against Seattle. But, maybe — just maybe — the latest wallop to the solar–plexus will provide a measure of caution throughout the long hockey season to come.
This corner is blue in the fingers with admonition about regular–season accomplishment: team and individual. It looks good on paper; it authors some exhilarating moments, but is thoroughly and utterly meaningless in the long run. If a player scores 60 goals to lead the National Hockey League and wins the Hart Trophy — but cannot contend for the Conn Smythe Trophy — how important are the goals and the MVP honor? When a baseball team cruises through September, thereby (and theoretically) "peaking" at the most–opportune time (ala the Blue Jays), and then falls apart in the playoffs over a span of 28 hours, does it really matter what happened in September?
Beyond our border, Aaron Judge made international headlines by hitting more home runs than any player in American League history. But, what if the Yankees fall apart against Cleveland in the upcoming Division Series?
Toronto, except for one glaring example, has become a city of professional sports window dressing. Only the 2019  Raptors, with an elite shooter that saved his best for when it truly counted, interrupted the pattern. And, Kawhi Leonard did not return for an encore. To this point in time, the key figures with the Maple Leafs and Blue Jays are small–money players. There isn't an ounce of clutch in any of Matthews, Mitch Marner, William Nylander, John Tavares, Morgan Rielly, Vladimir Guerrero Jr., Bo Bichette, Alek Manoah or Jordan Romano… and don't give me the "bad–luck bloop" routine. Were Bichette a more–polished pro, he wouldn't have dared to venture into shallow center field on Saturday, thereby crashing into teammate George Springer (who was clutch in Houston) and clearing the bases for Seattle. Bichette would have paid attention to Springer bellowing for a ball that was clearly the domain of the incoming outfielder, not the outgoing infielder. Clutch playoff performers do not commit such blunders with a game — and a short series — on the line. The Blue Jays, therefore, authored their own demise.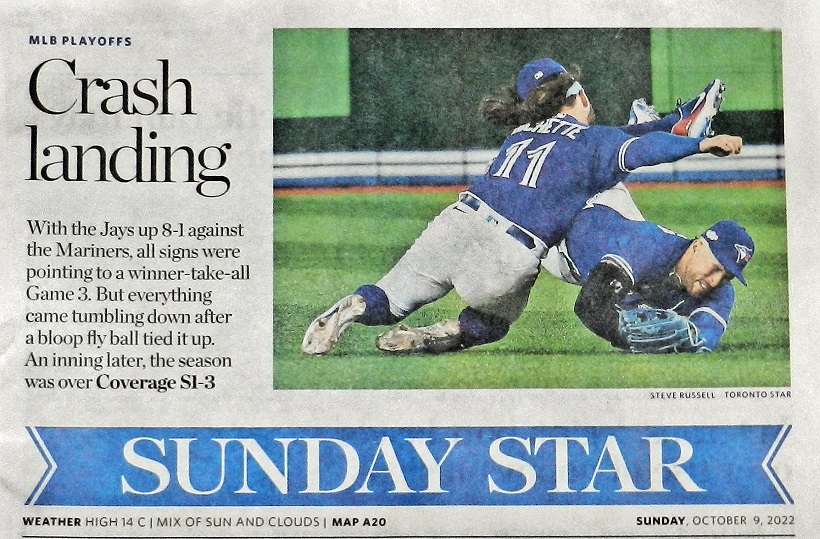 Over the past 9½ years, our hockey and baseball teams have rung up a remarkable list of dubious playoff "achievement". That folderoo by the Maple Leafs at TD Garden in Game 7 of the 2013 Stanley Cup opening round is still, nearly a decade later, the most–prodigious in hockey annals. To wit: no team, before or since, has blown a three–goal lead in a decisive match with so little time left in the third period. And then lost in overtime. The Game 7 defeat against Tampa Bay last April provided the Leafs the distinction of becoming the first NHL team to lose six consecutive years in the opening Stanley Cup round. Even the pre–Kawhi Raptors joined the party while getting blown out, 128–93, at Cleveland in Game 4 of a 2018 Cavaliers sweep for the biggest margin of defeat in an NBA elimination match. Then came the Boys of Summer this weekend; spitting up that 8–1 lead to the Mariners on home turf for the second–largest collapse in Major League Baseball playoff history, allowing Seattle the largest–ever comeback win by a road team… or any team in a clinching post–season match. Such a litany of woe would normally engender caution amid fans in the afflicted region… and prevent local media from becoming pawns at the feet of the bumbling franchises. But, not here in the Big Smoke (or, is it the Big Choke?). Routinely… year after year… disaster after playoff disaster… it generates nothing but amnesia. As it surely will again when Auston, Mitch and the boys begin to spin their regular–season magic, thereby raising false playoff expectation once again; egged on by far–too–many media cheerleaders — all of whom clearly know better, but insist on waving the flag.
Which begs the question: How many punches to the gut will it take for local sports observers to properly minimize everything that occurs before the playoffs; to understand — and impart — that the 82–game NHL and 162–game MLB schedules are a series of exhibition matches aimed at seeding teams that qualify. And, nothing more. The most–wealthy among us takes not a nickel to his grave. Neither do the heroes of October–to–April, or April–to–October, carry with them a single goal or home run into the playoffs. The entire process begins anew, and for real.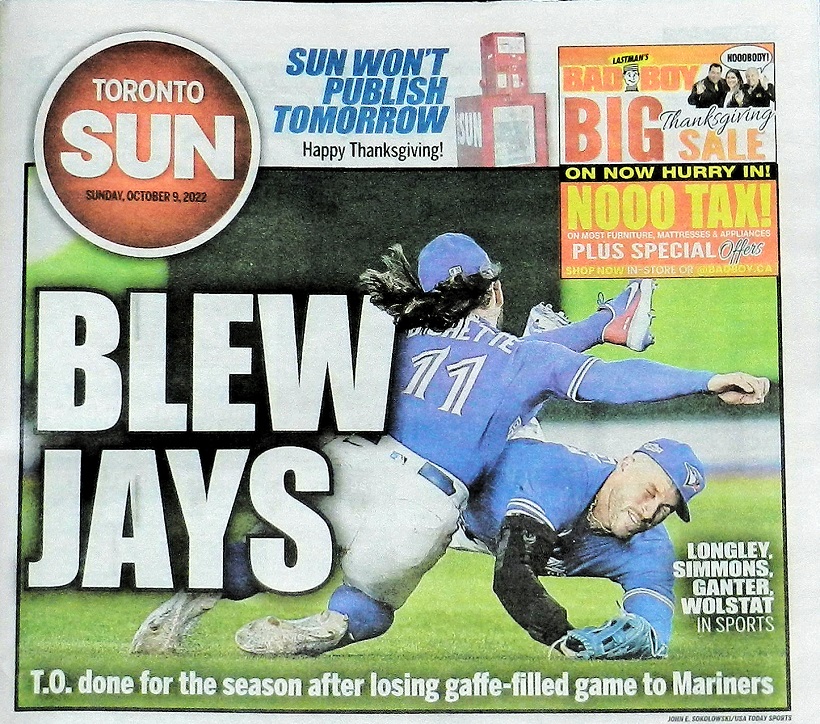 Maybe it all comes down to geography. I mean, which two cities of such–immediate proximity as Toronto and Buffalo have sustained more grief through their professional sports teams in the past 30 years? "Wide Right"… "No Goal"… The "Music City Miracle"… "13 Seconds"… oh, the poor denizens of western New York. But, we up here have run step–by–step with our American neighbors, beginning with the blood that dripped from Doug Gilmour's chin at the Los Angeles Forum and the Great One's coup de grace two night later at Maple Leaf Gardens. Add in the aforementioned others in this blog and it's a wonder that sanity prevails in either sports city.
EMAIL: HOWARDLBERGER@GMAIL.COM