TORONTO (Nov. 24) — Eight years after the morning we heard that Pat Quinn had passed away, another Maple Leafs legend — Borje Salming — has lost his battle with Amyotrophic Lateral Sclerosis (ALS or Lou Gehrig's Disease). And, thank God for taking the Hall–of–Famer so quickly, without further distress.
Quinn, the former Leafs defenseman and coach, died just before midnight on Nov. 23, 2014.
It was only in August that we learned of Salming's dreadful diagnosis… and just two weekends ago that we could see how rapidly he was declining. No one will forget the heartrending images of Salming and Darryl Sittler crying on the ice at Scotiabank Arena; each aware it was their last moments together in such a setting. Mournfully, yet thankfully, the end came as it should. There is virtually no hope for people contracting ALS. The thought of an individual suffocating to death when the disease paralyzes respiratory muscles is too much for most to bear.
"Yes, I was prepared to hear the news of Borje's death… and, yes, it was a blessing," said Sittler early this afternoon on the phone from Florida. "I've been in touch with the family since they left Toronto and I knew he was getting worse. I had a Zoom call last night with [Salming's wife] Pia. She said the doctors felt Borje may have a couple of more weeks. But, I told Pia to be prepared for it to happen sooner. I got a text from Teresa [Salming's daughter] this morning, telling me Borje had died. His children and grandchildren were around him when he passed, peacefully. It hit me hard, no question, but I'm thankful he won't suffer and linger through all the stages of that terrible disease. And, of course, that we had our time together as players in Toronto."
Salming summoned almost superhuman fortitude and courage to make the long flight from Stockholm on Hall of Fame weekend. Emotional on–ice ceremonies followed prior to consecutive–night home games the Leafs played against against Pittsburgh and Vancouver. The images will forever be seared into memory — Borje involuntarily coming to tears (a common trait of ALS victims) with Sittler crying to his right, holding his arm. "Oh, thank God that all came together," said Sittler, between more tears. "To think that it happened when it did (on Remembrance Day) and that Borje was somehow able to attend, last Thursday, a ceremony for the 100th anniversary of the Swedish Ice Hockey Federation. On the Sunday he left Toronto, Borje fell and cracked open his face. It was awful. But, nothing could ever hold that guy back. He was a warrior like no person I've ever seen. And, right to the bitter end."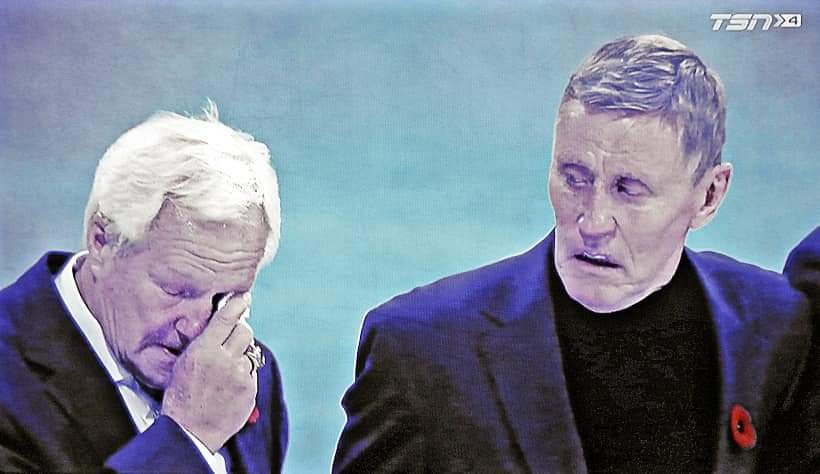 IT WAS ONLY 13 NIGHTS AGO THAT BORJE SALMING (RIGHT) LOOKED ON AS CLOSE FRIEND AND FORMER TEAMMATE, DARRYL SITTLER, BECAME EMOTIONAL ON THE ICE AT SCOTIABANK ARENA.
Sittler and Salming were teammates with the Leafs from 1973–74 to January of 1982, when the former was traded to Philadelphia. Between 1975 and 1979, Sittler, Salming, Lanny McDonald and Dave (Tiger) Williams formed not only the emotional blueprint of arguably the best Toronto teams since the 1967 Stanley Cup, but an unshakable, lifelong friendship that was as strong, two weekends ago, as at any time during their playing careers. "Yeah, we loved each other and always will," said Sittler. "And, who knows, maybe Borje had some control toward the end. At least, it would seem that way. After making that final, remarkable trip to Toronto and saying goodbye to the important people in his life, perhaps he was able to let go. That's what I firmly believe, given how quickly he passed.
"And, if so, considering his courage, it was a well–deserved blessing."
Sittler is at his Florida home on this U.S. Thanksgiving with wife, Luba, and his children.
Former Leafs have a flair for passing away: Red Kelly died on May 2, 2019, the 52nd anniversary of the night he and the Leafs last won the Cup. Kelly was Salming's first coach in the National Hockey League; Sittler's second (after the late John McLellan). And, Borje left us as Americans were preparing for their annual gathering and feast.
"Yup, we're all getting ready to have a turkey dinner tonight and celebrate Borje's life," said Sittler. "I'm very sad today, as you can imagine, but so proud that I was able to call Borje my friend for the past 39 years. The seasons we played together for the Leafs were magical. I'll miss him… perhaps more than I can comprehend right now.
"But, he'll be in my heart every day for the rest of my life."
May God bless the King… now and forever.
EMAIL: HOWARDLBERGER@GMAIL.COM