TORONTO (Nov. 10) — Okay, we're in the midst of a dream… at a time when there was no limit on roster wages in the National Hockey League. As a fan of the Toronto Maple Leafs, who would you rather have in your top five:
Auston Matthews–John Tavares—William Nylander–Erik Karllson–Morgan Rielly?
Auston Matthews—Mitch Marner—John Tavares—Morgan Rielly—T.J. Brodie?
Again, we're in a dream here. Fast asleep with Rapid Eye Movement. Because, in the conscious world, the only way the Leafs can obtain Erik Karlsson — performing, once more, as a Norris Trophy candidate in San Jose — is by trading Mitch Marner to the Sharks. Or, Auston Matthews. And, we know Matthews is going nowhere (for now).
There is no other way to balance out the salary cap equation.
Karlsson, under contract four four more seasons at a cap hit of $11.5 million, is precisely and exquisitely the missing piece of the Toronto puzzle; a component absent since Borje Salming was in his prime 45 years ago. Karlsson is also wasting away on a mediocre west coast team. The Leafs, gushing with top–end forward skill, have gone nowhere in the playoffs for six consecutive years. Standing pat will add a seventh year to the drought. Therefore, as we continue to dream, would you make the Marner–for–Karlsson swap, hoping that a super–elite defenseman might help to alter the springtime narrative? There are valid arguments against such a move. Karlsson is seven years older than Marner and locked into place until age 37. What if, however, his addition would provide the Leafs a legitimate chance to not only emerge from the opening playoff round, but to challenge for the Stanley Cup?
What if the Maple Leafs, with Karlsson, actually WON the Stanley Cup next spring… before Matthews tells us whether or not he wishes to hang around these parts? Would the mega–swap be worth a single championship?

PHOTO CREDIT: GETTY IMAGES/NHL
Of course, these epic transactions happen rarely… and only elsewhere. Not in a place where the president (Brendan Shanahan) and general manager (Kyle Dubas) are so risk averse as to go with the same nucleus year after year, playoff fiasco after playoff fiasco. Not in a city where fractured ownership sits idly, more concerned about cable subscriptions than shaking up an amalgam of management and players that cannot get the job done when it matters. So, Erik Karlsson (if, in fact, tradable) will find himself with an organization that values winning above all else. Or, at least a diligent attempt to win the big prize. A strategy that is foreign to hockey in Toronto.
Now, wake up and enjoy a good stretch.
THE HOCKEY HALL OF CONTRADICTION
So, I wonder again: Is the ornate building at Yonge and Front St. here in town the Hockey Hall of NHL Statistics; the Hockey Hall of Stanley Cup Playoff Achievement; the Hockey Hall of International Renown… or, as stated, the Hockey Hall of "Fame"? Because, it cannot be all four without trampling over itself.
For example, Paul Henderson (236 career goals) does not qualify for the Hockey Hall of Statistics, even though he scored arguably the most "famous" goal in the history of the sport. The man he legendarily beat in Moscow on Sep. 28, 1972, Vladislav Tretiak, is in the Hockey Hall of International Renown, even without playing so much as a minute in the NHL. In our romance over Tretiak, nobody underscores that the '72 Russians fell to Team Canada in a biblical collapse by losing the final three games of the Summit Series on home ice. And, by blowing a 5–3 lead heading into the third period of Game 8. Tretiak was in net for all three matches, allowing 13 goals, or 4.33 per outing, an unsightly figure in any hockey league or era. Henderson scored the winning goal for Canada in each of the three final clashes and played 707 games in the world's best league — precisely 707 more than Tretiak.
But, ol' Vladislav is in the Hall of "Fame" for the metaphoric honor of being the "best goalie to never play in the NHL." And, for winning three gold medals at the Winter Olympics (1972, 1976, 1984) against mostly third and fourth–rate skaters in years long before the NHL's participation. Also gob–smackingly on Tretiak's resume is the fabled inability to defeat a bunch of unknown American college kids at the 1980 Winter Games in Lake Placid.
Yet, he's more worthy of the Hockey Hall than Henderson. Go figure.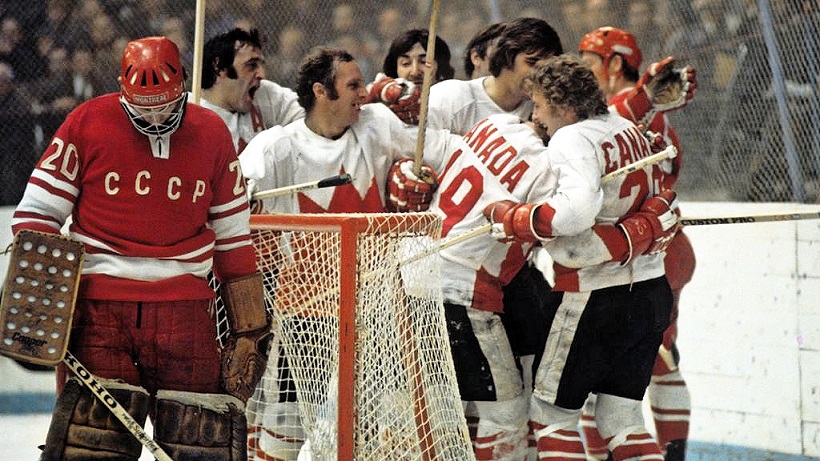 THE MYTH OF RUSSIAN GOALIE VLADISLAV TRETIAK HAS RARELY BEEN EXPLORED, EVEN THOUGH HE NEVER PLAYED A REGULATION MATCH AGAINST NHL COMPETITION AND FAMOUSLY COUGHED UP THE 1972 SUMMIT SERIES… MAINLY TO PAUL HENDERSON OF TEAM CANADA.
Another example: Bob Pulford is in the Hockey Hall of Stanley Cup Playoff Achievement despite a best NHL season of 28 goals and 56 points — akin to the Baseball Hall of Fame enshrining a player with 150 career home runs. Yes, Pulford was a key figure on all four of Toronto's Stanley Cup teams in the 1960's. But, so were Doug Risebrough, Yvon Lambert, Mario Tremblay and Doug Jarvis with Montreal's Cup dynasty in the 1970's. None, however, received as much as a single vote for the Hockey Hall of Statistics. So, how did Pulford make the cut? We know it was mostly nepotism, as the Maple Leafs center was tight with Alan Eagleson and a prime mover in the NHL Players Association. But, there must be dozens of average NHL'ers who were friendly, through the years, with influential people and never got a sniff of Hall recognition. Dick Duff is another example; a smooth–skating forward that scored a career–best 29 goals and 53 points with the 1958–59 Maple Leafs. Duff skated on a pair of Stanley Cup teams in Toronto and four more with Montreal from 1965–68. So, he's actually a member of the Hockey Hall of Stanley Cup Playoff Achievement. But, not Risebrough, Lambert, Tremblay or Jarvis. Why not?
Other mysteries abound. Why, for instance, isn't Rick Vaive in the Hall? How can you get more "famous" in the center of the hockey universe than becoming the first Leafs player to score 50 goals in a season… and by doing so in three consecutive years? If he accomplished that during the Pat Burns–Doug Gilmour era in the 90's, Vaive would be on Legends Row outside of Scotiabank Arena. Which he should be, anyway. Why isn't the late forward, Dean Prentice, in the Hockey Hall of Statistics after accruing 391 goals and 890 points in the NHL? There are enshrined players that never approached such figures. Perhaps it was for the same reason as Vaive, who had the misfortune of wearing a Toronto jersey during the lost decade of the 1980's under Harold Ballard. Prentice, through no fault of his own, skated for a bunch of lousy New York Ranger teams in the 1950's, then even lousier Boston Bruin clubs in the first half of the 60's. He finished his career in expansion with Pittsburgh and Minnesota.
But, Dean's numbers are, unequivocally, Hall–of–Fame worthy.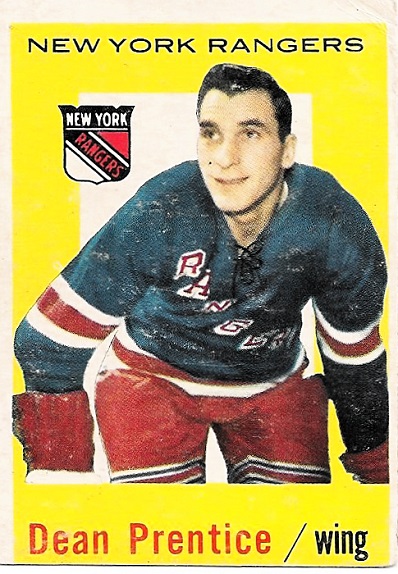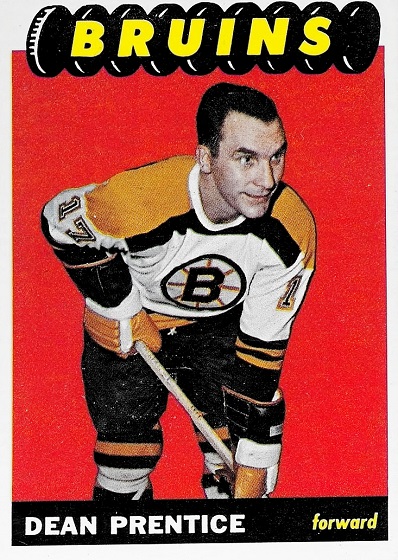 These, of course, are all rhetorical topics. The Selection Committee at the Hockey Hall is a quasi–mafia contingent, yielding its covert and clandestine induction criteria only on the threat of death (an exaggeration, but you get the point). The Committee members have buried and protected more secrets than Vladimir Putin's Kremlin. So, we'll likely never understand why there is such rampant contradiction in the election process. And, whether Paul Henderson will forever be denied his rightful place in the Hall of "Fame" primarily because observers talk and write about the injustice every year at this time. Perhaps we can add Hockey Hall of "Obstinacy" to the list.
50 YEARS ago… at Maple Leaf Gardens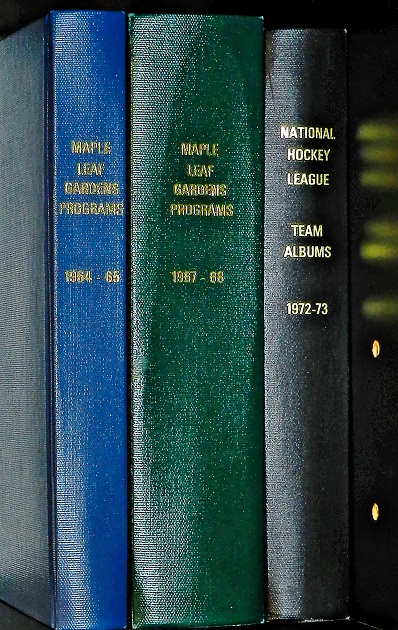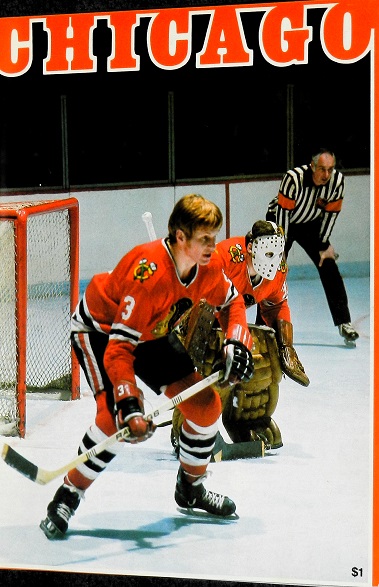 The 1972–73 season represented the final of three consecutive years in which Maple Leaf Gardens offered albums of all the NHL teams as part of its game program. I had these items (and others) bound into books in the late–1980's (top–left); the '72–73 albums are on the right (in black) and an example is provided by the Chicago Black Hawks cover. The program inserts appeared as below, with the date and opponent across the top.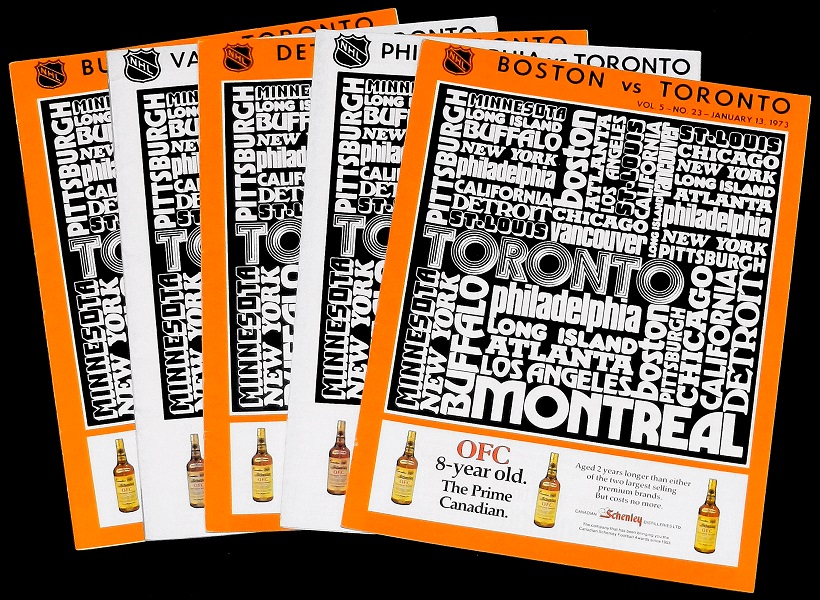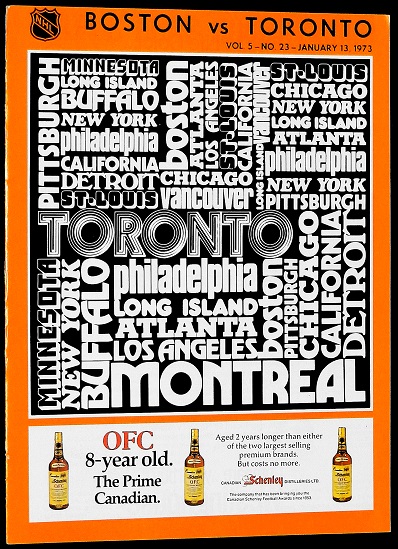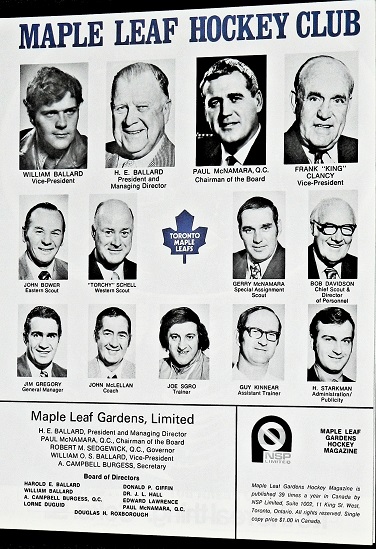 With Maple Leafs owner Harold Ballard in the hoosegow near Kingston, Ont. for misappropriating Gardens' money in the 60's, his son, Bill Ballard (bottom–left) ran the building. General manager Jim Gregory and coach John McLellan were in their fourth seasons in command of the hockey club. With key players Bernie Parent, Jim Harrison, Rick Ley, Brad Selwood and Jim Dorey having been lost to the new World Hockey Association (Dorey was traded to New York after making his intentions known), it would become the worst season in Toronto franchise history to that point, exacerbated by a 4–1 loss to the Bruins on Jan. 13, 1973 (insert cover, top–left).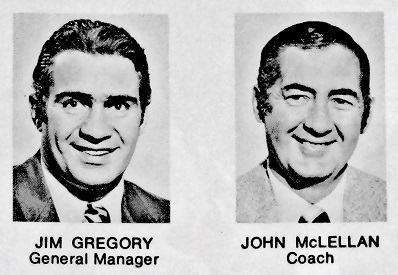 A listing of events to come at Maple Leaf Gardens included a concert by Canadian guitarist Neil Young, in the midst of a string of hit songs that included Cinnamon Girl, Heart of Gold and Old Man. The Jan. 22 boxing match (on closed–circuit TV from Kingston, Jamaica) saw George Foreman quickly demolish Joe Frazier for the heavyweight title. The Toronto Star Indoor Games was an annual track meet held at the Gardens from 1963 to 1988.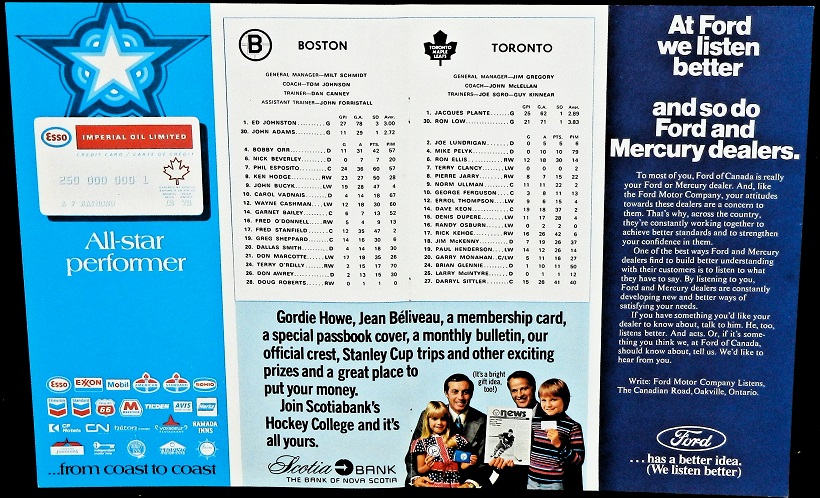 This game occurred in the midst of a typical stretch for the '72–73 Maple Leafs, who plummeted by 16 points in the standings. A 4–1 loss to the Bruins was part of a 3–12–1 blight from Jan. 3 to Feb. 6, 1973, leading to a final mark of 27–41–10 for 64 points, fewest by the club (to that juncture) in a minimum 70–game schedule. As part of the Leafs roster (below), Joe Lundrigan (2), Terry Clancy (7), Randy Osborne (16) and Larry McIntyre (25) were minor–league players asked to fill NHL spots. Ron Low was hardly a valid replacement in goal for Bernie Parent, who defected to Philadelphia of the WHA. First–period tallies by Rich Leduc (a rookie not listed in the line–ups) and Phil Esposito was all Boston needed to upend the Leafs. Rick Kehoe scored Toronto's lone marker in the second period, but Fred Stanfield and Terry O'Reilly beat Low to put the game out of reach… despite a 42–32 edge in shots by the home side (goalie John Adams recorded the win) and Boston taking 20 of 24 penalty minutes. With the lop–sided win, the Bruins moved 24 points up on the Leafs in the East Division.
Art Skov refereed the match with linesmen Matt Pavelich and Alan Glaspell.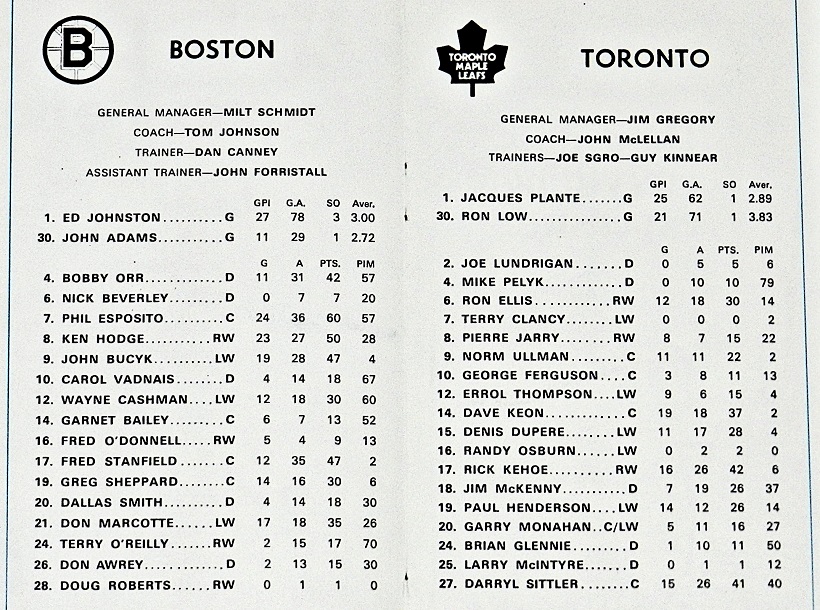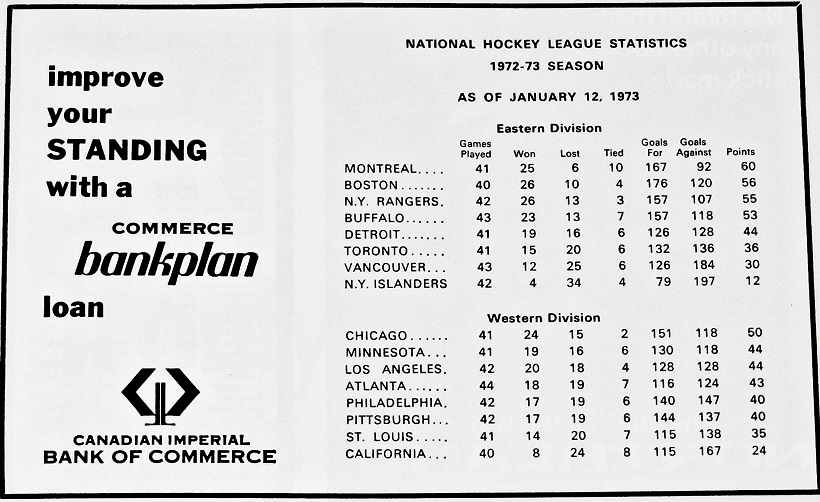 By the midway mark of the '72–73 schedule, the Leafs were well out of playoff contention in the East Division, trailing fourth–place Buffalo by 17 points (with Detroit in between). The top four clubs in each division qualified for the Stanley Cup tournament. Ultimately, Toronto would finish sixth, ahead of only Vancouver and the expansion New York Islanders, missing the playoffs by a whopping 24 points.
EMAIL: HOWARDLBERGER@GMAIL.COM