TORONTO (Nov. 28) — For several years now, the Toronto Maple Leafs have been November's champion.
Over the past three National Hockey League regular seasons, the Leafs possess a remarkable 30–5–4 record in the second month of the schedule. Two years ago, during the 56–game "pandemic" season in which they played exclusively against Canadian opponents, that month was February. Not that it matters. For whatever reason, the Maple Leafs of Sheldon Keefe, Auston Matthews, Mitch Marner and Co. stumble from the gate, only to come alive when the moon returns for a second time. Last season, Toronto put up a 12–2–0 mark in November. This year, with a blue line decimated by injury, the club is 9–1–3; inexplicably, given all its top–end forward skill, unable to triumph in 3–on–3 overtime, but near perfect elsewise. Moreover, since the consecutive–night home games of Nov. 11–12 (best remembered for the final farewells to Borje Salming), the Maple Leafs are playing — in my view — their best hockey since the Pat Quinn era, which ended in 2006; featured a pair of appearances in the Stanley Cup semifinals and a franchise–best 16–game unbeaten streak (14–0–2, from Nov. 22 to Dec. 26, 2003). That is correct: no Toronto team since the late, great Irishman stood behind the bench has fared as competently and admirably over a stretch of regular–season games. For which Keefe and the players should feel immense pride.
Most impressive, going into tonight's match at Detroit, is a five–game win streak on the road against tough opponents Carolina, Pittsburgh (twice), New Jersey and Minnesota. All accomplished without injured defensemen Jake Muzzin and T.J. Brodie; the past three wins (in a four–night span) without top blue–liner Morgan Rielly. Somewhat quietly, Matt Murray has returned from his latest absence and locked down the Toronto net with timely, important saves. Not much, if anything, has been lost with back–up Erik Kallgren subbing for Murray. Somehow, ancient Mark Giordano and the mistake–prone Justin Holl have formed a proficient shut–down pairing, while Rasmus Sandin has stepped up, so far, in Rielly's absence. In a blog last week, I rolled my eyes at TSN's Darren Dreger for suggesting the Maple Leafs, sans their top three blueliners, would improve systemically in the neutral and defensive zones, wondering why such growth hasn't occurred in the past 55 years. During a small, yet impressive sample–size, Darren has been bang on. The Leafs are compensating nicely for a manpower shortage.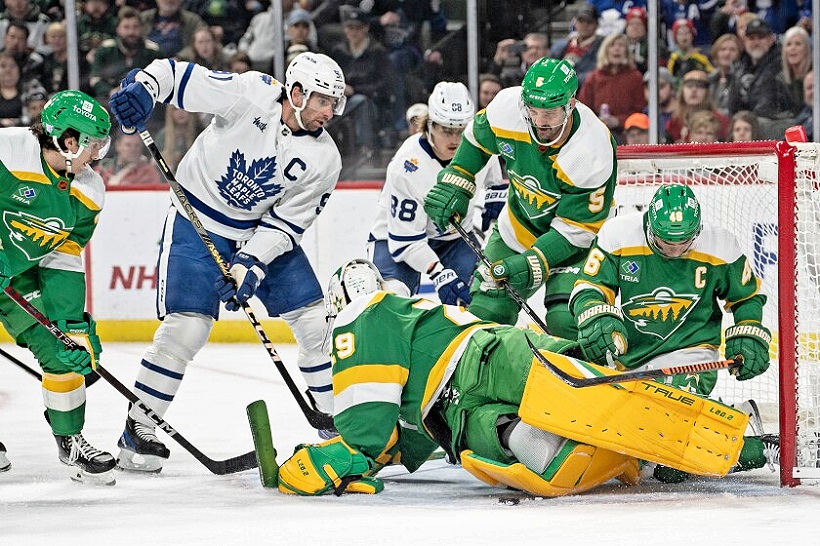 THE LEAFS CONTINUED THEIR NOVEMBER ROLL WITH A FRIDAY AFTERNOON VICTORY AT THE XCEL ENERGY CENTER IN ST. PAUL. THE WILD WORE ITS REVERSE–RETRO UNIFORM, FEATURING THE COLOR SCHEME OF THE OLD MINNESOTA NORTH STARS. MATT BLEWETT USA TODAY SPORTS
Undoubtedly, many reading my comments will say "big deal, let's see this happen when it matters: in the playoffs." Such observers are preaching to the choir. After six consecutive failures in the opening volley of Stanley Cup competition, the 2022–23 Maple Leafs will be graded solely on what transpires next April (and beyond). With each first–round elimination, the following regular season (and all its individual accomplishments) becomes increasingly irrelevant. That said, very few players in the NHL can fluke their way to a 16–game points streak, such as Mitch Marner, beginning Oct. 27 at San Jose. Neither will many clubs ascend when their top skater is marginally better than average over a spate of games. Yet, the Maple Leafs have been rather splendid with Auston Matthews scoring but 10 goals in 25 outings — on pace for roughly 35, almost a 50 percent reduction from last season.
Some will agree (and I'm among them) that quiet efficiency is preferable, in the long run, to flashy numbers and achievement; so common with the Matthews–Marner unit. Perhaps, therefore, these Maple Leafs are finally learning how to perform when money is on the line. We won't know, of course, until the spring. But, neither is there an honorable way to minimize how masterfully the club has comported itself during this latest November surge.
WHEN BORJE RULED THE LEAFS
There were numerous examples, in the 1970's, of the late Borje Salming dominating games for the Toronto Maple Leafs. Such occasions occurred, consecutively, against the New York Islanders and Minnesota North Stars in mid–December 1977. Here are dispatches from a scrapbook I kept that season, while attending games in season tickets located in the south–mezzanine Blues at Maple Leaf Gardens:
NEW YORK ISLANDERS 2 at TORONTO 3: Dec. 14, 1977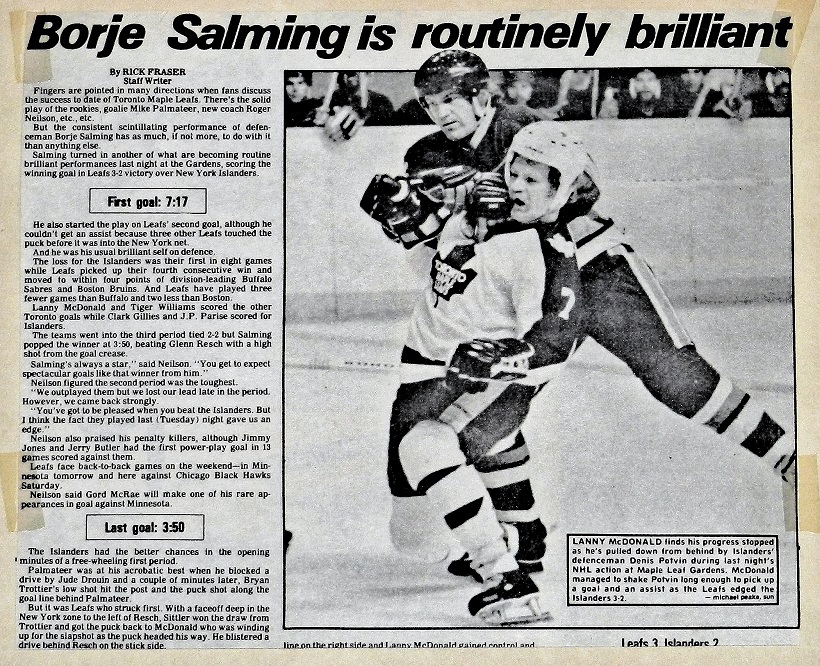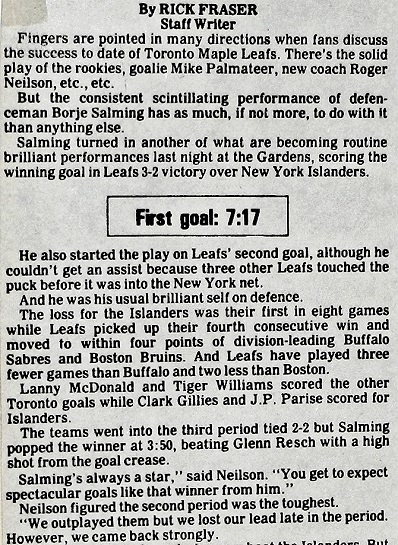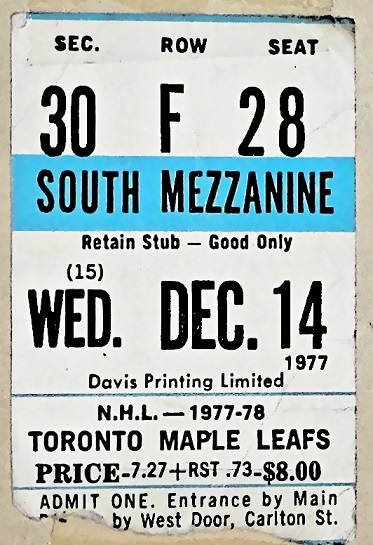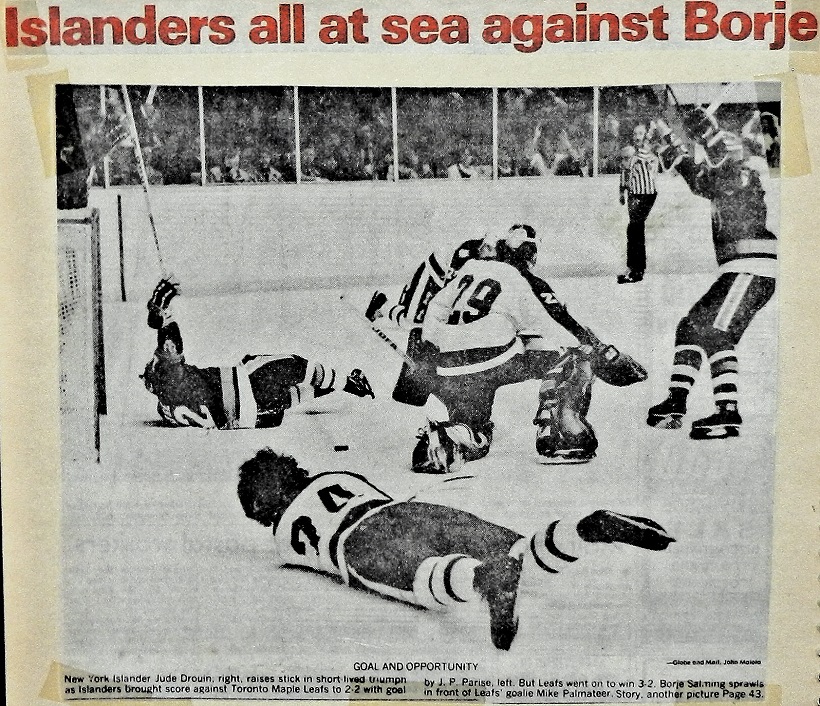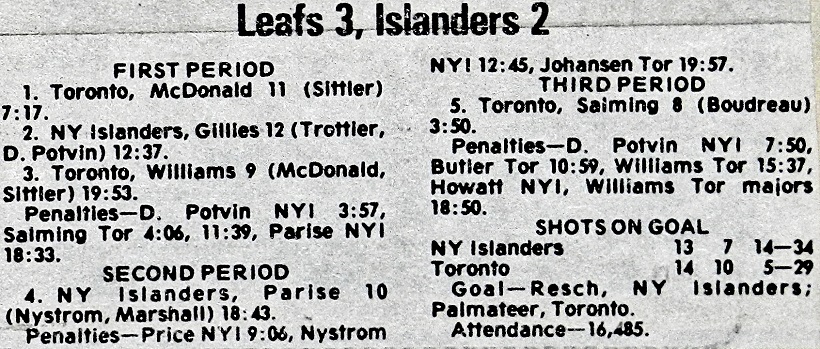 TORONTO 8 at MINNESOTA 5: Dec. 16, 1977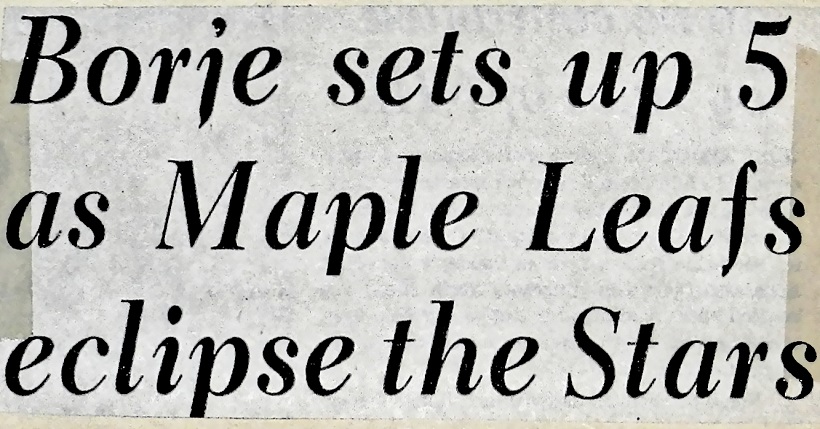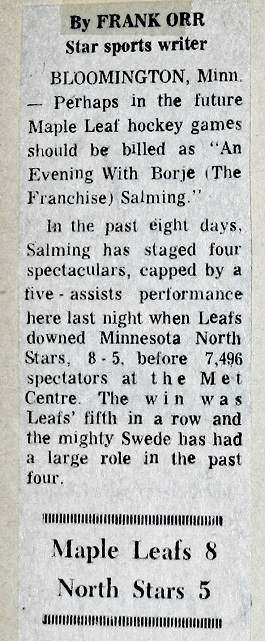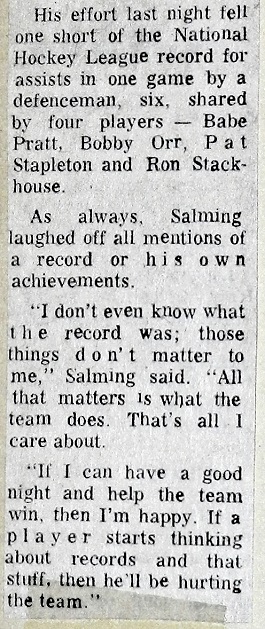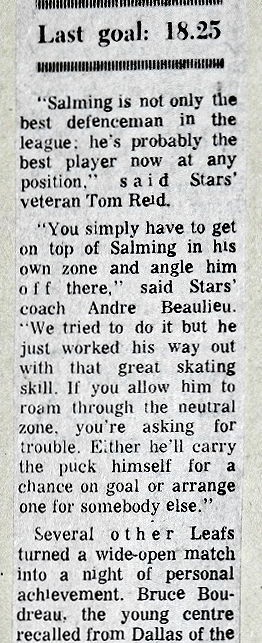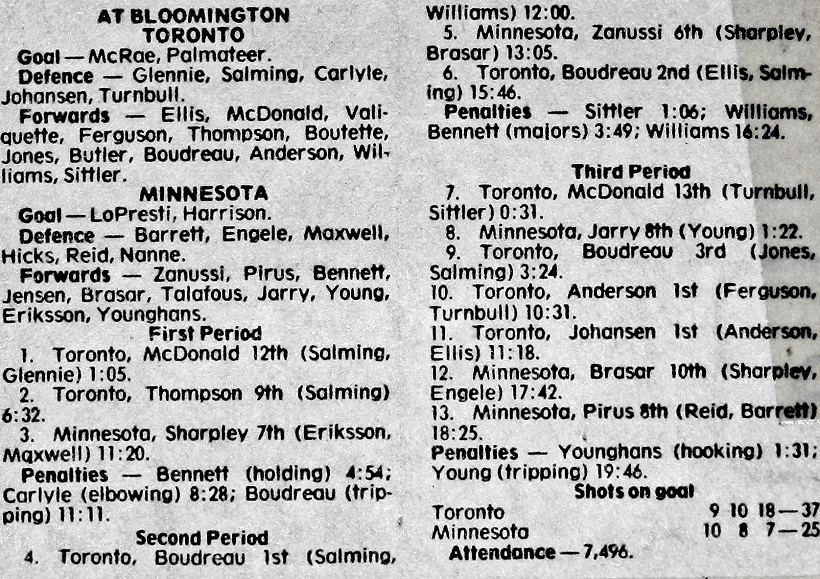 EMAIL: HOWARDLBERGER@GMAIL.COM