TORONTO (Nov. 25) — It's a photo for the ages. Four men huddled in lifelong love and imminent grief across the road from the home of legends; the building in which they became royalty.
Borje Salming, the Swedish hockey pioneer and Hall–of–Fame defenseman, left nothing to chance when he visited Toronto two weekends ago. He knew — I think we all knew — it would be his last opportunity to spend time with the old guard of the Leafs — his comrades for life (left–to–right, below): Dave (Tiger) Williams, Darryl Sittler and Lanny McDonald. It was one matter to stand on the ice at Scotiabank Arena and soak in the love from current–day fans of the Blue and White, as did Salming on that now–legendary Remembrance Day eve. Another matter, altogether, bidding adieu to Maple Leaf Gardens, the arena in which he played all of his 16 years in a Toronto uniform. So, there he was, in a wheelchair on the sidewalk across Carlton Street from the main entrance to the yellow–sandstone edifice; a fleece blanket to shield him from the November chill.
With only 12 days left on Earth.
Of all the images in Maple Leafs lore, can this one pale?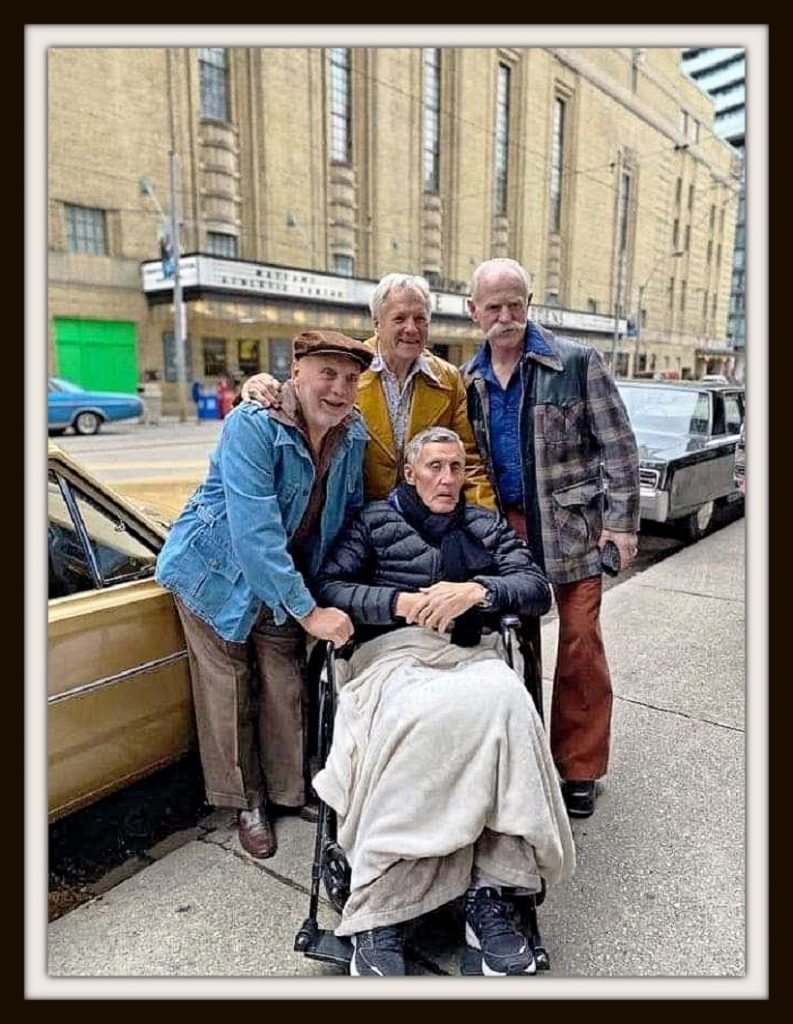 It was just more than 1½ years ago that I last spoke with Borje Salming — on the telephone from Stockholm, two days before his 70th birthday. Neither he nor anyone else could foresee the impending doom. The Leafs legend was joyful and thankful that day, about to be surrounded for his milestone by children and grandchildren. What could be better, at any time, in any place? That conversation will now take me to my final breath, whenever it should be. Moments I will cherish.
My last blog with the King:
TORONTO (Apr. 15, 2021) — It is impossible for me to think about Borje Salming turning 70 this Saturday without remembering the day he turned 25: Apr. 17, 1976. For that night — at Maple Leaf Gardens — produced the greatest moment of his career as a Hall–of–Fame defenseman with the Toronto Maple Leafs… and, to this day, the loudest, most–spontaneous eruption of noise I've ever witnessed at a National Hockey League game in this city.
It was the second period in Game 4 of the 1976 Stanley Cup quarterfinals against Philadelphia. I was perched in my season tickets at the top of the south–mezzanine Blues, above the end of the rink defended by the Leafs in the first and third periods. In this period, Flyers goalie Bernie Parent stood beneath me in his bright orange jersey. Two nights earlier, in Game 3, Philadelphia rookie Mel Bridgman had cowardly punched out Salming in a second–period brawl near the Leafs net. The Swedish–born blueliner, among the most–gifted and stylish players in the NHL, was not a fighter, though he understood the modus operandi of the Broad Street Bullies. As the Leafs won, 5–4, to climb back into the series (after losing Games 1 and 2 at the Spectrum), Salming absorbed punishment that left him black and blue. It culminated at 17:29 of the middle frame when Bridgman sought out Salming in a wild scrum to the right of the Toronto goal and hammered him in the face 11 consecutive times with his right fist.
Rather than getting mad, Borje chose to get even.
With Game 4 deadlocked, 1–1, late in the second period, Salming passed to Leafs captain Darryl Sittler along the west boards, in front of the penalty benches. He then burst straight up the middle of the ice and loudly whistled for a return feed, which Sittler executed, tape–to–tape. Salming, at close to full speed, moved in on a clear breakaway and fooled Parent with a snap–shot to the upper–left corner — the play unfolding directly beneath me and to my right. Maple Leaf Gardens absolutely detonated. For more than three minutes, the 16,485 delighted fans stood and loudly exulted No. 21: their conquering hero after the mugging, two nights earlier, by Bridgman.
"Yeah, I have to agree, it was my greatest personal moment with the Leafs," Salming acknowledged, today, over the telephone from Sweden. "The fact it was my birthday made it a little sweeter, I guess. Those fu–ing guys on Philly tried to take me out the whole previous game. I got beaten up pretty bad by Bridgman. But, you know, I gave it right back to them by scoring that breakaway goal. I'll never forget turning around with my arms raised and seeing Darryl and Lanny [McDonald] looking so excited. I jumped into Lanny's arms. It was fantastic."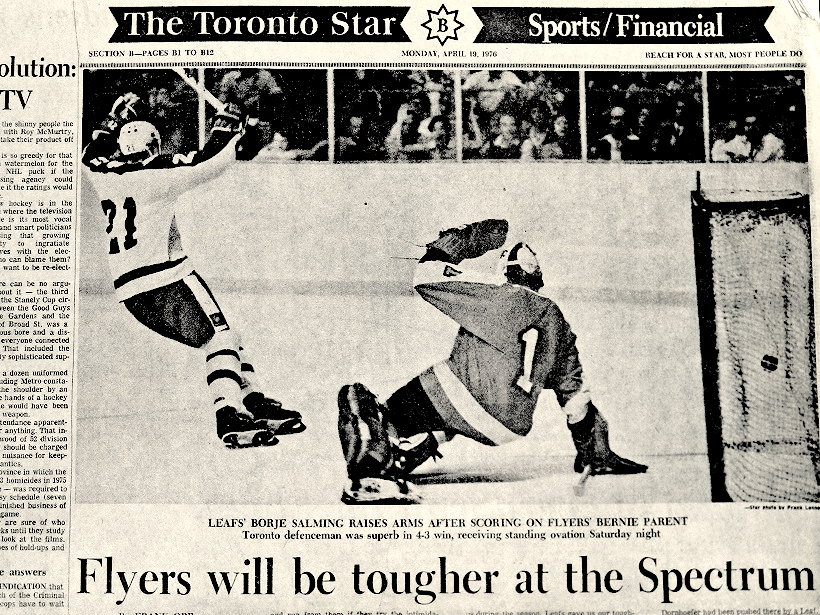 FRONT SPORTS PAGE OF THE APR. 19, 1976 TORONTO STAR WITH A COLUMN (BELOW) BY THE LATE JIM PROUDFOOT.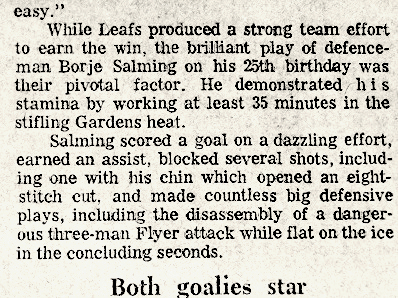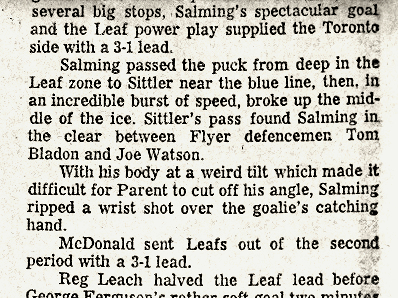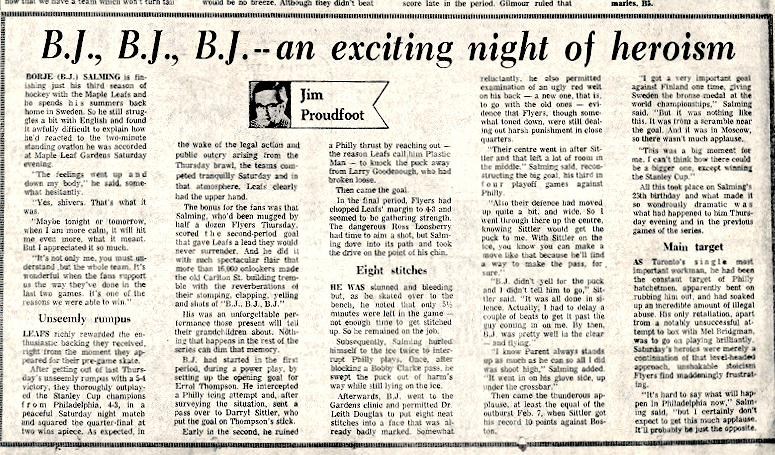 The Leafs won the game, 4–3, to tie the series 2–2 but eventually bowed out in seven. The marathon quarterfinal round is best–remembered for something called "Pyramid Power", conjured up by Maple Leafs coach Red Kelly prior to Game 6 at the Gardens. Kelly had his players put the blade of their sticks under a makeshift pyramid in the home dressing room, believing it would spawn all sorts of mythical energy. When Sittler went out and scored five goals on Parent — tying a playoff record that still exists — Pyramid Power became all the rage. For three nights, anyway, until the Flyers pounded the Leafs, 7–3, in the decisive match at the Spectrum.
As for Salming, 15 years would pass before he gained clarity as to why the 1976 Flyers attempted to maim him throughout Game 3. "It was at the Hall of Fame [in 1990], the night Bill Barber was being inducted, and Bobby Clarke pulled me aside," remembered Salming. "He said, 'Borje, come here a minute.' Then, he told me it was their coach, Fred Shero, who ordered the players to take me out. He said Shero told them 'do whatever you want to Salming and get him off the ice.' That's why fu–ing Bridgman punched me in the face so many times. Bobby wasn't really breaking a lot of news to me; I knew what the Flyers were doing when it happened. But, it was interesting to hear it from his mouth, even all those years later. Clarke was the captain and leader of that team."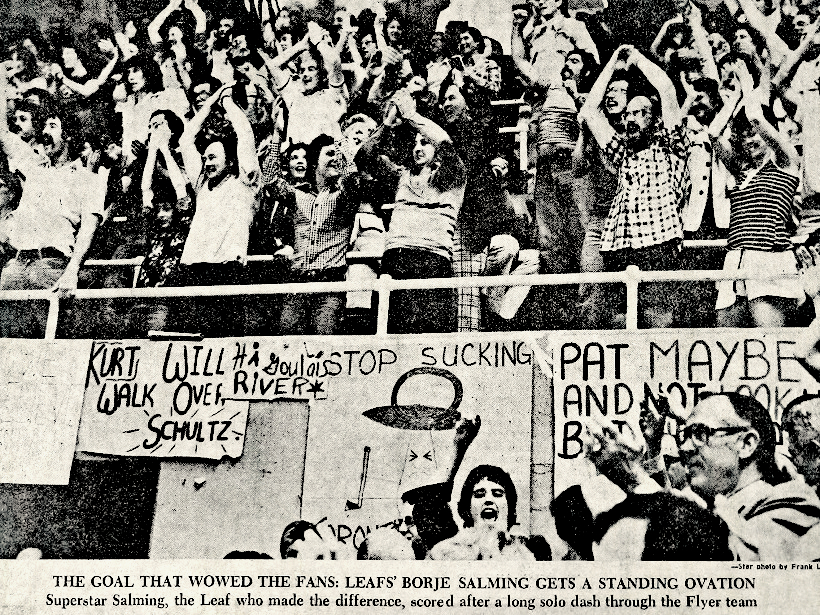 Salming became a Leafs pioneer — along with fellow countryman, Inge Hammarstrom, arriving here for the 1973–74 season as the club's first European–born skaters. Once the "chicken Swede", as he was branded early in his career, acclimated to the North American style, he evolved into one of the greatest players in franchise history. Nearly half–a–century later, Salming and Tim Horton are widely considered the best–ever to play defense for the Maple Leafs. Borje still holds the club record for career assists: 620, 53 more than fellow–Swede Mats Sundin.
Less than five months after scoring his rousing breakaway goal on Parent, Salming was back at the Gardens with Team Sweden for the inaugural Canada Cup tournament. It was Sep. 3, 1976 — a late–Friday afternoon — and 12,211 spectators were on hand to watch the Swedes clash with the United States. When Salming, wearing No. 5 on his gold and blue jersey, was introduced, the crowd launched into a three–minute standing ovation.
"Oh, I'll never forget that," Salming said. "For me, it was kind of embarrassing at the time. But, it's one of my great career memories and I've always appreciated how the Toronto fans treated me. It actually happened again, a few nights later, before our game against Canada at the Gardens. As the fans were cheering, I looked over at the other blue line and even Darryl and Lanny were clapping for me [Sittler and McDonald played for Team Canada]. That's why, when things are normal, I make sure to come back to Toronto two or three times a year. I can't do it now, because of the pandemic, but I will again at some point. I always feel at home and so warm around Toronto hockey fans. Even today, people that weren't yet born when I played come up to me. It's such a wonderful city."
While with the Leafs from 1973–89, Salming opposed the two greatest players in modern NHL history — Bobby Orr and Wayne Gretzky. "Orr was fantastic, but I didn't see him before he hurt his knees," Salming explained. "I played against Gretzky from the beginning of his career and never saw anyone handle the the puck like he did. No one. To me, he was the best ever. I remember a funny story from a game in Edmonton. Our coach — it may have been Mike Nykoluk or Dan Maloney — told me I had to be on the ice every second Gretzky was out there. One time, Wayne jumped off the bench, and I followed. Then, he went right back to the bench. So did I. We looked at each other. The ref then came over and put up his arm for last line change, which the Oilers had at home. Gretzky jumped right back on. He skated past our bench; shrugged at me and said 'sorry, Borje.' I almost laughed."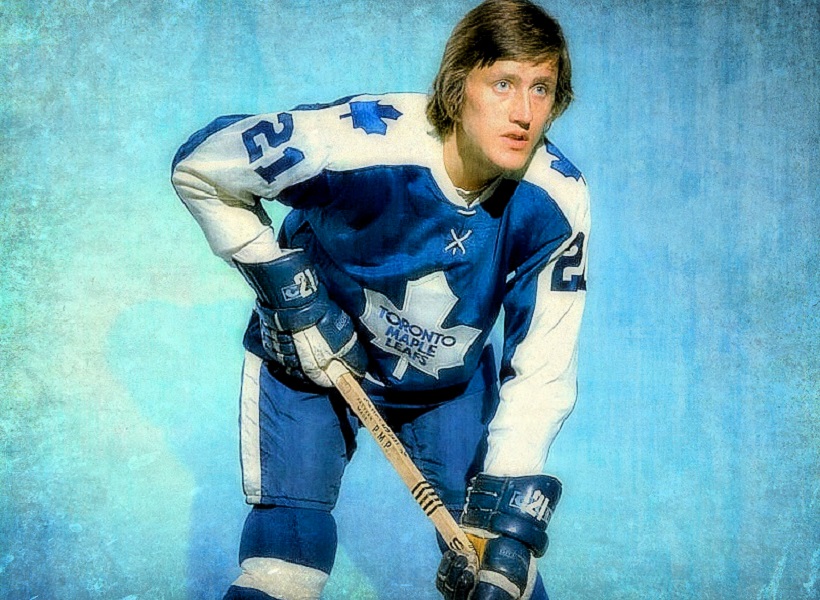 BORJE SALMING AS A ROOKIE (ABOVE) WITH THE TORONTO MAPLE LEAFS IN 1973–74.
Salming contracted COVID–19 early in the pandemic and was terribly sick for a few weeks. His legendary conditioning allowed him to fully, recover. "I still work out in the gym [when it's open] three times a week and do lots of walking," he said. "I've always tried to keep myself in good shape. It's a bit harder now, at my age, but I keep going. I've never had much fat on my body, which helps." For his 70th birthday, this weekend, Borje will gather with 17 family members — mostly children and grandchildren. His oldest son, Anders, is 46.
Salming's best hockey memories, apart from being inducted into the Hall of Fame in 1996, involve friendships, built and sustained, with his former Leaf 'mates. "We had such a great bunch — Darryl, Lanny, Tiger [Williams], Ian [Turnbull, his defense partner] Palmy [goalie Mike Palmateer]. Whenever I go back, it's like we're still playing together in the 70's. Except now, we gather with lots of children and grandchildren. Which makes it ever sweeter.
"I always think so warmly about my years in Toronto."
EMAIL: HOWARDLBERGER@GMAIL.COM