TORONTO (Nov. 5) — I've read about it in three places. So, it must be true.
Fans and media following the Toronto Maple Leafs will discover, in the next four nights, whether this year's club is a genuine championship contender. Seriously. The legacy of the 2022–23 Maple Leafs will be determined in early November, roughly 5½ months before the Stanley Cup playoffs. In other words, if the team fares well against Boston (tonight), Carolina (Sunday) and Vegas (Tuesday), we can forget the appalling road trip, last week, through the western United States that resulted in three consecutive losses against clubs that will finish near the bottom of the standings. Even more intrinsically, a favorable stretch from Nov. 5–8 will eradicate a half–dozen years of failure in the opening round of Stanley Cup competition. No further evidence will be required between late Tuesday night and Apr. 13, when the Leafs finish their 82–game slate at Madison Square Garden in New York.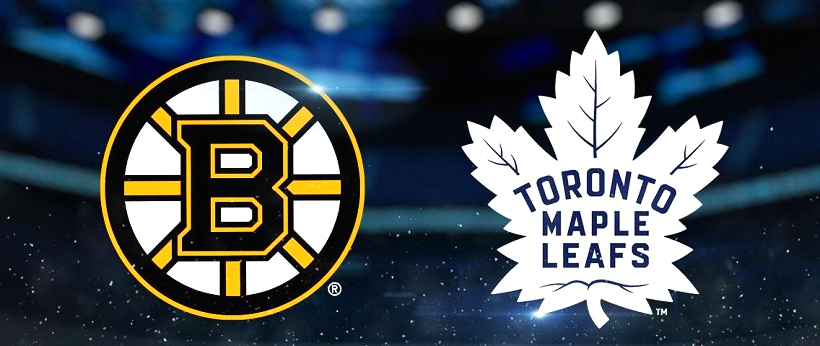 TORONTO MAPLE LEAFS vs. BOSTON BRUINS, TONIGHT, ROGERS AND CBC, 7:00 p.m.
Perhaps we can blame this bit of chicanery on the "desk" people. Even Luke Fox of Sportsnet cannot conceivably buy into such a ridiculous argument… despite the headline on his latest submission, which reads: WE'RE ABOUT TO SEE IF THESE MAPLE LEAFS ARE LEGIT. Penned Luke: "How the Toronto Maple Leafs spin their stumbling start is by pointing to last year. They'll remind you — themselves? — how they mind–zapped away a treacherous October Men in Black–style by finding their stride in a scorching November and building toward a record–breaking regular season." Which is true, if vastly irrelevant. "The Boston Bruins, Carolina Hurricanes and Vegas Golden Knights are a combined 28–5–1. Gulp. These hockey teams are for real. They defend hard, are blessed with forwards who finish, and are brimming with earned confidence." Also accurate. But, again, written less than a month into the laborious and oft–deceiving schedule. A juncture in which no team, in any hockey era, has made its mark.
Also begging to be asked: Suppose the Leafs do flourish in the next three matches. Why would that be considered more precise than the inability to hold a 3–1, third–period lead against Anaheim? How can we know, in the first week of November, which is more authentic? Let's be honest, the Brendan Shanahan–Kyle Dubas Maple Leafs have hardly earned a theoretical nod. Until proven elsewise, this club — fueled by Auston Matthews, Mitch Marner, William Nylander and (to a lesser extent) John Tavares — must be viewed through the prism of playoff misadventure. If we are to foolishly predict anything after Nov. 8 of the current schedule, it's that Toronto will again bow out during the initial volley of Stanley Cup toil; that the contemptable results against San Jose, Los Angeles and Anaheim last week on the coast portend the fate of a club that cannot prevail when it matters. To offer the Maple Leafs destiny's salute is unwarranted; a colorful dream. For the nucleus of the current and unaccomplished Toronto troop, it is again all about April, May and June. Not Nov. 5, 6 and 8. No matter the quality of opposition.
Along the same lines is the one Maple Leafs player with whom I would go to war: Tavares. Not since Doug Gilmour have I felt an emotional bond to a wearer of the Blue and White — and not merely because of Gilmour's magnificence at the start of my tenure covering the team on radio, but more for his generosity and concern when my mother, Sandee, died of cancer on Jan. 1, 1996. Tavares, today, is the one Toronto player I root for. Though he hasn't yet skated with a creditable Leafs playoff team, he exudes class and comportment that can stand with any captain in franchise history. I contend that Syl Apps, Ted Kennedy and George Armstrong view Tavares from their heavenly perches with absolute approval. As I suspect that Dave Keon, Darryl Sittler, Rick Vaive, Wendel Clark, Gilmour and Mats Sundin look upon him today. With seven goals early in the schedule, including a hattrick against Philadelphia on Wednesday at Scotiabank Arena, Johnny T. has been, far and away, the best Leafs performer.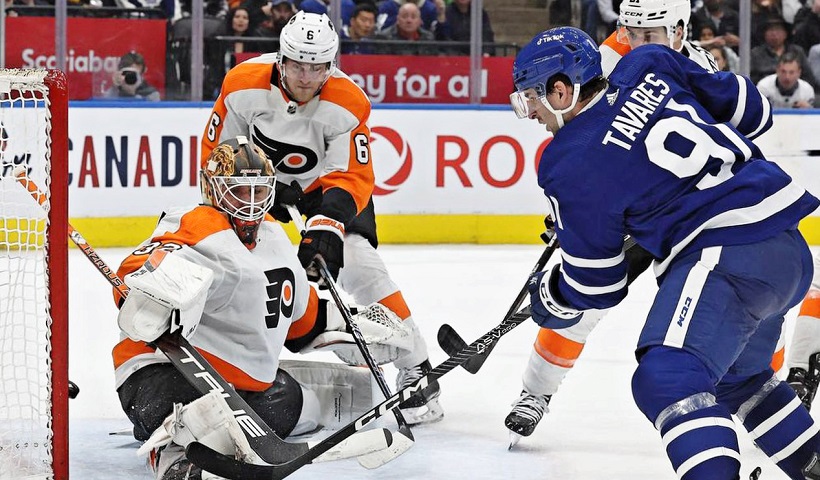 The question that surrounds Tavares (and his $11 million stipend) is: Can he perform at this level toward the end of the season and into Stanley Cup competition, given his age (32)… and that he has slowed commensurately with the number of games played the past few years. There have been long, unproductive stretches for the captain. Still, there is no downside to Johnny T. as the emotional fulcrum of the Maple Leafs. If it is somehow his destiny to raise the Stanley Cup for the first time since Armstrong, in 1967, he'll have clearly earned the honor.
PHOTO CREDIT: TORONTO STAR 
OVIE AND THE GREAT ONE: The watch continues. Will Alex Ovechkin of the Washington Capitals play enough games and prosper at the level required to eclipse Wayne Gretzky's National Hockey League record of 892 regular–season goals? Heading into action today, Ovechkin remains third, all time, a mere 15 goals behind second–place Gordie Howe (801) and 108 in back of Gretzky. The Capitals' legend hasn't exactly roared from the gate, with six goals in 12 games, though Gretzky told a friend of mine, this week, that he thinks Ovechkin needs to score a minimum 40 goals this season. A pace that has been established in the early going. If accomplished, it would require 68 more tallies to match the Great One. Or, at least, parts of two more NHL seasons, extending Ovechkin likely beyond age 40. Gretzky was nearly three months past his 38th birthday when he retired on Apr. 18, 1999. Also intriguing is that Gretzky told my friend his late father, Walter, wasn't overly thrilled when Wayne eclipsed Howe's NHL mark of 1,850 points (Oct. 15, 1989). Evidently, Mr. Hockey had been as heroic a figure to Walter as his own son. Typical of Gretzky, he accomplished both feats (tying and passing Howe) while playing for the Los Angeles Kings in a game at the old Northlands Coliseum against his former team, the Edmonton Oilers.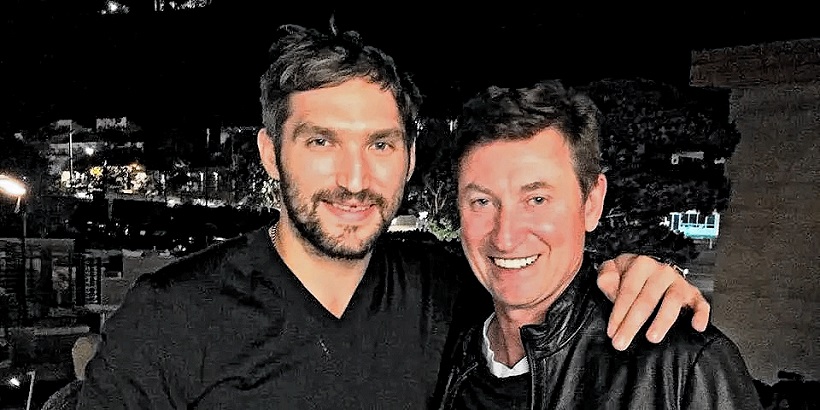 Gretzky equaled Howe with an assist on a first–period goal by Bernie Nicholls (one of 70 Nicholls scored that year); then broke the mark when he backhanded a shot over Bill Ranford with 53 seconds left in regulation. Unsurprisingly, the Great One also scored at 3:24 of overtime, to provide the Kings a 5–4 victory. Deep inside, Gretzky probably hopes Ovechkin does not eclipse his NHL goals mark; I mean, who would actually want such a thing to happen? But, Wayne did impart to my friend that breaking records is part of the sport… and that he would be the first to congratulate Ovechkin on the achievement. From my perspective, I don't believe it's a slam–dunk. Ovechkin still has to play a lot of magnificent hockey before catching Gretzky. Can he do it as he approaches 40?
RANDOMLY… FROM THE VAULT
A few magazines from my hockey and football collection.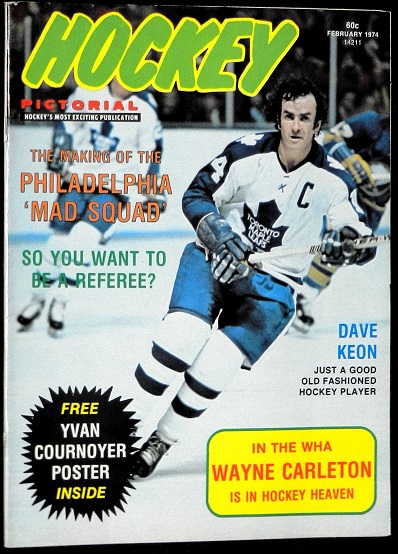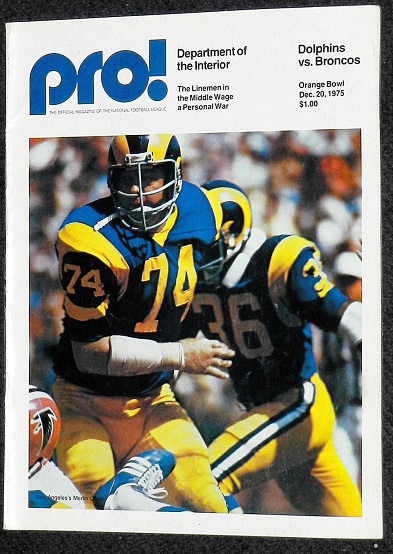 THE FEBRUARY 1974 ISSUE OF HOCKEY PICTORIAL MAGAZINE (LEFT) FEATURED LEAFS CAPTAIN DAVE KEON IN HIS SECOND–LAST SEASON WITH THE CLUB. PROGRAM (RIGHT) FROM A DENVER AT MIAMI NFL GAME I ATTENDED AT THE OLD ORANGE BOWL ON DEC. 20, 1975. THE DOLPHINS, TWO–TIME SUPER BOWL CHAMPIONS, PREVAILED, 14–13.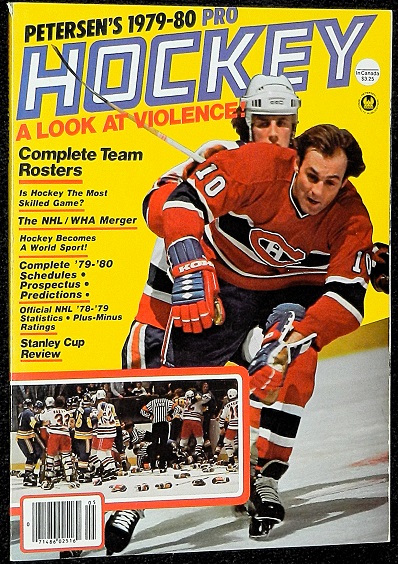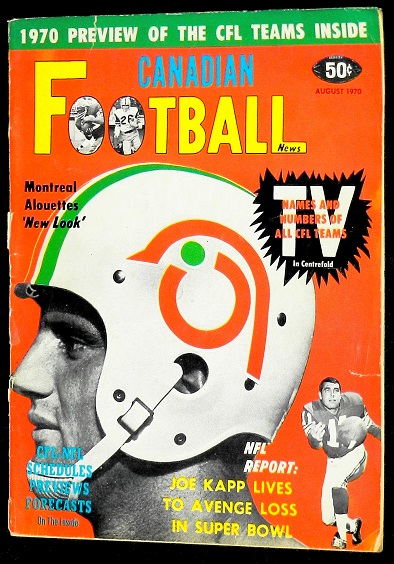 IT WAS WAYNE GRETZKY'S FIRST NHL SEASON, BUT THE INAUGURAL ISSUE OF PETERSEN'S PRO HOCKEY (IN 1979–80, LEFT) SHOWED GUY LAFLEUR OF THE FOUR–TIME DEFENDING STANLEY CUP CHAMPIONS FROM MONTREAL. SPEAKING OF MONTREAL, THE ALOUETTES NEW LOGO AND HELMET GRACED THE COVER OF THE AUGUST 1970 CANADIAN FOOTBALL NEWS, A MONTHLY PUBLISHED BY THE SAME COMPANY AS THE HOCKEY NEWS.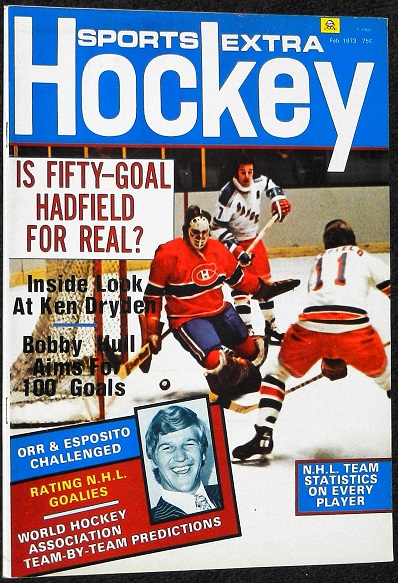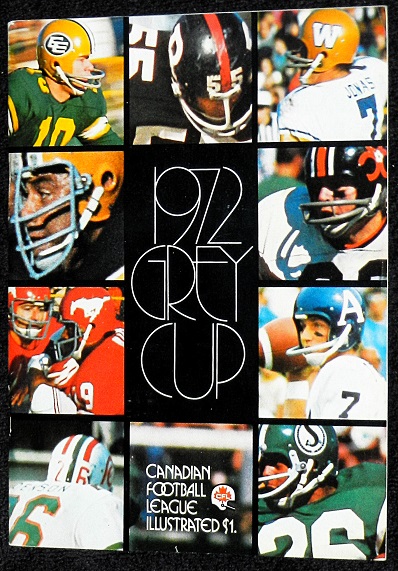 THE FEBRUARY 1973 EDITION OF SPORTS EXTRA HOCKEY (LEFT) ASKED WHETHER NEW YORK RANGERS FORWARD VIC HADFIELD COULD REPLICATE HIS 50–GOAL SEASON OF 1972–73. THE ANSWER: NO. AND, IT'S COMING UP TO THE 50th ANNIVERSARY OF THE 1972 GREY CUP (PROGRAM, RIGHT) AT HAMILTON IN WHICH THE TIGER–CATS DEFEATED THE SASKATCHEWAN ROUGHRIDERS ON A LAST–PLAY FIELD GOAL BY IAN SUNTER.
EMAIL: HOWARDLBERGER@GMAIL.COM