TORONTO (Nov. 12) — To be honest, there's no particular reason for me to write this blog.
The remarkable and poignant images snapped, below, by veteran photographer Frank Gunn of The Canadian Press more than speak for themselves, as Borje Salming returned to Scotiabank Arena on Friday night for the first time since being diagnosed with Amyotrophic Lateral Sclerosis (ALS, or Lou Gehrig's Disease), which the hockey world learned about on Aug. 10. The photos show the great defenseman, overcome by emotion on Hall of Fame weekend, while the crowd offered its love and support. Holding it together until he could no more was Salming's running mate with the 1970's Maple Leafs, Darryl Sittler, and that "other Swede", the all-time franchise leader in points: Mats Sundin. Toronto hockey moments like never before. And, more than likely, never again.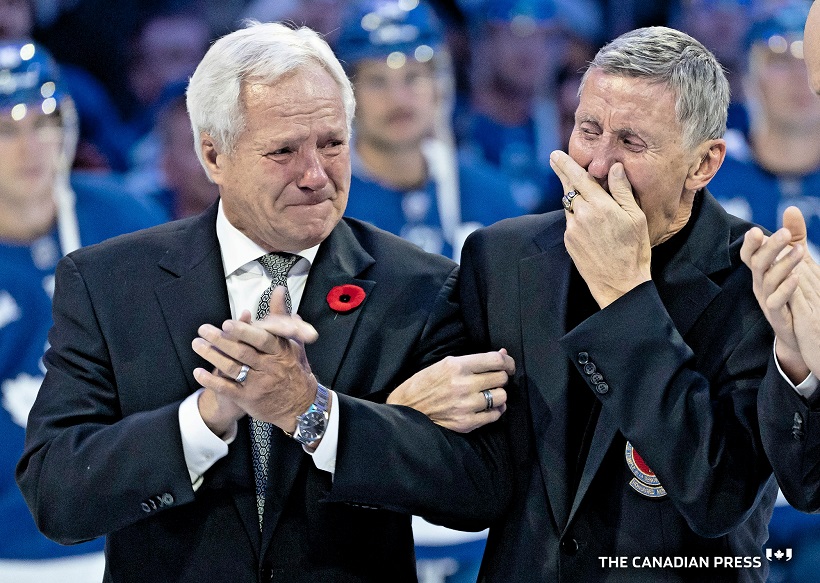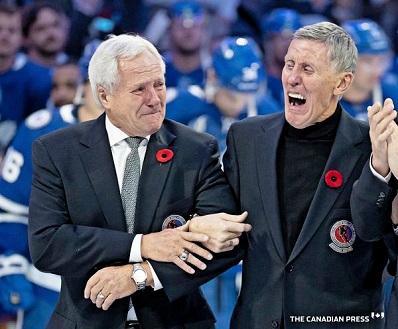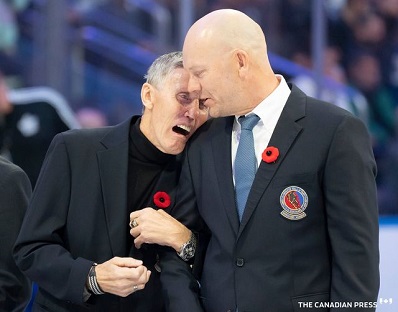 So, why go any farther? Well, for two reasons: a) because I need to. There is catharsis in writing this blog. And, b) as the result of a 20–minute phone conversation, earlier today, that I'll take to my grave: Sittler and Dave (Tiger) Williams in the same car, driving around Toronto, and sharing their innermost thoughts. This was not an interview, per se, on my part. Rather, an exercise in listening to a pair of boyhood hockey heroes speak — and, yes, cry — about their dear friend and former teammate. Sittler was behind the wheel; Tiger, in the back seat. And, they just talked. First one, then the other. I injected the odd question, but stayed mostly silent, fully mesmerized by a bond between former teammates that is, occasionally, difficult to comprehend. Remember, the 1970's Maple Leafs neither played for, nor won, the Stanley Cup. This wasn't akin to (the late) Guy Lafleur, Larry Robinson, Steve Shutt, Serge Savard and Ken Dryden gathering to reminisce about Montreal's four–year championship dynasty that began in 1976. Rather, it's a story that transcends the game; about an unshakable, lifelong liason between, primarily, four men that skated together for merely five seasons (1974–75 to 1978–79) before mostly unpopular trades took them elsewhere. Those men? Sittler, Salming, Williams and Hockey Hall of Fame chairman Lanny McDonald.
And, so, the telephone chat began.
SITTLER: First, Howie, hockey fans need to understand the physical and emotional commitment just for Borje to make the trip here from Sweden. Until Tuesday night, we weren't sure it would be possible, given that Borje can no longer talk and struggles to eat. There's a feeding tube that helps him. And, a machine he keeps with him in case phlegm builds up in this throat, which he cannot clear by himself. Also, the entire ordeal often makes him very tired. But, he wasn't going to miss out on this opportunity. The same fortitude that allowed him to fight through the Swedish and anti–European bias at the beginning of his career is completely evident today, nearly 50 years later. That's what brought him to Toronto this weekend.
WILLIAMS: Darryl is bang on. Borje had to fight his way into the NHL, with all the "chicken Swede" bullshit in the early 70's. He was, and still is, one of the toughest, sharpest dudes I've come across anywhere in my life.
SITTLER: I knew there would be a lot of emotion on Friday night when Borje was announced to the crowd. As we were walking onto the ice and past the Leafs bench, you could see how somber all the current players were. Borje exchanged a hug with William Nylander and we walked out onto the carpet. I was able to hold it together until I looked at Borje and saw what the moment meant to him. A common trait of those with ALS is crying and showing raw emotion. It's hardly the first time I've seen Borje cry since this ordeal began. We've been together a lot. But, it's never happened alongside Lanny and Mats… and with 19,000 people poring out their affection. There was no chance of me holding it back. I'm an old softie to begin with. So, it wasn't surprising when the tears started to flow.
WILLIAMS: [Leafs president] Brendan Shanahan was nice enough to offer us his suite at the arena — and there's no way to overstate how kind and understanding he has been leading up to this weekend (Sittler readily agreed). I was up there by myself and watching the ceremony, mainly because I was too chicken–shit to come to ice level. I knew I'd be a blubbery mess and that's exactly what happened. My eyeballs were leaking like a bad drain pipe. It was one of the most incredible moments of my life. Like Darryl said, it's nearly impossible to comprehend what Borje had to contend with just to make the trip from Sweden. But, it also took me back to the start of my career, when the big, bad goofs in the NHL were trying to run Borje out of the league. He didn't give an inch back then and he wouldn't settle for anything other than getting on that plane and being here for this weekend… as he did all the other years since going into the Hall of Fame (in 1996). He just put on his big boy pants and said 'let's go.'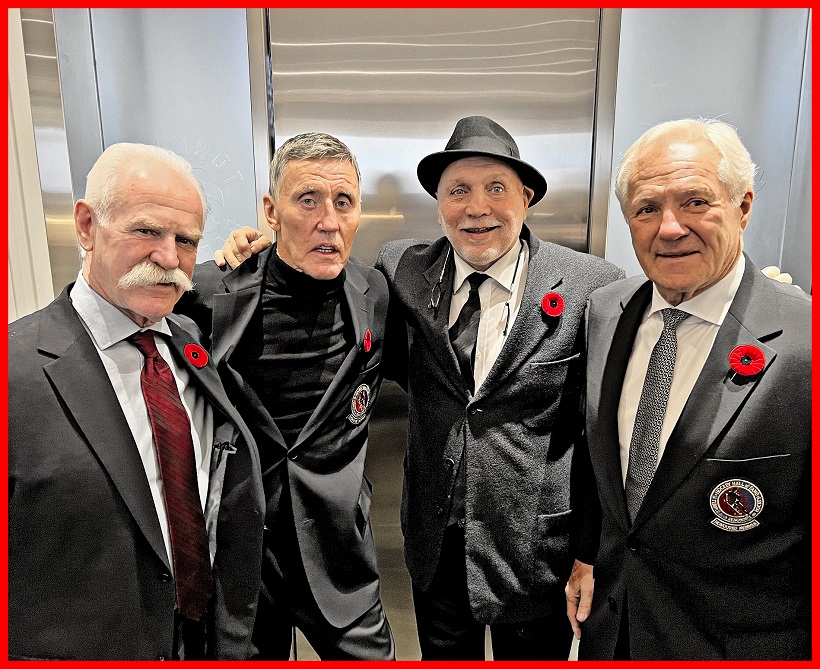 THE EMOTIONAL FULCRUM OF THE 1970's TORONTO MAPLE LEAFS. LEFT–TO–RIGHT: LANNY McDONALD, BORJE SALMING, DAVE (TIGER) WILLIAMS, DARRYL SITTLER. TEAMMATES THEN. FRIENDS TODAY. TOGETHER FOREVER.
Photos and videos of Salming since his diagnosis show a man either unwilling, or unable, to smile. Prior to this, Borje's toothy grin could light up a dark room. "He can still smile, but it doesn't just happen anymore," explained the Tiger. "It's like taking a step with a really sore foot. The entire process requires about 30 seconds before Borje can properly coordinate his facial muscles. Then, he smiles like he always did. It's really fascinating to watch, obviously, in a sad way, how this stupid disease progresses and the effort it takes for someone like Borje to do the simplest thing. I became aware of ALS through another former Leaf, Mark Kirton, who I played with in Toronto and Vancouver. You've never seen courage until watching these guys go through a typical day."
Salming, as many may have noticed, also moves quite deliberately from side to side, with the facial expression of a person encountering dementia; not fully aware of his surrounding "Nothing could be farther from the truth," Sittler emphasized. "It's the loss of muscle control that makes Borje look that way. Mentally, he's as sharp as a tack; no different than any time in his life that I've known him." Added Williams: "His mind is clear as a bell. There are moments when it doesn't appear so, but it's deceiving."
As with life's progression, Sittler and Williams were driving to go see grandchildren. They'll be back at Scotiabank Arena for another ceremony tonight, prior to the Maple Leafs–Vancouver game. This time, Salming will be honored for his years with the Blue and White. It isn't likely to be less emotional than Friday. "I think what really has hit me is that these are unique moments that have never happened before," concluded Sittler. "And (as he choked up), there's a good chance it's the last time we'll have the opportunity to be together. So, yes, there's happiness and sadness at the same time. Sometimes, it's difficult to comprehend. But, we're living it. Together. As always."
EMAIL: HOWARDLBERGER@GMAIL.COM