TORONTO (Nov. 29) — When reflecting on the core of the good–but–not–quite–good–enough Maple Leaf teams in the late–1970's, six names come immediately to mind: Darryl Sittler, Lanny McDonald, Dave (Tiger) Williams, Borje Salming, Ian Turnbull and Mike Palmateer. The first four — Sittler, McDonald, Williams and Salming — have been front–and–center in recent weeks while Salming made a final trip to North America before dying of Amyotrophic Lateral Sclerosis (ALS or Lou Gehrig's Disease) last Wednesday night in Stockholm.
Turnbull and Palmateer have been on the outside of the melancholy tale, even if not by design. The former, Salming's long–time defense partner with the Leafs, lives south of Los Angeles and hasn't been to Toronto in years. Palmateer, conversely, still resides here in the city and is remembered so fondly by fans of the Blue and White for his daring, acrobatic style in goal. Yet, the Popcorn Kid, as he was known, found himself rather out of the loop when Salming was in town 2½ weeks ago. "To be honest, I was driving down to Florida and didn't know what was happening," Palmateer said over the phone. "Had I realized that Borje was in town, I would have postponed my trip and gone down to [Scotiabank Arena] for his ceremonies. But, no one informed me, which was a bit disappointing. I don't say this critically, but Darryl, Lanny, Tiger and Borje have been the closest of friends in the years since we played together. All but Tiger are in the Hall of Fame and they have an incredible bond. No one else from the Leafs of that era has sort of cracked that group, if you will. And, again, I'm not complaining because I understand the dynamic. But, it would have been nice to hear a bit more from the inside on how Borje was faring.
"I tried to get in touch with him and never heard back. So, that hurt a bit."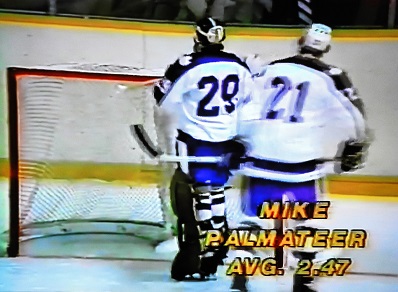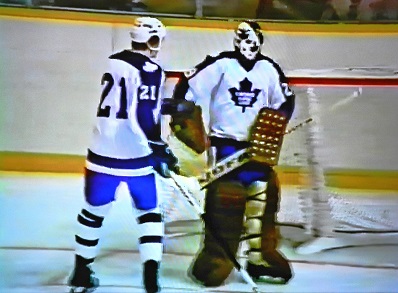 IN THESE CBC IMAGES, BORJE SALMING (21) WISHES MIKE PALMATEER WELL PRIOR TO GAME 3 OF THE 1978 STANLEY CUP QUARTERFINALS AGAINST THE NEW YORK ISLANDERS AT MAPLE LEAF GARDENS. SALMING SUFFERED AN EYE INJURY IN GAME 4 AND WAS LOST FOR THE BALANCE. PALMATEER AND IAN TURNBULL STEPPED UP TO PLAY SPECTACULARLY AS THE LEAFS REBOUNDED FROM 2–0 AND 3–2 DEFICITS TO WIN THE SERIES IN SEVEN.
Palmateer saw highlights of the Nov. 11 Hall–of–Fame ceremony at Scotiabank Arena at a hotel in Ohio while making the drive to Florida. "Darryl wasn't the only one crying that night," said the goalie. "Me and Borje were hugging last fall at an event here in town. He looked fabulous, as always, and we had a great time. How could I have known it would be the last time I'd see him? When I think of my years with the Leafs, I think of Borje and Ian in front of me. That's the first thing that always comes to mind. Borje was such a great teammate and friend; I understand fully why there was an emotional outpouring for him during his illness. He set a terrific example with his competitive nature… which made it easy for me to play that way in net. When he went down during the [1978 playoff series against] the Islanders, everyone else had to pick it up. Ian Turnbull never played better hockey. And, I knew how important my role was in stopping their big shooters. But, I also remember a guy like [the late] Brian Glennie and how he threw his weight around so effectively. That spring remains a wonderful memory for me."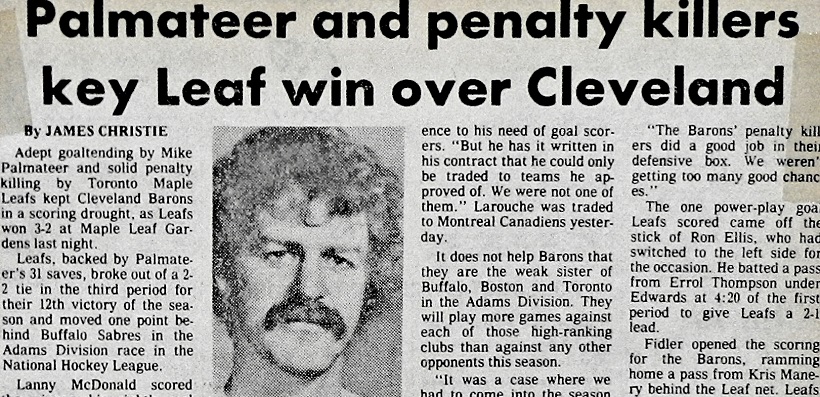 HEADLINES FROM MY MAPLE LEAFS SCRAPBOOKS IN THE 1977–78 NHL SEASON.
Palmateer laughed when remembering Salming's courage on the ice, even when it wasn't required. "I'd have a good angle on a shot and Borje would go down to block the puck with his face. He'd be bleeding all over and I'd look at him and say 'get the fu** out of my way next time; I had the shot easily.' But, that was Borje. He would do anything to help our team win. The fans saw it and still remember it. So do I… on lots of occasions."
A graduate of the Toronto Marlboros junior program (he backstopped the club to the 1973 Memorial Cup), Palmateer joined the Maple Leafs at a rather desperate juncture. The 1976–77 club stumbled badly from the gate with a 1–5–3 record in its first nine games. Starter Wayne Thomas, so competent the previous year, was absolutely terrible. As such, general manager Jim Gregory recalled Palmateer from Dallas of the Central Hockey League for a game against the Detroit Red Wings (Oct. 28, 1976) at the old Olympia Stadium. It remains very much a part of Leafs lore that Palmateer told the GM "Mr. Gregory, your goaltending troubles are over." He then went out and beat the Red Wings, 3–1, in his National Hockey League debut. He followed with road victories over the Minnesota North Stars and Cleveland Barons, thereby allowing the Leafs to end their early season funk. On Nov. 17, 1976, at Maple Leaf Gardens, Palmateer blanked the Montreal Canadiens, 1–0, marking the lone shutout against the Habs that season. Scotty Bowman, Ken Dryden, Guy Lafleur and Co. lost only eight of 80 games; finished with 132 points (still an NHL record) and won their second of four consecutive Stanley Cups titles.
It was also the season in which Turnbull (79 points) and Salming (78) accrued the most points by any Toronto defensemen; Turnbull famously striking for a record five goals against Detroit in early February at the Gardens.
Palmateer became an instant fan favorite.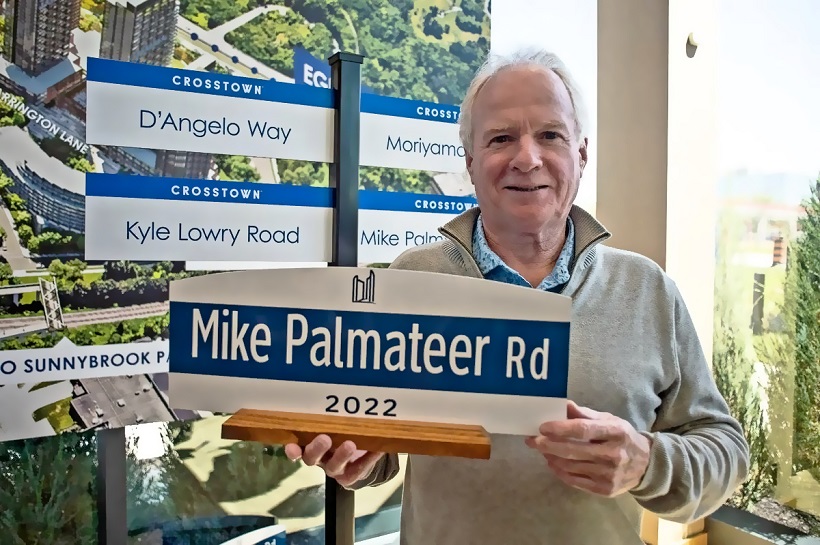 MIKE PALMATEER HAD A STREET NEAR DON MILLS AND EGLINTON NAMED IN HIS HONOR LAST JUNE.
Nearly a half–century on, the Popcorn Kid, 68, remains one of only three goalies to backstop the post–1967 Leafs to the Stanley Cup semifinals — during that memorable spring of 1978 when Toronto swept Los Angeles in a best–of–three preliminary round; upset the Islanders on McDonald's overtime goal in Game 7 at the Nassau Coliseum, then succumbed in four straight (without Salming) to the dynastic Canadiens. Felix Potvin (1993, 1994) and Curtis Joseph (1999, 2002) are the other Toronto stoppers, since 1967, to make the NHL's final four.
"It's terrible that Borje is gone; I felt horribly throughout his ordeal," concluded Palmateer. "I think it's imperative that we recognize another former Leaf, Mark Kirton, who is also battling ALS and doing great things for awareness of that terrible disease. It's hard to believe, sometimes, that 45 years have passed since me, Borje, Darryl and the guys played together in Toronto. But, the memories are as fresh as yesterday."
EMAIL: HOWARDLBERGER@GMAIL.COM