TORONTO (Nov. 20) — A collection of thoughts on Grey Cup Sunday:
Postmedia, owner of the Sun newspaper chain, doesn't often make mistakes with sports coverage, particularly football, a favorite of sports editor Bill (Hawkeye) Pierce. But, the Toronto Sun has erred grievously by not having columnist Steve Simmons in Regina for tonight's Grey Cup game between the Toronto Argonauts and Winnipeg Blue Bombers. It flies in the face of everything the newspaper has stood for in recent years, suggesting the foolish decision was made above Pierce in the executive chain. If the Argonauts weren't in the game, it might be defensible, even if Simmons has attended every Grey Cup in recent memory. But, with the Double Blue on hand for the first time since 2017, the decision is nothing shy of ridiculous. Beat–writer Frank Ziccarelli is in Saskatchewan for the game, but the perspective of Simmons, on site, will be missed. Steve is among the most–polarizing figures in Canadian journalism for his propensity to offer brash opinion. Which is also what makes him our country's most–popular sports scribe. He has a long history with football in Toronto, attending Argonaut games with his late father, Jerry, at the old CNE Stadium beginning in the mid–1960's (as did I, with my father, Irv, starting in 1971). Steve and I both have such fond memories of the period between 1967 and 1972, when the Argos were coached by Leo Cahill and ranked alongside the Maple Leafs in popularity and enthusiasm. Though Toronto lost the 1971 CFL championship to Calgary, merely advancing to the Grey Cup that season was a local fan's dream. The Argos hadn't played for the title in 19 long years, since upending Edmonton at Varsity Stadium in 1952. The names and faces of the Cahill–led Argonauts resonate indefinitely for those like Steve and myself who remember the era: Tom Wilkinson, Joe Theismann, Bill Symons, Dave Raimey, Mel Profit, Danny Nykoluk (whose brother, Mike, coached the Leafs in the early 80's), Bobby Taylor, Ed Learn, Dick Thornton, Jim Corrigall, Jim Stillwagon, Marv Luster, Mike Eben and so many others. Under no reasonable circumstance should Simmons have been kept from covering tonight's Grey Cup match. The decision was nearsighted and plainly stupid… on the same topic, kudos to the Toronto Star for staffing the Grey Cup game with veteran writer Mark Zwolinski. It seemed like a no–brainer, even if Canadian Press CFL scribe Dan Ralph has been the newspaper's prime contributor of Argonaut stories in recent years. Zorro (as Zwolinski is known) has done a typically good job since arriving, mid week, in Regina…
HEY, THE ARGOS PULLED OFF THE UPSET ON SUNDAY NIGHT… https://bit.ly/3OmMFzw

If Winnipeg quarterback Zach Collaros is anywhere close to healthy, the Blue Bombers should prevail against the Argos to win their third consecutive championship. But, Collaros, the twice–former Argo, injured his ankle late in the Western final last Sunday and did not practice with the Blue Bombers until Thursday of this week. If I'm the Toronto defenders, I make it a point to target the wonky ankle, early and often. It's an easy and totally legal part of the body in which to tackle an opponent. Though I wish no harm on any athlete, it says here that Collaros will not play the entire game. The Argos will likely try to ensure he is banged up in the first quarter. Should Collaros be hobbled, and Toronto quarterback McLeod Bethel–Thompson does not lapse into his former (and typical) poor habits with interceptions and overthrows, this game could be much closer than expected… if the Argos do not win tonight's game (perhaps even if they do), and providing co–owners Bell Canada and Larry Tanenbaum still have any interest in the club, is it a stretch to envision Winnipeg head coach (and former Argos linebacker) Mike O'Shea joining Toronto next season along with veteran quarterback Bo Levi Mitchell (late of Calgary; his CFL rights traded, last week, to Hamilton)? Both, currently, are free agents… an Argo victory would compel CFL commissioner Randy Ambrosie to hand the Grey Cup to Tanenbaum, who will raise it in ecstasy, despite calling his football team "value–less" prior to the season. That should be quite the contradictory scene… speaking of the Argos with Cahill and Co., it was 51 years ago this afternoon (Nov. 20, 1971) that the club tied Hamilton, 17–17, at CNE Stadium to win the two–game, total–points East final, 40–25, and advance to the Grey Cup against Calgary. Argonaut tears still flow over the long–legendary outcome of that game, played in driving rain at Empire Stadium in Vancouver. Though Leon McQuay was arguably the most–gifted Toronto runner of all time — and had fumbled only once during the 1971 regular season (coincidentally, against the B.C. Lions at Empire Stadium) — it is McQuay's name that is most–remembered for the Argos 14–11 loss to the Stampeders. An attempted cutback on the soaked Tartan turf prompted his right elbow to strike the ground and jar loose the ball in the waning moments, with the Argos well in range for at least a game–tying field goal…. I still shiver when recalling the first Grey Cup I attended in person: on Nov. 28, 1976 at Exhibition Stadium. Dad and I sat in the west end zone (recently constructed as part of a massive renovation for baseball) for the first half of the Ottawa–Saskatchewan CFL final, then moved to a couple of empty seats near midfield in the old CNE grandstand, on the north side of the stadium. Though the temperature was below freezing, with a brisk wind blowing off Lake Ontario, me and Dad stuck it out til the end and watched Notre Dame grad Tom Clements beat Saskatchewan with a last–minute touchdown toss to tight end Tony Gabriel. Google a video of that play. You'll get goosebumps hearing the late CBC announcer, Don Chevrier, bellow "Gabriel is open in the end zone!" Chevrier, a few months later, would become the first TV play caller for the Toronto Blue Jays. He and New York Yankees legend, Whitey Ford, broadcast the inaugural Blue Jays game (against the Chicago White Sox) in the snow at Exhibition Stadium on Apr. 7, 1977. Ford would then be replaced by another ex–Yankees star, Tony Kubek, who had long–since made a name as a superb color analyst with NBC in the United States… the first public–address announcer at the CNE for Blue Jays games was none other than Bob McCown, who would become a media legend in Canada for his 30–year reign as radio (and, later, TV) host of Prime Time Sports… it's difficult to fathom that a quarter–century has passed since the two greatest Argonaut teams of all time won consecutive Grey Cups (in 1996 and 1997) with the most–prolific quarterback — Doug Flutie — to have ever played the position in Canada. Those Toronto teams, coached by the late Don Matthews, finished 15–3 each year. They featured such other great stars as slotback Mike (Pinball) Clemons (currently the Argos GM), Robert Drummond (the best, all–purpose runner these eyes have seen in the CFL), O'Shea at linebacker, Rob Waldrop on the defensive front, Canadian receiver Paul Massotti and center Mike Kiselak, who would go on to play for the Dallas Cowboys. A rookie speedster named Derrell (Mookie) Mitchell burst upon the scene in 1997, then grabbed a CFL–record 160 passes (from quarterback Kerwin Bell) in 1998, after Flutie had left to join the Buffalo Bills… the most–intriguing person I ever met at a football game? Easy: former American astronaut Frank Borman, who commanded the Apollo 8 mission in December 1968 and became the first human (along with crew members Jim Lovell and Bill Anders) to orbit the moon. Borman signed my program at the Orange Bowl college match (Jan. 1, 1975) between Notre Dame (quarterbacked by Clements) and Alabama (quarterbacked by Richard Todd and coached by the legendary Bear Bryant). I was in Miami for the Christmas break… Clements then joined the Rough Riders, along with University of Tennessee star, Condredge Holloway… nearing the quarter pole of the National Hockey League schedule, the Toronto Maple Leafs look boundlessly familiar: a still–good regular season team (10–5–4), sparked by its top–end forward talent (John Tavares, Auston Matthews, Mitch Marner, William Nylander); yet comparatively thin on the blue line. And, with loads of question marks in goal, though Matt Murray and Ilya Samsonov (when available) have performed ably. Is there any particular reason to think this version of the team will venture beyond the previous six, which have been one–and–done in playoff competition? Not yet. At least, to these eyes. Somehow, general manager Kyle Dubas must add a quality performer to the defense corps, and without a lot of salary cap wiggle room… Everyone in Leafs Land is looking toward next July 1, when Matthews can first sign a long–term extension and the day that his no–movement clause kicks in. But, what if No. 34, by the Mar. 3 NHL trade deadline, hasn't yet provided the Leafs any clarity on his future? Whether or not he intends on staying with the club, or being locked in and testing unrestricted free agency in the summer of 2024? After July 1 of next year, the Leafs can no longer trade Matthews without his consent. Which means he can walk for nothing, two summers from now. A progressive, forward–thinking organization would prepare to potentially deal Matthews by Mar. 3 of this season. But, there can be no–such expectation of the Brendan Shanahan–Dubas–led Maple Leafs. Not after so stubbornly remaining with the same core, year after year, playoff failure after playoff failure. If the Leafs cannot re–sign Matthews or Marner, I suspect they'll move elsewhere for no return. As with Connor Brown, Zach Hyman, Ilya Mikheyev and Ilya Lyubushkin. It seems to be the Toronto way amid the current administration… If a gun were to my head for accurate conjecture, I'd say that Matthews will sign with one of the California teams (Los Angeles, Anaheim, San Jose) and spend the prime of his career making close to $12 million a season in beautiful weather, free of the Toronto hockey cauldron. Wouldn't you?… Grey Cup prediction (if Collaros can play): Winnipeg 27, Toronto 16.
50 YEARS AGO: GREY CUP 1972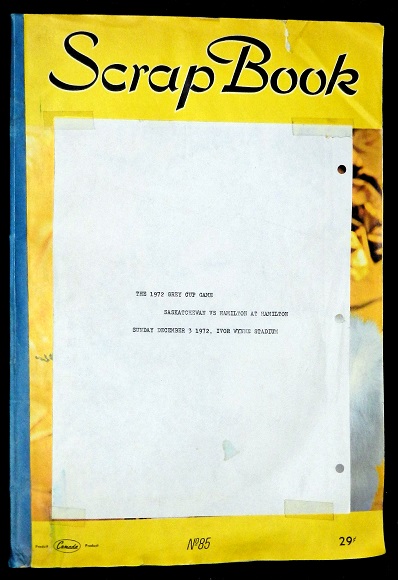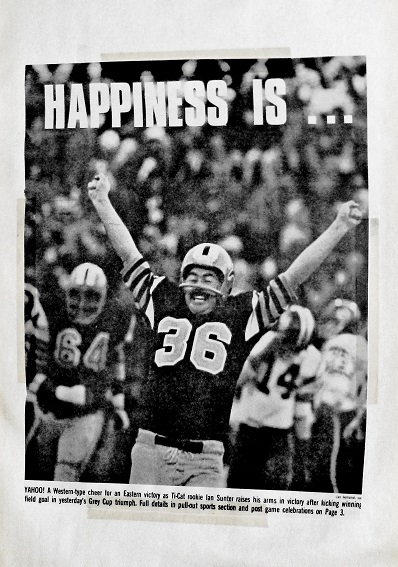 Another crawl through my condominium locker this week unveiled the 29–cent scrapbook I bought, 50 years ago, for stories and images of the 1972 Grey Cup game. Played at Ivor Wynne Stadium in Hamilton, two years after renovation and expansion from the old Civic Stadium, the Tiger–Cats defeated the Saskatchewan Roughriders, 13–10, on a field goal with no time remaining by rookie Ian Sunter. Hamilton thus became the first team to win the Canadian football championship at home since the 1952 Toronto Argonauts defeated Winnipeg in the 1950 "Mud Bowl" at Varsity Stadium. The '72 Grey Cup turned into the swan song for legendary Tiger–Cats defensive tackle Angelo Mosca, who retired afterward and concentrated on his professional wrestling career as "King Kong" Mosca. The winning drive of the match was engineered by spectacular rookie quarterback Chuck Ealey, with timely passes to Garney Henley (the CFL's most–valuable player that season) and second–year tight end Tony Gabriel. Here are scrapbook items from the Toronto Sun (just more than 13 months old at the time); the Toronto Star and the Globe and Mail: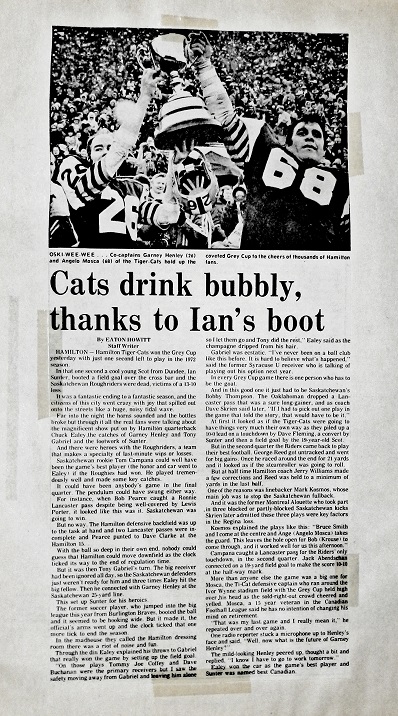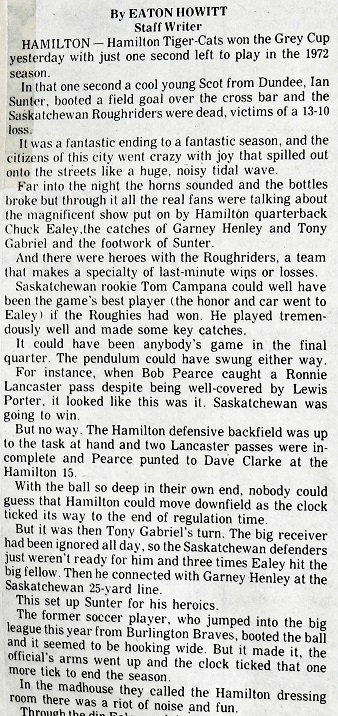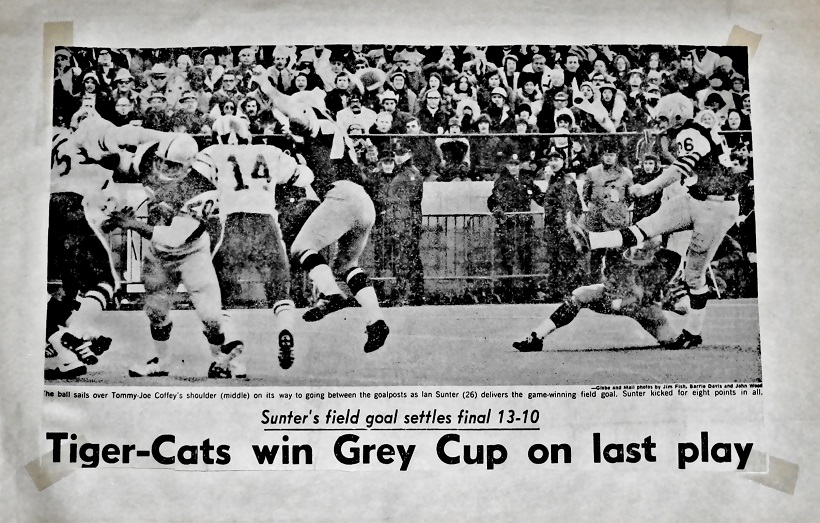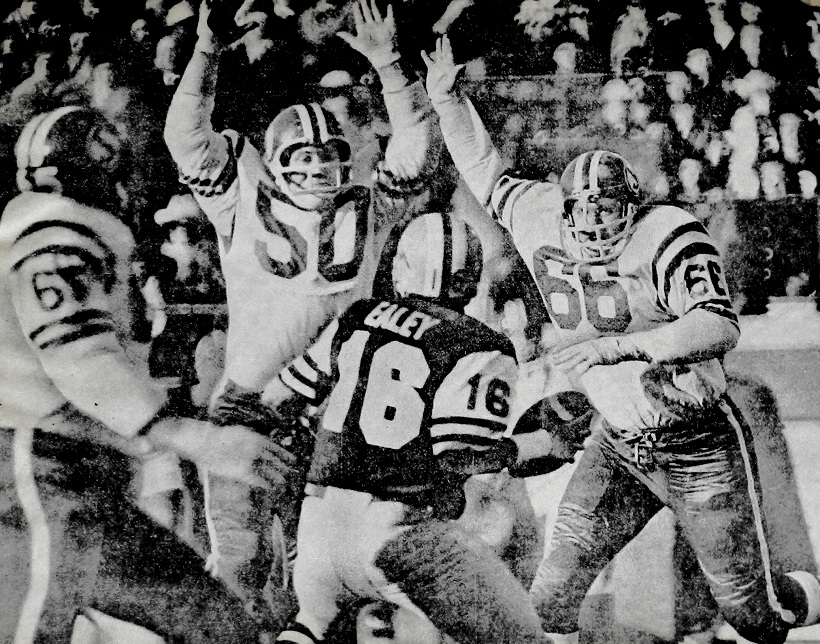 CHUCK EALEY (16, ABOVE) WAS A ROOKIE QUARTERBACK FROM TOLEDO UNIVERSITY IN 1972. HE LED THE TIGER–CATS TO AN 11–3 RECORD IN THE REGULAR SEASON. IN THE TWO–GAME, TOTAL POINTS EASTERN FINAL AGAINST OTTAWA, THE ROUGH RIDERS PREVAILED, 19–7, AT LANSDOWNE PARK AND TOOK A 12–POINT LEAD INTO THE SECOND MATCH, EIGHT DAYS LATER, AT IVOR WYNNE STADIUM. BUT, THE TIGER–CATS WON, 23–8, AT HOME TO TAKE THE SERIES, 30–27. MEANTIME, SASKATCHEWAN EDGED THE ESKIMOS (NOW ELKS), 8–6, IN THE WEST SEMIFINAL AT OLD CLARKE STADIUM IN EDMONTON; THEN WON THE CONFERENCE FINAL, 27–24, AT WINNIPEG.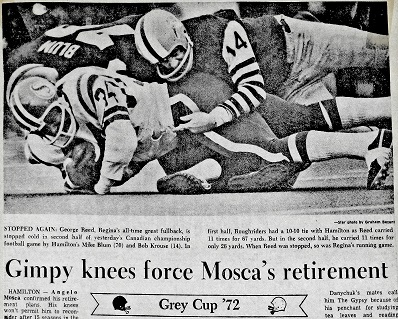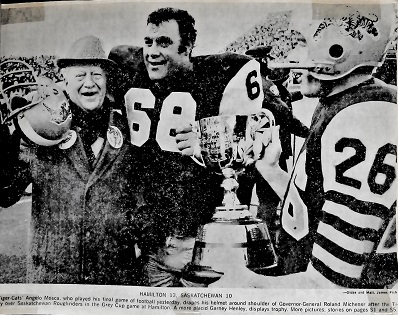 IT WAS ALL SMILES FOR OL' ANGIE, WHO DIED JUST MORE THAN A YEAR AGO (NOV. 6, 2021) AT 84.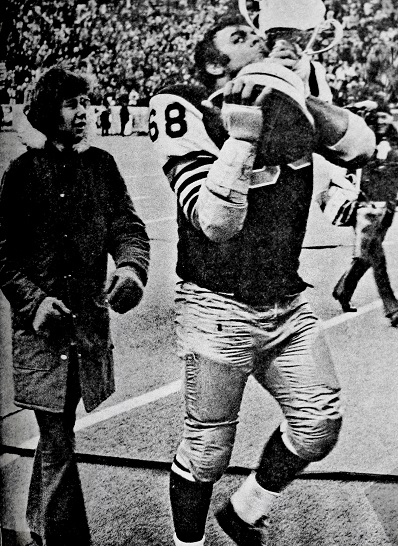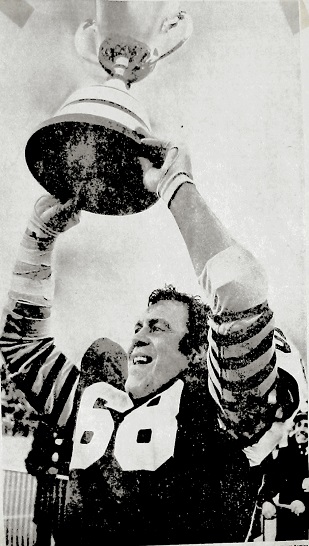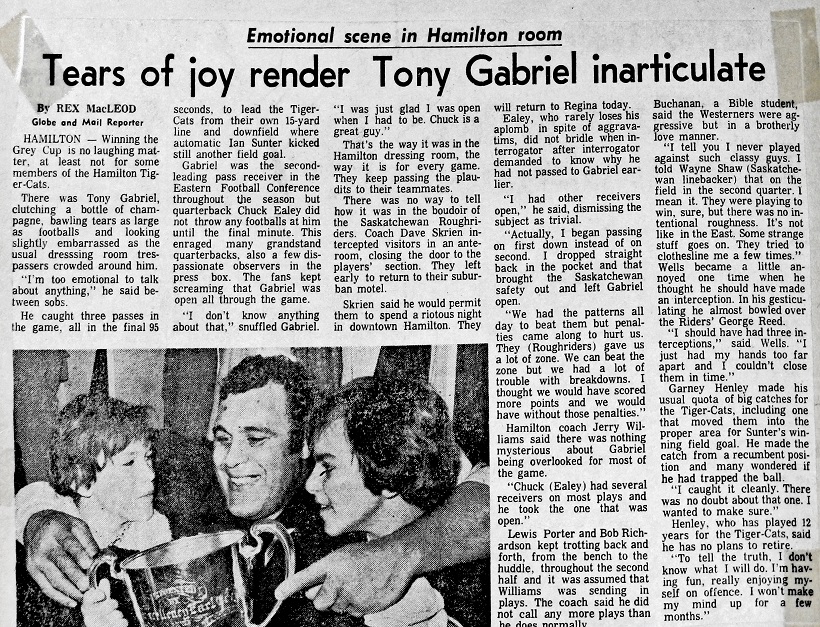 MY FACEBOOK FRIEND, TONY GABRIEL, WOULD HAVE A MORE–PROFOUND MOMENT IN THE 1976 GREY CUP WITH THE OTTAWA ROUGH RIDERS. TONY CAUGHT A LAST–MINUTE PASS FROM QUARTERBACK TOM CLEMENTS, ENABLING OTTAWA TO DEFEAT SASKATCHEWAN IN THE FIRST CFL CHAMPIONSHIP PLAYED AT EXHIBITION STADIUM HERE IN TORONTO AFTER EXPANSION AND RENOVATION FOR BASEBALL. THE TORONTO BLUE JAYS WOULD TAKE FLIGHT IN APRIL 1977.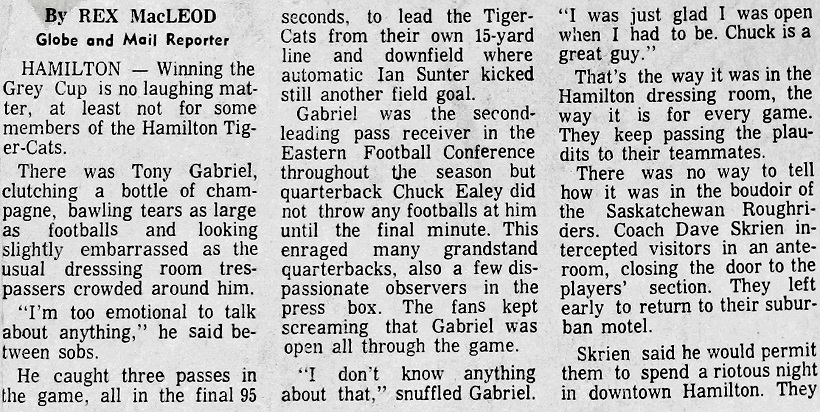 EMAIL: HOWARDLBERGER@GMAIL.COM